Mr. Wilberforce Clayborne Humphries is a fictional character from the BBC1 comedy show, Are You Being Served?. He was played by John Inman from 1972 to 1985. The character was played by actor Jason Watkins in the 2016 revival which formed part of BBC Television's Landmarks of Comedy season.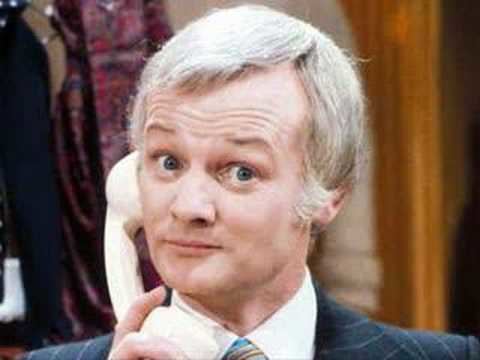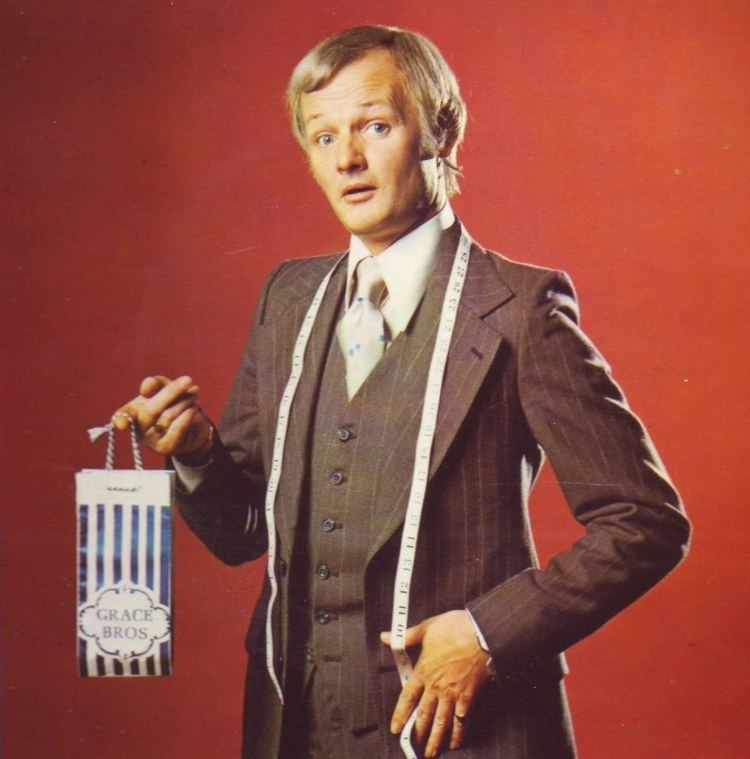 Mr. Wilberforce Claybourne Humphries, born 1938/9, is the junior menswear assistant. His sexuality is used as a catalyst for many comedic situations and one-liners. Mr. Humphries is particularly noted for his mincing walk and his high pitched voice, which he discards when answering the phone (which he answers with a booming, deep-pitched "Menswear!"). He had one of the most famous catchphrases of the era: when asked by a colleague, "Mr. Humphries, are you free? [to serve someone]", he always gives the camp response, "I'm free!" He often arrives at work in outrageous attire, ranging from punk rock clothing and hair, motorcycle leather jacket and chaps and sailor uniform, with an equally outrageous accounting of his previous night's activities and efforts to nonetheless make it to work on time. Mr. Humphries frequently speaks of a companion or companions referred to only as "my friend." The precise status of this friend is never elaborated upon.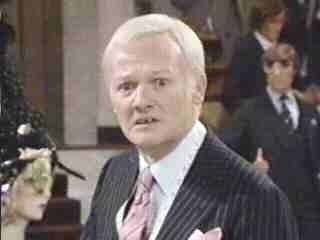 Though Mr. Humphries exhibits many of the behaviors typical of a gay stereotype, his true sexual orientation is never explicitly confirmed in the series. The reticence was a necessity given prevailing attitudes at the time the series was produced: after the first five episodes of Are You Being Served?, a senior BBC executive ordered David Croft to "Get rid of the poof" from the show – Croft declined, saying: "If the poof goes, I go."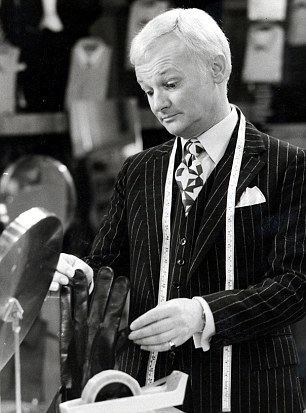 Many jokes throw Mr Humphries into heterosexual clinches. At one point he is asked to fill in for Mrs. Slocombe at the ladies' counter when a female customer approaches and complains about the stockings she is wearing, lifting up her skirt to show them to him, which caused him to remark that he is "riveted to the spot" and is considering "a whole new way of life." In "The Agent," Mr. Humphries, in an attempt to get himself fired in order to take a higher paying position elsewhere, makes a pass at a female customer, only to find out later that she calls his bluff to meet him outside at 5:30. At the end of the episode, while counting his wage packet, he remarks to Mrs. Slocombe that he's got a date at 5:30 and dashes off excitedly. In "The Erotic Dreams of Mrs. Slocombe," Miss Brahms attempted to teach him how to seduce Mrs. Slocombe in order to shake her out of a deep depression. However the lessons work too well and in the end Mr. Humphries passionately throws himself at Miss Brahms. In "Conduct Unbecoming," Mr. Humphries is accused of stealing money from his department's till. When he is vindicated (due to the till being faulty), Mr. Rumbold's beautiful blonde secretary throws her arms around him and gives him a passionate kiss, stating: "I was always on your side." Mr. Humphries quickly replies that if the kiss had lasted any longer, he would have "gone over to your side."
Mr. Humphries is usually quite eager to wait on male customers, particularly those with a seemingly homoerotic request. When asked to wait on a gentleman who wanted to buy a dress to wear (at a fancy dress party), the previously busy Mr. Humphries suddenly becomes available. However, this isn't always the case – sometimes Mr Humphries is quite taken aback by gay (or seemingly gay) customers, almost to the point of repulsion. For example, when he is to direct a commercial for Grace Brothers, Mr. Humphries pointedly rejects the advances of the camp cameraman (played by Gorden Kaye). He states to Kaye's character that a couple of gin and tonics in a bar doesn't mean they're more than friends.
Mr Humphries also seems to be quite put off by Mrs. Slocombe's references to her "pussy" (to which she means her cat, one of the many double entendres the television show was known for). He often rolls his eyes when she mentions stroking the cat or having to dry it out after it was soaking wet.
Mr. Humphries is rarely shown to have a serious disagreement with his colleagues. Potential disciplinary measures against him are usually the result of a misunderstanding rather than out of any actual wrongdoing or malice. He is the subject of derisory comments or jokes about his perceived sexuality from Mr. Grainger and Captain Peacock on occasion. In one episode, Mrs Slocombe calls him "fairy cake" and Mr Humphries replies in a hurt voice, "It's all coming out now!" Later in the same episode, the employees are to vote on which of them should be made redundant; each employee receives exactly one nomination with the exception of Mr. Humphries, who simply writes "don't know". As Mr. Rumbold points out, this indicated that Mr. Humphries is the "most popular" person in the department, as nobody voted for him to be made redundant. Despite this, due to his lateness for work, he clashes with Captain Peacock, and due sarcastic and rude comments towards Mrs Slocombe, he clashes with her (although in general, they get along quite well).
In a few episodes Mr. Humphries claims to have served briefly in the Royal Navy. But due to his young age, this is impossible. In "Fifty Years On", "Grounds For Divorce", "The Hold Up", and "The Pop Star", Mr. Humphries makes note of the presence of the audience by occasionally smiling or winking at, or addressing, the audience, thus breaking the fourth wall.
Mr. Humphries is the only character from the original series to be featured in the Australian version of Are You Being Served?.
John Inman reprised the role of Mr. Humphries for the spin-off show, Grace and Favour, in 1992.