Miss Shirley Brahms is a fictional character from the BBC1 comedy show, Are You Being Served?. She was played by Wendy Richard.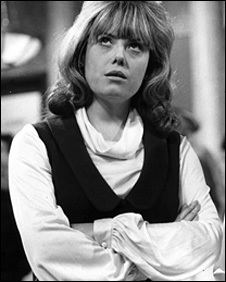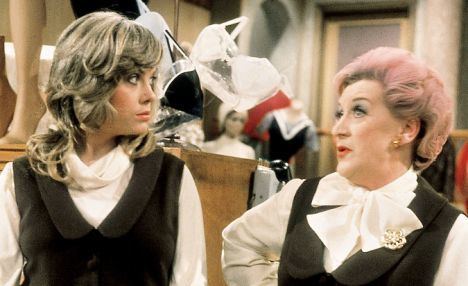 Miss Shirley Brahms, born 1954 (age in the show: 18-31), is the junior ladieswear assistant. Known for her Cockney accent, Miss Brahms is sometimes unintelligible to the person with whom she is speaking, but often puts on her best voice when answering the telephone. Under Mrs. Slocombe's guidance, she becomes a more useful assistant throughout the series, though the hierarchy of Grace Brothers is such that she would have moved up only when Mrs. Slocombe left, if ever. Attractive and voluptuous, she is never receptive to advances of older men. In one incident, when she was approached to participate in a store-wide Holiday Girl contest with the assumption that she would easily win, Miss Brahms refuses, mainly because one of the prizes is a vacation aboard the yacht of old Mr. Grace, who had previously made lecherous advances toward her. In spite of their age difference of 28 years, Miss Brahms's best friend is Mrs. Slocombe; they are often seen gossiping and going against the management.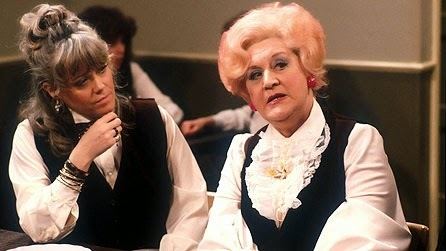 While she is proud of her working-class roots, she bemoans her present existence and yearns for a more glamorous and exciting life. Several episodes show that she can put on a convincingly posh accent, although since the vocabulary and syntax don't improve with her voice, this is often more a hindrance than a help. Miss Brahms's largest sale occurs when Mrs. Slocombe, who had temporarily replaced Mr. Rumbold, is not by her side.
Miss Brahms often makes reference to her swinging social life and the mores of the times (such as not wearing a bra and sleeping in the nude), usually to the disdain (but interest to see if it attracted men) of Mrs. Slocombe and the immediate interest of either (or all) Mr. Humphries, Mr. Spooner, and Mr. Lucas (and sometimes Captain Peacock, Mr. Harman/Mr. Mash, and the Grace brothers).
Wendy Richard also played a character named Shirley in Dad's Army. When she joined the cast of Are You Being Served?, her character's name was changed to Edith Perry to avoid confusion with Miss Brahms.
Out of all the men at Grace Brothers, the nearest she has ever come to having a relationship with are the junior salesmen. She is the object of Mr. Lucas's affections – he frequently asks her out, sends notes to her asking her to meet him after work, and consistently refers to her as "Shirley" whenever he can get away with it. Miss Brahms occasionally indulges him and they date sporadically throughout the series, even kissing twice when rehearsing a Punch and Judy show. She has worked well with Mr. Spooner, helped him, when they and the floor went against the management. They were also seen coming into work together and comforted each other when offended by Captain Peacock, and in "The Pop Star", she asks him to go out with her. In "Cold Store" Miss Brahms and Mr. Humphries are forced to work together, and it is clear that they have had a good time together. In "Mrs Slocombe Expects", when Miss Brahms shows off her stockings, Mr. Humphries goes into a flirtatious song. The two are forced to work together again, selling perfume in "Bliss". In "The Erotic Dreams Of Mrs Slocombe" Miss Brahms shows Mr. Humphries how to flirt but it works too well and Mr. Humphries ends up wildly pulling her to the ground in a theatre-box. They share a kiss in "The Hold Up". In "Mrs Slocombe Expects", Miss Brahms appears showing off her legs, and Mr Lucas and Mr Humphries burst into a flirtatious song.
It is stated at times that she is considered the "prettiest" girl at Grace Brothers, with Young Mr. Grace at one point considering her as a strong candidate to be one of his secretaries. Miss Brahms' legs are displayed quite often to the members of staff, either innocently (as she attempts to fix a suspender or show off a ladder in her tights) or on purpose (such as when Mr. Lucas triggers an air vent under her skirt, Marilyn Monroe-style). Although she is picked to be the public face of Grace Brothers (in the episode "Closed Circuit") due to her good looks, her high-pitched Cockney accent proves to be unsuitable (and ultimately cost her a chance at romance, as a Lord falls in love with her voice, which is actually dubbed on by Mr. Grace's blonde nurse).
Although Miss Brahms resents being viewed as nothing more than a pretty face, she does on a couple occasions use her feminine wiles to charm Captain Peacock when she wants something.
Wendy Richard reprised the role of Miss Brahms for the spin-off show, Grace and Favour, in 1992 and 1993.