Country

India




State

Gujarat





Population

145,719 (2001)




Languages spoken

Gujarati, Hindi




District

Morbi








University

Lukhdhirji Engineering College



Map of Morbi
Morbi or Morvi is a city and a municipality in Morbi district in the Indian state of Gujarat. It was a Princely State ruled by the Jadeja clan of Rajputs until Indian independence in 1947. It is situated on the Kathiawar peninsula. In 2011, the city's population was determined to be 194,947. The town of Morbi is situated on the river Machhu, 35 km from the sea and 60 km from Rajkot.
Contents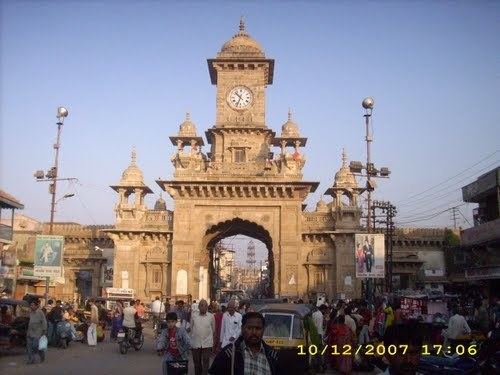 The city-state of Morbi and much of the building heritage and town planning is attributed to the administration of Sir Lakhdhiraji Waghji, who ruled from 1922 to 1948.
The mani mandir palace morbi gujarat india
Fast food & gujarati thali | at morbi gujarat | by street food & travel tv india
History
During the British Raj era, Morvi State was one of several princely states governed by the Jadeja dynasty of Rajputs. It was classified as an 11-gun salute state.
Industry
70% of India's, and 5% of the World's, output of ceramic items are produced in Morbi. around 80% of the country's Compact Fluorescent Lamp (CFL) production and is the largest producer of wall clocks in India. There are around 600 ceramic factories with production worth Rs. 40 billion annually.
Points of interest
Most are in the old city
Julto Pul - the old hanging bridge across River Machhu.
It is 1.25 m wide and spans 233 m on the Machchhu River connecting Darbargadh Palace and Lakhdhirji Engineering College.
Darbargadh - the original residence of the royalty, the Darbargarh overlooking the river can be approached through an imposing gate with a magnificently carved façade. This structure has now been converted into a heritage hotel.
Nazarbagh palace - or the New Palace located across suspension bridge on the eastern side of the river. The premises now houses the engineering college of Lakhdhirji.
The Art Deco Palace (1931-1944)- is a marvelous example of the influence of the last phase of the European art deco movement. It is a low, two-storey structure with banded horizontal fenestration, curves and bays, which resembles the London underground stations of Charles Holden
Mani Mandir and Wellington Secretariat [Wagh mahel] – Wagh mahel is artistic built in Rajput architecture which was damaged partly in 2001 earthquake. Sprawling Mani mandir, a multi-religious shrine located in the same premises was built by Shri Waghji Thakur. There is a nice garden easterly facing the river.
Green chowk with green tower, which reminds tower of Eiffle in Paris is a gentle reminder of European influence on the royalty in town development
Nehru Gate (Llyod gate) and other two gates served as the entry points to old city remain as good landmarks
Trimandir - of Morbi region is located about 8km northwesterly to the town.
Kabir Dham or kabir vadi, Vavadi [Nani Vavdi] - is some 5 km far, westerly to the city
Rafaleshwar Mahadev Temple, Rafaleshwar - an ancient temple is located 12km southeasterly
Maa Khodiyar mandir, Matel - is located about 25km far southeasterly
Tankara - a holy land, the birthplace of Swami Dayanada Saraswati, a Hindu reformist and the founder of Arya Samaj - is located 20km far southwesterly to Morbi town
References
Morbi Wikipedia
(Text) CC BY-SA