Tunisia




University of Monastir




Monastir




Medina of Sousse, Gallery Espressioni



Monastir (Arabic: ? Al-Munastir, from the Greek ??????????? "Hermits Cell, monastery", called in Tunisian Arabic), is a city on the central coast of Tunisia, in the Sahel area, (20 km south of Sousse and 162 km south of Tunis). Traditionally a fishing port, Monastir is now a major tourist resort. Its population is about 104,535. It is the capital of Monastir Governorate.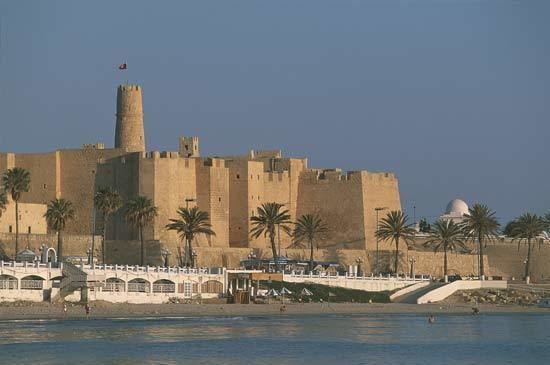 Monastir was founded on the ruins of the Punic–Roman city of Ruspina. The city features a well preserved Ribat that was used to scan the sea for hostile ships as a defence against the attacks of the Byzantine fleet. Several ulema came to stay in the Ribat of this peaceful city for contemplation. The Ribat was also one of the filming locations for both the miniseries Jesus of Nazareth and Monty Pythons Life Of Brian.
Nouvelair has its head office in Monastir in the Dkhila Tourist Zone, near the Hotel Sahara Beach.
Monastir, Tunisia Wikipedia
(,)http://media-1.web.britannica.com/eb-media/82/84882-004-A76B8E40.jpg(,)http://i.ytimg.com/vi/osk8uHmfGVU/maxresdefault.jpg(,)http://www.airrace1.com/uploads/Images/Large/R-AirRace20657Pages2.jpg(,)http://upload.wikimedia.org/wikipedia/commons/thumb/4/4e/Night_photography.jpg/900px-Night_photography.jpg(,)http://content.lowcostholidays.com/DataObjects/LocalResort/Image/image_395_1_v1.jpg(,)http://upload.wikimedia.org/wikipedia/commons/f/fc/Lehnert_Landrock_-_Ouled_Na%25C3%25AFl_Tunisie_1905.jpg(,)http://looklex.com/tunisia/photos/monastir01.jpg(,)http://4.bp.blogspot.com/_hQLvrWKN12s/S0OYykvo3dI/AAAAAAAABnY/3U4NRNNPWjM/s1600-h/DSCF7084.JPG(,)http://farm9.staticflickr.com/8287/7846888296_42be33f731_z.jpg