6.8

/

10

Alchetron

6.8

Rate This





Genre

Action, Drama, Thriller




Music director

Viju Shah, Anand Bakshi


Country

India






Director

Rajiv Rai


Release date

July 1, 1994 (India)




Duration




Language

Hindi





Release date

1 July 1994




Writer

Shabbir Boxwala (screenplay), Rajiv Rai (screenplay), Rajiv Rai (story), Naeem Sha (dialogue director), Dilip Shukla (dialogue)


Songs

Tu Cheez Badi Hai




Cast

Naseeruddin Shah (Mr. Jindal), Akshay Kumar (Amar Saxena),

Sunil Shetty

(Vishal Agnihotri), Raveena Tandon (Roma Singh),

Poonam Jhawer

(Priya Agnihotri), Raza Murad (Jibran)

Mohra (English: Pawn) is a 1994 Indian action thriller film directed by Rajiv Rai starring Akshay Kumar, Sunil Shetty, Raveena Tandon and Naseeruddin Shah in the lead roles with Paresh Rawal, Gulshan Grover, Raza Murad and Sadashiv Amrapurkar in supporting roles. The film was released on 1 July 1994 and went on to become the second highest grossing Indian film of 1994.
Contents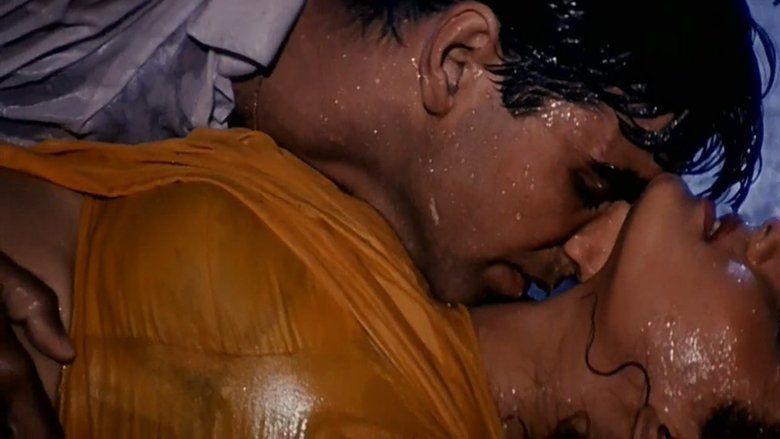 The film got nine Filmfare nominations in 1995. It was the first time where the trio of Akshay Kumar, Sunil Shetty and Paresh Rawal worked together. Originally Divya Bharti was cast as the female lead and she only did 5 days of shooting, but after her death, Raveena Tandon was roped into the project as her replacement.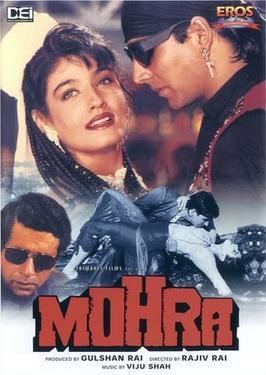 The film is also remembered for its songs which became chartbusters in that year. The popularity of the song Tu Cheez Badi Hai Mast Mast, which was picturised on Raveena Tandon, led to her being nicknamed "the mast mast girl".
Plot
Vishal Agnihotri (Sunil Shetty), a convict, is imprisoned for the murder of a group of four criminals who had brutally raped and killed his sister-in-law. Vishal tries to get justice in court but is unsuccessful and the men are let out free with the help of a corrupt lawyer. They then visit Vishal's home for trying to file a case on them, and try to rape Vishal's wife Priya (Poonam Jhawer), but she kills herself with a knife. Angered at all this Vishal decides to take the matter into his own hands and murders the four criminals himself. He is sentenced for life in prison for the crimes.
Journalist Roma Singh (Raveena Tandon) visits the jail for a report she's writing, where a few of the convicts try to rape her. It reminds Vishal of his misfortune. Vishal intervenes and saves Roma. Roma hears Vishal's story and decides to help free him. Her voice is heard out by a blind businessman - Mr Jindal (Naseeruddin Shah) who tries to recruit Vishal as a hitman. He wants Vishal to kill some anti-social elements in the city, mainly the two powerful drug lords Jibran (Raza Murad) and Tyson (Gulshan Grover) and all the people who work for them. He tells Vishal, that these people are responsible for creating people like the group of four men he killed in the first place, by bringing drugs to the streets and corrupting the locals. Vishal refuses at first as he has just got out of prison, and now wants to live a normal life. However, the memories of his murdered family comes back to haunt him as he spends a day alone in his home, and he agrees to work for Jindal. Inspector Sahoo (Paresh Rawal) is very greedy and he becomes informer of Jibraan. He tells all internal matters of police department in return of money.
Police Inspector Amar Saxena (Akshay Kumar) is unhappy about the release of Vishal who he believes deserves to be in prison because of the murders he committed. Things complicate even more when Amar finds Vishal around almost every murder scene of criminals involved in drug-trading, who Amar is trying to catch alive. Vishal goes on a murder spree, until he realizes that even the Commissioner (Sadashiv Amrapurkar) thinks that the unknown murderer is doing more help to the society than police could ever do. Vishal refuses to kill the Commissioner, but Jindal becomes angry. Vishal attacks Jindal with a paper-weight, but Jindal dodges it. Vishal then realizes that Jindal is not blind.
Jindal tells Vishal that Jibran and Tyson were his rivals. He also tells that he murdered his wife Pooja (Priya Tendulkar) and Inspector Karan Saxena (who happens to be Amar's father), to cover up the truth. He pretended to be blind to throw the police off his trail. Jindal, who has now partnered with Jibran, leaves Vishal to die. Vishal escaped, only to be confronted by Amar. Vishal subdues Amar and tells him the truth. Inspector Sahoo, who is brought to Jindal by Jibran to give important information about Vishal, tells him that Vishal is alive and will tell the entire truth to Amar and Commissioner by next morning. Then Jindal kidnaps Roma and kills his sub-editor Siddiqui who tries to save Roma. Amar, Vishal and Commissioner goes to Jindal's home to arrest him but they find the sub-editor, Siddiqui, brutally murdered at his home. They come to know that Jindal has kidnapped Roma in order to forcefully marry her. Amar and Vishal find out Jindal's den with the help of Inspector Sahoo and corner him.
After a melee, Jibran is killed. Jindal tries to kill Amar, but Vishal takes the bullet on himself. Vishal dies in Amar's lap, upon which Amar kills Jindal and avenges the death of Vishal and his father.
Cast
Akshay Kumar as Inspector Amar Saxena
Naseeruddin Shah as Mr Jindal
Suniel Shetty as Vishal Agnihotri
Raveena Tandon as Roma Singh, Amar's love interest
Poonam Jhawer as Priya Agnihotri, Vishal's wife
Paresh Rawal as Kashinath Sahoo, Sub inspector of Police
Sadashiv Amrapurkar as Kamdev Kulkarni, Commissioner of Police
Gulshan Grover as Tyson, the drug lord
Raza Murad as Jibran, another drug lord, rival of Tyson
Kulbhushan Kharbanda as Jailer, Roma's Dad
Avtar Gill as Karan Saxena, Amar's dad
Priya Tendulkar as Pooja (Special Appearance)
Kunika as Flora
Tej Sapru as Irfan
Vishwajeet Pradhan as Jackson
Yunus Parvez as Siddiqui
Vinay Sapru as Tony
Harish Patel as Kranti Kumar
Aparajita as Mrs Saxena
John Gabriel as Rampal
Gopal Poojari as Gopal Pujari
Rashid Mehta as Rashid
Razak Khan as Rizwaan (Jibraan's Brother)
Soundtrack
The music of the film was composed by Viju Shah, with lyrics by Anand Bakshi. Mohra was one of the most successful soundtrack albums of the year, especially the song Tu Cheez Badi Hai Mast. Initially, Viju Shah wanted Sapna Mukherjee to render Tu Cheez Badi Hai Mast but, upon Rajiv Rai's insistence, opted for Kavita Krishnamurthy instead. The track is based on the popular qawwali Dam Mast Qalandar by Nusrat Fateh Ali Khan. The album went to become second most sold of the year. Tip Tip Barsa Paani song has elements lifted from Roll down the rubber man by Dr Alban,the prison fight scene of Sunil Shetty has background score completely lifted from Terminator 2 theme and I feel you (Babylon mix) by Depeche Mode. Na Kajare ki Dhar song was originally composed by Kalyanji-Anandji but wasn't released as the movie was shelved in 1980. The song was originally sung by Mukesh.
Track list
References
Mohra Wikipedia
(Text) CC BY-SA
Mohra IMDb
Mohra Rotten Tomatoes
Mohra themoviedb.org