He was the fourth international player signed to the Caribbean Premier League and the first Pakistani player to be named to the new Twenty20 tournament. He is widely regarded as The Professor. The major teams for which he played are Pakistan, Lahore, Lahore Lions, Guyana Amazon Warriors, Kolkata Knight Riders, Sargodha, Sui Gas Corporation of Pakistan. He can be a player that was trusted over the years and Shahid Afridi has given the trust as he does with the many other captains over the years.Hafeez scored his test career best of 224 runs against Bangladesh in 2015 at Khulna during the Dan Cake Series.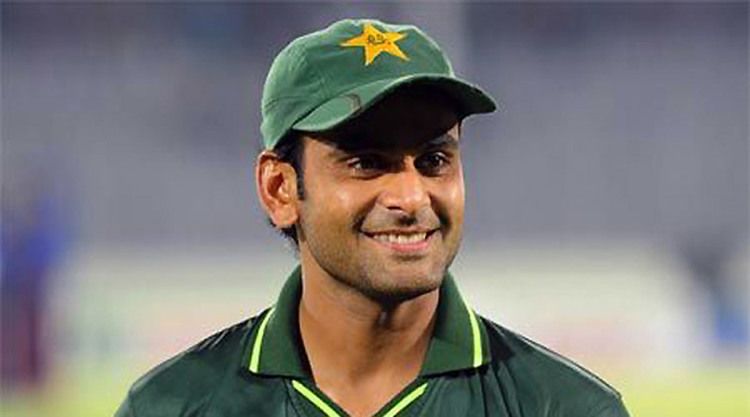 Mohammad Hafeez also known as professor and he played in bhera and was one of several young all-rounders whom the Pakistani cricket team turned to in order to revitalize their side after their poor display in 2003 World Cup where Pakistan was out from first round. His form with both bat and ball was inconsistent and in late 2003 he was dropped from the Test squad and subsequently from the ODI side. Following strong domestic performances, as well as display of good form for the Pakistan A side, he remained on the fringes of a recall in 2004. Hafeez returned to the ODI side in 2005 and despite poor form with the bat, his bowling performances were impressive. In the 2006 series held in Australia, Hafeez smashed his first century for Pakistan. With Pakistan struggling to find a solid opening pair for the Test side, he was recalled for the tour of England. His return to Test cricket was made at The Oval where he scored a fluent 95. Subsequently, Hafeez retained his place in the Test squad for Pakistan's home series against the West Indies in November of that year. After getting out early despite good starts in the first two Tests, he went on to score his second Test century in the third Test in Karachi. However his form remained inconsistent and he was unable to command a regular place in either the Test or ODI side over the next 5 years.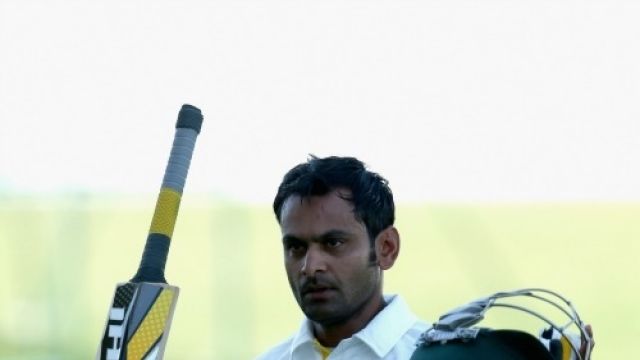 In 2010 he was recalled for the third ICC World Twenty20 squad. His form was poor scoring only 39 runs and taking only 2 wickets in 6 matches. However he was subsequently selected for the T20Is and the ODIs on Pakistan's 2010 tour of England. He was the second highest Pakistani run scorer in the ODI series producing some solid opening partnerships with Kamran Akmal. Following this good form he was included in the squad that was selected to play South Africa in the UAE and he replaced disgraced skipper Salman Butt as an opening batsman in both Tests, achieving a batting average 32.50. He played in all 5 ODI matches ending up as the top run scorer and he also topped the bowling averages for the series. At the end of 2010 he was also selected for the party that would tour New Zealand and the West Indies and this resulted in him establishing himself as a regular in the Test, ODI and T20 teams. In 2011 he won an amazing 10 Man-of-the-Match awards in all forms of international cricket and became only the third player (after Sanath Jayasuriya and Jacques Kallis) to score 1000 runs and take 30 wickets in ODI matches within a calendar year.
Against India on 18 March 2012 in Bangladesh at Shere Bangla National Stadium, Mirpur at the 2012 Asia Cup, he scored 105 off 113 balls and was involved in a 224 run partnership with Nasir Jamshed, which is the best opening partnership for Pakistan against India in one day internationals. They eclipsed Aamer Sohail and Saeed Anwar's record of 144 runs which was made in 1996. He made his 4th ODI century in March 2012 against Bangladesh at Dhaka. He also made his highest test score of 196 against Sri Lanka in the second Test at Colombo in June 2012. He is currently (2012) ranked number two in the ICC ODI rankings for both bowlers and all-rounders.
In December 2012, during the tour of Pakistani cricket team in India in 2012–13, he came across as a very different and aggressive batsman and scored so brilliantly and briskely and helped Pakistan to win the first T20I and 2nd ODI with his heroics of brilliant batting and nearly chasing a mountain high target of 191 in the second T20I. His scores were 61 and 55 in first and second T20I respectively and scored 76 runs in the 2nd ODI and sharing an opening stand of 141 with Nasir Jamshed and also bowled brilliantly as always economically to help Pakistan win their first ODI series in India since 7 years. He is now considered to be the main allrounder of Pakistan Cricket team. He had a great series against Sri Lanka in Dec 2013, where he scored 122 in the first match, 140* in the third and 113* in the fourth match. Thus he became, the second batsman after Zaheer Abbas to score 3 centuries in an ODI series. Hafeez was initially selected in the Pakistan squad for the 2015 World Cup but was ruled out 6 days before the World Cup due to a calf injury. He was replaced by Nasir Jamshed.
Has most number of wins in T20Is as Pakistan captain.
First player to score 1,000 T20 runs and take 40 plus wickets.
Leading run scorer for Pakistan in T20Is and eighth overall in T20Is.
The first captain of Pakistan to score three fifties in a row in T20Is.
The third most economical bowler in the history of Pakistan's ODIs (who have taken 100 plus wickets) after the legendary Imran Khan and Wasim Akram.
Record holder of most fifties by a Pakistani batsman in T20Is.
Along with Taufeeq Umar he opened the innings more consecutively in Test matches than any other pair in Pakistan cricket history.
PCB "Player-of-the-Year" award in 2012.
Nominated by the ICC for the "Spirit-of-Cricket" award for not claiming a false catch in a Test match vs England in UAE in 2012.
10 'Man of the Match' awards in 2011.
Second Most ODI runs in 2013 after Misbah-ul-Haq.
2nd Pakistani player to score an ODI hundred and take a 4-wicket haul in the same match.
Most ODIs runs in 2015 by a Pakistani batsman.
Under his leadership, Pakistan beat Australia in an ODI at the MCG after 32 years in 2017.
He was appointed captain of the Pakistan T20 team in May 2012 and vice captain, under Misbah-ul-Haq, of the ODI and Test teams.
During the T20 World Championship in Sri Lanka in September 2012, Pakistan reached the semi-finals where they lost to the home side. After the tournament, there was some controversy with veteran all-rounder Abdul Razzaq who was critical of his non-selection for a number of matches. Hafeez also came into some conflict with the PCB over their view that he adopted a rather unilateral and non-consultative approach while making selection decisions. However, he was supported by the coach Dav Whatmore and both of them emphasised the poor fitness levels of many players. The PCB committee decided that they would subsequently closely monitor Hafeez's performance in this context during the coming tours to India and South Africa. As a captain, he led Pakistan to victories over South Africa, west indies, thet20 champions and Zimbabwe .He equalled the records of most wins as a Pakistani captain in t20 and most number of away series wins as a Pakistani captain Under his leadership, Pakistan managed to move up to the second position in the rankings. He also became the first Pakistani captain to hit three fifties in a row and became Pakistan's leading run scorer in t20s. after Pakistan's exit from the T20 World Championship Hafeez apologized on behalf of his team and stepped down as captain. Imran Khan, Pakistan's former captain criticised this decision and advised Hafeez to stay as captain. His resignation was a rare incident in Pakistan cricket.
Hafeez had been reported for a suspect action after the Abu Dhabi Test against New Zealand in November 2014, and in December his action was found to be illegal following tests at an ICC accredited centre in Loughborough, England. He was found to have an elbow extension up to 31 degrees, far above the permitted limit of 15 degrees. He underwent remedial work at a biomechanics lab in Chennai, but failed an unofficial test on his action on January 3. Later that month the PCB requested the ICC to retest Hafeez's action in February in Brisbane, so that he could bowl at the World Cup if cleared, but he was ruled out of the tournament with a calf injury. Hafeez was finally cleared to bowl again in international cricket on April 21, after more tests on his action in Chennai. Mohammad Hafeez has once again been reported for a suspect action, following the conclusion of the Galle Test on 21 June 2015., and he was dropped from third test. However, he was again selected for the ODI series against Sri Lanka. He proved the value of his comeback by taking 4 for 41 runs and scored a magnificent century earned him the man of the match award. Hafeez has been banned from bowling in international cricket for 12 months following an independent assessment of his action, which took place at the Sri Ramachandra University in Chennai on 6 July.
The 34-year-old was assessed after the legality of his bowling action came under question by the match officials during Pakistan's first Test victory over Sri Lanka in Galle (17–21 June).
Following the match, Hafeez was reported by the match officials pursuant to the ICC Regulations for the Review of Bowlers Reported with Suspected Illegal Bowling Actions (the "Regulations") and subsequently underwent the independent assessment in Chennai in accordance with the regulations. The assessment revealed that Hafeez's elbow extension exceeded 15 degrees while bowling and, thus, he employed an illegal bowling action.
Hafeez was originally suspended from bowling in November 2014. Following remedial work on his bowling action, he was reassessed and permitted to resume bowling in April 2015.
As this report has constituted the player's second report within a two-year period, the first of which led to a suspension, he is now automatically suspended from bowling in international cricket for a 12-month period.
Hafeez is entitled to appeal any procedural aspect of an independent assessment that has led to this automatic suspension. However, only after the expiry of this one-year period will he be entitled to approach the ICC for a re-assessment of his bowling action.
In March 2016, Pakistan's exit from the 2016 ICC World Twenty20 after losing 3 matches caused great controversy in Pakistan, with blame shifting between Waqar Younis as well as many of the players on the team. Hafeez was accused, by Younis, of lying about his knee injury before the T20. He said it could have affected the teams poor performance. Despite bad performance during the T20I world cup 2016 Hafeez was picked for the england tour of 2016 Hafeez was out on 0 several times through out the test series and during the ODI series in the first match he was out on 11 which then he was dropped for rest of the tour because of bad performance and not fit enough to play. After missing out of international cricket for months in which he missed the West Indies series in the UAE, Hafeez was then picked for the Australia tour 2017 to play the ODI series. As of the first ODI match Hafeez was out on 4. For the second ODI Azhar Ali was ruled out because of injury which promoted Hafeez to captain Pakistan, Hafeez did a very good job as Pakistan won the match and first time in 12 years in Australian soil. Not only that Hafeez captaincy was appreciated but he also made 72 runs which earned him player of the match.