Miruthan (English: Cannibal) is a 2016 Indian Tamil science fiction-zombie thriller film written and directed by Shakti Soundar Rajan and starring Jayam Ravi and Lakshmi Menon in the leading roles. This film, which was promoted as the first Tamil language film in the zombie genre, was released on 19 February 2016. Rajan has since announced an intention to film a sequel in 2018.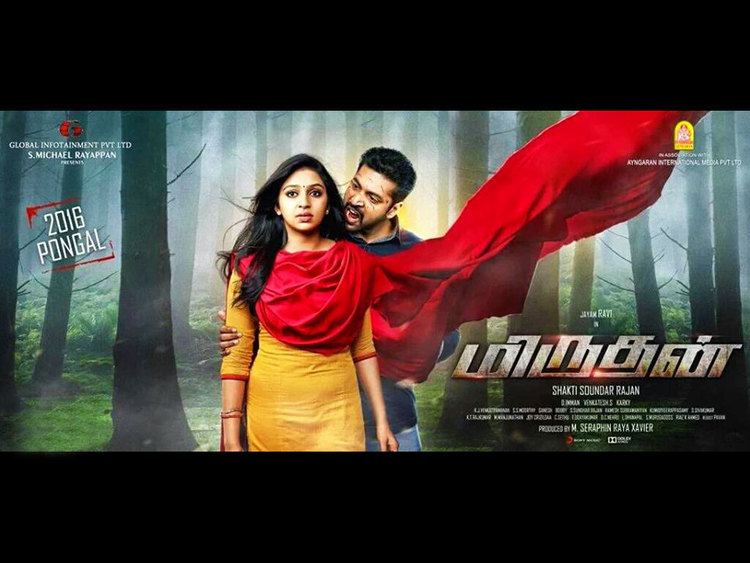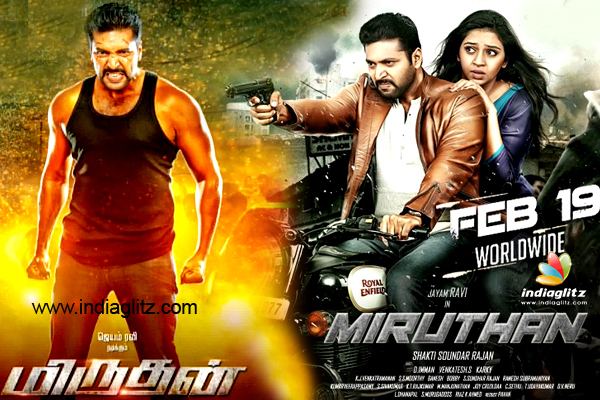 The film opens with a stray dog becoming violent, after drinking toxic fumes, which then bites a security guard. The security guard becomes a zombie momentarily and starts a chain of human infections via bites.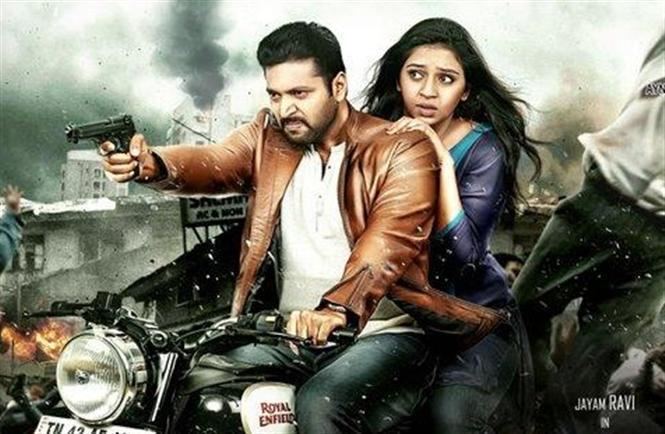 Karthik (Jayam Ravi) a traffic officer in Ooty who avoids danger as he has to take care of a younger sister who is in her early teens. He is in love with a doctor named Renuka (Lakshmi Menon) but never proposes in all their meetings. Renu is engaged and is about to get married to Naveen (Amit Bhargav) who is also a doctor. Meanwhile, Karthik's sister is kidnapped and is suspected to be attacked by a zombie. The police of Ooty decides go shooting whoever who had turned into a zombie. Karthik is also looking for his sister and meanwhile killing the zombies. He receives a call in which he is told to arrive at a place to find his sister. There he finds Renu and her group of doctors finding a vaccine. Karthik also finds his sister and later comes to know that the doctors are trapped inside the house which is invaded by zombies.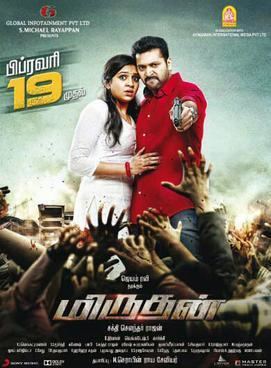 At that moment, the chief doctor, Dharan, is attacked by a zombie and does not tell anyone. With Dharan, Renu, another doctor Kamal, Renu's father and Karthik's friend and sister all head to Kovai (Coimbatore), to utilise medical equipment to find a cure . Karthik unknowingly disturbs some zombies and they are forced to take shelter in a mall which is opposite the hospital. Naveen is inside the hospital trying to find the vaccine. They get hold of a frightened security guard of the mall (Sriman). After sometime Dharan turns into a zombie and attacks Karthik's sister but she does not turn into a zombie despite the fact that she was attacked almost an hour ago. Kamal says that she will be able to help them in finding the vaccine as she has the required antibodies. Because of that, Karthik had to escort them to the Hospital which faces the mall. For this, he is using pressurised water from the Mall's Fire Truck knowing that they are allergic to water. Despite the reduced time, Karthik, manages to bring everyone safely to the hospital except Renu. He goes back to the mall to bring Renu. But he does that without any water source. So, he brought Renu to the Hospital, but, got attacked by the zombies while he was escorting her. He himself turns into a zombie. Renu realises her love for him but he turns into a zombie and attacks her leading her to shoot him.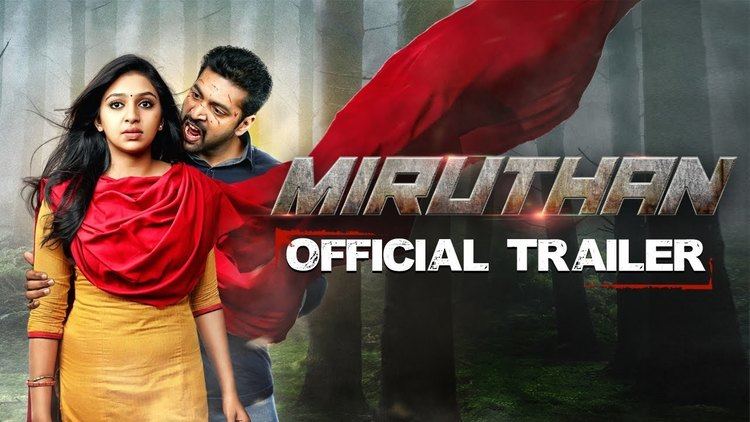 Two days later, Karthik, who is completely a zombie now is seen on top of a bus which is going to Chennai.
Jayam Ravi as Karthik
Lakshmi Menon as Renuka
Sriman as Mall Security
R. N. R. Manohar as Gurumoorthy
Kaali Venkat as Chinamalai
Anikha Surendran as Vidya
Jeeva Ravi as Dharan
Crane Manohar as Wedding Broker
Amit Bhargav as Naveen
Darshan Pandya as Kamal
The film was announced in March 2015, after Jayam Ravi accepted an offer from Shakti Soundar Rajan to feature in a film produced by Michael Rayappan. Lakshmi Menon subsequently joined the team to portray the film's heroine. The team shot for thirty days in Ooty in mid-2015, before returning to Chennai to complete portions. In October 2015, a schedule was held at Binny Mills, where the art direction team had erected a set costing 1.5 crore rupees.
D. Imman composed the soundtrack for the film.
Sudhir Srinivasan of The Hindu said that Miruthan was an inconsistent 'zombie' film with excessive melodrama. Latha Srinivasan of dna gave 2.75 stars and said "The zombies of Hollywood will do a far better job of entertaining you than Miruthan. Times of India gave 2.5/5 and wrote "Like, you want to praise the makers for trying something different — the first zombie film in Tamil cinema, in this case — but immediately, you are best with another thought: 'Did the first zombie film in Tamil have to be this clumsy and unexciting?'Behindwoods gave the film 2.75/5 and stated "For audiences who have not seen Hollywood zombie films, Miruthan would be a new experience. And kudos definitely to Shakthi Sounder Rajan for attempting something different from the usual themes that Tamil cinema is known to churn out film after film." Film critic Sreedhar Pillai expressed via Twitter that the "interval creates impression (that the) 1st half (is) better than 2nd half" while the climax was "long drawn out", giving the film a 3/5. IndiaGlitz.com rated the film 2.3/5 and stated " Miruthan- Roars a lot and little else
In March 2016, Shakti Soundar Rajan announced his plans to make a sequel of the film in the future. He later began a different film featuring Ravi in the lead role titled Tik Tik Tik.