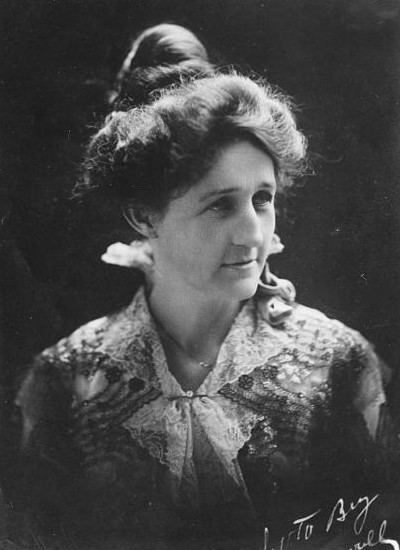 Ferguson was born Miriam Amanda Wallace in Bell County, Texas. She studied at Salado College and Baylor Female College. When she was 24, she married James Edward Ferguson, who was then a lawyer.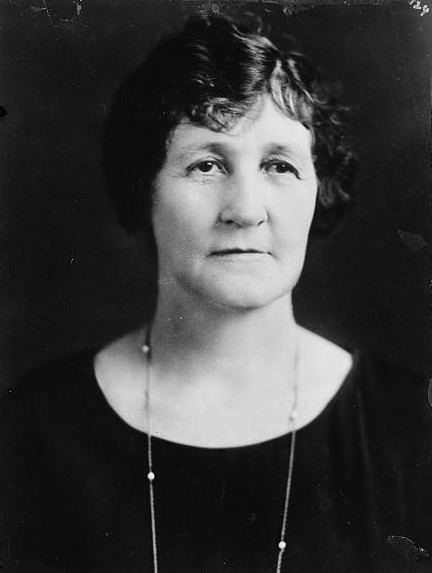 She got her nickname "Ma" partly from her initials "M. A.", and also because her husband was known as "Pa" Ferguson. They had two daughters, Oudia and Dorris.
James Ferguson served as Governor of Texas from 1915 to 1917. However, he was impeached, convicted, and removed from office during his second term. As part of his conviction, he was not allowed to hold state office in Texas again.
After her husband's impeachment and conviction, Ma Ferguson sought the Democratic nomination for governor, and was elected to office. She told voters that she would follow the advice of her husband and Texas thus would get "two governors for the price of one." A common campaign slogan was, "Me for Ma, and I Ain't Got a Durned Thing Against Pa." Against the odds, Ma Ferguson was elected governor, becoming the first female chief executive of Texas. Ferguson was elected with the help and support of her campaign manager, Homer T. Brannon of Fort Worth, Texas.
After her victory in the Democratic primary, she defeated George C. Butte, a prominent lawyer and University of Texas dean who emerged as the strongest Republican gubernatorial nominee in Texas since Reconstruction in 1869. Ferguson received 422,563 votes (58.9 percent) to Butte's 294,920 (41.1 percent). Butte had been supported by former Governor William P. Hobby, who had succeeded James Ferguson in 1917. Ma Ferguson was the second female state governor in the United States, and the first to be elected in a general election. Just two weeks before her inauguration, Nellie Tayloe Ross had been sworn in as governor of Wyoming to finish the unexpired term of her late husband.
Ferguson ran again in 1932. She narrowly won the Democratic nomination over incumbent Ross S. Sterling. She then soundly defeated Republican Orville Bullington in the general election, 521,395 (61.6 percent) to 322,589 (38.1 percent). Bullington, who was a cousin of the first wife of future U.S. Senator John G. Tower, fared more strongly than most Texas Republican candidates did at that time but still polled behind Butte's 1924 showing against Mrs. Ferguson. Ferguson's second term as governor was less controversial than the first.
According to rumor, state highway contracts only went to companies that advertised in the Fergusons' newspaper, Ferguson Forum. A House committee investigated the charge but nothing ever came of it.
In October 1933, she signed into law Texas House Bill 194, which was instrumental in establishing the University of Houston as a four-year institution.
"Fergusonism," as the Fergusons' brand of populism was called, is still a controversial subject in Texas. As governor, she tackled some of the tougher issues of the day. Though a teetotaler like her husband, she aligned herself with the "wets" in the battle over prohibition and took a firm stand against the Ku Klux Klan. She has been described as a fiscal conservative, but also pushed for a state sales tax and corporate income tax. Miriam Ferguson is often credited with a quote allegedly spoken in reference to bilingualism in Texas schools: "If English was good enough for Jesus Christ, it ought to be good enough for the children of Texas." However, variations of this going back to 1881 were often used to ridicule the claimed backwardness of various unnamed Christians, which supports the argument that the attribution to Ferguson is false.
Mrs. Ferguson's infamously generous granting of pardons was her way of relieving the overcrowded conditions in Texas prisons. During two non-consecutive terms in office, Mrs. Ferguson issued almost 4,000 pardons, many of them to free those convicted of violating prohibition laws. Though never proven, rumors persisted that pardons were available in exchange for cash payments to the governor's husband. In 1936, voters passed an amendment to the state constitution stripping the governor of the power to issue pardons and granting that power to a politically independent Texas Board of Pardons and Paroles (see Capital punishment in Texas).
Except for an unsuccessful bid to replace Governor W. Lee "Pappy" O'Daniel in 1940, the Fergusons remained retired from political life after 1935. In that campaign, she trailed O'Daniel's principal rival, Texas Railroad Commissioner Ernest O. Thompson of Amarillo.
Ferguson Cut Off, between Hwy. 290 East and the old Manor Road, in Austin, Texas, is named after Ma Ferguson.
James Ferguson died of a stroke in 1944.
Miriam Ferguson died from congestive heart failure in 1961 at the age of eighty-six.