Covid-19
none




SPC3649




56843415




Investigational




1072874-90-8






Intravenous or subcutaneous injection
Miravirsen (INN; codenamed SPC3649) is an experimental drug for the treatment of hepatitis C, being developed by Santaris Pharma.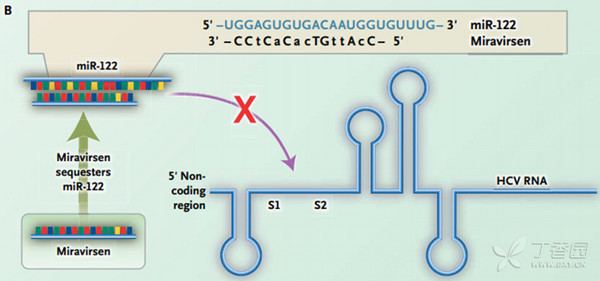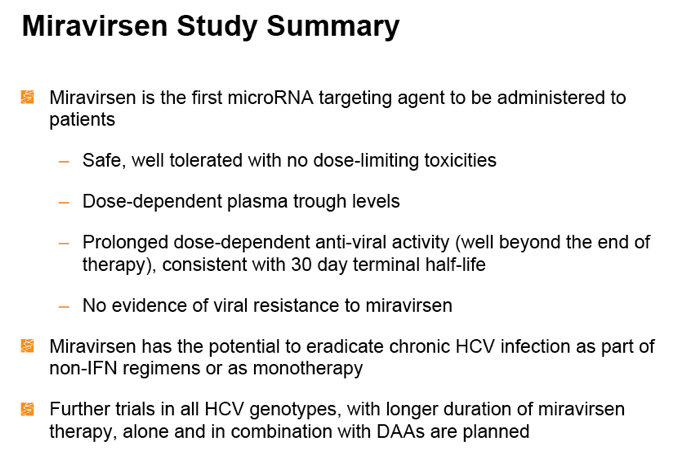 Miravirsen is a short modified RNA molecule that is applied by intravenous or subcutaneous injection. It reaches the liver and binds to the human microRNA called miR-122; this mechanism makes it an antisense RNA. Miravirsen can also bind to the precursors of miR-122 with nanomolar affinity, inhibiting its biogenesis. The hepatitis C virus needs miR-122 to multiply, but cannot utilise it if bound by miravirsen.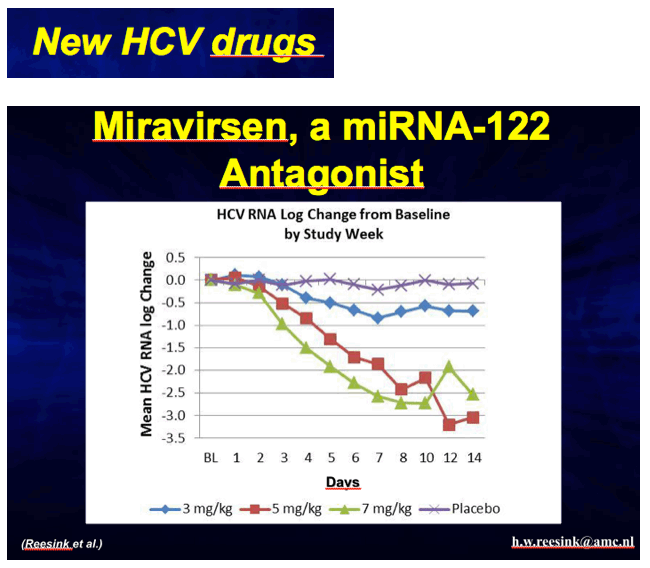 As miR-122 has tumour protective properties in liver cells, concerns about a possible risk of hepatic cancer have been voiced. The drug did not induce liver toxicity in non-human primates, nor in a human study.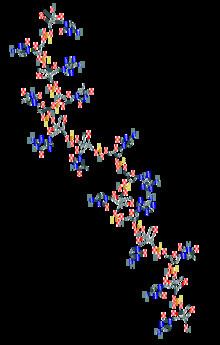 Miravirsen is a modified oligonucleotide consisting of a chain of 15 nucleotides, the base sequence of which is designed to selectively bind to miR-122. Seven of the 15 sugar units are desoxyriboses, and the other eight are riboses with an additional bridge between the 2' oxygen and the 4' carbon atoms; this makes the molecule a locked nucleic acid. Furthermore, the phosphate units have been replaced by thiophosphates.
The complete base sequence is
mC*-dC-A*-dT-dT-G*-mU*-dC-dA-mC*-dA-mC*-dT-mC*-mC*
[
d
= 2'-deoxy,
*
= 2'-O,4'-C-methylene, i.e. bridged or "locked" sugar]
with 3'→5' thiophosphate linkages.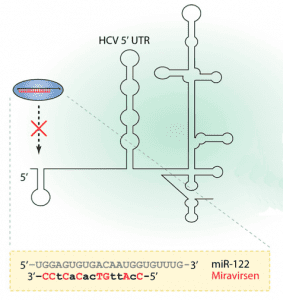 Miravirsen reduced HCV viremia in a small-scale trial in chimpanzees and was found to be safe in a clinical trial in 27 humans over eight to eleven weeks.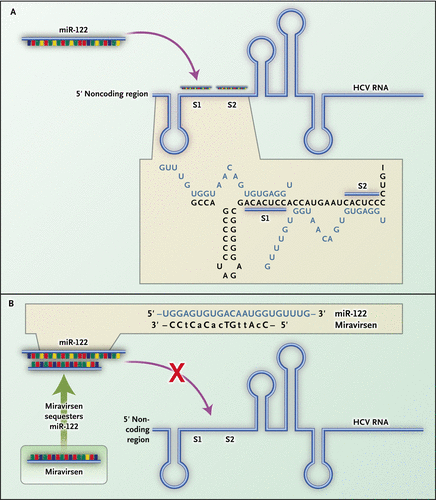 The drug underwent a Phase IIa trial in which patients were randomly assigned to placebo groups or one of the three multiple ascending dose groups (3 mg/kg, 5 mg/kg, 7 mg/kg of miravirsen). The naïve patients were given 5 weekly doses of miravirsen via subcutaneous injection for four weeks, and 4 out of 9 patients receiving the highest dose (7 mg/kg) exhibited significant decrease in hepatitis C virus RNA (p<0.001). The result was sustained even 10 weeks after the last miravirsen administration.
Miravirsen Wikipedia