Alma mater

Tisch School of Arts




Role

Actor




Occupation

Actor, musician




Height

1.83 m




Years active

2004–present




Education

New York University


Name

Miles Teller








Full Name

Miles Alexander Teller




Born

February 20, 1987 (

1987 -02-20

) Downingtown, Pennsylvania, United States


Parents

Merry Flowers, Mike Teller




Nominations

MTV Movie Award for Best Kiss


Movies

Whiplash, Fantastic Four, Divergent, The Spectacular Now, Insurgent




Similar People

Michael B Jordan, Shailene Woodley, Kate Mara, Ansel Elgort, Theo James


Profiles




Twitter

Facebook
Reese witherspoon loves miles teller back screen tests 2015
Miles Alexander Teller (born February 20, 1987) is an American actor. Born in Downingtown, Pennsylvania and an alumnus of New York University's Tisch School of the Arts, he appeared in several short films and television movies before making his feature film debut in Rabbit Hole (2010). He had supporting roles in Footloose (2011) and Project X (2012), before garnering good notices for his leading performances as Sutter Keely in The Spectacular Now (2013) and as Andrew Neiman in Whiplash (2014). He has since starred in Fantastic Four (2015) as Mister Fantastic, War Dogs (2016) opposite Jonah Hill, and boxing biopic Bleed for This (2016).
Contents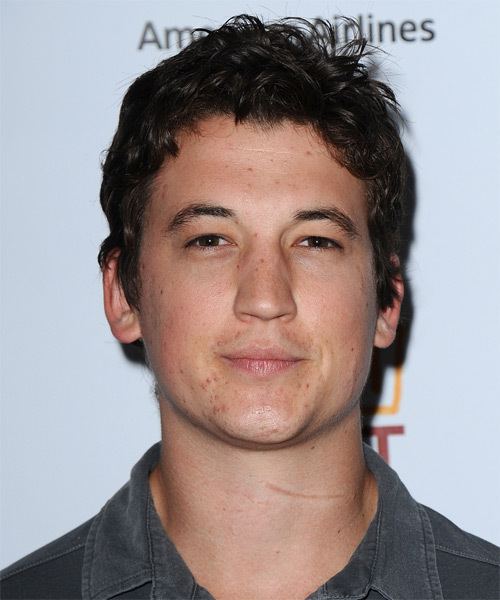 Miles teller near fatal car accident
Early life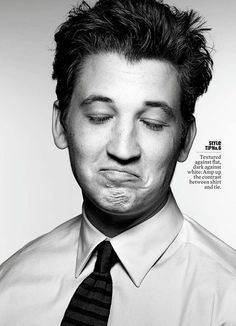 Teller was born in Downingtown, Pennsylvania, of parents Merry and Mike. He has two older sisters, Erin and Dana. His paternal grandfather was of Russian Jewish descent, and his ancestry also includes English and Irish. The family moved to Citrus County, Florida, when Teller was 12. He also lived in Pennsylvania and Delaware. At Lecanto High School, he played the alto saxophone in a rock band, was a drummer for a church-youth group band, and was president of the drama club. He can also play piano and guitar and was on the baseball team, hoping to turn professional. Aside from high school, Teller worked as a server at a restaurant called Crackers. He earned a Bachelor of Fine Arts degree from Tisch School of the Arts at New York University, where he studied method acting at the Lee Strasberg Theatre and Film Institute.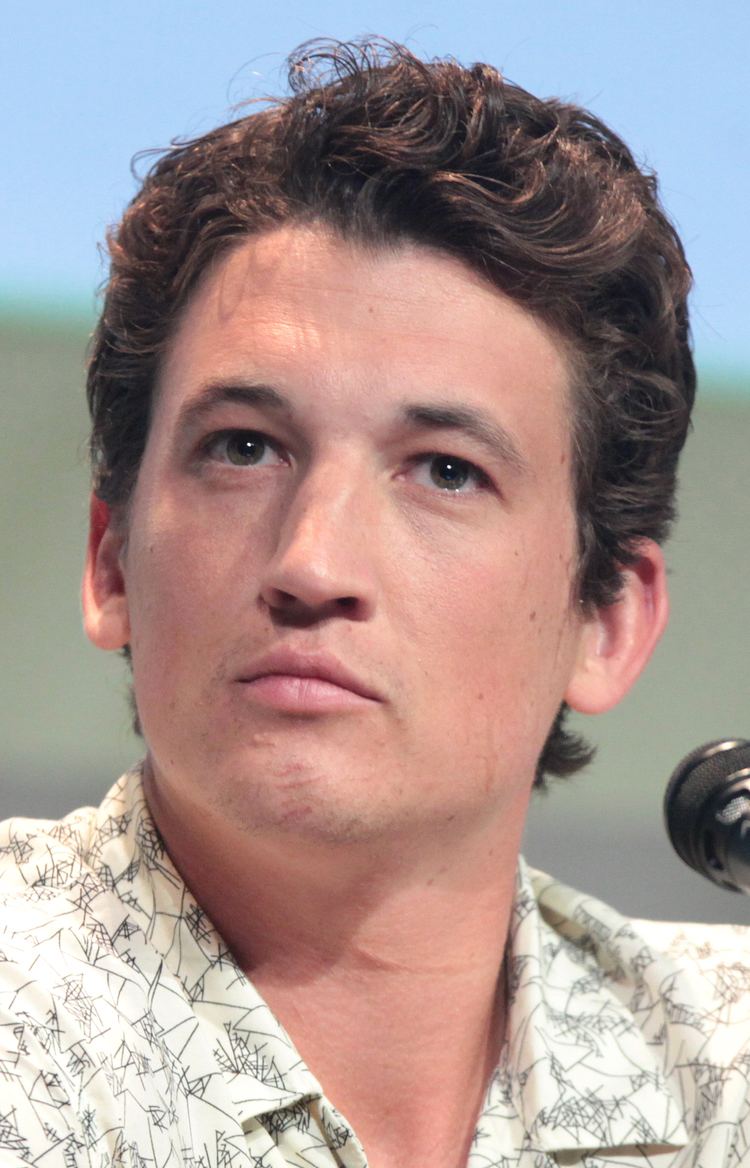 In 2007, he was a passenger in a car that lost control at 80 mph and flipped eight times, he was ejected out the window. He has multiple visible scars on his face from the accident.
Career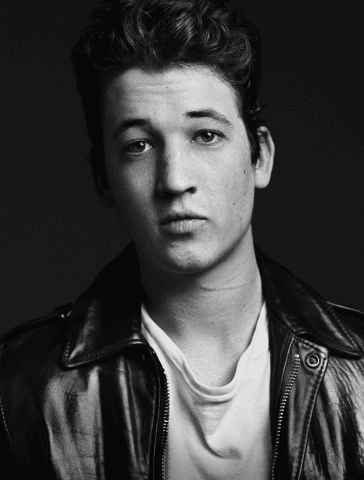 Before making his feature film debut Teller appeared in many short films. After graduating from Tisch School of the Arts in 2009, he made his debut in 2010's Rabbit Hole, after Nicole Kidman handpicked him for the role. Teller appeared in the stage musical Footloose in high school. Years later, he was cast in the film remake of Footloose (2011) starring Kenny Wormald, in which he played the same character as in his high school musical.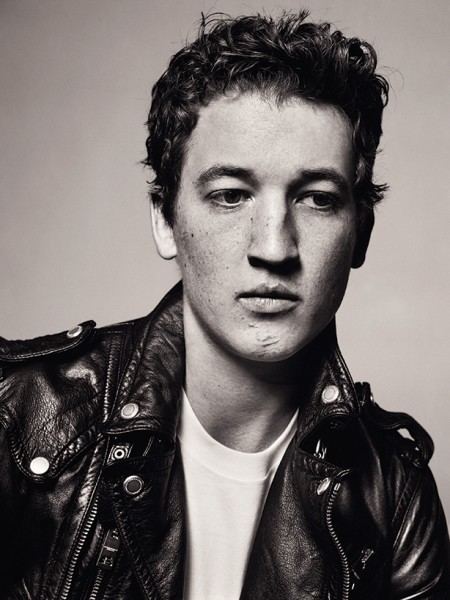 In 2013, he starred in 21 & Over, written and directed by Jon Lucas and Scott Moore. That year, he began reaching critical success after starring in the James Ponsoldt film, The Spectacular Now, for which he won the Dramatic Special Jury Award for Acting at the 2013 Sundance Film Festival, with co-star Shailene Woodley.
In 2014, he co-starred in the comedy That Awkward Moment, alongside Zac Efron and Michael B. Jordan, and starred as a drummer in the well-reviewed drama Whiplash (2014), which premiered at the 2014 Sundance Film Festival and opened in theaters in October 2014. He was nominated for the Gotham Independent Film Award for Best Actor, the Satellite Award for Best Actor – Motion Picture, and the BAFTA Rising Star Award.
Teller received further recognition when he portrayed Peter Hayes in the commercially successful Divergent (2014), followed by the film's sequels Insurgent (2015) and Allegiant (2016). He also starred as Reed Richards / Mister Fantastic in the film Fantastic Four (2015).
Teller played real life arms dealer David Packouz, opposite Jonah Hill, in the Todd Phillips-directed film War Dogs (2016), and headlined the biopic Bleed for This (2016), playing boxer Vinny Paz. In January 2014, Teller was cast to portray Dan Aykroyd in Steven Conrad's untitled John Belushi biopic.
Personal life
Teller is a loyal fan of the Philadelphia Phillies.
Since 2013, he has been in a relationship with model Keleigh Sperry. They got engaged on August 20, 2017 while on an African safari.
Filmography
Actor
2024
The Ark and the Aardvark (filming)
as
Gilbert (voice)
2022
Miles Teller: Great Balls of Fire (Music Video)
as
Lt. Bradley 'Rooster' Bradshaw
2022
The Offer (TV Mini Series)
as
Albert S. Ruddy
- Brains and Balls (2022) - Albert S. Ruddy
- It's Who We Are (2022) - Albert S. Ruddy
- Crossing That Line (2022) - Albert S. Ruddy
- Mr. Producer (2022) - Albert S. Ruddy
- A Stand Up Guy (2022) - Albert S. Ruddy
- Kiss the Ring (2022) - Albert S. Ruddy
- The Right Shade of Yellow (2022) - Albert S. Ruddy
- Fade In (2022) - Albert S. Ruddy
- Warning Shots (2022) - Albert S. Ruddy
- A Seat at the Table (2022) - Albert S. Ruddy
2022
Top Gun: Maverick
as
Lt. Bradley 'Rooster' Bradshaw
2021
Taylor Swift: I Bet You Think About Me (Taylor's Version) (Music Video short)
as
Miles Teller
2019
Too Old to Die Young (TV Mini Series)
as
Martin Jones
- Volume 10: The World (2019) - Martin Jones (credit only)
- Volume 9: The Empress (2019) - Martin Jones (credit only)
- Volume 8: The Hanged Man (2019) - Martin Jones
- Volume 7: The Magician (2019) - Martin Jones
- Volume 6: The High Priestess (2019) - Martin Jones
- Volume 3: The Hermit (2019) - Martin Jones
- Volume 2: The Lovers (2019) - Martin Jones
- Volume 1: The Devil (2019) - Martin Jones
- Volume 5: The Fool (2019) - Martin Jones
- Volume 4: The Tower (2019) - Martin Jones
2017
Only the Brave
as
Brendan McDonough
2017
Thank You for Your Service
as
Adam Schumann
2016
War Dogs
as
David Packouz
2015
Fantastic Four
as
Reed Richards
2015
The Divergent Series: Insurgent
as
Peter
2015
The Divergent Series: Insurgent - Shatter Reality (Video Game short)
as
Peter
2014
9 Kisses (Short)
as
Groom
2014
That Awkward Moment
as
Daniel
2013
The Spectacular Now
as
Sutter
2012
The 47th Floor (TV Series)
- Episode #3.51 (2012)
- Episode #3.46 (2012)
- Episode #3.37 (2012)
- Episode #3.26 (2012)
2010
The Track Meet (Short)
as
Andrew
2009
The Unusuals (TV Series)
as
James Boorland
- Boorland Day (2009) - James Boorland
2008
The Musicians (Short)
as
Miguel
2008
While Choking (Short)
as
Miles
2007
Specific Recipe (Short)
as
Lee
2004
Moonlighters (Short)
as
Miles
Producer
-
The Gorge (executive producer) (filming)
2022
The Offer (TV Mini Series) (executive producer - 7 episodes)
- Crossing That Line (2022) - (executive producer)
- Mr. Producer (2022) - (executive producer)
- A Stand Up Guy (2022) - (executive producer)
- Kiss the Ring (2022) - (executive producer)
- The Right Shade of Yellow (2022) - (executive producer)
- Fade In (2022) - (executive producer)
- A Seat at the Table (2022) - (executive producer)
Soundtrack
2022
Top Gun: Maverick (performer: "Great Balls of Fire")
2016
The Tonight Show Starring Jimmy Fallon (TV Series) (performer - 1 episode)
- Miles Teller/Keri Russell/Steven Tyler (2016) - (performer: "My Girl")
Thanks
2021
Flag Day (special thanks)
Self
2023
iHeartRadio Music Awards (TV Special)
as
Self
2023
The Oscars (TV Special)
as
Self - Audience Member (uncredited)
2022
Access Hollywood (TV Series)
as
Self
- Episode #27.124 (2023) - Self
- Episode #26.278 (2022) - Self
- Episode #26.237 (2022) - Self
- Episode #26.202 (2022) - Self
- Episode #26.201 (2022) - Self
2023
The 28th Annual Critics' Choice Awards (TV Special)
as
Self - Presenter
2015
Entertainment Tonight (TV Series)
as
Self
- 'Top Gun' Takeover (2022) - Self
- Iconic TV Dads Week - Day 4 (2022) - Self
- Iconic TV Dads Week - Day 2 (2022) - Self
- Iconic TV Dads Week - Day 1 (2022) - Self
- Iconic TV Moms Week - Day 3 (2022) - Self
- ET Super Friday Spectacular! (2020) - Self
2022
UFC 281: Adesanya vs. Pereira (TV Special)
as
Self - Audience Member
2022
Saturday Night Live (TV Series)
as
Self - Host
- Miles Teller/Kendrick Lamar (2022) - Self - Host
2014
The Tonight Show Starring Jimmy Fallon (TV Series)
as
Self - Guest / Self
- Miles Teller/Idina Menzel/Babyface/Baby Tate (2022) - Self
- Miles Teller/P!nk/Austin Rogers/William Patrick Corgan (2017) - Self - Guest
- Miles Teller/Keri Russell/Steven Tyler (2016) - Self - Guest
- Jim Parsons/Miles Teller/Wiz Khalifa feat. Charlie Puth (2015) - Self - Guest
- Tyler Perry/Miles Teller/Lucinda Williams (2014) - Self - Guest
2022
UFC 276: Adesanya vs. Cannonier (TV Special)
as
Self - Audience Member
2017
Dish Nation (TV Series)
as
Self
- Episode #10.209 (2022) - Self
- Episode #10.190 (2022) - Self
- Episode #6.35 (2017) - Self
2015
Late Night with Seth Meyers (TV Series)
as
Self - Guest
- Miles Teller/Elizabeth 'Busy' Philipps/Jana Schmieding/Jordyn Blakely (2022) - Self - Guest
- Miles Teller/Jessica St. Clair & Lennon Parham/Christine and The Queens/Brad Wilk (2015) - Self - Guest
2015
Ok! TV (TV Series)
as
Self
- Episode #9.77 (2022) - Self
- Episode #3.40 (2017) - Self
- Episode #3.36 (2017) - Self
- Episode #3.35 (2017) - Self
- Episode dated 5 October 2015 (2015) - Self
2016
The Late Late Show with James Corden (TV Series)
as
Self - Guest / Self
- Miles Teller/Amanda Peet/Brett Gelman (2022) - Self
- Miles Teller/Whitney Cummings/Fergie (2017) - Self - Guest
- Dana Carvey/Miles Teller/Usain Bolt (2016) - Self - Guest
2019
Hollywood Insider (TV Series)
as
Self
- Come Behind the Scenes of 'Downton Abbey: A New Era' - Making of - Hugh Bonneville, Michelle Dockery (2022) - Self
- In-Depth Scoop With Miles Teller II on 'Top Gun: Maverick' (2022) - Self
- Full Commentary on 'Top Gun: Maverick': Tom Cruise, Val Kilmer, Jennifer Connelly, Miles Teller (2022) - Self
- Red Carpet Revelations With Miles Teller on 'Top Gun: Maverick' (2022) - Self
- Top Gun: Maverick' Full Premiere Reactions: Tom Cruise, Val Kilmer, Jennifer Connelly, Miles Teller (2022) - Self
- The Rise and Journey of Miles Teller: From 'Whiplash' to 'Bleed For This' (2022) - Self
- The Rise and Journey of Shawn Levy - Producer & Director of Enjoyable Cinema (2022) - Self
- The Rise and Fall of Young Adult Dystopian Adaptation Franchises: 'Hunger Games', 'Harry Potter' (2021) - Self
- Keeping In Rhythm with Damien Chazelle: The Fantastically Talented Oscar Winning Director's Movies (2021) - Self
- The Under-Appreciation of Screenwriters and Scripts - Why Hollywood Needs To Show Respect (2021) - Self
- Come Behind the Scenes of 'Top Gun: Maverick' (2019) - Self
- Cannes Film Festival 2019: Hollywood Insider's Best Dressed Winners (2019) - Self
2022
Kermode & Mayo's Take (Podcast Series)
as
Self - Guest
- Miles Teller, Benediction, Emergency, the Innocents (2022) - Self - Guest
2013
Jimmy Kimmel Live! (TV Series)
as
Self - Guest / Self
- Miles Teller/Rhea Seehorn/The B-52s (2022) - Self - Guest
- Miles Teller/Ayesha Curry/Hollywood Vampires (2019) - Self - Guest
- Miles Teller/Bob Pflugfelder/Alessia Cara (2016) - Self - Guest
- Kobe Bryant/Kenny G & Warren G (2015) - Self (uncredited)
- Episode #10.335 (2013) - Self - Guest
2015
Live with Kelly and Mark (TV Series)
as
Self - Guest / Self
- Miles Teller/Jamie-Lynn Sigler (2022) - Self
- Miles Teller/Michelle Dockery (2017) - Self - Guest
- Guest Co-Host Tony Goldwyn/Miles Teller/Daveed Diggs (2016) - Self - Guest
- Guest Co-Host Josh Gad/Miles Teller/Carla Gugino (2016) - Self - Guest
- Miles Teller/Rick Springfield (2015) - Self - Guest
2021
UFC 264: Poirier vs. McGregor 3 (TV Special)
as
Self - Audience Member
2021
The Graham Norton Show (TV Series)
as
Self - Guest
- Tom Cruise/Jennifer Connelly/Miles Teller/Felicity Jones/Wunmi Mosaku/John Bishop/Years & Years (2021) - Self - Guest
2020
Pardon My Take (Podcast Series)
as
Self
- Actor Miles Teller, MLB Playoff Rules, And We Get Inside The Mind Of A Marketing Genius, Dana B (2020) - Self
2020
The Jim Rome Show (TV Series)
as
Self - Guest
- Episode #5.21 (2020) - Self - Guest
2018
Front Row Flynn (TV Series)
as
Self
- BLEED FOR THIS: Miles Teller, moderator Debbie Lynn Elias (2018) - Self
2018
Behind the Brotherhood: The Characters (Video documentary short)
as
Self
2018
Boot Camp: Becoming a Hotshot (Video documentary short)
as
Self
2018
Honoring the Heroes: The True Stories (Video documentary short)
as
Self
2014
Today (TV Series)
as
Self - Guest
- Episode dated 2 November 2017 (2017) - Self - Guest
- Episode dated 30 October 2017 (2017) - Self - Guest
- Episode dated 26 October 2017 (2017) - Self - Guest
- Episode dated 25 October 2017 (2017) - Self - Guest
- Episode dated 9 November 2016 (2016) - Self - Guest
- Episode dated 3 August 2015 (2015) - Self - Guest
- Episode dated 17 March 2015 (2015) - Self - Guest
- Episode dated 1 October 2014 (2014) - Self - Guest
- Episode dated 21 January 2014 (2014) - Self - Guest
2017
Fox News Sunday (TV Series)
as
Self - Power Player of the Week
- Episode dated 29 October 2017 (2017) - Self - Power Player of the Week
2017
Entertainers with Byron Allen (TV Series documentary)
as
Self - Thank You For Your Service
- Hey (2017) - Self - Thank You For Your Service
2013
Made in Hollywood (TV Series)
as
Self
- Suburbicon/Thank You for Your Service (2017) - Self
- Fantastic Beasts and Where to Find Them/Bleed for This/The Edge of Seventeen/Manchester by the Sea (2016) - Self
- War Dogs/Ben-Hur/Southside with You/The Intervention (2016) - Self
- The Divergent Series: Allegiant/Miracles from Heaven/The Hunger Games: Mockingjay - Part 2 (2016) - Self
- Fantastic Four/Dark Places/The Prophet (2015) - Self
- Insurgent/Danny Collins/Do You Believe? (2015) - Self
- The Lego Movie/That Awkward Moment/The Monuments Men (2014) - Self
- Episode #8.38 (2013) - Self
- Episode #8.19 (2013) - Self
2017
Harry (TV Series)
as
Self - Guest
- "Thank You For Your Service" Actor Miles Teller & Beulah Koale/Cooking with "The Walking Dead"/Leading Lady (2017) - Self - Guest
2017
The Daily Show (TV Series)
as
Self - Guest
- Miles Teller & Jason Hall (2017) - Self - Guest
2017
The View (TV Series)
as
Self - Guest
- Dr. Phil McGraw/Miles Teller (2017) - Self - Guest
2017
WGN Morning News (TV Series)
as
Self
- Episode dated 25 October 2017 (2017) - Self
- Episode dated 18 October 2017 (2017) - Self
- Episode dated 11 October 2017 (2017) - Self
- Episode dated 5 October 2017 (2017) - Self
2017
Hand in Hand: A Benefit for Hurricane Relief (TV Special)
as
Self
2017
The Oscars (TV Special)
as
Self - Mean Tweets segment
2017
32nd Film Independent Spirit Awards (TV Special)
as
Self - Presenter
2016
Red Carpet Report (TV Series short)
as
Self
- AirBnB Open Festival Snapchat Story (2016) - Self
2016
Young Hollywood (TV Series)
as
Self
- Miles Teller Weighs in on BLEED for THIS (2016) - Self
2016
The Late Show with Stephen Colbert (TV Series)
as
Self - Guest
- Miles Teller/Neil DeGrasse Tyson/Triumph, the Insult Comic Dog (2016) - Self - Guest
2016
Le grand journal de Canal+ (TV Series documentary)
as
Self
- Episode dated 9 September 2016 (2016) - Self
2016
Good Morning America (TV Series)
as
Self - Guest
- Episode dated 4 August 2016 (2016) - Self - Guest
2016
The Next Chapter: Cast and Characters of 'Allegiant' (Video documentary short)
as
Self / Peter
2016
2016 MTV Movie Awards (TV Special)
as
Self - Presenter
2015
Powering Up: Superpowers of the 'Fantastic Four' (Video documentary short)
as
Self
2015
taff (TV Series)
as
Self
- Episode dated 13 August 2015 (2015) - Self
2015
From Divergent to Insurgent (Video short)
as
Self / Peter
2015
Huffpost Live (TV Series)
as
Self
- The Cast of 'Fantastic Four' LIVE (2015) - Self
2015
Insurgent: The Peter Hayes Story (Video short)
as
Self / Peter
2015
Insurgent Unlocked: The Ultimate Behind the Scenes Access (Video documentary)
as
Self / Peter
2015
Fox and Friends (TV Series)
as
Self
- Episode dated 3 August 2015 (2015) - Self
2014
Weekend Ticket (TV Series short)
as
Self
- Episode #3.126 (2015) - Self
- Episode #2.47 (2014) - Self
2015
2015 MTV Movie Awards (TV Special)
as
Self - Nominee & Presenter
2014
IMDb: What to Watch (TV Series documentary)
as
Self
- Insurgent (2015) - Self
- Whiplash (2014) - Self
- Divergent (2014) - Self
2015
HBO First Look (TV Series documentary short)
as
Self / Peter
- Insurgent (2015) - Self / Peter
2015
E! Live from the Red Carpet (TV Series)
as
Self
- The 2015 Academy Awards (2015) - Self
2015
The Oscars (TV Special)
as
Self - Host: Scientific & Technical Awards
2015
30th Annual Film Independent Spirit Awards (TV Special)
as
Self - Presenter
2015
Film '72 (TV Series)
as
Self - Interviewee
- Episode #44.1 (2015) - Self - Interviewee
2014
24th Annual Gotham Independent Film Awards (TV Special)
as
Self - Presenter
2014
The Queen Latifah Show (TV Series)
as
Self - Guest
- "NCIS" Star Michael Weatherly. Plus, from "Divergent" and the Highly Anticipated Film "Whiplash", Miles Teller (2014) - Self - Guest
2014
Bringing 'Divergent' to Life (Video documentary)
2014
Divergent: Faction Before Blood (Video documentary short)
as
Self
2014
2014 MTV Movie Awards (TV Special)
as
Self - Nominee
2014
Janela Indiscreta (TV Series)
as
Self
- Episode #1.215 (2014) - Self
2014
Unscripted (TV Series)
as
Self
- Divergent (2014) - Self
2014
Late Show with David Letterman (TV Series)
as
Self - Guest
- Jason Bateman/Miles Teller/Gary Allan (2014) - Self - Guest
2014
Conan (TV Series)
as
Self - Guest
- The Cast of 'That Awkward Moment'/Ellie Kemper/Neko Case Featuring Calexico (2014) - Self - Guest
2014
Late Night with Jimmy Fallon (TV Series)
as
Self - Guest
- Jennifer Connelly/Miles Teller/Ronan Farrow/Sheng Wang (2014) - Self - Guest
2014
The 40th Annual People's Choice Awards (TV Special)
as
Self
2013
GeekRockTV (TV Series)
as
Self - Special Guest
- Superman 75th Anniversary (2013) - Self - Special Guest
2013
Beyond the Trailer (TV Series)
as
Self
- Miles Teller Interview 2013: Divergent, The Spectacular Now (2013) - Self
2013
Hello! Hollywood (TV Series)
as
Self
- Interview with the Cast of 21 and Over with Host Yi Tian (2013) - Self
2013
Big Morning Buzz Live (TV Series)
as
Self - Guest
- Maggie Q/Joan & Melissa Rivers/Cast of '21 & Over' (2013) - Self - Guest
2013
Up Close with Carrie Keagan (TV Series)
as
Self - Guest
- Episode dated 27 February 2013 (2013) - Self - Guest
2013
Reel Junkie (TV Series)
as
Self
- 21 & Over (2013) - Self
2012
Dancing with the 'Footloose' Stars (Video documentary short)
as
Self
2012
Everybody Cut: The Stars of 'Footloose' (Video documentary short)
as
Self
2012
Jump Back: Re-Imagining 'Footloose' (Video documentary short)
as
Self
2012
E.W.C. - Express Written Consent (TV Series)
as
Self
2006
Live! From the Future (TV Series)
as
Self - guest
Archive Footage
2015
Entertainment Tonight (TV Series)
as
Self
- 2021 Rundown! (2021) - Self
2022
Live with Kelly and Mark (TV Series)
as
Self
- Mark Consuelos/Miles Teller/Leslie Odom Jr./Andy Grammer (2022) - Self
2022
OneRepublic: I Ain't Worried (Music Video)
2022
Lady Gaga: Hold My Hand (Music Video short)
2017
Fox and Friends (TV Series)
as
Self
- Episode dated 28 October 2017 (2017) - Self
2015
Everything Wrong with... (TV Series)
as
Peter
- Everything Wrong with Insurgent (2015) - Peter (uncredited)
2015
Provokation (Documentary short)
as
Andrew Neiman
References
Miles Teller Wikipedia
(Text) CC BY-SA