Children

NataliaAlexander




Prime Minister

Vladimir Putin

Preceded by

Vladimir Putin

Books

Blueprint for Russia




Born

8 December 1957 (age 58)Moscow,

Russian SFSR

, U.S.S.R (

1957-12-08

)

Party

Russian People's Democratic Union

Parents

Mariya Kasyanova, Mikhail Fedorovich Kasyanov

Similar People

Boris Nemtsov, Mikhail Fradkov, Irina Khakamada
A conversation with mr mikhail kasyanov former prime minister of russia
Mikhail Mikhailovich Kasyanov (Russian: Михаи́л Миха́йлович Касья́нов - [mʲɪxɐˈil mʲɪˈxajləvʲɪtɕ kɐˈsʲjanəf], born 8 December 1957) is a Russian politician, who was the Prime Minister of Russia from May 2000 to February 2004 and minister of finance in 1999-2000. Currently, he is a chair of the political party People's Freedom Party, the leader of movement People's Democratic Union and an outspoken critic of Vladimir Putin.
Contents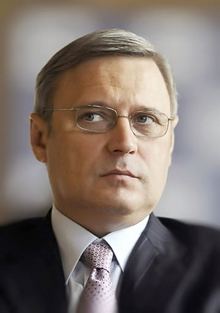 Kasyanov was one of the leaders of the opposition coalition The Other Russia and an active participant of Dissenters' Marches. In 2008 he was refused registration as a candidate in the election of President of Russia.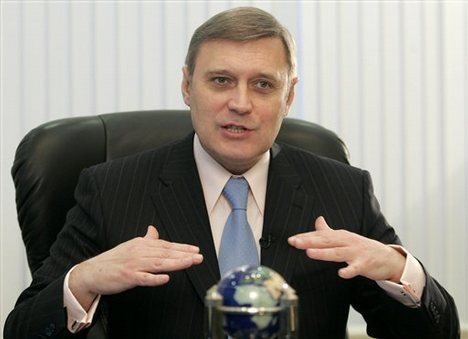 In 2010 he co-founded the coalition For Russia without Lawlessness and Corruption and was co-chair of the People's Freedom Party. Since 2012 Mikhail Kasyanov has been a co-chair of the registered political party, Republican Party of Russia – People's Freedom Party (RPR-PARNAS). He is an active speaker during protest rallies For Fair Elections.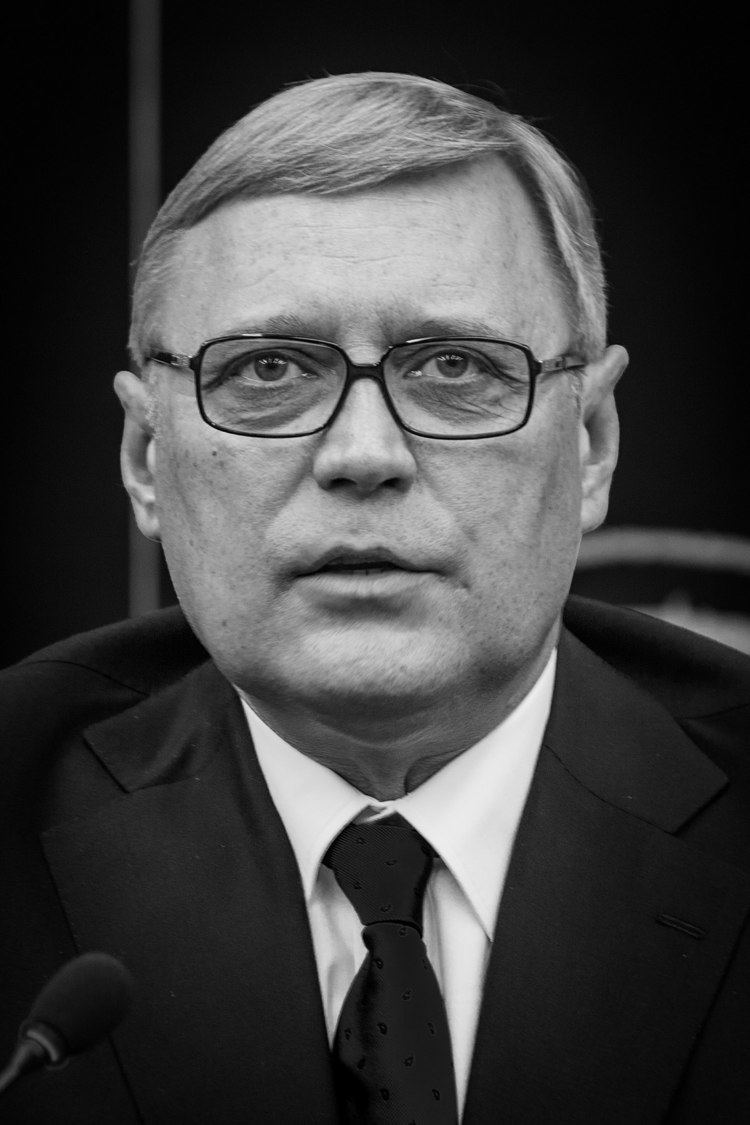 Mikhail kasyanov how putin remains in power upnorth eu
Biography
In 1976 Kasyanov graduated from the Moscow Automobile and Road University. He is married to Irina Kasyanova, whom he met in school in the eighth grade. They have a daughter.
Political career
Kasyanov was dismissed, along with the entire Russian cabinet, by President Vladimir Putin on 24 February 2004 after more than three years in office.
During this term Kasyanov's government made serious breakthroughs in launching and successfully finalizing reforms in many areas of the Russian economy and public sector – tax and fiscal reforms, customs reform, pension reform, reorganization of the national infrastructure (energy sector, railways). Inflation was reduced significantly and the Russian economy grew by almost one third. At the same time, the urgent policy of economic diversification had just started and was not fully implemented.
On the first anniversary of his dismissal (24 February 2005) Kasyanov gave a press conference at which he said that he might run for president in the 2008 elections. His bid was supported by Leonid Nevzlin and Boris Berezovsky and Garry Kasparov.
In April 2006 Mikhail Kasyanov was elected Chairman of the People's Democratic Union (PDU), a newly launched NGO. PDU was one of the co-founders of the first "The Other Russia" conference in July 2006 and of "The Other Russia" coalition that was set up at the conference. Kasyanov and the PDU were actively involved in the coalition's work and took part in the Dissenters' Marches in Moscow and St. Petersburg – the first protest manifestations in many years. On 3 March 2007, Kasparov and Kasyanov spoke against Putin's government to thousands of supporters at the Saint Petersburg Dissenters' March.
At a presentation in International Institute for Strategic Studies 26 June 2006, Kasyanov criticized Putin's administration. He said: "Separation of powers has been effectively demolished and replaced by the so-called 'Vertical of Power' which is based on the false idea that all the meaningful social and political processes must be kept under control by the state. The government and parliament cannot function any longer without daily instructions. The judiciary is increasingly servile. Independent TV does not exist any more at the federal level and is being quickly uprooted in the regions. Moreover, the state-owned companies and the state itself increase their grip over the electronic and printed media. Responsibility of the regional level of power is totally destroyed by the abolishment of direct elections for the governors."
Now PDU had regional branches in 75 regions of Russia. In June 2007 Kasyanov was nominated by the PDU as a candidate for the presidential elections. In September 2007 the new political party People for Democracy and Justice (ru:Народ за демократию и справедливость) was established on the basis of the PDU, and Kasyanov was elected its chairman.
2008 presidential candidacy
In 2006 Kasyanov stated his desire to run for President of Russia in 2008. Kasyanov left (opposition group) The Other Russia in July 2007 due to the group's failure to agree on a single presidential candidate. Kasyanov was nominated as a candidate in December 2007 and on 16 January 2008 he stated that he had finished collecting the 2 million signatures necessary to run as a candidate. Later in the month, however, the Central Election Commission rejected his candidacy on the grounds that 13.36% of the signatures were invalid. Kasyanov claimed that the decision to prevent his candidacy was taken by Putin himself, who was afraid that in a fair election Dmitry Medvedev might lose. Kasyanov described the election as a farce, calling for a boycott.
The presentation of Kasyanov's book Without Putin in the Ukrainian capital Kiev on 18 December 2009 was cancelled merely minutes before its planned opening. Kasyanov's press secretary claimed that the electricity went out in the Premier Palace Hotel minutes before the presentation was to start and that some 20 young men had blocked the entrance to the hotel to keep attendees from entering.
Fraud accusations and court case
Allegations that Kasyanov took a two percent commission in exchange for ignoring bribes and illegal business ventures whilst he was working at the Ministry of Finance between 1993 and 1999 were made in the "state-controlled" Russian media which branded him as "Misha 2 percent" . In an article by Peter J. Stavrakis entitled "Russia's evolution as a predatory state" (part of a compilation entitled "Russia's uncertain economic future", written for the United States Congress Joint Economic Committee), the allegations are described as credible. A Spiegel article from 2007 notes that Kasyanov insists that his only earnings as a public servant was his government salary and he was only involved in private business venture for "one year" since leaving the post of prime minister. The same article also claims that Kasyanov purchased the state-owned dacha of former Communist Party of the Soviet Union ideologue Mikhail Suslov which was worth several million euros.
On 11 July 2005, the Russian Office of Public Prosecutor started to investigate the privatization of two houses formerly owned by the government. According to allegations first made by the journalist and State Duma member Aleksandr Hinshtein, two luxury government houses had been put up for sale in 2003 by a Kasyanov decree. According to the court verdict of 16 March 2007, he was to return a house and pay 108,135,000 rubles in damages to the government for using the property illegally (approx. USD 4,150,000 or €3,130,000). In 2007, Kasyanov was still planning to appeal.
Threats against Kasyanov
In February 2016, Kasyanov's image was posted online by Ramzan Kadyrov on his social media account, with Kasyanov being in cross hairs of a sniper rifle. This was seen as a threat against Kasyanov. On February 10, Kasyanov was attacked in a Moscow restaurant by a dozen men who yelled death threats at him.
Timeline
1981-90: Engineer; leading economist; Senior Specialist; Head of Section, Department of Foreign Economic Relations of the State Planning Committee of the RSFSR.
1990: appointed Head of Section, Sub-department of Foreign Economic Relations of the State Planning Committee of the RSFSR.
1991: Deputy Head, Sub-department, then Head, Sub-department of Foreign Economic Relations of the Ministry of Economy of the Russian Federation.
1992-93: Head, Consolidation Department of the Ministry of Economy of the Russian Federation.
1993-95: Head, Department of Foreign Credits and External Debt of the Ministry of Finance of the Russian Federation and Member of the Board of the Ministry of Finance.
1995: appointed Deputy Minister of Finance.
1999: appointed First Deputy Minister of Finance.
May 1999: appointed Minister of Finance of the Russian Federation.
January 2000: appointed First Deputy Prime Minister of the Russian Federation.
May 2000: Prime Minister of the Russian Federation.
February 2004: Sacked by President Putin along with the entire cabinet.
March 2005: Mikhail Kasyanov launched his advisory firm MK Analytica. He started to vocally criticize Russian authorities for their anti-democratic drift and declared his intention to take part in the presidential elections in 2008 to change the general political course of the country.
April 2006: Chairman of the People's Democratic Union (PDU), a newly launched NGO.
June 2007: Nominated by the PDU as a candidate for the presidential elections.
July 2007: due to the group's failure to agree on a single presidential candidate Kasyanov leaves The Other Russia.
September 2007: Chairman of the new political party "People for Democracy and Justice" established on the basis of PDU.
December 2007: approved by a congress of supporters as a candidate for the presidential elections.
January 2008: The Central Election Commission of Russia (ЦИК) barred his candidacy for the presidential elections, citing an excess of forgeries within his required two million signatures.
November 2014: Appeared before the House of Lords EU External Affairs Sub-Committee in London Houses of Parliament to be questioned regarding his opinion as to how the European Union should best respond to Russian military intervention in Ukraine.
References
Mikhail Kasyanov Wikipedia
(Text) CC BY-SA