Name

Irina Khakamada




Role

Russian Politician




Movies

Moy paren - Angel










Books

Sex + success: samouchitelʹ ot self-made woman, SEX + SUCCESS. Samouchitel Ot Self-Made Woman




Spouse

Sergey Zlobin (m. 1978–1990), Vladimir Sirotinskiy




Children

Daniel Sirotinsky, Maria Sirotinskaya




Parents

Nina Sinelnikova, Mutsuo Hakamada




Similar People

Anatoly Chubais, Shigeki Hakamada, Vera Storozheva
Эмоции: подавлять, управлять или расслабиться? / EMOTIONS | IRINA KHAKAMADA | TEDxRANEPA
Liberal presidential challenger to file libel charge against rival
Irina Mutsuovna Khakamada (Russian: Ири́на Муцу́овна Хакама́да; [ɪˈrʲinə mʊˈtsuəvnə xəkɐˈmadə], born April 13, 1955 in Moscow) is a Russian politician who ran in the Russian presidential election, 2004.
Contents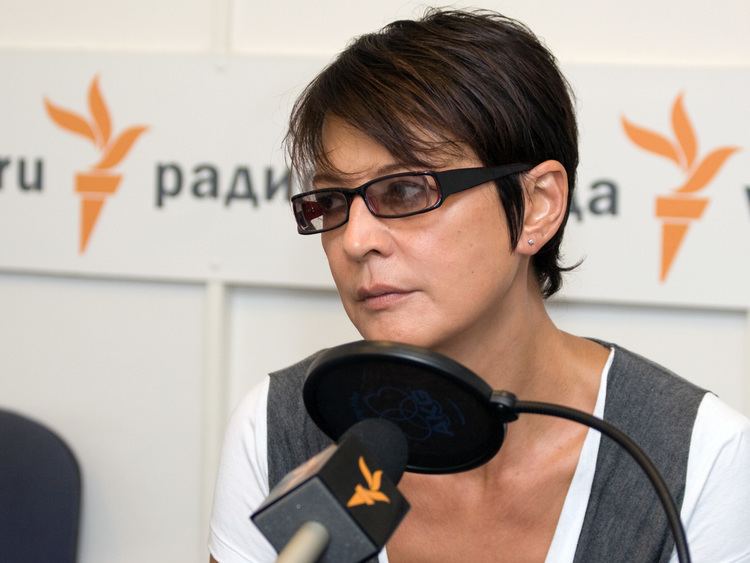 Biography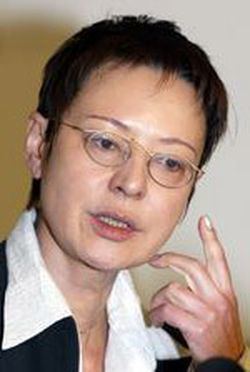 Khakamada was born to a Japanese father, Mutsuo Hakamada, a communist who defected to the Soviet Union in 1939, and Nina Sinelnikova, who is of Russian and Armenian roots, schoolteacher who lost her father to the Stalinist purges and her mother to suicide following the family's forced relocation to Khabarovsk. Her paternal uncle is Satomi Hakamada (袴田 里見), a longtime member of the Japanese Communist Party leadership. The Russia expert and Aoyama Gakuin University political science professor Shigeki Hakamada is her half-brother. In kanji, her family name is 袴田; in katakana, her name is イリーナ・ハカマダ.
She graduated from the Department of Economy of the Patrice Lumumba Peoples' Friendship University in Moscow in 1978. She later obtained her PhD degree from the Faculty of Economics of Lomonosov Moscow State University. She was a member of the CPSU from 1984 to 1989.
Irina Khakamada was an elected Duma representative from 1993 to 2003. She is commonly regarded as a democratic politician who is in a moderate opposition to the Russian government. She is known for criticizing the governmental actions during Moscow theater hostage crisis where she was involved as one of the negotiators. Khakamada stated that the hostage takers were not going to use their bombs to kill the people and destroy the building. This opinion was supported by other negotiators including Anna Politkovskaya and by the subsequent events when the Chechens did not use their bombs.
Khakamada was one of the leaders of the Union of Rightist Forces, when she decided to run in the Russian presidential election, 2004. She was not supported by her own party, because they regarded her as the only opponent of president Putin (all other candidates were not opposed to the President's policies). She received 3.9% of votes. Publicist Yulia Latynina in her article in Novaya Gazeta claimed that she only staged a role of a democratic opponent to provide more legitimacy to the election of Vladimir Putin, a role that Grigory Alexeyevich Yavlinsky refused to play. However, Khakamada denied such allegations.
After the election, Khakamada founded a political party, Our Choice, which eventually merged with the People's Democratic Union led by Mikhail Kasyanov and her. She published book "Gender in big-Time politics" describing her personal experience of work in Kremlin.
Claims of receiving and passing threats
On June 11, 2006 Boris Berezovsky, fugitive from Russian justice system, said Boris Nemtsov received a word from Khakamada that Putin threatened her and like-minded colleagues in person. According to Berezovsky Putin had issued threats that Khakamada and her colleagues "will take in the head immediately, literally, not figuratively" if they "open the mouth" about the Russian apartment bombings.
Former FSB officer Alexander Litvinenko said he had learned from Anna Politkovskaya that Putin asked Khakamada to pass a threat to Politkovskaya. Khakamada denied her involvement in passing any specific threats, and said that she warned Politkovskaya only in general terms more than a year earlier, and that Politkovskaya blamed her and Mikhail Kasyanov for becoming Kremlin's puppets. Politkovskaya and Litvinenko were murdered in October and November 2006, respectively.
References
Irina Khakamada Wikipedia
(Text) CC BY-SA