Occupation

Actor




Education

West High School




Spouse

Belle Dudikoff (m. 2004)




Role

Actor




Name

Michael Dudikoff










Full Name

Michael Joseph Dudikoff II




Born

October 8, 1954 (age 68) (

1954-10-08

)

Redondo Beach, California, U.S.




Years active

1978-2004, 2013-present




Children

Nancy Dudikoff, Joseph Stephen Michael III




Parents

Rita T. Dudikoff , Joseph Dudikov




Movies

American Ninja, American Ninja 2: The Confr, Avenging Force, American Ninja 4: The Anni, Platoon Leader






Similar

Steve James (actor), Sam Firstenberg, David Bradley (American actor)




Profiles




Facebook

Twitter
Best Acting Ever: Michael Dudikoff
Michael Joseph Dudikoff II (born October 8, 1954) is an American actor who has been in numerous films, including the American Ninja series (1985–1990), Tron (1982), Bachelor Party (1984), Platoon Leader (1988), River of Death (1989), Soldier Boyz (1996), Ringmaster (1998) and The Silencer (1999).
Contents
American ninja michael dudikoff arrives at ip man 3 la film premiere red carpet
Early life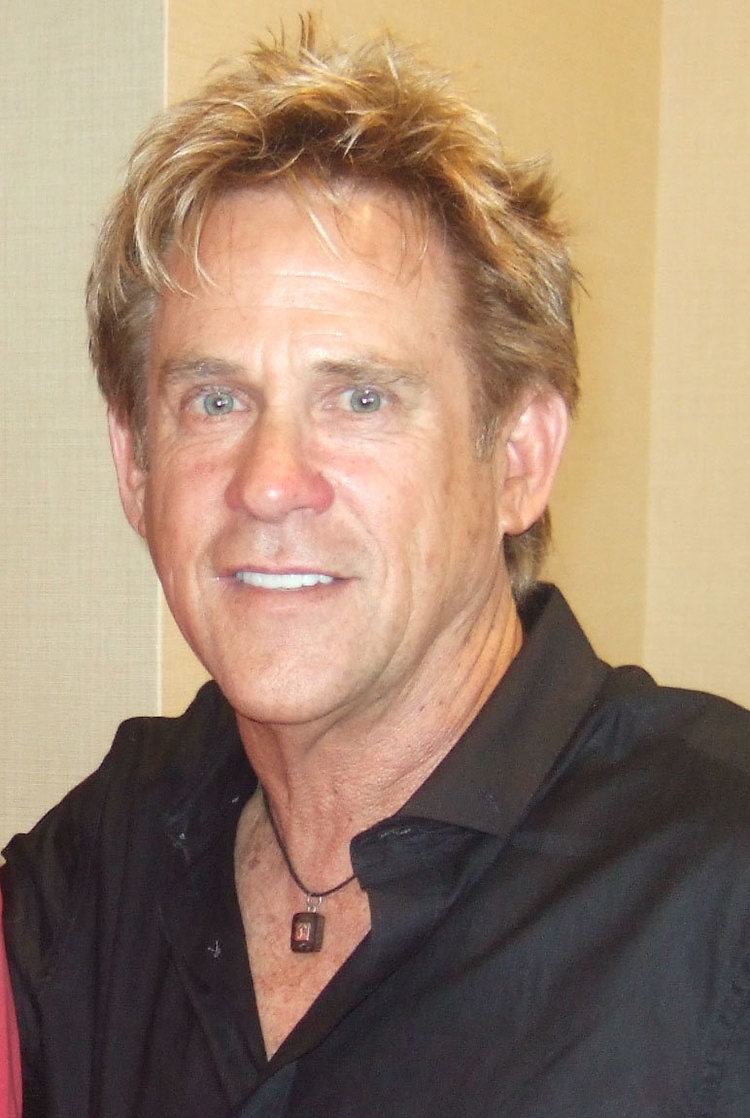 Dudikoff comes from a large family. His father, Michael Joseph Dudikoff, was from a Christian Orthodox family from Russia, and served in the Army before marrying Dudikoff's mother, a French-Canadian native from Quebec who was extremely talented on the piano. The couple moved to California and had five children. Dudikoff is the fourth of the group.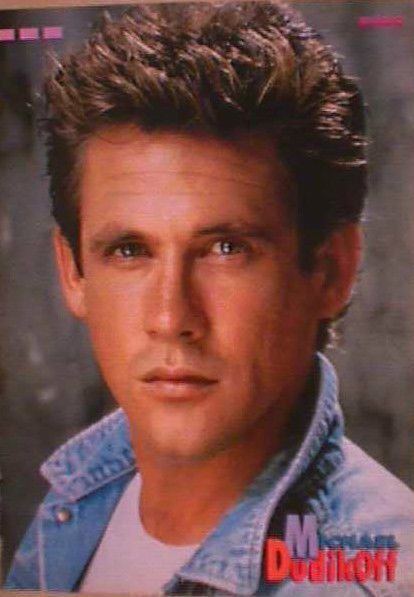 Dudikoff graduated from West High School in Torrance, California and was studying child psychology at Harbor College, when he was discovered as a model. During this time, he also worked at a rehabilitation center for abused youth called Cedar House. He waited tables at Beachbum Burt's in Redondo Beach, California to pay for his education.
During lunch one day, Dudikoff served Max Evans, a fashion editor with Esquire magazine, who came in with some models. Evans asked Dudikoff to walk in a Newport Beach fashion show, and his mother encouraged him to try it out.
After a couple of successful runways, Dudikoff retained an agent at the Mary Webb Davis Agency in Los Angeles. Dudikoff soon entered the high fashion world and counted Calvin Klein and GQ among his clients. He moved quickly to international print modeling and traveled between New York, Los Angeles, and Milan by his late 20s.
Film career
Dudikoff soon began acting, and he starred in several commercials for companies, including Coppertone, Coca-Cola for Japan, Army Reserve and Stridex.
His first television role took place after a meeting with theatrical agent Sid Craig. It was at this time that he landed the part as Joanie's first boyfriend in the American sitcom Happy Days. Other television work included roles in Dallas, Gimme a Break!, and a Columbia Pictures movie-of-the-week called Sawyer & Finn. He is widely recognized for playing the character Private Joe Armstrong in the American Ninja (1985). There were five movies in the American Ninja series of which Dudikoff appears in the first, second and fourth films.
Other Dudikoff films include Tron (1982), Uncommon Valor (1983), Bachelor Party (1984), Avenging Force (1986), River of Death (1989), The Human Shield (1991), Chain of Command (1994), Soldier Boyz (1996), Bounty Hunters (1996), Ringmaster (1998), The Silencer (1999), In Her Defense (1999), Gale Force (2002) and Quicksand (2002).
Dudikoff mentioned in an interview with TRASHOTHEK in September 2012 that he had a desire to be in The Expendables 3. He also hinted at a possible sequel to American Ninja and Avenging Force.
Private life
Dudikoff mentors other actors and participates in martial arts, including Brazilian Jiu-Jitsu. He began his training in Brazilian Jiu-Jitsu with Rorion Gracie and stays connected with the Brazilian Jiu-Jitsu fighting circuit, including Rigan Machado, an eighth degree red and black belt in Brazilian Jiu-Jitsu and former world champion.
Dudikoff is married and has two children. The Dudikoffs also own two chihuahuas. He can speak a little Russian.
Filmography
Actor
2020
Landfill
as
Mr. Lindbergh
2019
Green Valley (TV Series)
as
Uncle Rik
- Pilot (2019) - Uncle Rik
2018
Fury of the Fist and the Golden Fleece
as
Superboss
2018
B-Team (Video Game)
as
General Dudikoff
2015
Navy Seals vs. Zombies
as
Commander Sheer
2015
The Bouncer
as
Samuel james
2013
Zombie Break Room (TV Series)
as
Tank Dempsey (2013)
2002
Stranded (Video)
as
Ed Carpenter
2002
Gale Force (Video)
as
Jared
1999
The Silencer
as
Quinn Simmons
1999
Fugitive Mind (Video)
as
Robert Dean
1999
In Her Defense
as
Andrew Garfield
1998
Musketeers Forever
as
D'Artagnan
1998
Ringmaster
as
Rusty / Connie's husband
1998
Black Thunder
as
Vince Conners
1998
Counter Measures (Video)
as
Capt. Jake Fuller
1998
Freedom Strike
as
Tom Dickson
1997
The Shooter
as
Michael Atherton
1997
Soldier Boyz (Video Game)
as
Toliver
1997
Hardball (Video)
as
Jersey
1997
Strategic Command
as
Dr. Rick Harding
1996
Crash Dive (Video)
as
James Carter
1996
Bounty Hunters (Video)
as
Jersey
1995
Soldier Boyz
as
Major Howard Toliver
1993
Cobra (TV Series)
as
Robert "Scandal" Jackson
- Aces and Eights (1994) - Robert "Scandal" Jackson
- Precious (1994) - Robert "Scandal" Jackson
- Lorinda (1994) - Robert "Scandal" Jackson
- Haunted Lives (1994) - Robert "Scandal" Jackson
- A Few Dead Men (1994) - Robert "Scandal" Jackson
- Caged Fury (1994) - Robert "Scandal" Jackson
- Death Dive (1994) - Robert "Scandal" Jackson
- Blast from the Past (1994) - Robert "Scandal" Jackson
- Lost in Cyberspace (1994) - Robert "Scandal" Jackson
- Diamond in the Rough (1994) - Robert "Scandal" Jackson
- Death on the Line (1994) - Robert "Scandal" Jackson
- Playing with Fire (1993) - Robert "Scandal" Jackson
- Something in the Air (1993) - Robert "Scandal" Jackson
- I'd Die for You (1993) - Robert "Scandal" Jackson
- Hostage Hearts (1993) - Robert "Scandal" Jackson
- Mr. Chapman, I Presume (1993) - Robert "Scandal" Jackson
- The Gnome (1993) - Robert "Scandal" Jackson
- Nowhere to Run (1993) - Robert "Scandal" Jackson
- Honeymoon Hideaway (1993) - Robert "Scandal" Jackson
- Push It (1993) - Robert "Scandal" Jackson
- Pilot: Part 2 (1993) - Robert "Scandal" Jackson
- Pilot: Part 1 (1993) - Robert "Scandal" Jackson
1994
Historias de la puta mili (TV Series)
as
Special Appearance
- El examen de Arensivia (1994) - Special Appearance
1994
Chain of Command
as
Merrill Ross
1992
Rescue Me
as
Daniel 'Mac' MacDonald
1991
The Woman Who Sinned (TV Movie)
as
Evan Ganns
1991
The Human Shield
as
Doug Matthews
1990
American Ninja 4: The Annihilation
as
Joe Armstrong
1990
Air America
as
General Lee (uncredited)
1989
River of Death
as
John Hamilton
1988
Platoon Leader
as
Lt. Jeff Knight
1987
American Ninja 2: The Confrontation
as
Joe
1986
Avenging Force
as
Capt. Matt Hunter
1986
North and South, Book II (TV Mini Series)
as
Lt. Rudy Bodford
- March 1865 - April 1865 (1986) - Lt. Rudy Bodford (credit only)
- December 1864 - February 1865 (1986) - Lt. Rudy Bodford (credit only)
- May 1864 - Late Autumn 1864 (1986) - Lt. Rudy Bodford
- September 17, 1862 - Spring 1864 (1986) - Lt. Rudy Bodford
- July 1861 - Summer 1862 (1986) - Lt. Rudy Bodford
- June 1861 - July 21, 1861 (1986) - Lt. Rudy Bodford
1984
Radioactive Dreams
as
Marlowe Hammer
1984
Young Hearts (TV Movie)
as
Keith
1983
Sawyer and Finn (TV Movie)
as
Huckleberry Finn
1983
Uncommon Valor
as
Blaster's Assistant
1983
Gimme a Break! (TV Series)
as
Greg Hartman
- Nell Gets Sick (1983) - Greg Hartman
1982
Star of the Family (TV Series)
as
Douggie Krebs
- Arcade Wars (1982) - Douggie Krebs
- Phil (1982) - Douggie Krebs
- The Boy Next Door (1982) - Douggie Krebs
- I Got It Good and That Ain't Good (1982) - Douggie Krebs
- Spring Is in the Air (1982) - Douggie Krebs
- Quiet Kind of Hero (1982) - Douggie Krebs
- Marking Time (1982) - Douggie Krebs
- Save My Life, Please (1982) - Douggie Krebs
- The Critic (1982) - Douggie Krebs
- Pilot (1982) - Douggie Krebs
1982
Tron
as
Conscript #2 (as Michael J. Dudikoff II)
1982
I Ought to Be in Pictures
as
Boy on bus
1982
Making Love
as
Young Man in Bar 2
1981
The Grady Nutt Show (TV Movie)
as
Randy
1981
The Best Little Girl in the World (TV Movie)
as
Chuck
1981
Bloody Birthday
as
Willard
1980
The Black Marble
as
Millie's Houseboy
1979
Happy Days (TV Series)
as
Jason / Jim
- Joanie's Dilemma (1980) - Jason
- Smokin' Ain't Cool (1979) - Jim (as Michael J. Dudikoff II)
1979
Out of the Blue (TV Series)
as
Lenny
- The Random Bust (1979) - Lenny
1978
Dallas (TV Series)
as
Joe Newcomb
- Triangle (1978) - Joe Newcomb
Assistant Director
2023
Out for Vengeance (associate director) (post-production)
Producer
2013
Zombie Break Room (TV Series) (executive producer - 2013-)
Miscellaneous
1995
Moving Target (creative consultant)
Thanks
2023
Out for Vengeance (special thanks) (post-production)
2014
Electric Boogaloo: The Wild, Untold Story of Cannon Films (Documentary) (our deepest appreciation)
2012
Downtown Crackdown 3-D (Short) (special thanks)
Self
2019
Real Men (Documentary)
2018
500 (Video short)
as
Self (archive photos)
2017
American Warrior (Documentary short)
as
Self
2016
An American Ninja in Cape Town: Making 'American Ninja 2' (Video documentary short)
as
Self
2016
Last Tango in Lesotho: Making 'American Ninja 4' (Video documentary short)
as
Self
2016
Rumble in the Jungle: The Making of 'American Ninja' (Video documentary short)
as
Self
2016
Strike Me Deadly: Making 'American Ninja 3' (Video documentary short)
as
Self
2015
Ninja Gaijin: Making the American Ninja Franchise (Documentary)
as
Self
2014
Electric Boogaloo: The Wild, Untold Story of Cannon Films (Documentary)
as
Self - Actor
2014
The Go-Go Boys: The Inside Story of Cannon Films (Documentary)
as
Self
2012
Moviecops (TV Series)
as
Self
- Im Verhör: Michael Dudikoff (2013) - Self
- Die Akte The Expendables 2 (2013) - Self
- Die Akte Battleship (2012) - Self
1987
The New Hollywood Squares (TV Series)
as
Self - Panelist
- Episode dated 16 January 1989 (1989) - Self - Panelist
- Episode dated 25 May 1987 (1987) - Self - Panelist
1983
Just Men! (TV Series)
as
Self
- Episode #1.4 (1983) - Self
Archive Footage
2011
Movie Nights (TV Series)
as
Pvt. Joe T. Armstrong
- American Ninja (2011) - Pvt. Joe T. Armstrong
References
Michael Dudikoff Wikipedia
(Text) CC BY-SA