Birth name

Matthias




Years active

1978–present




Spouse

Beate Kuster (m. 2004)




Instruments

Guitar, vocals


Role

guitarist



Name

Matthias Jabs




Genres

hard rock, heavy metal


Labels

RCA, Mercury, New Door


Born

October 25, 1955 (age 65) Hannover, Federal Republic of Germany (

1955-10-25

)


Similar People

Rudolf Schenker, Klaus Meine, James Kottak, Pawel Maciwoda, Herman Rarebell




Occupation(s)

Musician, songwriter


Music group

Scorpions (Since 1978)

Musikmesse 10 scorpions matthias jabs collection of touring guitars
Matthias Jabs (born October 25, 1955) is a German guitarist and songwriter. He is best known for being the lead/rhythm guitarist in the Hard rock band Scorpions. He has played on all Scorpions studio albums starting with Lovedrive (1979) to Return to Forever (2015). He has a music store, MJ Guitars, in Munich, Germany.
Contents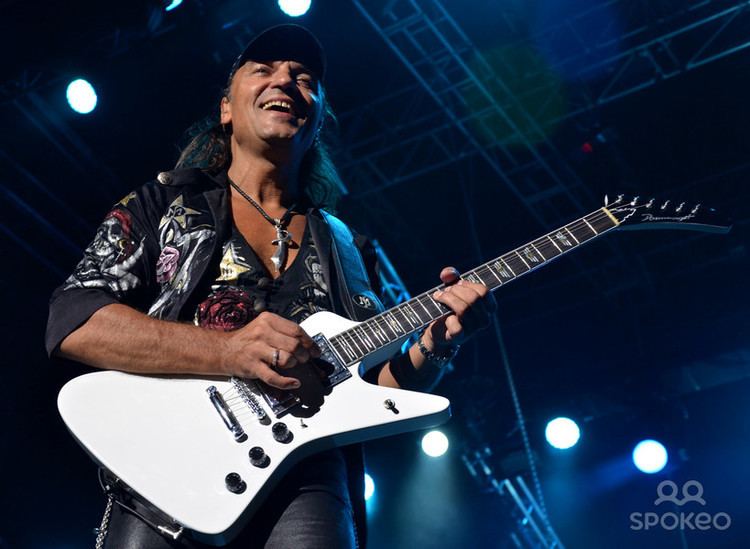 Matthias jabs playing in a guitar shop
Career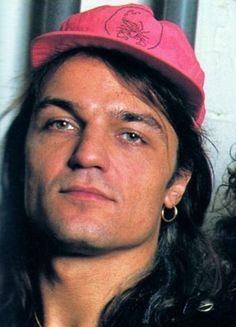 Before joining the Scorpions, Jabs played for the bands Lady, Fargo and Deadlock. Jabs was hired to join the Scorpions upon the departure of guitarist Ulrich Roth in August 1978. According to the Scorpions wiki (under the Rise to fame and Commercial Success sections):
Departure of Uli Roth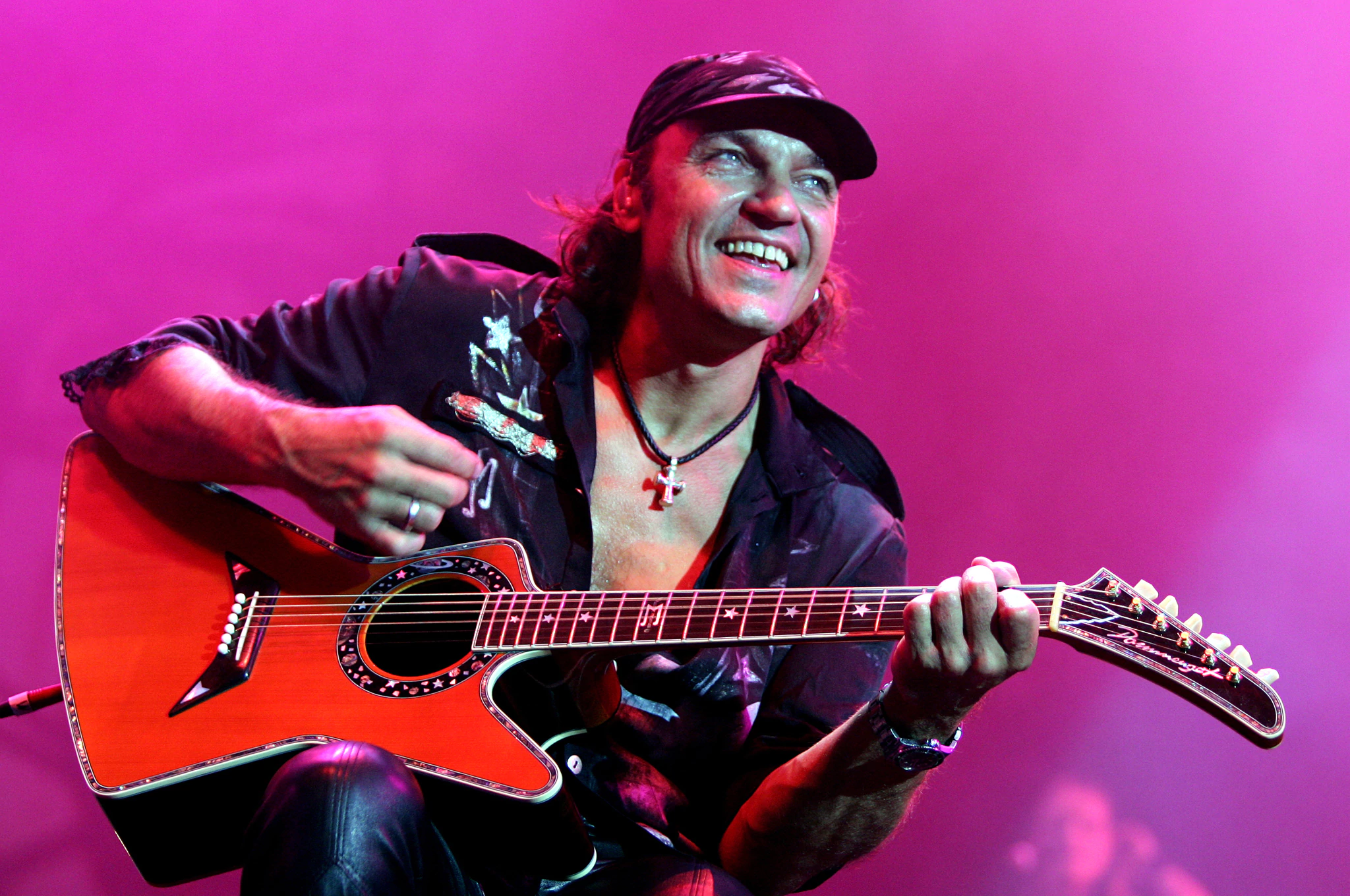 "For the follow-up Taken by Force, RCA Records made a determined effort to promote the album in stores and on the radio. The album's single, "Steamrock Fever", was added to some of RCA's radio promotional records. Roth was not happy with the commercial direction the band was taking. Although he performed on the band's Japan tour, he departed to form his own band, Electric Sun prior to the release of the resultant double live album Tokyo Tapes. Tokyo Tapes was released in the US and Europe six months after its Japanese release. By that time in mid 1978, after auditioning around 140 guitarists, Scorpions recruited guitarist Matthias Jabs."
Michael Schenker's short stint back in the group
"Following the addition of Jabs, Scorpions left RCA for Mercury Records in the United States and Harvest/EMI Electrola worldwide to record their next album Lovedrive. Michael Schenker also returned to the group for a short period during the recordings for the album. This gave the band three guitarists (though Schenker's contribution to the final release was limited to only three songs). The result was Lovedrive, an album which some critics consider to be the pinnacle of their career. Containing such fan favourites as "Loving You Sunday Morning", "Always Somewhere", "Lovedrive", "Holiday" and the instrumental "Coast to Coast", it firmly cemented the 'Scorpions formula' of hard rock songs mixed with melodic ballads.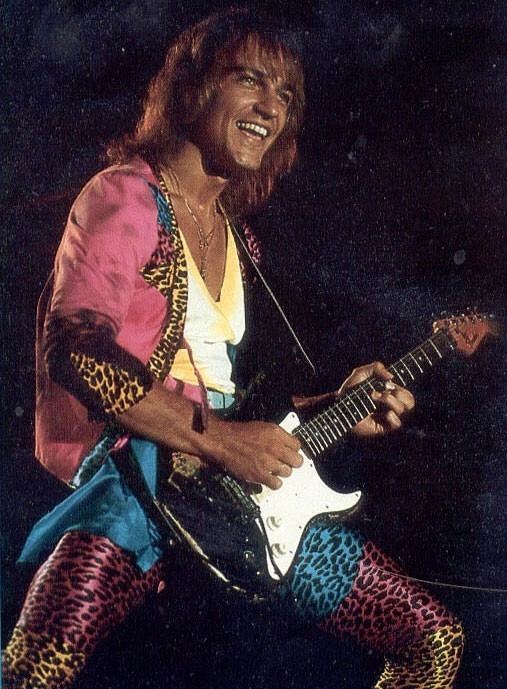 After the completion and release of the album the band decided to retain Michael in the band, forcing Jabs to leave. However, in April 1979, after only a few weeks on the tour, Michael quit. Jabs was immediately brought in to permanently replace him.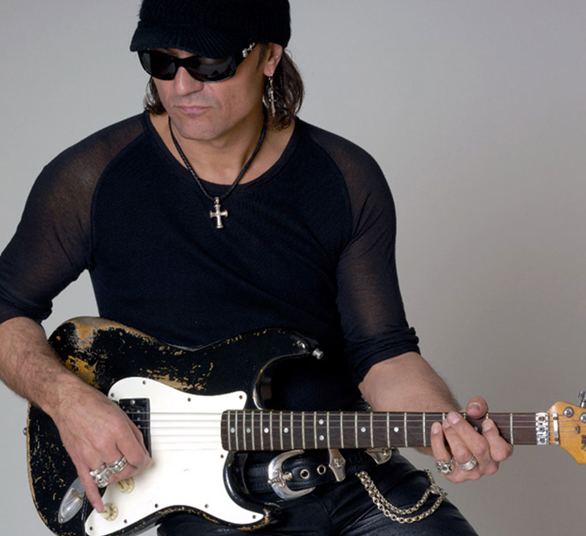 Jabs' playing style was a large part of Lovedrive's fresher, newer, heavier sound. This "Van Halen-like" sound would become the band's signature as it would propel them into superstardom in the 1980s.
In the year 2000, he was awarded the city of Hanover plaque and the Cross of Merit on Ribbon (Verdienstkreuz am Bande) of the Lower Saxony Order of Merit.
Jabs was discovered by Francis Buchholz, who helped him learn mathematics.
Equipment
During the 1980s, he had a 1963–64 black Fender Stratocaster, called his "trouble guitar", fitted with a Floyd Rose floating tremolo and a Bill Lawrence L90 pickup. The guitar was featured on many tracks that needed a tremolo, including "Blackout". A copy of this guitar, with a black Gibson humbucker, is seen on the 'Make a Difference Foundation' video filmed in Russia, (This event had other guests including Ozzy Osbourne and Gorky Park).
Jabs favours Gibson Explorer guitars, and Gibson even designed a model for them, called the Explorer 90 (due to the body being 90% the size of a regular Explorer) in the late 1980s. He also has a signature Fender Stratocaster dubbed the "Jabocaster". Nowadays, Jabs and the rest of the Scorpions play the German-made Dommenget brand of guitars. All of the band's signature models are made by them. His most recent signature guitar is his "Mastercaster" which was used mostly on stage and on their Humanity - Hour 1 album. Jabs is also notable for using a talk box on some songs (such as "The Zoo" on Animal Magnetism, "To Be No. 1" on Eye II Eye, "Money and Fame" (Crazy World), "Can You Feel It" (Unbreakable), "Media Overkill" (Savage Amusement)), and "Raised on Rock" (Sting in the Tail). In most Scorpions songs, rhythm guitars are performed by rhythm guitarist Rudolf Schenker and guitar solos are performed by Matthias, but there are some notable exceptions, in which Matthias plays rhythm guitar instead guitar solos and Rudolf plays the solos instead rhythm guitar, such as "Wind of Change", "Always Somewhere", "Still Loving You", "Send Me an Angel", "Lady Starlight", "Big City Nights, "As Soon as the Good Times Roll", "When The Smoke is Going Down", "Animal Magnetism", "Through My Eyes" "Coast to Coast", "SLY" and "Rock 'N' Roll Band".
Jabs replaces the Marshall amplification logo on his amplifier cabinets with his own name, in the same font style as the Marshall logo. Besides Marshall, Jabs also uses Wizard cabinets, Hiwatt, ENGL, Fender Prosonic and Soldano amplifiers and cabinets, Kitty Hawk preamps, D'andrea picks, and Seymour Duncan JB pickups. Back in the 1980s, he used marshall JCM 800 2210 amplifiers which can be seen on the World Wide Live DVD. Jabs also currently uses Ovation 6 and 12 string acoustic guitars, D'addario strings (which are tuned to E-flat and D), and talk boxes from Heil. In 2010, Jabs collaborated with Cort Guitars to develop his own line of signature electric guitars called the Garage 1, the Garage 2 and the Arena 1.
References
Matthias Jabs Wikipedia
(Text) CC BY-SA