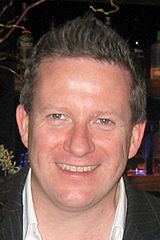 Matthew Bourne, was born in Hackney, London, England, in 1960. He went to William Fitt and Sir George Monoux School in Walthamstow, London. From the ages of 14 to 16 he was an avid autograph hunter, attending most West End opening nights and waiting outside Stage Doors and top London hotels. In 1978 he left full-time education and worked in various jobs at the BBC (filing clerk), Keith Prowse Theatre Agents (selling theatre tickets) and The National Theatre (bookshop and ushering). Despite having never done a dance class, he ran and directed various amateur Dance Companies in his teenage years. In 1982 he enrolled at the Laban Centre for Movement and Dance (now Trinity Laban Conservatoire of Music and Dance) in Deptford, southeast London, where he was awarded a BA in Dance Theatre. For his final year (1986) he danced with the Laban Centre's Transitions Dance Company. After graduation he formed the dance company, Adventures in Motion Pictures (AMP), with fellow directors, and friends, Emma Gladstone and David Massingham. Bourne has worked as a professional choreographer and director since 1987, becoming sole artistic director of AMP in 1991 and New Adventures in 2002. He now lives in Islington, London and Brighton, East Sussex.

Matthew Bourne is the only British director to have won the Best Direction of a Musical and Best Choreography. He has been said to be the most audience-conscious artist. He does not go into detail about his works because he wants the audience to have their own interpretations.
Bourne started training as a dancer at the relatively late age of 22. He studied Dance Theatre and Choreography at Laban, graduating in 1985 but spending a further year with the college's performance company Transitions. He danced professionally for 14 years, creating many roles in his own work. In 1999 he gave his final performance, playing The Private Secretary in the Broadway production of Swan Lake.
Matthew Bourne was the artistic director of his first company, Adventures in Motion Pictures, from 1987 until 2002. During those 15 years AMP became the UK's most innovative and popular dance/theatre company, creating an enormous new audience for dance with its groundbreaking work both at home and internationally (works include: Spitfire, The Infernal Galop, Town and Country, Deadly Serious, Nutcracker, Highland Fling, Edward Scissorhands, Swan Lake, Cinderella and The Car Man).
In 2002 Bourne launched his latest company, New Adventures, with two highly successful productions. Play Without Words premiered as part of the National Theatre's Transformations Season and went on to win Best Entertainment and Choreography at that year's Olivier Awards. It then embarked on a World Tour and premiered in New York, Los Angeles and Moscow in 2005. Bourne's revised Nutcracker! also premiered at Sadler's Wells in 2002 and became an instant popular hit with audiences and critics, returning the following year for a second sell-out season. It became the first ballet to be screened by BBC1 in over 20 years and then also embarked on a world tour.
Bourne's Highland Fling and 10th Anniversary production of Swan Lake have also reached new audiences through extensive International touring, including seasons in Asia, Australia, Russia, Europe and the USA. New Adventures has continued to revive Bourne's work, including The Car Man in 2007 and Nutcracker! in 2008.
In 2005, New Adventures presented Matthew Bourne's production of Edward Scissorhands, based on Tim Burton's classic film, received its world premiere at Sadlers Wells Theatre. After breaking box office records over an 11-week season, the production toured the UK, before international debuts in Asia and a 6-month tour of the USA. The success of New Adventures relationship with Sadler's Wells Theatre was recognised in 2006 by the invitation to become Resident Company. Matthew Bourne is also a Resident Artist at Sadlers Wells.
Bourne has also created choreography for several major revivals of classic musicals including Cameron Mackintosh's productions of Oliver! (1994) and My Fair Lady (Olivier Award 2002) as well as the National Theatre's revival of South Pacific (2001). In 2004 Bourne Co-Directed (with Richard Eyre) and Choreographed (with Stephen Mear) the West End and Broadway hit musical Mary Poppins, for which he won an Olivier Award for Best Theatre Choreographer.
He has collaborated on projects with leading directors, Trevor Nunn, Richard Eyre, Sam Mendes, Yukio Ninagawa and John Caird and has created dances and roles for such wide-ranging performers as Jonathan Pryce, Lynn Seymour, Dawn French, Adam Cooper, Julie Walters, Rowan Atkinson and Michael Sheen.
His film work includes television productions of his stage work including Matthew Bourne's Swan Lake (Emmy nomination), The Car Man and Nutcracker! and original work such as the John Betjamin-inspired Late Flowering Lust with Sir Nigel Hawthorne and his own AMP Company in 1993.
Bourne was the subject of a South Bank Show in 1997 and in 1999 he presented Channel 4's Dance 4 Series. The channel 4 documentary Bourne To Dance, which he also presented, was broadcast on Christmas Day 2001. His production of Swan Lake is featured in Stephen Daldry's hit film Billy Elliot.
In 2007 Bourne was contemplating a gay version of Romeo and Juliet. Despite the success of his Swan Lake, in which he altered the traditional story to be about a human male falling in love with a male swan, Bourne acknowledged the challenge of a gay Romeo and Juliet. "It's more to do with dancing than with sexuality," he said "A male dancer, whether gay or straight, fits into a relationship with a female partner very happily. It's something you're taught, and it fits, it feels right, the lifting and all that stuff. Getting away from that, making a convincing love duet, a romantic, sexual duet, for two men that is comfortable to do and comfortable to watch–I don't know if you can. I've never seen it done."
Dorian Gray, based on Oscar Wilde's gothic masterpiece, premiered at the 2008 Edinburgh Festival, and became the most successful dance production in the Festival's 62-year history. Later in 2008 he co-directed and choreographed Cameron Mackintosh's latest revival of Oliver! with Rowan Atkinson, which is currently playing at London's Drury Lane Theatre. In 2010, New Adventures Performed an adaptation of William Golding's Lord of the Flies, it was put together in 3 weeks of rehearsing, and was performed in The Theatre Royal in Glasgow.
Matthew Bourne has twice been nominated as Best Director at the Olivier Awards, and his achievements in choreography have been recognised with over 30 international awards, including the Evening Standard Award, The South Bank Show Award, Time Out Award and the Astaire Award for Dance on Broadway. In the 2001 New Years Honours, Bourne was awarded an OBE for Services to Dance and in 2003 he was the recipient of the Hamburg Shakespeare Prize for the Arts. In 1997 Matthew was made an Honorary Fellow of his former college, The Laban Centre, becoming a Companion of Trinity Laban Conservatoire of Music and Dance in 2012. He has six Honorary Doctorates from The Open University, and the De Montfort, Plymouth, Kingston and Roehampton Universities, as well as the Royal Conservatoire of Scotland. He is also a Companion of Liverpool Institute of Performing Arts and a proud patron of many organisations, including The Arts Educational School, Laine Theatre Arts, CREATE and Shoreditch Youth Dance.
In 2014 Matthew Bourne was awarded the prestigious De Valois Award for Outstanding Achievement at the National Dance Awards and later that year saw the opening of the Matthew Bourne Theatre, named in his honour, at his old school in East London, Sir George Monoux College. In 2015 he became the first dance figure to be given The Stage Award for Outstanding Contribution to British Theatre presented by the UK Theatre Awards. He was knighted in the Queen's New Year Honours 2016 for services to dance and awarded the Queen Elizabeth II Coronation Award in recognition of his outstanding services to the art of ballet, which is one of the most coveted honours in the world of dance. In 2017 Matthew was appointed an Associate Artist for the Center Theatre Group in the USA.
In 2016 Bourne created his 11th full-length production The Red Shoes, based on the classic Powell and Pressburger film, with music by Bernard Herrmann. It was premiered at Sadler's Wells Theatre, London, on December 6, 2016. It has since been performed to sell out audiences across the UK and won two Olivier Awards in 2017 for Best Entertainment and Matthew Bourne for Best Theatre Choreographer.
Investing in the future of dance and theatre, Re:Bourne, the charitable arm of New Adventures, was formed in 2008. Every year Re:Bourne engages in inclusive projects with thousands of people of all ages and ability, as well as emerging artists across the UK. Projects have also been delivered in China, Singapore, Japan, South Korea and across the USA.
In 2014, the national tour of Lord of the Flies visited 13 cities, engaging over 8,000 young people in dance activity, many for the first time, delivering 80 performances and reaching some 75,000 people as audiences. Following the success of the show in the UK the production had its first international season at Arts Centre Melbourne, Australia in 2017.
As part of Re:Bourne's work with emerging talent the New Adventures Choreographer Award was launched in 2010 to support and encourage the next generation of dance-makers. It has become one of the most prestigious and sought-after choreography awards for new artists and biennially showcases the work of a young choreographer. Re:Bourne continues to work with universities and conservatoires to support the next generation of artists as well as, Overture, an exceptional professional development opportunity for dance practitioners working in communities across England.
Re:Bourne delivers a range of diverse projects to support health and wellbeing. In partnership with Dementia Pathfinders, Re:Bourne works in care homes to lead dance workshops for people living with dementia.
1988: Spitfire
1989: As You Like It (RSC)
1989: Show Boat (musical – Malmo – Sweden)
1989: The Infernal Galop
1990: Children of Eden (musical)
1991: Town and Country
1992: Deadly Serious
1992: Percy of Fitzrovia
1992: Nutcracker!
1992: Infernal Galop (reworked)
1993: Drip: a Narcissistic Love Story (BBC TV)
1993: Late Flowering Lust (BBC TV)
1994: Highland Fling
1994: Oliver!
1995: Matthew Bourne's Swan Lake
1997: Cinderella
1998: Swan Lake Broadway
2000: Matthew Bourne's The Car Man
2001: My Fair Lady (musical)
2001: South Pacific (musical)
2002: Nutcracker! New Production
2002: Play Without Words
2004: Mary Poppins
2005: Edward Scissorhands
2008: Dorian Gray
2009: Oliver! (Major Revival)
2010: Cinderella revival
2011: Lord of the Flies
2012: Nutcracker! 20th birthday
2012: Sleeping Beauty
2014: Lord of the Flies revival
2014: Edward Scissorhands revival
2015: Matthew Bourne's The Car Man revival
2015: Sleeping Beauty revival
2016: The Red Shoes
2017: Early Adventures
2017: Lord of the Flies revival
2017: Cinderella revival
Awards
1996 Time Out Special Award
1996 Southbank Show Award
1996 Laurence Olivier Award for Best New Dance Production - Swan Lake
1997 Honorary Fellow - The Laban Centre
1999 Astaire Award - Special Award for Direction, Choreography and Concept of Swan Lake
1999 Drama Desk Award Outstanding Director of a Musical – Swan Lake
1999 Drama Desk Award Outstanding Choreography – Swan Lake
1999 Tony Award Best Choreography – Swan Lake
1999 Tony Award Best Direction of a Musical – Swan Lake
2000 Evening Standard Award for Musical Event – The Car Man
2001 Officer of the Order of the British Empire (OBE) for Services to Dance
2003 Hamburg Shakespeare Prize For The Arts - Only the second recipient from the dance world in over 50 years. The other being the legendary ballerina, Dame Margot Fonteyn.
2003 Laurence Olivier Award for Best Theatre Choreographer - Play Without Words
2005 Laurence Olivier Award for Best Original Choreography – Mary Poppins
2007 Drama Desk Award Unique Theatrical Experience – Edward Scissorhands
2007 Theatre Managers Special Award (TMA) for Individual Achievement - For services to Dance Touring and Audience Development
2007 Honorary Doctor of Arts from De Montfort University, Leicester.
2010 Honorary Doctor of Arts from Plymouth University.
2010 The British Inspiration Award - Winner in Arts Category
2010 Honorary Doctorate - Plymouth University
2011 Honorary Doctorate - Kingston University
2011 Honorary Doctorate - Roehampton University
2011 Companion - Trinity Laban Conservatoire of Music and Dance
2012 LIPA Companion (Liverpool Institute of Performing Arts) Presented by Sir Paul McCartney
2013 De Valois Award for Outstanding Achievement - National Dance Awards
2013 Dance Film Association 'Dance in Focus' Award - given for 'persistence of vision, drive and artistry'
2014 The Sir George Monoux Founders Award - Presented at the Dedication Ceremony of The Matthew Bourne Theatre, Monoux College, Walthamstow, London
2015 Primio Ravenna Festical - Ravenna Festival Highest Honour - Previous recipients include Rostropovich, Ennio Morricone, Riccardo Muti and Pierre Boulez
2015 The UK Theatre Award for Outstanding Contribution to British Theatre
2016 KNIGHTHOOD for Services To Dance - New Years Honours
2016 QUEEN ELIZABETH II CORONATION (QEII) AWARD in recognition of outstanding services to the art of ballet
2016 Honorary Doctorate of Arts - Royal Conservatoire of Scotland
2016 THE GENE KELLY LEGACY AWARD from Dizzy Feet Foundation
2016 CRITICS' CIRCLE DISTINGUISHED SERVICE TO ART AWARD
2017 TRAILBLAZER IN DANCE AND THEATRE AWARD from The International Institute of Dance and Theatre
2017 Olivier Award for Best Theatre Choreographer - The Red Shoes
Nominations
2010 Laurence Olivier Award for Best Theatre Choreography – Oliver!
2000 Laurence Olivier Award for Outstanding Achievement in Dance – The Car Man
2005 Drama Desk Award Outstanding Director of a Musical – Play Without Words
2005 Drama Desk Award Outstanding Choreography – Play Without Words
2007 Drama Desk Award Outstanding Choreography – Edward Scissorhands
2007 Drama Desk Award Outstanding Choreography – Mary Poppins
2007 Tony Award Best Choreography – Mary Poppins