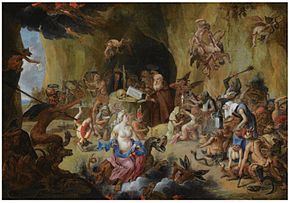 Mattheus van Helmont was born in Antwerp where he was baptised on 24 July 1623. Mattheus first joined the Antwerp Guild of Saint Luke as the son of a master and in 1645 he became a full master in the Guild.
His paintings of Italianizing market scenes and fairs suggest that he possibly visited Italy but there is no documentary evidence to corroborate such trip. He had a large output but got into debt, supposedly due to his unruly character and frequent involvement in brawls. This caused him to leave Antwerp and settle in Brussels in 1674. He was forced to leave many paintings with his creditors in Antwerp. He joined the Brussels Guild of Saint Luke in 1674.
He died in Brussels. The portrait and history painter Jan van Helmont was his son.
Mattheus van Helmont is known for his large output, which is generally signed or monogrammed, but rarely dated. His known works can be dated to the period from 1638 to 1670. He was a genre painter and specialised in painting interior scenes with peasants, alchemists and craftsmen at work, tavern interiors, village scenes and kermesses. He also painted singeries, a genre popularized by David Teniers the Younger and depicting monkeys appearing in human attire and a human environment.
Whereas most of his village scenes depict Flemish villages, he also painted scenes of Italian villages. He further produced still lifes. He is known to have contributed staffage to the landscapes of Jacques d'Arthois.
Van Helmont was stylistically and thematically influenced by Adriaen Brouwer, David Ryckaert III and David Teniers II. In the final phase of his career his style became more personal.
He produced a number of 'guardroom scenes'. A guardroom scene typically depicts an interior scene with officers and soldiers engaged in merrymaking. Guardroom scenes often included mercenaries and prostitutes dividing booty, harassing captives or indulging in other forms of reprehensible activities. The genre became popular in the mid-17th century, particularly in the Dutch Republic. In Flanders there were also a few practitioners of the genre including David Teniers the Younger, Abraham Teniers, Anton Goubau, Cornelis Mahu and Jan Baptist Tijssens the Younger.
Van Helmont painted a Guardroom with the Release of St. Peter (Sold at Colnaghi Old Masters), which is inspired by several compositions of a similar subject by David Teniers the Younger, which are now in the collections of the Wallace Collection, the Metropolitan Museum of Art and the Staatliche Kunstsammlungen in Dresden. Van Helmont's composition depicts soldiers and officers sitting around a table while placing cards, smoking and drinking. On the left there is a pile of weapons and a drum, clearly borrowed from Teniers' compositions. The armour depicted in the picture was already out of date at the time it was painted since metal armours, breast plates and helmets fell out of use from the 1620s. It is possible that in line with the moralizing intent of the genre, the armour is a reference to the vanitas motif of the transience of power and fame. The composition also includes a religious scene of the 'Release of St. Peter', which is visible through a gate in the background of the painting. This inclusion of a religious scene in a larger composition is reminiscent of the work of 16th century painters in Antwerp such as Pieter Aertsen and Joachim Beuckelaer who placed small religious scenes in the background of lush scenes of markets.
Van Helmont produced multiple versions of The Temptation of Saint Anthony. This subject was very popular in Flemish art from the late 15th century. Catholics regard Saint Anthony as a model to be emulated as he is believed to have resisted multiple temptations sent to him by the devil. Flemish paintings dealing with the theme of the temptation of Saint Anthony are typically populated with witches and monstrous creatures that tempt him. In the 17th century David Teniers the Younger and his brother Abraham Teniers often returned to the theme.
A composition of The Temptation of Saint Anthony sold at Sotheby's (7 May 2008 in Amsterdam, lot 24) shows Saint Anthony kneeling in front of a block of stone resembling an altar on which several religious objects are placed. While David Teniers humanized his witches and creatures in appearance as well as behaviour, van Helmont seems to continue the 16th-century tradition of emphasising their monstrosity. Van Helmont also elected to give the role of female temptress to a highly seductive, bare-breasted woman unlike Teniers who opted for a beautiful but decently dressed young woman.