Education

Ohio University




Name

Matt Lauer




Occupation

Television journalist




Role

Journalist




Years active

1979–present




Height

1.8 m




Salary

$28,000,000 annually








Full Name

Matthew Todd Lauer




Born

December 30, 1957 (age 58) (

1957-12-30

)

New York City, New York, U.S.




Notable credit(s)

Today co-anchor (1997–present) Today news anchor (1994–1997)




Website

www.msnbc.msn.com/id/3079110/




Spouse

Annette Roque (m. 1998), Nancy Alspaugh (m. 1981–1988)




Children

Romy Lauer, Jack Matthew Lauer, Thijs Lauer




Parents

Marilyn Lauer, Robert Lauer




Movies and TV shows

Today, Dateline NBC, Curious George 2: Follow Th, Elf: Buddy's Musical Christmas, PM Magazine




Similar People

Savannah Guthrie, Al Roker, Natalie Morales, Ann Curry, Annette Roque
Matt Lauer: A Complete Disgrace to Journalism
Matthew Todd Lauer (born December 30, 1957) is an American television journalist and host of The Today Show. He is also a contributor for Dateline NBC. He was previously a news anchor for The Today Show in 1994 and anchor for WNBC in New York City and a local talk-show host in Boston, Philadelphia, Providence, and Richmond. He was also host of PM Magazine (or "Evening Magazine" 1980–86). In the early 1990s, Lauer hosted segments of HBO Entertainment News.
Contents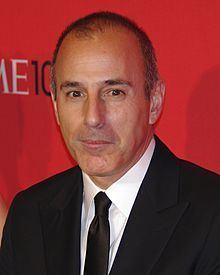 Early life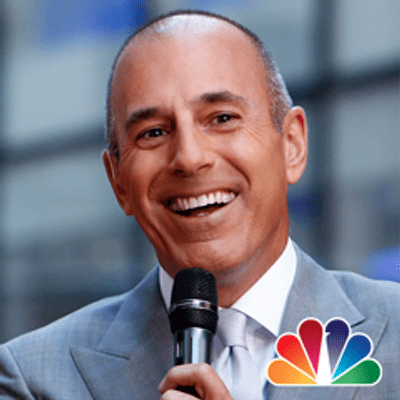 Lauer was born in New York City, the son of Marilyn Kolmer (née Gentry), a boutique owner, and Jay Robert Lauer, a bicycle-company executive. His parents divorced during his youth, and his father died in 1997. Lauer had become co-host of The Today Show, replacing longtime host Bryant Gumbel in early 1997, not long before his father's death.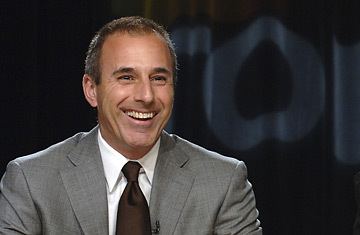 Lauer's father was of Romanian Jewish heritage, as seen on the Today Show's Finding Our Roots. Lauer said, "My dad was Jewish. My mom is not. So I was not raised anything. I do feel a desire now to find something spiritual. Getting married and wanting to have kids has something to do with that."
Career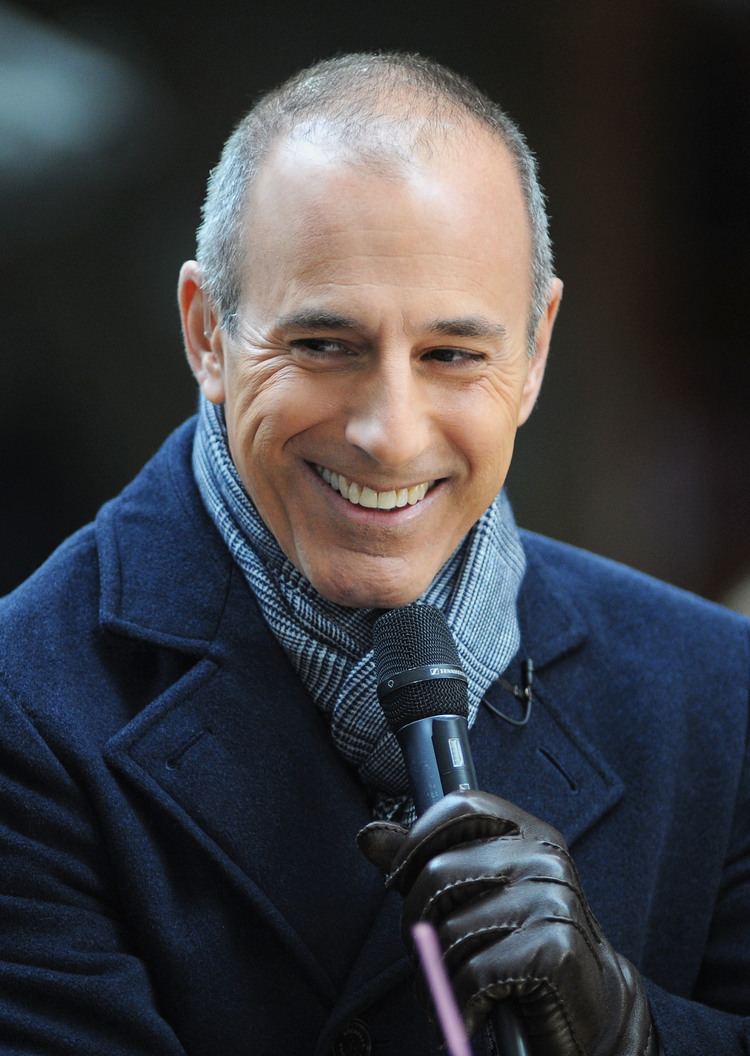 Lauer is a graduate of the Scripps College of Communication, School of Media Arts and Studies of Ohio University (the school was formerly known as the school of telecommunications) . In 1997, he received his undergraduate degree from Ohio University at the age of 39. He had previously dropped out of Ohio University in the Spring of 1979. Lauer then began his television career in that year as a producer of the 12 o'clock news for WOWK-TV in Huntington, West Virginia. By 1980, he had become an on-air reporter on the 6 and 11 o'clock newscasts. He then started to move around the country, hosting a number of weekly information and talk programs in Boston, Philadelphia, Providence, and Richmond. He was also host of PM Magazine in Providence, RI and then in 1984 at WNEW-TV in New York City until the show's cancellation in 1986. In 1986, he co-hosted WNYW-TV's Made In New York with Jill Rappaport for its fifteen-week run on the station. In 1986, he also co-hosted Fame, Fortune and Romance. He also worked for ESPN in the 1980s. In Boston, he hosted WNEV-TV's Talk of the Town in 1988.
From 1989 to 1991, Lauer hosted a three-hour live interview program, WWOR-TV's 9 Broadcast Plaza. In 1990, he was hired by the Kushner-Locke Company to host a pilot called "Day In Court," executive produced by veteran producer David Sams, who helped to launch The Oprah Winfrey Show into national syndication. The program was retitled "Trial Watch" when it went to series, and ran on the NBC network for two seasons. NBC hired Rob Weller as host over Lauer when the program was picked up as a daily series. The same year, he filmed a pilot for WWE's Vince McMahon, focused on a new bodybuilding league, though he was not picked up for the series. In 1991 he appeared as the co-host (along with Willow Bay) of "Etc., Etc.", a show on The Travel Channel. Lauer moved to WNBC-TV in 1992 where he became co-anchor, alongside Jane Hanson, of the early weekday news show Today in New York. After a year, he also filled the role of Live at Five co-anchor with Sue Simmons. He held that job until 1996.
NBC News
Lauer's on-camera presence provided him with many opportunities with NBC's national news organization while working for WNBC in New York. Lauer filled in as the newsreader on The Today Show for Margaret Larson when needed from 1992 to 1993. This "audition" period allowed him to join The Today Show full-time in January 1994 as news anchor, while still co-anchoring Today in New York and Live at Five.
Lauer stepped in for Scott Simon, Mike Schneider and Jack Ford as the co-host of Weekend Today, and for Ann Curry as anchor of the former NBC News program NBC News at Sunrise from 1992 to 1997. He had also filled in for Tom Brokaw on NBC Nightly News. As the Today Show news anchor, he also substituted for Bryant Gumbel on the Today Show before being named the official co-anchor on January 6, 1997, after Gumbel stepped down.
In addition to his duties on the Today Show, Lauer also has hosted programming on the Discovery Channel and MSNBC.
1998–2011
From 1998 until 2009, Lauer embarked on what was generally an annual five-day, globe-spanning adventure called Where in the World is Matt Lauer? on the Today Show during TV sweeps. The segment was named after the PBS game show Where in the World Is Carmen Sandiego? from which it borrowed the theme song. This segment sent Lauer to various locations around the World, from where he reported on the importance of each location. He has broadcast from locations including Bhutan, Easter Island, the Panama Canal, Iran, Hong Kong, Croatia, and the Great Wall of China. In 2009, NBC News announced the segment would no longer air in consideration of the stagnant, unstable U.S. economy.
On some occasions, interviews conducted by Lauer have escalated into tense exchanges. In a June 2005 interview, Tom Cruise argued with Lauer about psychiatry and postpartum depression and called him "glib". In December 2008, more than three years later, Cruise said he regretted the exchange, and arm wrestled Matt Lauer in the same studio where the confrontation took place.
In a June 2006 interview with Ann Coulter, Coulter responded to Lauer's questioning her criticism of September 11, 2001 widows and said, "You're getting testy with me."
On June 19, 2007, he interviewed Prince William and Prince Harry.
On December 30, 2009, during an on-set birthday party for him, Lauer introduced Abe Vigoda, star of the TV shows Barney Miller and Fish, who was standing behind the cameras. Lauer invited Vigoda to sit on the couch, where Lauer announced that Vigoda was one of his favorite guests on the Today show.
Since 1998, he has co-hosted NBC's live coverage of Macy's Thanksgiving Day Parade.
Olympics
Lauer has co-hosted the opening ceremonies of several Olympic Games, carrying on what his former co-host Katie Couric had done since the 2000 Summer Olympics. He co-hosted the opening ceremonies of the 2008 Summer Olympics, the 2010 Winter Olympics, the 2012 Summer Olympics, the 2014 Winter Olympics and the 2016 Summer Olympics. His commentary on the 2012 opening ceremonies, along with that of co-hosts Meredith Vieira and Bob Costas, came under fierce criticism, being described as "ignorant" and "banal".
2012–present
On the April 5, 2012, program, Lauer announced that he had signed a new contract with NBC News through 2017. The contract reportedly paid Lauer $25 million annually.
Although it was widely reported by gossip websites that Lauer had much to do with the departure of Ann Curry, his then co-host, these reports were later proven to be untrue. Ann Curry's departure was planned by then Today executive producer, Jim Bell. The plan was called "Operation Bambi". Lauer wanted Bell to delay the departure of Curry.
During the 2014 Winter Olympics, prime-time host Bob Costas suffered a major eye infection over the first five days of primetime coverage. As a result, Lauer replaced him for the sixth day of coverage, and hosted from February 11 until February 14.
In November 2015, Lauer led the interview with Charlie Sheen in which the actor revealed he was HIV-positive.
On September 8, 2016, Lauer conducted separate 30-minute interviews with presidential candidates Hillary Clinton and Donald Trump. The New York Times reported that the reaction to Lauer's performance was "not kind". Lauer devoted much of the Clinton interview to questions about her e-mail server, and appeared to rush through audience-led topics such as domestic terror attacks and veterans' affairs, implying that there was not enough time to cover these in detail. Many also felt that Lauer failed to challenge Trump on alleged inaccuracies, such as his statement that he was "totally against the war in Iraq", which other sources called "lies". CNN reported that the short amount of time for the interviews, the short notice with which they were conducted, and the small amount of audience questions were a major reason for the poor reviews.
On November 30, 2016, it was announced that he signed a new contract through 2018. On January 6, 2017 Lauer celebrated his 20th anniversary on Today, with a look back at some of his most memorable moments on the show.
Other work
Lauer had a guest appearance as himself on a live episode of Will & Grace in early 2006. (Former co-host Katie Couric had a guest appearance as herself on an episode of the same NBC sitcom a few years earlier).
In November 2006, Lauer and his daughter Romy hosted the Sesame Street direct-to-DVD show Sesame Beginnings: Exploring Together. Lauer hosted The Greatest American on the Discovery Channel, which used Internet and telephone voting by viewers to select the winner. Lauer was critical of his own program since it tended to favor well-known figures over others who had less influence in pop culture.
Lauer appeared as himself in 2009's Land of the Lost movie, appearing in the beginning when Rick Marshall (Will Ferrell) appears on his show and single-handedly ruins his career. Lauer appears again at the end of the film, when Marshall shows up with his new book, Matt Lauer Can Suck It. Both scenes end in violent physical confrontation between the two, with the staff trying to break them up.
He served as the 2009 Class Day speaker at Harvard University's undergraduate commencement ceremonies on June 3, 2009.
Lauer appeared as himself in the TV movies, Sharknado 2: The Second One and Sharknado 3: Oh Hell No!.
Career timeline
1986-1987: Fame, Fortune and Romance host
1988: Talk of the Town host (WNEV-TV)
1988–1991: 9 Broadcast Plaza host
1992–1996: WNBC-TV
September 1992–September 1994: Today in New York co-anchor
August 1993–September 1996: early evening newscast Live at Five co-anchor
1992–present: NBC News
1992–1997: fill-in anchor on Weekend Today and NBC News at Sunrise
1993–1994: Today fill-in news anchor
June 13, 1994 – January 3, 1997: Today news anchor
January 6, 1997–present: Today co-anchor
1997–present: Dateline NBC contributing anchor
1998–present: Macy's Thanksgiving Day Parade host
1998–present: Christmas In Rockefeller Center host
2010–2013: Rock Center with Brian Williams correspondent
Personal life
Lauer was married to and divorced from Nancy Alspaugh. He later married Annette Roque.
Lauer has two sons, Jack Matthew and Thijs, and a daughter, Romy.
In June 2016, Lauer purchased a property known as Strongheart Manor from Richard Gere for $36.5 million in North Haven, New York.
References
Matt Lauer Wikipedia
(Text) CC BY-SA