Gaetz is the son of Florida politician Don Gaetz, who represented parts of Northwest Florida as a member of the Florida State Senate from 2006 to 2016 and served as Senate President from 2012 to 2014. Gaetz' grandfather, Jerry Gaetz, was the mayor of Rugby, North Dakota and a candidate for Lieutenant Governor of North Dakota at the 1964 North Dakota Republican Party state convention, where he died of a heart attack while his son watched television coverage of the event.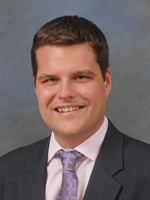 Gaetz was born in Hollywood, Florida. He graduated from Florida State University in 2003 and from The College of William and Mary in 2007 with a juris doctor.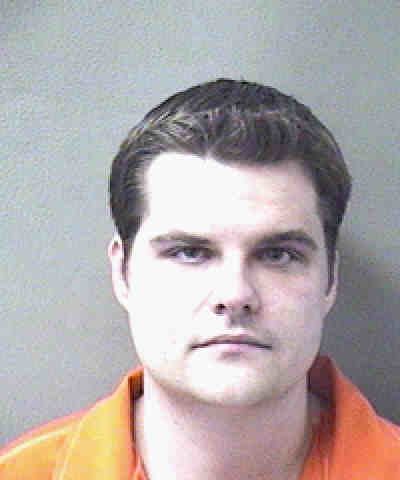 In 2008, Gaetz was arrested for a DUI as he was driving back from the Swamp, a nightclub on Okaloosa Island, Florida, in a 2001 BMW SUV registered to his father. While he was arrested and refused to take a breathalyzer test, "he didn't have his license suspended for a year when he refused the breath test — as Florida law dictates. And he didn't have that refusal used against him in a criminal proceeding." At the time of his arrest and consequent criminal proceedings, his father was serving as a local politician and he avoided a DUI conviction, despite the fact that the police reported that "Gaetz fumbled for his license and registration, his eyes were watery and bloodshot, and he swayed and staggered when he got out of the car."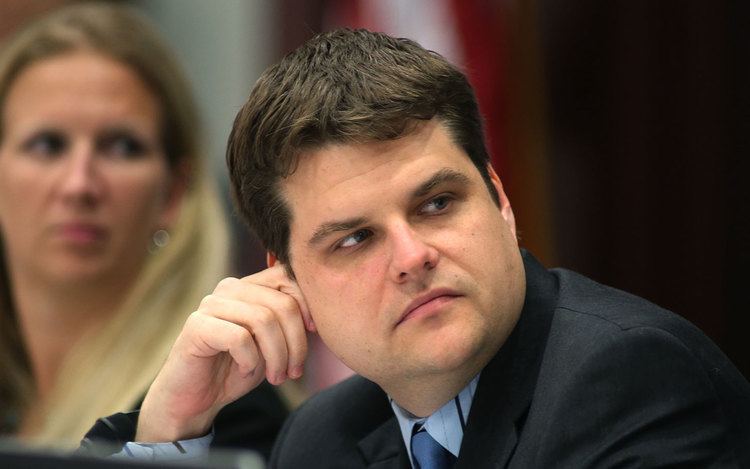 In 2010, following the resignation of Republican State Representative Ray Sansom, who had briefly served as the Speaker of the Florida House of Representatives, due to corruption charges, Gaetz ran in the special election to succeed Sansom in the 4th District, which included southern Santa Rosa County and Okaloosa County. In a crowded Republican primary, that included Craig Barker, Kabe Woods, Jerry G. Melvin, and Bill Garvie, Gaetz emerged victorious with 43% of the vote. In the special general election, Gaetz defeated Democratic nominee Jan Fernald, winning 66% of the vote. He was unopposed for a full term in 2010. In 2012, following the reconfiguration of Florida House of Representatives districts, Gaetz's district lost its share of Santa Rosa County. He was reelected in unopposed contests in 2012 and 2014.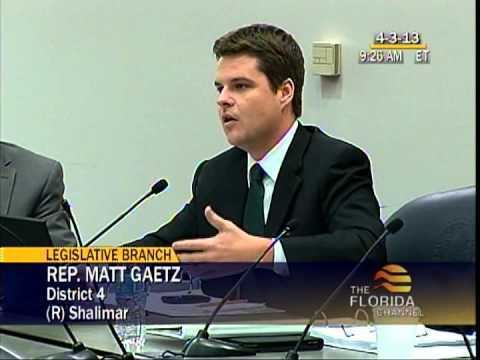 While serving in the state house, Gaetz joined with State Senator Joe Negron to propose legislation "designed to accelerate the execution of many of the 404 inmates on Florida's death row" by requiring the Governor to sign a death warrant for those inmates who have exhausted their appeals, noting, "Only God can judge. But we can sure set up the meeting." He also joined forces with State Senator Greg Evers to repeal legislation that requires that 10% of gasoline sold in Florida contain ethanol, saying, "This is the bill that removes and repeals Florida's burdensome ethanol mandate."
Following the trial of George Zimmerman for the shooting of Trayvon Martin, Will Weatherford, the Speaker of the Florida House of Representatives, announced that he would order hearings on the "stand-your-ground" law that was raised as an issue during the trial. Gaetz, the Chairman of the Criminal Justice Subcommittee, was tasked with reviewing the legislation, and announced before hearings that he would not support changing "one damn comma," though he indicated that he would listen to both sides' testimony during the hearings. Following the conclusion of the hearings, he authored legislation that would allow defendants who successfully used a "stand your ground" defense during their trial "to apply for a 'certificate of eligibility' to expunge information related to 'stand your ground' from their criminal records."
When his subcommittee was considering legislation that would "keep mug shots of people who are charged with crimes off the Internet until they are convicted," Gaetz brought up his 2008 arrest for driving under the influence, arguing that his mistakes made him who he is and that publicly available mug shots "could be a problem for those unaccustomed to publicity."
Gaetz announced that he would run for the Florida Senate in the 1st District, a seat held by his father, State Senator Don Gaetz, in 2016. His father was due to be term-limited out of the Senate in 2016. On March 21, 2016, Gaetz withdrew from the race.
On March 21, 2016, Gaetz withdrew to run for the seat representing Florida's 1st congressional district, since Jeff Miller announced he would not seek reelection. On August 30, 2016, Gaetz won the Republican primary for the 1st congressional district with 35.7% of the vote – defeating Greg Evers (21.5%), Cris Dosev (20.6%), and five other candidates.
On September 25, 2016, following the death of Miami Marlins' pitcher José Fernández, Gaetz criticized the athletes protesting during the national anthem in a tweet: "To all who will kneel during the anthem today – just remember how José Fernández risked his life just for the chance to stand for it".
Gaetz defeated Democratic candidate Steven Specht with 69 percent of the vote. However, he had effectively clinched a seat in Congress with his primary win; the 1st is the most Republican district in Florida and one of the most Republican districts in the nation.
Committee on Armed Services
Subcommittee on Oversight and Investigations
Subcommittee on Tactical Air and Land Forces
Committee on the Budget
Committee on the Judiciary
Subcommittee on Courts, Intellectual Property and the Internet
Subcommittee on Regulatory Reform, Commercial and Antitrust Law
On February 23, 2017, Gaetz, worried about protesters disrupting him from being able to speak at his town hall in Pace, Florida, prepared what his staffers call the "non-verbal town hall," reminiscent of a scene from the movie "Love Actually." Gaetz printed out part of a speech that gets some of his message across onto giant boards that he will hold up if he is unable to get a word in. Later that evening, Gaetz arrived 30 minutes late to the town hall and faced at least 500 constituents crowded into the Oops Bowling Alley, where he was grilled about his relationship with Trump, his stance on repealing the Affordable Care Act, and his proposal to abolish the EPA. However, he managed to surprise the audience and gather a rare applause when he said, "Absolutely, Donald Trump should release his tax returns." But he stopped short of saying Congress should subpoena those returns. Gaetz closed his town hall by shouting "Make America Great Again" over roaring opposition from the crowd.
On February 3, 2017, Gaetz proposed a bill, H.R. 861 (115th Congress) that would "completely abolish" the Environmental Protection Agency (EPA), writing, "Our small businesses cannot afford to cover the costs associated with compliance, too often leading to closed doors and unemployed Americans. It is time to take back our legislative power from the EPA and abolish it permanently."
On March 23, 2017, the day prior to the scheduled vote on the American Health Care Act of 2017 in the House of Representatives, Gaetz was asked by the Associated Press whether the GOP would come together to pass the bill. Gaetz replied responded, "I sure hope so, or we'll have the opportunity to watch a unified Democratic caucus impeach Donald Trump in two years when we lose the majority." The bill, however, never made it to the House for a vote, as opposition from the Freedom Caucus caused it to be pulled from the floor. In light of the bill's collapse, Gaetz questioned the GOP's competency by telling reporters, "I don't know if we could pass a Mother's Day resolution right now."
In July and August 2017, it was reported that Gaetz had crowdsourced the contents of a resolution that he introduced to the House Judiciary Committee with the help of r/The_Donald, "a pro-Trump subreddit notorious for both its embrace of conspiracy theories and its gleeful offensiveness."