Lyrics

Tim Minchin




Basis

Matilda by Roald Dahl




Lyricist

Tim Minchin




Composer

Tim Minchin




Book

Dennis Kelly




First performance

9 December 2010




Playwright

Dennis Kelly






Productions

2010 Stratford-upon-Avon 2011 West End 2013 Broadway 2015 US National Tour International productions




Characters

Miss Trunchbull, Miss Honey, Matilda Wormwood




Awards

Laurence Olivier Award for Best New Musical




Similar

Dennis Kelly plays, Musicals
Tim minchin and dennis kelly on matilda the musical s 3rd birthday
Matilda the Musical is a stage musical based on the children's novel of the same name by Roald Dahl. It was adapted by Dennis Kelly, with music and lyrics by Tim Minchin. The musical's narrative centres on Matilda, a precocious 5-year-old girl with the gift of telekinesis who loves reading, overcomes obstacles caused by her family and school, and helps her teacher to reclaim her life. After a twelve-week trial run staged by the Royal Shakespeare Company (RSC) at Stratford-upon-Avon from November 2010 to January 2011, it received its West End premiere on 24 November 2011 at the Cambridge Theatre and its Broadway premiere on 11 April 2013 at the Shubert Theatre.
Contents

Matilda has received widespread critical acclaim and box-office popularity, winning seven 2012 Olivier Awards, including Best New Musical—the most such awards ever won by a single show at the time. As of the 2013 Olivier Awards, the show now jointly holds the record with the play The Curious Incident of the Dog in the Night-Time, although it still holds the record for most Olivier awards won by a musical. At the 2013 Tony Awards, the show won five awards, including the Tony Award for Best Book of a Musical.
The show is currently running in London's West End, touring Australia, and touring the United States.
making matilda episode 1 librettist dennis kelly on roald dahl s strong heroine
Stratford and London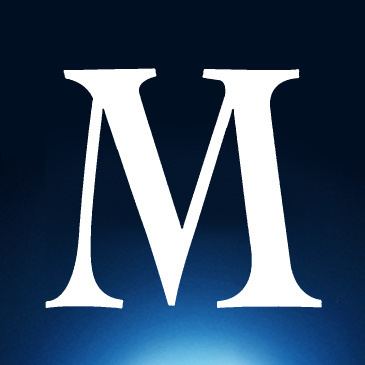 In 2009, the RSC announced its intention to stage a musical adaptation of Matilda, engaging Dennis Kelly as playwright, Tim Minchin as the composer and lyricist, Matthew Warchus as director, Chris Nightingale as orchestrator and music supervision, Rob Howell as set designer and Paul Kieve as illusionist and special effects creator. The musical opened at the Courtyard Theatre in Stratford-upon-Avon, England, on 9 December 2010 following previews from 9 November. The show is choreographed by Peter Darling. Bertie Carvel headlined as Miss Trunchbull, with Paul Kaye and Josie Walker as Matilda's parents Mr and Mrs Wormwood, and Lauren Ward as Miss Honey. Three young actresses, Adrianna Bertola, Josie Griffiths and Kerry Ingram, alternated in the title role. The show ended its premiere engagement on 30 January 2011.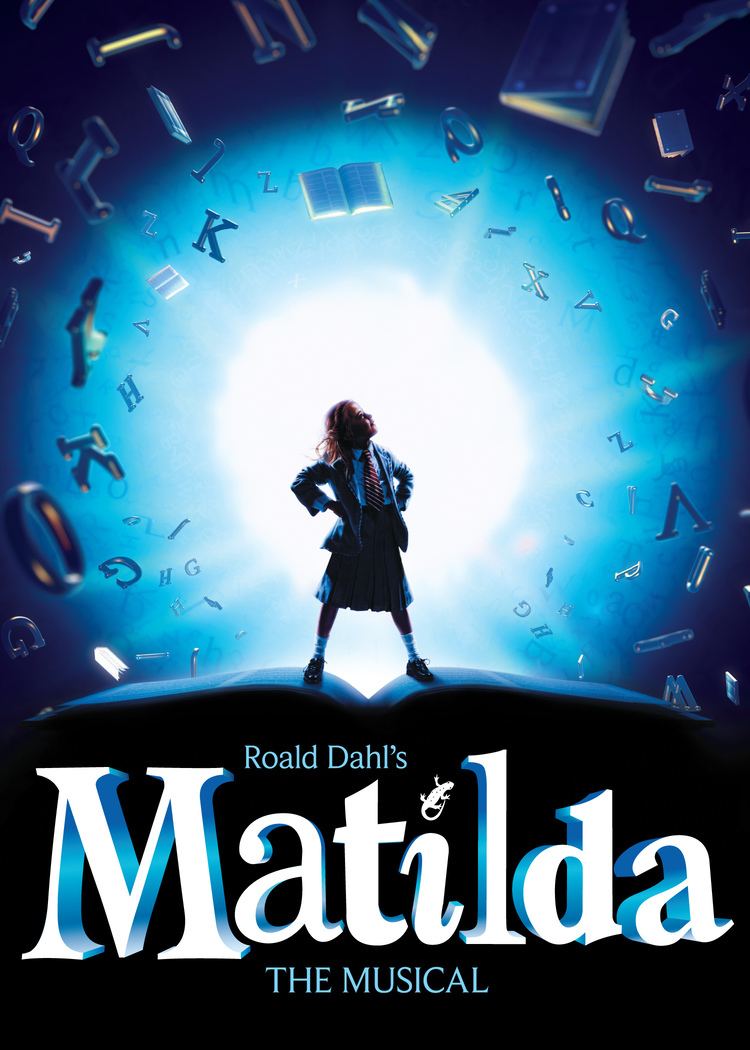 In 2011, the musical received its West End debut at London's Cambridge Theatre. The show was originally scheduled to begin previews on 18 October 2011, but because of structural and installation work at the theatre, the start of the performances was delayed until 25 October. The opening night was postponed from 22 November to 24 November. The musical opened in London to uniformly positive reviews; Kaye and Carvel received high praise for their performances. Many of the principal adult cast from the Stratford run reprised their roles in London. Eleanor Worthington Cox, Cleo Demetriou, Sophia Kiely and Kerry Ingram—the only one to reprise her role from Stratford—rotated in the title role.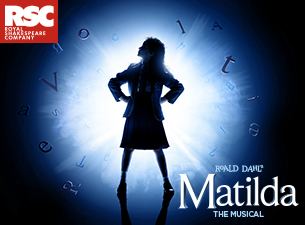 In October 2011, Matilda won Best Musical and Best Actor (Bertie Carvel) in the Theatre Awards UK, and in November 2011 it won the Ned Sherrin Award for Best Musical as part of The Evening Standard Awards. The production was nominated in all 10 categories for which it was eligible at the 2012 Olivier Awards. The 'Four Matildas' performed "Naughty" at the awards show. Matilda won 7 Oliviers: Best New Musical, Best Director (Warchus), Best Actor in a Musical (Carvel), Best Actress in a Musical (all four Matildas), Best Theatre Choreographer (Darling), Best Set Design (Howell) and Best Sound Design (Baker). This was a record number for any show in the event's 36 year history.
In April 2012, Steve Furst and Haley Flaherty took over the roles of Mr. Wormwood and Miss Honey from Kaye and Ward. Two of the original London Matildas (Ingram and Kiely) were replaced by Jade Marner and Isobelle Molloy (Molloy originally played Amanda in the original London cast before being cast as Matilda). Bertie Carvel left in July 2012 and the role of Miss Trunchbull was filled by David Leonard, although he did not start until the main cast change in August because of injury. At this cast change four new girls took over as Matilda; Lucy-Mae Beacock, Hayley Canham, Chloe Hawthorn and Lara Wollington.
On 19 November 2012, the London cast were invited to perform at the 100th "Royal Variety Performance" for television station ITV which was broadcast live on 3 December. They performed "When I Grow Up" and "Naughty" with Chloe in the lead role, with the other 3 girls appearing in the announcement of the performance.
In March 2013, Hayley Canham left the show and was replaced as Matilda by Elise Blake and Cristina Fray. Lucy-Mae Beacock left in early May 2013. The next cast change occurred in September 2013. This time most of the adult cast changed, along with Chloe Hawthorn who left on 1 September. Two new Matildas—Lollie McKenzie and Georgia Pemberton—started the following week. Lara Wollington stayed for another four weeks, finishing on 29 September—making her run the longest of any Matilda to date.
The cast opened the 2013 Children in Need appeal. They performed a medley, with Georgia as Matilda.
Of the Matildas only Lollie McKenzie stayed during the cast change in March 2014. This cast change started with the departure of Elise Blake on 9 March along with other child cast members. She was replaced by Tasha Chapple. Fray and Pemberton were replaced by two new Matildas, Cara Jenkins and Lottie Sicilia, who debuted in the role in the following weeks, on 18 March and 25 March respectively.
McKenzie and Jenkins departed the show on 7 September and 5 October. Two new Matildas—Matilda Shapland and Violet Tucker—debuted in the roles on 09 and 19 September. Shapland was previously in Les Misérables, while Tucker had her West End debut in the title role. Of the Matildas only Shapland and Tucker stayed during the cast change in March 2015. This cast change started with the departure of Tasha Chapple and Lottie Sicilia along with other child cast members. They have been replaced by Anna-Louise Knight and Lara McDonnell. Over September 2015, Tucker and Shapland departed the show and were replaced by Evie Hone and Lizzie Wells. On 27 January 2016, three new Matildas - Clara Read, Emily-May Stephenson and Zaris-Angel Hator - were announced and joined Hone in the role in March. In late September 2016 it was confirmed that Hone would be leaving along with Stephenson after her relatively short stint. The two girls would be replaced by two new Matildas - Sara Sheen and Abbie Vena. Both of whom recently, Sara on the 13th September (also Roald Dahl day) and Abbie on the 22nd September, made their Matilda debut.
On the 21st December 2016 the 7:30pm performance was cancelled due to multiple illnesses in the cast, including principal child performers and their understudies. Because of this Lara McDonnell and Emily May Stephenson (both past Matildas) came back to cover the few performances 22nd,23rd and 24th December. This illness coincided with similar incidents at nearby musicals Dreamgirls and Rent which caused disruptions to their primary cast members, but it is unclear as to whether these events are linked or not.
Broadway
On 29 February 2012, the RSC announced the show would transfer to Broadway in spring 2013; it would still be set in England despite initial pressure for the show to be Americanised. On 19 July 2012, it was announced that the show would open on 11 April 2013 at the Shubert Theatre, with previews commencing on 4 March 2013. Bertie Carvel and Lauren Ward reprised their roles as Miss Trunchbull and Miss Honey. Ted Wilson also continued as Eric.
The transfer cost US$16 million to produce; it opened as planned on 11 April 2013, with Sophia Gennusa playing the leading role. Throughout the preview and rehearsal process, 6 girls alternated the role of Matilda(Oona Laurence, Sophia Gennusa, Abigail Johnson, Millie Shapiro, Baliey Ryon, and Carly Smithson) with 4(Laurence, Ryon, Shapiro, and Gennusa) of the girls playing the role past opening night. Small changes were made from the London production; some lyrics were changed to suit American audiences and more scenes used the stalls/orchestra seating area of the theatre. The Broadway production also introduced an overture and pre-show curtain, as of June 2013, because of complaints that the show started late because of the pre show set up.
On 1 September 2013, Carvel and Ward played their final performances, Jill Paice joined the cast as Miss Honey and played her first performance on 3 September. Craig Bierko took over as Miss Trunchbull on 17 September, after recovering from an injury. In October 2013, Matilda broke the box office record for the Shubert Theatre. On 19 November, it was announced that Bierko will not return to the role of Miss Trunchbull due to "medical circumstances", following a shoulder injury sustained during rehearsals. Chris Hoch, understudy for Miss Trunchbull, has been given a contract to perform the role for the duration of Bierko's absence into January.
On 25 November, The Wall Street Journal reported that the original Matildas would be bowing out "in the next two months". On 11 December, it was announced that Paige Brady, Gabriella Pizzolo, Ripley Sobo and Ava Ulloa would take over the title role from exiting actresses Gennusa, Laurence, Ryon and Shapiro. Brady, Pizzolo and Ulloa will be making their Broadway debuts; Sobo previously appeared in Once. They would begin performances "over the course of the next few weeks". Laurence and Gennusa had their final performances on 14 and 21 December while Ryon and Shapiro had their final performances on 11 and 18 January. Brady and Pizzolo made their debut performances in the title role on 19 and 22 December while Sobo and Ulloa made their debut performances in the role on 12 and 18 January.
On 31 January, it was reported that Christopher Sieber and Matt Harrington would be joining the company as Miss Trunchbull and Mr Wormwood, respectively. Harrington made his debut on 4 March. Sieber would initially join the company on 18 March, but after sustaining a hand injury during rehearsals, would have his debut in the role sometime in April. While Sieber recovered from his injury, understudy Ben Thompson played the role for a limited engagement. Sieber finally stepped into the role on 18 April.
On 21 August, it was reported that Tori Feinstein, Eliza Holland Madore, Brooklyn Shuck and Fina Strazza would take over the title role from Paige Brady, Gabriella Pizzolo, Ripley Sobo and Ava Ulloa. Feinstein and Strazza made their Broadway debuts; Madore and Shuck had previously appeared in Once and Annie, respectively. Brady and Sobo had their final performances on 23 and 30 August while Ulloa and Pizzolo had their final performances on 6 and 13 September. Strazza and Shuck debuted in the role on 24 and 31 August while Madore and Feinstein had their debuts on 7 and 14 September. The Broadway production recouped its $16 million investment in December after more than a year and a half.
Between 4 and 26 July, the production welcomed four new girls: Mattea Conforti, Rileigh McDonald, Mimi Ryder, and Alexandra Vlachos, who replaced Feinstein, Madore, Shuck and Strazza in the title role. On 8 September, Allison Case, Amy Spanger, Rick Holmes, and Natalie Venetia Belcon joined the production as Miss Honey, Mrs. Wormwood, Mr. Wormwood, and Mrs. Phelps, taking over Alison Luff, Lesli Margherita, Matt Harrington, and Karen Aldridge.
The Broadway production closed on January 1, 2017 after 1,555 performances.
US National Tour
On 1 June 2013, Tim Minchin announced during an interview that the show was preparing for a US national tour. Minchin said, "We just got it up in New York, there's a touring version that is meant to be going on in America...". Once again produced by the Royal Shakespeare Company and The Dodgers, the tour will begin technical rehearsals and performances in May 2015 at the Shubert Theatre in New Haven, Connecticut, before its official launch on 7 June at the Ahmanson Theatre in Los Angeles, California. Announced stops include the SHN Orpheum Theare in San Francisco, California, the 5th Avenue Theatre in Seattle, Washington, the AT&T Performing Arts Center in Dallas, Texas, the Kennedy Center Opera House in Washington, DC, and the Straz Center for the Performing Arts in Tampa, Florida. On 21 April, the casting for the First National Tour was announced, with Gabby Gutierrez, Mia Sinclair Jenness, and Mabel Tyler in the title role. the principal adult cast includes Jennifer Blood as Miss Honey, Quinn Mattfield as Mr. Wormwood, Bryce Ryness as Miss Trunchbull, and Cassie Silva as Mrs. Wormwood.
On November 9, 2015, Mia Sinclair Jenness departed the tour to return to Les Misérables on Broadway where she can now be seen playing Young Cossette/ Young Eponine. Former Broadway Matilda, Tori Feinstein, took her place in the rotation from December 5 to December 27 until the newest replacement Matilda began. Mabel Tyler and Gabby Gutierrez left the show on December 20 and January 10 respectively. They were replaced by Savannah Grace Elmer, Lily Brooks O'Briant and Sarah McKinley Austin.
Australian Tour
Sydney: In July 2013, Minchin said that an Australian production is planned for 2015. On 26 February 2014, it was announced that the show will have preview performances from 28 July before opening at the Sydney Lyric theatre on 20 August 2015 with performances through 31 January The production was so successful that an extra month of shows was added until 28 February at which point the production would move to Melbourne the following month. Louise Withers is set to produce the show. The ticketing release date (October 2014) was announced at Pier 2/3 in Walsh Bay, with Minchin, International Executive Producer André Ptaszynski, NSW Deputy Premier Andrew Stoner and Sydney press in attendance. In March 2015, the principal adult cast was announced, with Marika Aubrey and Daniel Frederiksen as Mr. and Mrs. Wormwood, Elise McCann as Miss Honey and James Millar as Miss Trunchbull. A month later, it was announced that Sasha Rose (12), Georgia Taplin (11), Molly Barwick (10) and Bella Thomas (13) will be sharing the title role with Bella having the honour of being the Matilda on the opening night. A second announcement was made to present the remaining adult company and the children's company. The Sydney season ended on Sunday 29 February with Georgia Taplin playing the title role.
Melbourne: On November 19, 2015, the four girls who would play Matilda in Melbourne were announced. Dusty Bursill, Alannah Parfett, Tiana Mirra and Ingrid Torelli would rotate playing the title role. On January 3, Sydney Matilda Bella Thomas was injured and Parfett began her run early in Sydney, covering Thomas until she was better and joining the girls in a rotation until the end of the Sydney run. Mirra and Torelli made their debuts in Sydney's final week on February 24 and 27 respectively. The show opened at Melbourne's Princess Theatre on 13 March and was extended to perform until 11 November 2016. Some of the Sydney child cast members reprised their roles for selected performances in Melbourne; for example, certain performances featured Molly Barwick as Matilda and Ewan Herdman as Bruce. No explanation was given for the cast changes.
On 16 March 2016, it was announced that the Matilda tour would continue on to Brisbane from 25 November 2016 to 12 February 2017 at the Queensland Performing Arts Centre (QPAC) before moving on to perform at the Crown Theatre in Perth from 4 March until 9 April 2017 and from 1 to 15 May 2017 at the Adelaide Festival Theatre in South Australia, with extended seasons likely to be announced in the future. On the casting page for Matilda in Brisbane it was also revealed that a possible tour to New Zealand may commence after Australia
Toronto
After the successful launches of Once and the Tony Award-winning Kinky Boots, Mirvish Productions has chosen to open a Canadian production of Matilda the Musical. The company was scheduled to start an open-ended run at the Ed Mirvish Theater beginning in July 2016. Hannah Levinson, Jenna Weir, and Jaime MacLean are rotating playing the title role.
Act I
A large group of somewhat spoiled children attend a birthday party, each one boasting about his or her own uniqueness; their indulgent parents do little to dissuade this image, instead showering the youths with praise and attention ("Miracle"). Meanwhile, the dimwitted, superficial, and ballroom dancing-obsessed Mrs. Wormwood visits the hospital, somehow oblivious to the fact that she is nine months pregnant. When the doctor tells her that she must immediately enter delivery, Mrs. Wormwood protests, insisting that she must travel to Paris for a dancing competition instead. As Mrs. Wormwood reluctantly delivers the child, the doctor sings that he views every baby as a miracle. Mr. Wormwood, a sleazy used-car salesman, arrives at the hospital and immediately begins insulting his newborn child, whom he insists must be a boy without a "thingy." The Wormwoods complain about their horrible luck while the doctor insists that the baby girl is a beautiful child. The scene returns to the birthday party, which the now five-year-old Matilda, a brilliant child prodigy, attends; instead of joining the other children in their bragging, she reveals that her parents continually insult her.
At the Wormwood household, Mr. and Mrs. Wormwood and their incredibly stupid son Michael spend all their days either watching television, practicing dancing, or scheming. Mr. Wormwood in particular is up to no good; he is attempting to sell 155 horribly damaged cars to a Russian businessman, using trickery to make the vehicles appear like new. When Matilda complains that such thievery is wrong, her father snaps at her. Upset, she goes to her room and begins to review her favorite books, which line every wall. Matilda, remarking that many stories have either unhappy endings or deus ex machinas that resolve them happily, realizes that the only way to change her bad situation is to take action ("Naughty"). She strikes back against her father by placing some of her mother's platinum blonde hair dye into his own bottle of hair oil, which results in his hair becoming irreversibly bright green.
Matilda travels to the local library, where she briefly sees a young woman alone; as the mysterious woman leaves, Mrs. Phelps, the librarian and one of the few people who recognizes Matilda's amazing gifts, tells Matilda that the woman will be her teacher, then asks Matilda to tell her one of the stories she loves to create. Matilda, seemingly without having to think at all, begins to tell a tale about a world-famous acrobat and escapologist couple who long to have a child but cannot. To distract themselves from their sadness, they announce to the world's press that they will perform an exciting and dangerous new act. Matilda ends the story there to Mrs. Phelps's protests; the girl explains that she does not know what happens next, but will return when she does.
The next day, Matilda and the other local children attend their school, Crunchem Hall, for the first time. As the frightened kids try to remind themselves that they are "miracles," older students burst forward and warn them that Crunchem is more like a prison than a playground, and that everyone will suffer there ("School Song"). The new students meet their teacher, the sweet and kind Miss Honey, the woman from the library. As Matilda casually demonstrates her amazing knowledge of mathematics and literature, Miss Honey becomes extremely impressed, and worried when she realizes that the child does not grasp the depths of her own abilities. The teacher decides to travel to the Headmistress's Office to recommend that Matilda be placed in the top form with other, more mature students; before she can enter, though, she becomes terrified and cannot bring herself to knock ("Pathetic"). Miss Honey overcomes her fear by determining that Matilda needs her, and enters, where she speaks with the fearful Miss Trunchbull, headmistress of the school and a former English hammer throwing champion. Miss Trunchbull despises children and insists that they must be treated with nothing but discipline, punishment, physical education, and rules ("The Hammer"). As such, she dismisses Miss Honey's claims and forces her from the office.
At the Wormwood's house, Mr Wormwood is frustrated, as the Russians he tried to cheat caught on to his trick and returned the broken-down cars he tried to sell them. He takes his anger out on Matilda and destroys one of her library books. Matilda attempts to superglue the book back together, and before she puts the glue bottle back into the cupboard, she decides to put superglue inside her father's hat ("Naughty [Reprise]").
In the schoolyard, Matilda befriends a fellow student named Lavender, and, from some older students, learns of "The Trunchbull's" cruel punishments, including the Chokey, a tiny cupboard lined with sharp objects in which she locks disobedient children for hours ("The Chokey Chant"). Nigel, a neurotic boy from Matilda's class, runs in terrified; Miss Trunchbull has accused him, without any proof, of putting treacle on her chair, and he is frightened of what she might do. Matilda, angered at this injustice, rallies the other students to hide Nigel beneath their blazers, then tells Miss Trunchbull that Nigel has been sleeping beneath them for an hour, as he suffers from narcolepsy. The other students support the claim, and Miss Trunchbull reluctantly stops pursuing Nigel--but as she is still desperate to punish someone, she instead tells a girl named Amanda that her pigtails are against school rules, then grabs Amanda by them and hurls her across the playground.
Meanwhile, Miss Honey decides to visit the Wormwood family to express her recommendation that Matilda be put in an advanced class. Mrs. Wormwood, who is practicing with her dancing partner Rodolfo, mocks Miss Honey's education and (perceived) homeliness, insisting that appearance matters more than intelligence ("Loud"). With her mission failed, Miss Honey tries to reenter the house, but cannot do so. She knows that Matilda needs someone to champion her abilities, and feels inadequate for the task ("This Little Girl").
Matilda returns to the library and, as promised, tells Mrs. Phelps the next part of her story. As the escapologist and acrobat prepare their death-defying routine, the acrobat's sister, a cruel woman who hates children, arranges business matters by selling tickets. On the day of the performance, however, the escapologist announces that the trick has been canceled, as the acrobat has become pregnant. Though the crowd is delighted, the acrobat's cruel sister, despising the prospect of returning the spectators' money, reveals that she has a contract binding the two to perform the stunt, swearing to put them both in prison if they refuse. Unable to break the agreement, the escapologist and acrobat consent. Matilda again ends the story with a promise of more to come, as she seems unable to see what happens next.
The following day, Miss Honey arranges for Matilda to read a series of advanced books while she teaches the rest of the class simpler subjects; Matilda is so overwhelmed by this kindness that she throws her arms around the teacher in an enormous hug. The tender moment is interrupted when Miss Trunchbull storms into Miss Honey's class and accuses Bruce Bogtrotter, an overweight boy, of sneaking into her office and eating a slice of her personal chocolate cake. Bruce confesses, and Miss Trunchbull acts surprisingly kind and understanding, explaining that if the boy enjoyed the cake so much, he should have more. The school's cook produces an enormous chocolate cake, and Miss Trunchbull angrily announces that Bruce must now eat the whole dessert, despite Miss Honey's protests. As Bruce begins the process, the rest of the students express concern which turns to jubilant support, and even Miss Honey joins them ("Bruce"). With their encouragement, Bruce is able to devour the whole cake, which Miss Trunchbull seems to respect--but she is furious that her rule has been challenged, and drags the boy off to the Chokey for further punishment. Moments before the lights go down, a furious Matilda screams after Miss Trunchbull: "That's not right!"
Act II
Mr. Wormwood strides onto the stage and addresses the audience, announcing that the musical is teaching a dangerous moral--namely, that books are superior to television. He sings a song (reminiscent of British music hall performances) about the joys of watching programs, with Michael accompanying him on an out-of-tune ukulele ("Telly"). After the performance and entr'acte, Lavender enters and eagerly informs the audience about her plan to revolt against Miss Trunchbull by placing a newt in a jug of water the headmistress always uses while teaching. The musical's action then resumes, with the schoolchildren pondering life as adults and swearing that they will someday be capable of handling all of life's challenges ("When I Grow Up"). Miss Honey joins the song, and Matilda reaffirms her decision to fight against injustice.
Matilda returns to the library and tells Mrs. Phelps the third part of her story. The escapologist and acrobat's trick begins well, and the two initially survive the deadly obstacles they have placed for themselves -- but as the trick concludes their joined hands slip apart and the acrobat falls. She is fatally injured, living just long enough to have their baby, a girl. Heartbroken, the escapologist invites the acrobat's sister into his home to help raise the child. Unfortunately, the woman is wicked, and begins a torrent of physical, emotional, and verbal abuse to the little girl; the child remains silent as she does not wish to add to her father's pain, and the pattern continues for years. A breathless Mrs. Phelps begs to know the ending, but Matilda again cannot produce it.
Mr. Wormwood returns home from work pleased with his success in selling his worn-out cars to the wealthy Russians, having used an automatic drill to wind back their speedometers. Matilda is annoyed at her father's deceit and scolds him; furious, he locks her in her bedroom. Left alone, Matilda abruptly begins to tell the final part of the story she has been telling. After years of abuse, the aunt snaps, screams at her niece, and physically beats her before locking her in the cellar. That day, however, the escapologist returns home early and discovers the truth; he realizes that he has been blinded by his grief and swears to protect his daughter for the rest of his life ("I'm Here"). After safely putting the child to bed, he is filled with rage and vows to attack his sister-in-law for her hatred and cruelty. He is unsuccessful, however, and disappears, never to be seen again.
The next day, Miss Trunchbull forces Miss Honey's class to undergo a grueling physical education lesson in an attempt to find anyone conspiring against her ("The Smell of Rebellion"); many students complain, while Bruce, psychologically broken by his earlier punishments, obeys without question. Lavender again breaks the fourth wall to remind the audience of her prank, which she puts into action. When Miss Trunchbull discovers the newt, she accuses Eric, a boy who had previously irritated her during the phys ed. class, of the trick, and begins to stretch Eric's ears several inches away from his head. Seeing Eric in pain drives Matilda to her breaking point, and she finally stands up to the cruel, but stunned, headmistress. As Miss Trunchbull delivers a diatribe against Matilda and swears to punish her, the girl reflects on the building anger and pressure inside of her, which she has long repressed; today, though, she lets the anger reach its peak, and just as Matilda is near breaking down, her emotions suddenly turn to a sense of complete inner calm and control ("Quiet"). In this state, Matilda discovers that she possesses telekinetic abilities, which she uses to tip over the water jug and send the newt onto Miss Trunchbull. The headmistress panics and runs out, and Miss Honey dismisses the class. Matilda confesses what has happened to her teacher and demonstrates her powers; the stunned Miss Honey invites the girl over for tea.
On the way to Miss Honey's, the teacher shares her life story with Matilda: her father died when she was very young, and she was raised by her cruel aunt, who still controls her life by garnishing her wages as "payment" for the years she spent raising her. Despite her poverty, though, Miss Honey finds happiness living in an old shed that she believes is everything she could possibly need ("My House"). As they drink tea, Miss Honey produces a scarf that belonged to her mother; Matilda recognizes the scarf from the story she has been telling, and realizes that what she thought was an imagined tale was a psychic vision of the past. Miss Honey's father Magnus was the escapologist, while her mother was the acrobat. The teacher believes that her cruel aunt killed Magnus when he attempted to bring her to justice, and Matilda makes the final connection--the evil woman is none other than Miss Trunchbull.
Back at school, Miss Trunchbull forces Miss Honey's class to take a spelling test, threatening that anyone who misspells a word will be sent to the Chokey. Thanks to Miss Honey's clever teaching methods, the students spell every word correctly. Furious, Miss Trunchbull invents an impossible-to-spell word in order to punish Lavender; when the girl predictably fails to pass the test, the headmistress grabs her and begins to drag her away. Suddenly, though, the rest of the students stand and begin deliberately misspelling simple words, insisting that Miss Trunchbull take all of them to the cupboard for punishment. Undaunted, Miss Trunchbull brags that she can, as she has secretly built dozens of Chokeys for just this purpose, and will soon lock every child in the school inside one. As she boasts, Matilda uses her psychic abilities to levitate a piece of chalk and write a message, apparently from Magnus, on the blackboard; the words threaten Agatha and tell her to give Miss Honey back her wages and home, or he will return from the grave to wreak vengeance. The terrified Miss Trunchbull flees, and Bruce, revitalized by the class's newfound freedom, leads the children in a defiant song as they swear to continue to fighting for their rights ("Revolting Children").
With Miss Trunchbull gone for good, Mrs. Phelps and Miss Honey tell the audience the next part of the plot: Magnus's will suddenly reappears after vanishing for years, and Miss Honey inherits both his fortune and her childhood home. Crunchem Hall's new headmistress is revealed to be none other than Miss Honey herself, and upon taking the position, she quickly removed all of Miss Trunchbull's cruel practices, turning the school into a paradise for children. Meanwhile, Matilda is placed in an advanced grade, and loses her abilities; the women theorize that this may be due to either her brain finally being adequately challenged, or a lack of a just cause to stand for. However, Miss Honey is still upset that Matilda is forced to live with a family that does not appreciate her. While Matilda, Miss Honey, and Mrs. Phelps chat at the library, the Wormwoods suddenly rush in, preparing to flee the country--the Russian mafia has caught on to their scam. Matilda begs to stay with Miss Honey, with the teacher supporting the idea, but the mobsters arrive before Mr. and Mrs. Wormwood can make a decision. The older Wormwoods hide, only to be given away by Michael's stupidity. Sergei, the head of the mob, prepares to attack, when Matilda suddenly interrupts in perfect Russian. The two have a brief discussion, and Sergei is impressed by the girl's wisdom and maturity ("This Little Girl [Reprise]"). He agrees to leave the Wormwoods alone on the condition that they never bother him again. Mr. Wormwood then agrees to let Matilda stay with Miss Honey, finally acknowledging her as a girl and shaking her hand to say goodbye.
With a happy ending thus achieved, Matilda and Miss Honey literally turn cartwheels on their way home together. The entire cast then enters the stage on scooters for a joyous finale, reminding the audience that "sometimes you have to be a little bit naughty" ("When I Grow Up/Naughty [Reprise]").
Musical numbers
#Not present on any of the cast recordings except the ITunes exclusive extended American cast recording
The instrumentation uses a ten-to-thirteen-piece orchestra, including keyboards, reeds, brass, strings and percussion. The performances run 2 hours and 40 minutes, including one interval. The "Overture" is included in the Broadway production only while the "Entr'acte" was only used in the London production where it has now been cut apart from the final bars which lead into "When I Grow Up".
Recordings
The cast album recorded by the original Stratford company was released on CD in September 2011 and a month later as a Digital Download. It features a hidden spoken track which follows "When I Grow Up" (Reprise). This is the full version speech that is heard in part, before, during and after Quiet in the show A new Original Broadway cast album was released on 22 September 2013 as a CD. This contains more tracks than the UK recording and includes "The Chokey Chant". The deluxe version features Matilda's stories of the Acrobat and the Escapologist, the song "Perhaps a Child" sung by Sergei, which was cut from the show early on in the Stratford previews due to time constraints, and "Naughty" with all four Broadway Matildas singing.
Principal roles and original cast members
Notable West End replacements
Matilda – Isobelle Molloy, Jade Marner, Hayley Canham, Lucy-Mae Beacock, Chloe Hawthorn, Lara Wollington Elise Blake, Cristina Fray, Georgia Pemberton, Lollie McKenzie Lottie Sicilia, Cara Jenkins, Tasha Chapple, Matilda Shapland, Violet Tucker, Anna-Louise Knight, Lara McDonnell, Lizzie Wells, Evie Hone, Zaris-Angel Hator, Clara Read, Emily-May Stephenson, Sara Sheen, Abbie Vena
Miss Trunchbull – David Leonard, Alex Gaumond, Craige Els
Miss Honey – Haley Flaherty, Lara Denning (temporary), Miria Parvin
Mrs Phelps – Lisa Davina Phillip, Sharlene Whyte
Mr Wormwood – Steve Furst, James Clyde, Michael Begley
Mrs Wormwood – Annette McLaughlin, Kay Murphy, Rebecca Thornhill
Michael Wormwood – Nick Searle, Joshua Wyatt, Olly Dobson, Daniel Hope
Children's Entertainer/Sergei – Charles Brunton, Antonio Magro, Will Kenning, Oliver Brooks
Rudolpho – Marc Antolin, Joshua Lay, Jason Winter, John Brannoch, Daniel Ioannou
Escapologist – Mark Goldthorp, Antony Lawrence, Elliot Harper
Acrobat – Maria Lawson, Lara Denning, Charlotte Scott, Laura Tyrer
Doctor – Mark Goldthorp, Tommy Sherlock, Will Hawksworth, Matthew Rowland
Notable Broadway replacements
Matilda - Paige Brady, Gabriella Pizzolo Ripley Sobo, Ava Ulloa, Eliza Holland Madore, Brooklyn Shuck, Fina Strazza Tori Feinstein, Mattea Conforti, Mimi Ryder, Rileigh McDonald, Alexandra Vlachos, Ava Briglia, Aviva Winnick, Willow McCarthy.
Miss Trunchbull – Craig Bierko, Chris Hoch, Ben Thompson, Christopher Sieber
Miss Honey – Jill Paice, Alison Luff, Allison Case
Mrs Phelps – Natalie Venetia Belcon
Mr Wormwood – Matt Harrington, Rick Holmes
Mrs Wormwood – Amy Spanger
Michael Wormwood – Alex Brightman, Clay Thomson, Joseph Medeiros
Rudolpho – Ryan Steele (temporary)
Escape Artist – Geoff Packard, Michael Minarik
Acrobat – Jennifer Bowles
Doctor – Geoff Packard
Lavender – Grace Capeless, Zoe Manarel
Notable US Tour replacements
Matilda – Tori Feinstein (temporary), Savannah Grace Elmer, Lily Brooks O'Briant, Sarah McKinley Austin
Miss Trunchbull – David Abeles
Hortensia;- Juliette Gold (Temporary)
Rudolpho and Party Entertainer – Michael Graceffa
Notable Australian Tour replacements
Matilda - Dusty Bursill, Tiana Mirra, Alannah Parfett and Ingrid Torelli
Original Broadway Swings
Adult Swings: Yurel Echezarreta, Nadine Isenegger, Colin Israel, Celia Mei Rubin, Heather Tepe, Clay Thomson Child Swings: Erica Simone Barnett, Madilyn Morrow, Luke Kolbe Mannikus, Sawyer Nunes
Original Australian Swings
Danielle Cook (Dance Captain), Leah Lim, Zoë Komazec (Assistant Dance Captain), Mitchell Mahony, Clay Roberts
Film adaptation
In June 2013, Tim Minchin said a future film adaption was being planned. Minchin said during an interview, "We just got [the show] up in New York, there's a touring version that is meant to be going on in America, concurrently the English version is up, there's a film that will probably be made in the next 4 or 5 years and all this sort of stuff." Mara Wilson, who played Matilda in the original 1996 film adaptation of Dahl's novel, has expressed an interest in having a cameo in a film version if asked. On 15 November 2013, in an article in the Daily Mail it was revealed that Dennis Kelly, who won the Tony for Best Book for Matilda, will write the movie's script, with Minchin penning any additional music required and Warchus, returning to direct. The movie will be released in 2019 at the earliest, due to a Broadway contract stipulating that any film version cannot be released before six years have expired following the show's opening there.
2010 RSC Stratford production
Michael Billington, writing for The Guardian, gave the musical four stars out of five. He praised the adaptation of the book, the "ebullient music and lyrics", the direction, the stage design and the performances—especially Bertie Carvel as Miss Trunchbull. The Independent also gave the show four out of five stars and said, "The Royal Shakespeare Company has struck gold with this wildly entertaining musical … Kelly's clever adaptation and the witty, intricate songs by ... Minchin create a new, improved version of Dahl's story ... Warchus's wondrously well-drilled production finds just the right balance between gleeful grotesque humour and heart-warming poignancy."
Charles Spencer, writing for The Daily Telegraph awarded the show all five stars and praised the "splendidly witty, instantly hummable songs, dazzling choreography, a cast of impossibly cute and delightful children and a fantastic star turn from Bertie Carvel ... [Kelly's] script has both deepened the emotion of Dahl's story while adding loads of splendid jokes of his own", and concluded, "It is funny, heart-warming, and bang-on target". Matt Wolf of The Arts Desk said: "I was struck by the sight of many a child grinning as openly as their adult companions were wiping away tears". Henry Hitchings of the London Evening Standard also praised the performances, direction and design and commented on Minchin's "witty songs [in which] he switches between styles with remarkable dexterity". He continued, "There's a playfulness throughout [the book] that proves intoxicating ... In this lovingly created show, Matilda's magic positively sparkles. There's a cleverness in the writing which ensures that, while it appeals to children, there is plenty for adults to savour ... it's blissfully funny."
London
The reviews of the London performances were also very positive. Julie Carpenter of the Daily Express awarded the show all five stars and called the musical "[g]loriously over the top", and said, "it's an irresistible and ingenious mix of fun, fizz, cruelty, incredible choreography and above all warmth which means we root for the kids from the start. Fantastic." Henry Hitchings' review in the Evening Standard ranked the piece five stars, praising the music and lyrics, book, set design, choreography, direction and performances. The review in The Guardian said, "You'd be a nitwit to miss this hit show." The only complaint in Quentin Letts' five-star review in the Daily Mail was about "overdone amplification". The Stage also gave Matilda five stars, as did Spencer, writing again for The Telegraph. Confirming his impression of the 2010 production, he wrote about the West End transfer:
"I suspect it will delight audiences for years to come ... [Kelly's] script actually improves and deepens Dahl's original ... [Minchin's] smashing score ... combines take-home melodies with delicious lyrical wit in songs that consistently develop both the plot and our understanding of the characters. There is an exuberant sense here of two writers who have clicked together ... [Matilda] so wittily excoriates the cruelty and crassness of our age ... Warchus's thrilling, warm-hearted production, exuberantly designed by Rob Howell and with pin-sharp choreography by Peter Darling, constantly combines comedy with a sense of wonder. The children [and the adult performances are 'hilarious' (Bailey), 'memorable' (Walker and Kaye) and 'touchingly sweet' (Ward)] ... But the star turn is Bertie Carvel".
The Financial Times, The Times and The Sunday Times each awarded the show four stars out of five, but found little to criticise. Ben Brantley, writing for The New York Times, called the adaptation "a sweet and sharp-witted work of translation, which ... turns dark and sodden anxieties into bright and buoyant fantasies [that address] a raging thirst these days for [such] tonics". A year after the show opened, Time Out gave the production four stars out of five, noting the departure of Carvel and calling the show "a little too long and, dramatically, a tad wayward", but nevertheless "wise, wicked, glorious fun."
New York
Most of the New York critics gave the Broadway transfer their highest marks. Brantley wrote: "Matilda works with astonishing slyness and grace to inculcate us with its radical point of view. [It] is about words and language, books and stories, and their incalculable worth as weapons of defense, attack and survival ... Above all it's an exhilarating tale of empowerment". He also said the child actors "strengthen their diction" so that the "tasty lyrics" could be clearly heard. Richard Zoglin, in Time magazine said that the show is "a fresh start for the Broadway musical" with "a score that seems all but woven into the scenery—simple but distinctive tunes ... intricate lyrics ... Every element of the show seems hand-crafted and right". He said that director Warchus "lets the characters go gloriously over the top (the way children see them), but also brings a hushed intensity". He also said that the second act "runs a bit too long" and that "the combination of shrill child voices, British accents and heavy miking causes many of the lyrics to get muddled". Elisabeth Vincentelli's review in the New York Post said, "Once in a blue moon, a show comes out blazing and restores your faith in Broadway. Matilda The Musical is that show." David Rooney of the Hollywood Reporter said the stage show captured "the unique flavor of Roald Dahl's classic 1988 children's novel", and added,"this funhouse fairy tale is by turns riotous and poignant, grotesque and menacing, its campy comic exaggeration equaled only by its transporting emotional power".
David Cote, in Time Out New York wondered whether the show was too English for Broadway tastes; he wrote, "Matilda is a kids' musical, not a musical that happens to be about a kid. As such, its attractions may be limited to younger spectators and die-hard Dahl fans. That would be a pity, since Matilda is wickedly smart and wildly fun". A review in USA Today said the show tries too hard to be clever, but it is affecting and enchanting. Of the British papers reviewing the transfer, The Telegraph gave the show four stars out of five, and said, "There's a harder-edged quality to the New York staging: the general tenor is louder and more exaggerated, and the Gilbertian finesse of [the] astonishing lyrics didn't translate for my companion ... But the tremendous heart and intelligence of the piece remains undimmed." A review by Brendan Lemon in the Financial Times also gave the piece four stars out of five.
References
Matilda the Musical Wikipedia
(Text) CC BY-SA