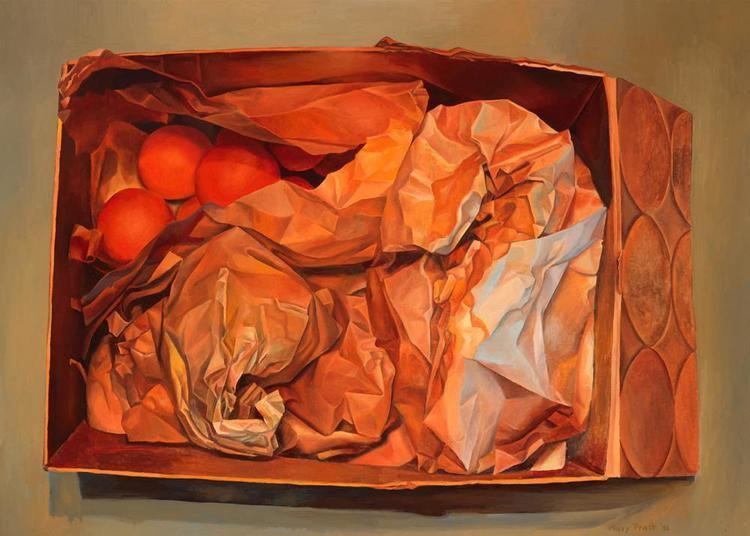 The focus of her work is the ordinary household things one finds around the house: jars of jelly, apples, aluminum foil, brown paper bags. The style is bold and flamboyant, rendering their subject vivid and realistic. Because of this transformation of the mundane into something aesthetic, "she may have had more influence on shaping the way we see things than any Canadian painter since the Group of Seven".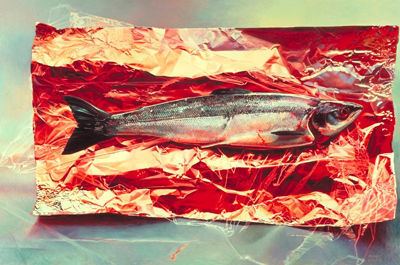 In a 2013 Globe and Mail article, responding to critics of her work as too "commercial", she said, "People will find out that in each one of the paintings there is something that ought to disturb them, something upsetting. That is why I painted them."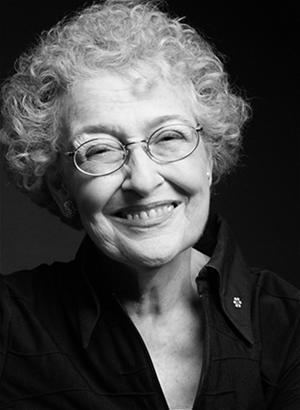 Mary Pratt's paintings have been exhibited in most major galleries in Canada, reproduced in magazines such as Saturday Night, Chatelaine, and Canadian Art. Her work is found in many prominent public, corporate, and private collections, including those of the National Gallery of Canada, The Rooms, Art Gallery of Nova Scotia, the New Brunswick Museum, Beaverbrook Art Gallery, Vancouver Art Gallery, Art Gallery of Ontario, and Canada House in England.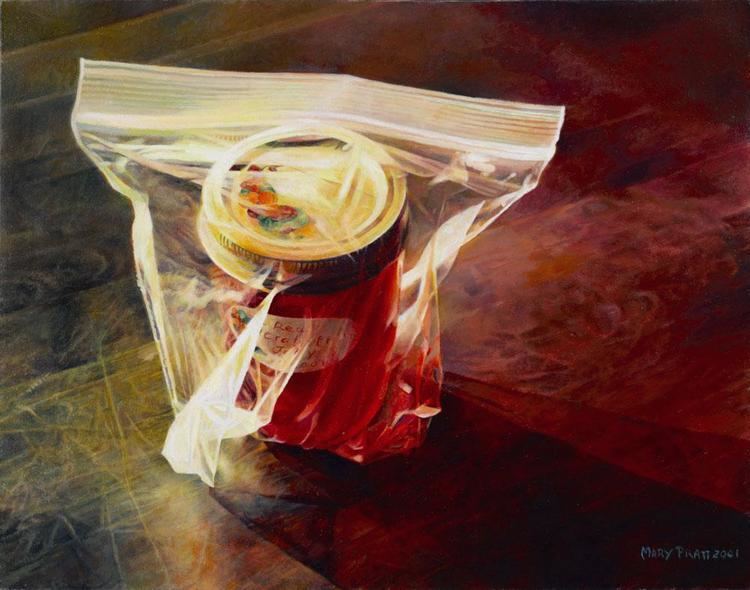 Pratt's first solo exhibition was held at the Memorial University Art Gallery in St. John's in 1967. The first showing of her art outside Atlantic Canada was part of an exhibition at the Picture Loan Gallery in 1971 in Toronto. In 1973, Erindale College (Toronto) gave her a show of her own.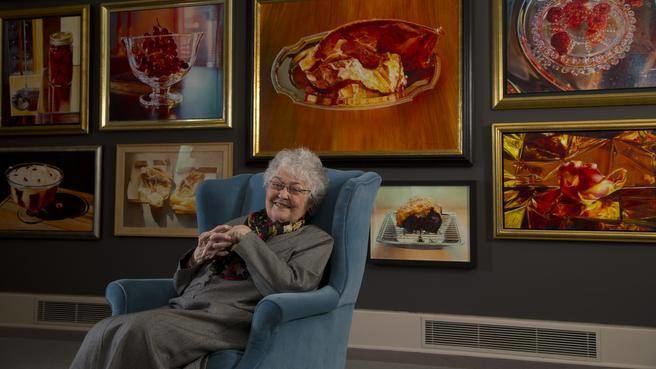 The big breakthrough for wider notice of Pratt's work came when the National Gallery included many of her paintings and drawing in an exhibition in 1975. Her work also coincided with the upsurge of the women's movement (International Women's Year was in 1975 as well). Several colleges and universities began incorporating discussions of her works in their women's studies programs.
In 1995, the touring exhibition The Art of Mary Pratt: The Substance of Light was organized by the Beaverbrook Art Gallery in Fredericton, New Brunswick. The accompanying catalogue won numerous awards and was included in Great Canadian Books of the Century. Other recent shows at commercial galleries include Inside Light at the Equinox Gallery in Vancouver, Canada (May/June 2011) and New Paintings and Works on Paper at the Mira Godard Gallery in Toronto, Canada (May/June 2012). The exhibition was curated by Tom Smart.
The solo exhibition titled Mary Pratt toured throughout Canada from 2013 to January, 2015. It was organized by The Rooms Provincial Art Gallery and Art Gallery of Nova Scotia and curated by Mireille Eagan, Sarah Fillmore, and Caroline Stone. The accompanying catalogue was published by Goose Lane Editions. The tour travelled to the Art Gallery of Windsor in Windsor, Ontario; the McMichael Canadian Art Collection in Kleinburg, Ontario; the MacKenzie Art Gallery in Regina, Saskatchewan; and the Art Gallery of Nova Scotia in Halifax, Nova Scotia.
The solo exhibition Mary Pratt: This Little Painting was on display at the National Gallery of Canada, running from April 4, 2015 to January 4, 2016. It toured to the Owens Art Gallery at Mount Allison University from March 11 to May 22, 2016. The exhibition was co-organized by the National Gallery of Canada and The Rooms Provincial Art Gallery. It was curated by Jonathan Shaughnessy and Mireille Eagan.
Other major retrospectives include London Regional Art Gallery (1981) and the McLaughlin Gallery (1983).
Pratt served on the government Task Force for Education in Newfoundland in 1973, on the Fishery Industry Advisory Board from 1978 to 1979, and on the Board of Management of the Grace General Hospital in St. John's, Newfoundland. She has also served on the Federal Cultural Policy Review Committee, which produced the Applebaum-Hébert Report in 1981. Pratt chaired a committee to advise on the creation of the School of Fine Arts at Sir Wilfred Grenfell College in Corner Brook, Newfoundland in 1985. Pratt has held numerous other positions, including a seat on the Canada Council from 1987 to 1993, and on the Board of Regents of Mount Allison University from 1983 to 1991.
Since the 1980s, Pratt has given addresses and published essays in periodicals such as The Globe and Mail and Glass Gazette.
She is the daughter of Harvard-educated attorney William J. West, who served as the Minister of Justice of New Brunswick from 1952 to 1958 and Katherine West (born MacMurray). She has a younger sister, Barbara West Cross. She was strongly influenced by her maternal grandmother, Edna McMurray, who was the co-founder of the first IODE chapter in New Brunswick and served as its activist president for over 20 years. Politically, Pratt remains a Conservative with a Red Tory bias.
She attended Mount Allison University, studying Fine Arts under Alex Colville, Ted Pulford, and Lawren P. Harris. In her second year, she met the artist Christopher Pratt while they were both students there; they married on September 12, 1957. Immediately after, they moved to Scotland, where Christopher had been accepted to the Glasgow School of Art. Her first two children were born there. In 1961, they moved back to Newfoundland, where she completed her Bachelor in Fine Arts.
In 1964, they moved to Salmonier, in rural Newfoundland, so Christopher could continue painting. Years later, they moved to St. Catherines, St. Mary's Bay, a small community south of St. John's. They have four children: John, Anne, Barbara, and Edwyn (Ned). She and Christopher separated in 2004.
In 1996, Pratt was named Companion of the Order of Canada. In 1997, she was awarded the $50,000 Molson Prize for visual artists from the Canada Council for the Arts. In 2013, she was made a member of the Royal Canadian Academy of Arts. Pratt has also been awarded nine honorary degrees from various universities throughout Canada, including from Dalhousie University, Memorial University, and St. Thomas University.
In 2007, Canada Post issued stamps in its "Art Canada" series in honour of Mary Pratt. The $0.52 (domestic rate) stamp featured her Jelly Shelf (1999). The souvenir sheet included the $0.52 stamp, as well as a $1.55 (international rate) stamp with her Iceberg in the North Atlantic (1991).
A partial list of Pratt's works include:
The Back Porch (1966)
October Window (1966)
Afternoon (1966)
Supper Table (1969)
Cakes, Apples, and Potatoes (1969)
Caplin (1969)
Eviscerated Chickens (1971)
Bags (1971)
Red Currant Jelly (1972)
Salmon On Saran (1974)
Amaryllis (1975)
Cookie Hearts and Candy Cherries (1975)
Kettle on the Stove-top (1975)
Service Station (1977)
Cabbage, Carton, and Cat (1977)
Girl in a Wicker Chair (1978)
Another Province of Canada (1978)
Jellies (1978)
Tied Boat (1980)
Child with Two Adults (1983)
Donna (1986)
This is Donna (1987)
Girl in Glitz (1987)
Iceberg in the North Atlantic (1991)
B.C. Delicious (1994)
Peaches in a Plastic Pot (1995)
Mangoes on a Brass Plate (1995)
Reflections of Oranges (1996)
Pomegranates in a Crystal Bowl (1997)
Cut Watermelon (1997)
Pears on a Green Glass Plate (1998)
Jelly Shelf (1999)
Cherries Ripe (2000)
Points of Lemon (2000)
A Glow of Grapes on Garnet Glass (2002)
Transformations (2002)
Basting the Turkey (2003)