Political party

APGA




Name

Martin Agbaso




Spouse(s)

Robin Agbaso




Role

Nigerian Politician





Profession

Economist




Party

All Nigeria Peoples Party




Religion

Catholic




Siblings

Rochas Okorocha






Born

1959 Emekuku, Owerri




Nieces

Uchechi Rochas Okorocha, Uloma Okorocha, Uju Okorocha




Similar People

Rochas Okorocha, Ikedi Ohakim, Ifeanyi Ararume, Chukwuemeka Ihedioha
APGA Chairman Calls For Arrest Of Martin Agbaso
Chief Martin Agbaso (born 1959) is a Nigerian economist, politician and was a candidate for Governor of Imo State. Agbaso is the former Imo State Senator for Owerri, a special assistant on Ecology to the President of the Federal Republic of Nigeria and is married to Robin Agbaso, an American. The Agbasos have three children.
Contents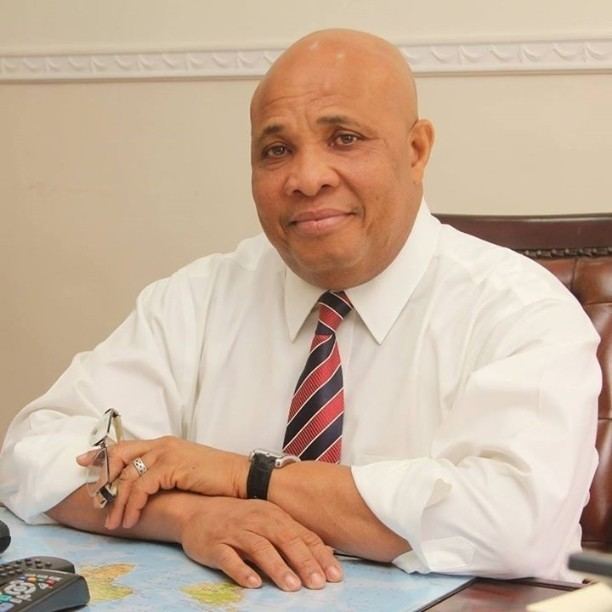 Formative Period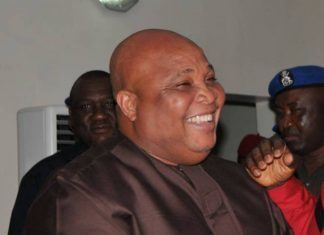 Chief Martin Agbaso was born on April 5, 1959 in Emekuku, Owerri North Local Government Area of Imo State. The first son of Chief Nathan and Mrs. Anna Agbaso, strong adherents of the Catholic faith, who imparted Christian virtues of faith, hope and charity, early in their son's life. These virtues later become the defining character of the man whose life is simply a treatise in compassion, flexibility, honesty, integrity and humility.
Early life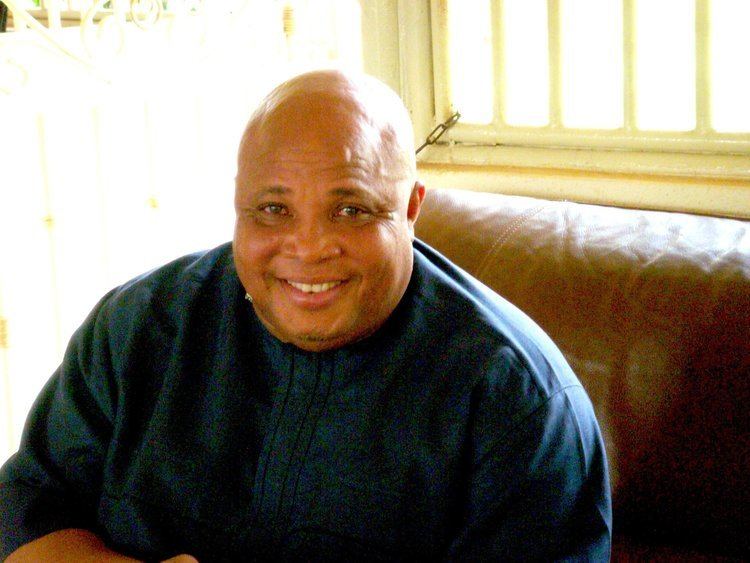 Young Martin began his early education at Our Lady's Primary School, Emekuku (now Chief Obi Memorial Primary School), from which he graduated with the First School Leaving Certificate in 1971. Although of humble parentage, Martin was born into one of those families in which education is regarded as an existential mantel. Accordingly, he proceeded to Sabastine Academy, (now Emekuku High School), where he graduated in flying colours in 1976, receiving his West African School Certificate (WAEC).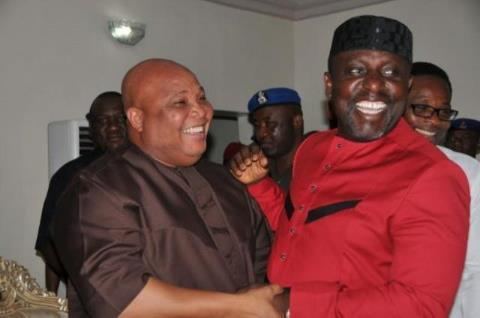 In keeping with his family's tradition, he enrolled at the prestigious Pontifical University in Rome, Italy, and in 1980, earned his Advanced Diploma in Social Sciences. This was rapidly followed by a B.Sc. and NASD Degrees in Finance, from the State University of New York, Old Westbury, USA, in 1983 and 84 respectively.
Chief Martin Agbaso, a man heavily endowed with good nature and presence, is not one to be passive in his environment, be hidden in any crowd nor his ebullience and vivacity be missed - attributes that always stood him out during college years. While his remarkably personality makes him easily acceptable to people it was his candour, bursting enthusiasm and leadership qualities that sustain his fellow student's interest in him even with limited contact.
A man of considerable cerebral content, Chief Agbaso's alluring humility was always salient. He wasted no time in blending with his fellow students of various racial extractions, yet his intellectual dominance over his classmates in the university was apparent. It was no wonder therefore that the committee of International Students at the Pontifical University of Rome found him worthy and elected him Secretary General in 1980, making him the first African, to be so elected.
Chief Agbaso is very conscientious and was incurably an enthusiastic student with an academic GPA high above average which manifested in the numerous awards he earned while at school. He was a recipient of the Clyde Winfield Academic Award for Excellence at the State University of New York, where he was also the First Black Academic Chairperson, of the Students Union Government in the 1982/83 academic session.
Having achieved a critical mass of academic attainments, and the solid foundations requisite for the challenges of the great life of community service he had envisioned for himself, Chief Agbaso, like the proverbial acorn seed that grows from one eventful stage to another to become the mighty oak tree, decided to move to the next stage of his life - to find his place in the sun through a career in the highly competitive and segregated American corporate financial sector.
Corporate Life
Chief Martin Agbaso's corporate career began soon after graduation when, in 1983, he joined Prudential Inc. of New York, a world-famous financial Derivative and Strategic Investment Management organization. Martin Agbaso, a man of patience and a stickler for due process and focus thinking, chose not to miss any step on the corporate ladder. He began as Management Trainee,though he had qualifications that could've landed him higher pay in less structured institutions. His vision was bigger than that. Chief Agbaso always says that "the whole world will wait for the man who knows where he is going, and would listen to anyone who knows what he is saying." Such adage built and nurtured his character,imbued courage and resilience to his personality. Indeed, the world waited for Martin to rise through the ranks and by 1991 he had become a Financial Analyst in Prudential Incorporated, with all the power, contacts and personality manicure that go with high corporate office in the US.
Martin's profound understanding of finance and investments was imbibed during his time at Prudential. His position as a financial analyst exposed him to the inner workings of the famous Wall Street Banking and Financial power houses, as well as the men behind the world of high finance Engineering. He learned to conceive,structure and manage different types of financial instruments (stocks, bonds, guarantees, derivatives and hybrid), with all their possibilities and implications. Martin spoke the language of world class investment banking, and as would be anticipated, the rewards were not long in coming.
In no time, Chief Agbaso was soon invited to the table of the high and mighty of the New York finance world on his personal recognizance as a financial analyst in a reputable institution. He became a member of the New York Stock Exchange (1985); member, Million-Dollar Roundtable on Interest Sensitive Products at Prudential Incorporated (1985); and Member, Commodity Improviser of New York (1987). In these positions he learned the rudiments of prudence, cost control and containment, and as a natural consequence, acquired the economic mindset of a good manager of men and materials.
Chief Martin Agbaso is a man who knows how to generate good ideas and put them to work. Having cut his teeth where it mattered most, in the world of international high finance, and having become ready for the next stage of his life, Martin, in his trade mark of due diligence, moved to the next stage of his thunderously successful life – Private Enterprise. This culminated in the launch in 1992 of AGAD Nigeria Limited, a worldwide stocks and commodities monitoring company. Between 1994 and 1995, he founded SudRiva Construction Company Limited and SudRiva Oil and Gas Limited. Both Companies have since evolved into major players in both construction and oil and gas sectors, with Chief Martin Agbaso serving as their Executive Chairman.
As an accomplished visionary and a trained business mind, Chief Agbaso knows how to grow small companies into giants and big ones even bigger. This is precisely what played out in 1997, when he bought controlling equity in Nathan's – a small dry cleaning firm in New York, now the largest dry cleaning chain in Nigeria, with him as Executive Chairman.
Family Life
Chief Agbaso is unquestionably an exemplary gentleman whose lifestyle has inspired many young people to greatness. When at 23 he married his equally young 19 year old sweetheart in New York, many did not understand why he was in a hurry to settle down. Today, as we reminisce over the action-packed life of Martin, one fact is clear: while his mates are still struggling to pay school fees for their kids, Martin is already a proud grandfather. His three children have acquired higher degrees and are successful entrepreneurs making waves in different sectors of the Nigerian economy.
Indeed, married life could not be sweeter for Martin and his most wonderful wife, Robin, an American who speaks more Igbo Language than most. It is therefore indubitable that a man of this background needs nothing personal from humanity, except the opportunity and privilege to serve and give back to society. That is precisely what Chief Martin Agbaso, a philanthropist, a dogged fighter for the public good, a faithful friend, a loving father, grandfather and seasoned technocrat, is expected to continue doing for his kind and country
Political career
Martin's political career was actually thrust on him by circumstances amplified by his own natural inclination to always answer the call of his people. A brief background to his entry into politics may provide a worthwhile illumination, even if tangentially, on this equally very eventful political patch of his life. The year 1992 was epochal in the life of Chief Martin Agbaso. It was a landmark indeed because that year, he ventured into the murky waters of Nigerian politics and more so because Martin had everything going for him to get involved in what has obviously perceived as a "dirty game" – a flourishing career as a stockbroker and insurance practitioner in the world's greatest and most sophisticated financial capital, New York; a prosperous family with a loving wife and natural friend of his, and much more.
But a clarion call had been made by leaders of the Owerri Community under the auspices of the Owerri Forum, demanding a bid to secure the then senate seat. Martin was one of those who attended a meeting at La Perch Hotel, Owerri, where the Owerri elders had convened. Martin Courageously offered to lead the fight for his people. That event marked his entry into politics – a watershed in his life.
Despite all the odds, Martin won the Imo East Senatorial seat under the platform of the National Republican Convention against the likes of Dr Roland Anyanwu, Chief Bright Nwanne .
According to Martin, "we are all born for a reason, and every one of us has a part to play in our communities". It is for this reason that he decided to return to Nigeria to serve his country and give his people the benefit of his many years of training and experience.
In 1998, after it had been agreed that Owerri Federal Constituency should produce the next senator, Martin Agbaso stepped forward, confronted and defeated Chief Iwuanyanwu in the election under the platform of the Democratic Party of Nigeria (DPN).
In 2001, Martin accepted President Olusegun Obasanjo's invitation to serve as his Special Assistant on Ecology, a role he played from 2001 to 2004.
A man imbued with relentless spirit, never-say-die attitude, creativity and drive, Chief Agbaso became the All Progressives Grand Alliance (APGA) candidate for gubernatorial election in Imo State in 2007; an election he recorded a landslide victory against. However, under unscrupulous conditions, the election was cancelled by INEC .
Undaunted by that temporary setback, he regrouped his teeming supporters and revamped his party APGA and successfully led it to a rare feat in the political history of Imo state, defeating an incumbent PDP governor of the state.
Chief Agbaso is not one of those who get into political office before trying to figure out what to do about the things they promised to do. Anyone who has listened to him discuss the subject of leadership, transformation and patriotism would agree that here is a man who does what he knows is needed and loves his country.
Listen to Chief Agbaso: "I am driven by passion to put our people back to work , restore the middle class structure, give impetus to both investor and customer confidence, stabilize the naira while pushing up export and discouraging import"
Chief Agbaso has the intellect, vision and capacity needed for effective leadership. But most importantly, he has the humility to accept superior argument. He is a manager of men and knows how to tap the intellectual capital of those better endowed in other ways.
Philanthropy & Community Service
Chief Agbaso's chain of companies continues to employ over 623 Nigerians in different states of the federation while his foundation for orphans, the less privileged and widows in Imo State have touched many lives. A deeply religious man, Chief Agbaso has contributed to the growth of Communities in his home state through the construction of churches and chapels, facilities and cash donations, which he does mostly anonymously. A grassroots man per excellence, Chief Agbaso is a good family man, husband and father.
Finally, in a single phrase: Chief Martin Agbaso is an honest leader with indissoluble courage and determination.
References
Martin Agbaso Wikipedia
(Text) CC BY-SA