Name

Marlow Moss




Role

Artist




Period

De Stijl







Died

August 23, 1958, Penzance, United Kingdom
Parallel lives marlow moss claude cahun at leeds art gallery
Marjorie Jewel "Marlow" Moss (29 May 1889 – 23 August 1958) was a British Constructivist artist who worked in painting and sculpture.
Contents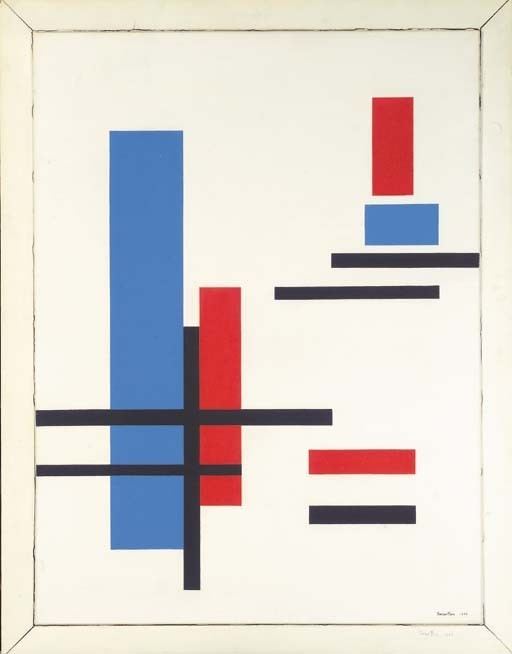 Marlow moss museum haus konstruktiv zurich
Life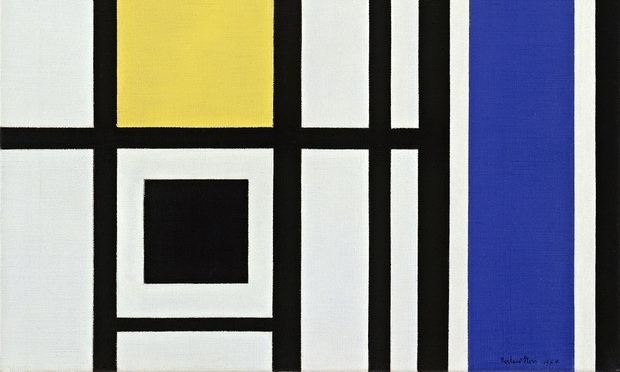 Born in Kilburn, she was the daughter of Lionel Moss, a master hosier and clothier, and his wife Frannie Jacobs.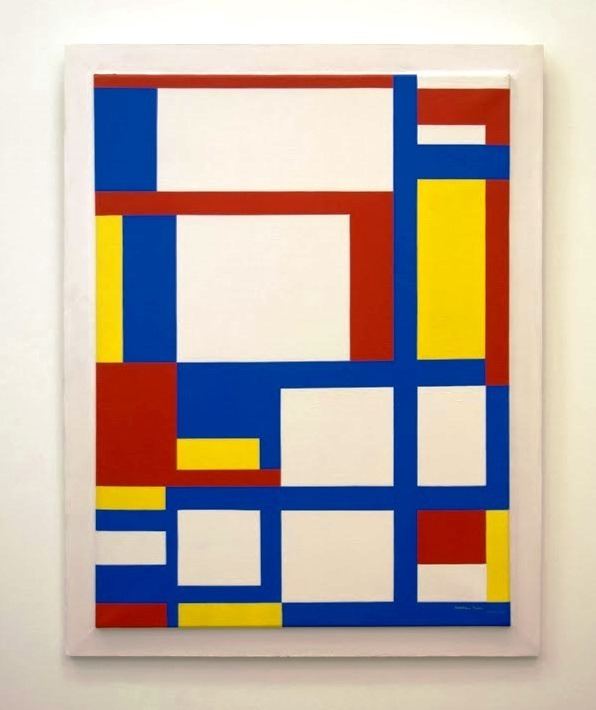 In her childhood music was her one great interest, but her music studies were interrupted for years when she contracted tuberculosis. Later she turned her attention to ballet. Against the wishes of her family, she chose to pursue an artistic career, studying at the St John's Wood School of Art in 1916–17, then the Slade School of Fine Art. She changed her forename (from Marjorie) and adopted a masculine appearance in around 1919. This was precipitated by a 'shock of an emotional nature' and the abandonment of her studies at the Slade, to live alone in Cornwall.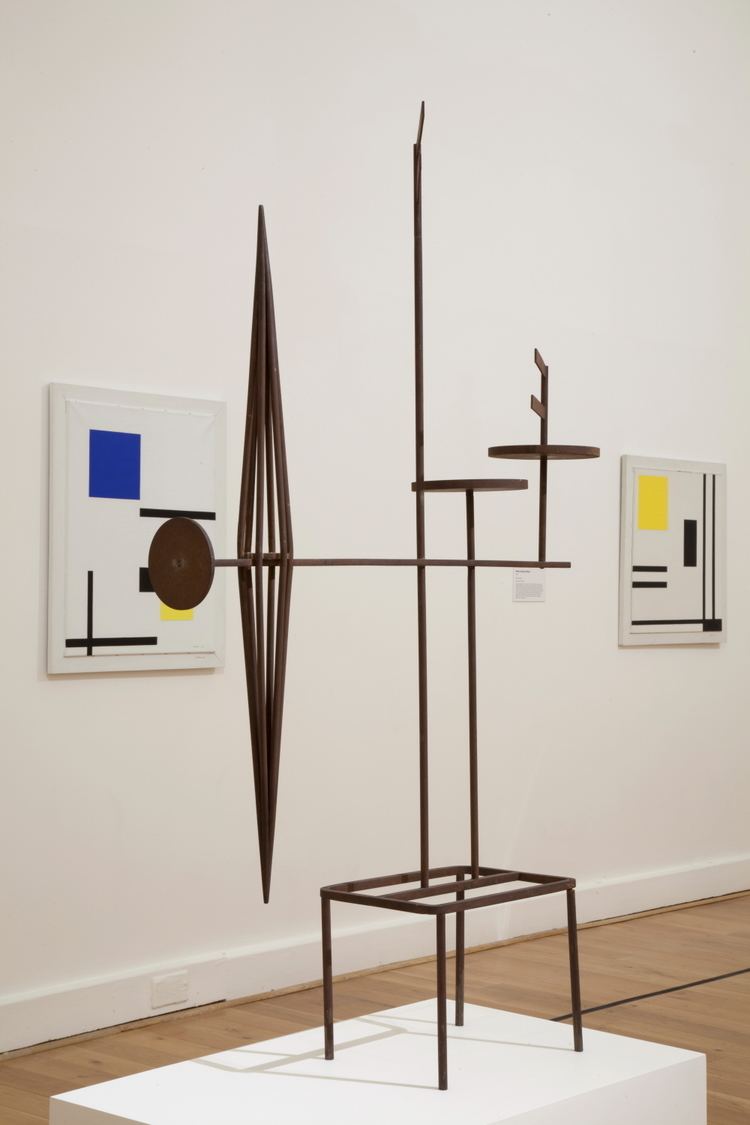 In 1923, inspired by a biography of Marie Curie, she was able to return to London to study in the British Museum Reading Room, then studied sculpture at the Penzance School of Art, before taking up painting and setting up a London studio in 1926. At this point in her life she permanently adopted a masculine appearance of short hair, cravat and jodhpurs, and changed her forename to Marlow.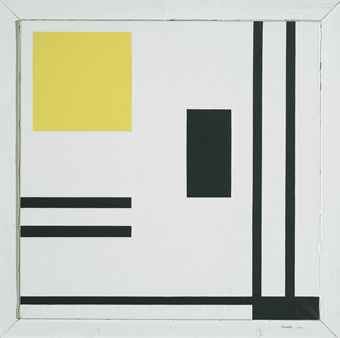 In 1927 she visited, and later moved to, Paris where she met her lifelong partner, the Dutch writer Antoinette Hendrika Nijhoff-Wind, the wife of the poet Martinus Nijhoff). Nijhoff described Moss as an atheist. She was a pupil of Léger and Ozenfant at the Académie Moderne, but her style was particularly influenced by Piet Mondrian. She was also acquainted with Georges Vantongerloo and Jean Gorin. In Paris she was a founder member of the Abstraction-Création association, and exhibited with the Salon des Surindépendants.
At the beginning of World War II Moss left France to live near Lamorna Cove in Cornwall, studying architecture at the Penzance School of Art. For the rest of her life she lived and worked in Cornwall, frequently visiting Paris. A neighbour, in Lamorna, described her as ″a dear little soul″ who use to give all the children of the village a christmas present. The neighbour, when a child use to peer into her studio to watch her paint,
... we'd see her pacing up and down, pacing, pacing. And then she would draw a straight line. Her work was all straight lines and cubes. Then she'd pace up and down again and then – uh, a square would be drawn.
She joined the London branch of Group Espace and had solo exhibitions at the Hanover Gallery in 1953 and 1958. She died of cancer on 23 August 1958 in Penzance, and her ashes were scattered on the sea near Lamorna.
Works
Her oeuvre spanned painting, sculpture and reliefs. Prior to World War II her main medium was paint, in which she produced highly abstract compositions simple black lines and grids akin to the Neo-Plasticism of Mondrian, whose work she highly admired (some sources suggest that Mondrian may have been influenced by her work, rather than vice versa). Later in the 1930s she moved to all-white reliefs of wood, rope and string. Most of this pre-war work was destroyed, along with her French studio, by German bombing in 1944.
Individual exhibitions of her work were staged by Erica Brausen in the Hanover Gallery in London in 1953 and 1958. Other exhibitions took place in the Stedelijk Museum, Amsterdam, in 1962 and in the Town Hall of Middleburg in Spring 1972.
Post-war, her architectural studies led her to develop sculptural and relief works such as the 1956-7 Balanced Forms in Gun Metal on Cornish Granite, while she continued to paint, developing a style structurally similar but more colourful than early works.
Despite the innovative nature of her work, her early base in Paris and later reclusive lifestyle led to a low-key reputation as a British artist, and until the 1980s she was viewed as a minor Mondrian imitator. Her works are now held at the Tate and the Henry Moore Institute.
Collections
"Marlow Moss's works are held worldwide in collections both private and public, including the Museum of Modern Art, New York and the Israel Museum in Jerusalem. She is especially well-represented in collections in the Netherlands, including the Stedelijk in Amsterdam, Gemeentemuseum in The Hague and Kröller-Müller in Otterlo."
References
Marlow Moss Wikipedia
(Text) CC BY-SA