Margarita with a Straw is a 2014 Indian drama film directed by Shonali Bose. It stars Kalki Koechlin, who plays Laila, a teenager with cerebral palsy. Revathy, Sayani Gupta, and William Moseley play supporting roles. The movie talks about struggle with the normal activities in her life. Margarita with a Straw was one of the five projects selected for the Work In Progress Lab of Film Bazaar 2013.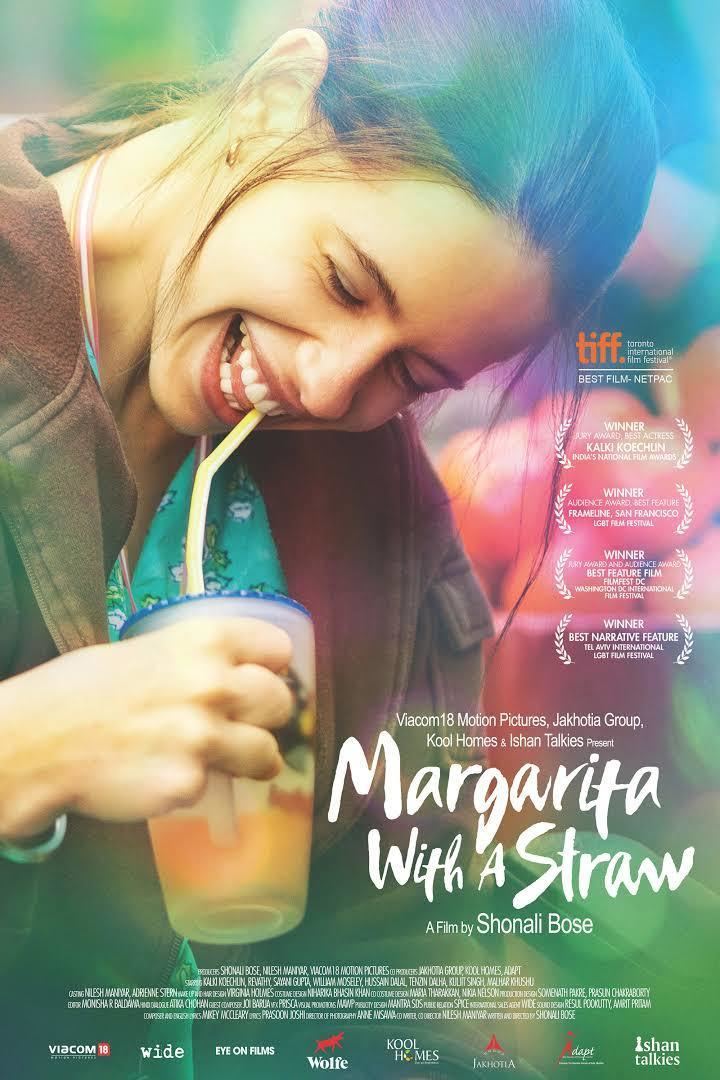 The film made its world premiere on 8 September 2014 as part of the Contemporary World Cinema Programme at the 2014 Toronto International Film Festival (TIFF). It went on to be screened at Tallinn Black Nights Film Festival in Estonia, BFI London Film Festival, Busan International Film Festival (BIFF), the Santa Barbara International Film Festival (SBIFF) and Istanbul Film Festival. It was released in India on 17 April 2015.
Laila (Kalki Koechlin) is a teenager with cerebral palsy who uses a wheelchair. She is a student at Delhi University and an aspiring writer who writes lyrics and creates electronic sounds for an indie band at the university. Laila falls for the lead singer of the college band and is heartbroken when she is rejected.
She soon overcomes this phase, when she gets a scholarship for a semester at New York University and moves there with her traditional Maharashtrian mother Shubhangini (Revathi). Living in Manhattan, she meets an attractive young man named Jared (William Moseley) in her creative writing class, who is assigned to help her in typing. She also meets the fiery young activist Khanum (Sayani Gupta), a blind girl of a Pakistani Bangladeshi descent, whom she later falls in love with. As she embarks on a journey of sexual discovery, she figures out she is bisexual, as she feels attracted to men like Jared while also being with Khanum. She has sex with Jared and she doesn't tell Khanum. Laila's mother, believing the two are like best friends and oblivious to the fact that Khanum is her daughter's lover, invites her to Delhi to spend the winter break with the family. It is during that time that Laila finds the courage to tell her mother about her sexuality and her relationship with Khanum, which her mother initially disapproves. She also tells Khanum that she had sex with Jared and asks her to forgive her. Khanum thinks that she was being used by Laila and leaves her.
After a short while Laila's mother falls sick and she learns that her mother had fourth stage colon cancer which has fallen into relapse after previous treatments. Later Laila and her mother patch up and come to terms with each other. After her mother dies Laila plays a recorded speech at her mother's funeral telling how much she loved her and how she was the only one who ever understood her.
The story ends with Laila going on a date, with herself, signifying that she now has taken control of her life and doesn't need anyone else to love and care for her. The movie revolves around very delicate aspects of this modern life and teaching society how its better to adhere and accept the changing rituals.
Kalki Koechlin as Laila
Revathi as Shubhangini Damle
Sayani Gupta as Khanum
Kuljeet Singh as Laila's father
Hussain Dalal
William Moseley as Jared
Malhar Khushu as Monu
Jacob Berger
Tenzin Dalha
Shuchi Dwivedi as Sameera
Maninder Chauhan as Dhruv's mother in law
Guest Composer - Joi Barua
Hindi Lyrics - Prasoon Joshi
English Lyrics - Mickey McCleary
Margarita with a Straw was praised by critics. Subhash K. Jha of SkjBollywoodNews.com gave the movie 5 out of 5 stars and wrote "Sip and savour the delicate tastes of life in Margarita With a Straw. This is a moving heartwarming lyrical and yummy tale of a girl so sassy, she defines the eternal quest to seize the day."
Margarita with a Straw collected a total of ₹74 million during its theatrical run.
The film won the NETPAC award World or International Asian Film Premiere at 2014 Toronto International Film Festival (TIFF). It was the only Indian film to win an award at TIFF that year.
Kalki Koechlin won The Best Actress award at the Tallinn Black Nights Film Festival held in Estonia in 2014. The film won the Audience Award and the Youth Jury Award at Vesoul Film Festival in France in 2015. It won the Asian Film Awards for the Best Composer Award 2015.
National Film Awards
Special Jury Award - Kalki Koechlin