India




Kannada




Karnataka




Gulbarga district



Manyakheta (Manyakheta, Prakrit Mannakheda, modern Malkhed) on the banks of Kagina River in Sedam Taluk of Gulbarga district, Karnataka state, was the capital of Rashtrakutas from 818 to 982. It is 40 kilometres (25 mi) from Gulbarga city.
The present day Malkhed is the home to one of the biggest cement factories by name Rajashree Cements owned by the Aditya Birla Group. The village is now developing into a business centre for food grains, dairy and livestock trading . Malkhed has got the biggest livestock trading centre in the entire region. The main crops grown here are mostly rainfed crops like different varieties of pulses pigeonpea, greengram, blackgram. Though water is plenty, it is rarely utilised for agriculture.The masonry here in Malkhed is basically stone masonry and the thatching of the roofs are done by square blocks of stone which are placed in a slanting way so that the rain water gets easily drained off.
At Malkhed, there is historical Fort, the Restoration of the Fort is in progress based on a proposal submitted by HKADB (Hyderabad Karnataka Area Development Board).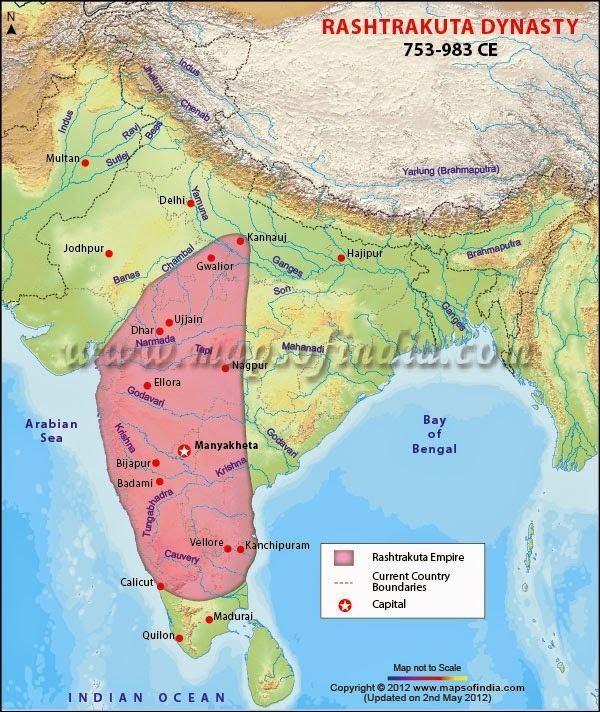 From 814 A.D. to 968 A.D. Manyakheta rose to prominence when The capital of Rashtrakutas was moved from Mayurkhandi in Bidar district to Manyakheta during the rule of Amoghavarsha I (Nrupatunga Amoghavarsha), ruled for 64 years and wrote Kavirajamarga the first classical Kannada work. Amoghavarsha I and the scholars mathematician Mahaveeracharya, and intellectuals Ajitasenacharya, Gunabhadracharya and Jinasenacharya, he helped to spread Jainism. After the fall of the Rastrakutas, it remained the capital of their successors, the Kalyani Chalukyas or Western Chalukyas till about 1050 CE. According to Dhanapalas Paiyalacchi, the city was sacked by the Paramara king Harsa Siyaka in CE 972–73, the year he completed that work.
Manyakheta Wikipedia
(,)http://1.bp.blogspot.com/-Rg4O4ONWyOc/U3x_ik_KIkI/AAAAAAAACGA/MUiOk_tmVCo/s1600/rashtrakuta-dynasty.jpg(,)http://upload.wikimedia.org/wikipedia/en/thumb/6/6b/Western_Chalukya_Monuments.svg/708px-Western_Chalukya_Monuments.svg.png(,)https://hyderabadhistory.files.wordpress.com/2013/05/650ce.jpg%3Fw%3D640%26h%3D447(,)http://upload.wikimedia.org/wikipedia/commons/thumb/5/57/Early_Vedic_Culture_(1700-1100_BCE).png/800px-Early_Vedic_Culture_(1700-1100_BCE).png(,)https://selfstudyhistory.files.wordpress.com/2015/01/9221e-india12b-2bcopy2b2152b-2b-2bcopy.jpg%3Fw%3D542%26h%3D640(,)http://upload.wikimedia.org/wikipedia/commons/1/19/Kasivisvanatha_temple_at_Pattadakal.jpg
(,)https://c2.staticflickr.com/8/7025/6754081503_d4099c0b12_b.jpg(,)http://2.bp.blogspot.com/-iTcuhn0vFPc/UuQF3sepiaI/AAAAAAAAWBU/NEv04uY-3WM/s1600/02%2BMalkhed%2BRastrakuta%2Bfort.jpg(,)http://3.bp.blogspot.com/-JbX2EMiuKjI/UuQFz8SP86I/AAAAAAAAWBI/zk5t64ExqYY/s1600/01%2BMalkhed%2BRastrakuta%2Bfort%2BMahadwar.jpg(,)http://1.bp.blogspot.com/-9kM1179mIRQ/UuQF3ldzsII/AAAAAAAAWBQ/_14cgNGM-_E/s1600/03%2BMalkhed%2BRastrakuta%2Bfort.jpg(,)http://i.ytimg.com/vi/Uf2NZh1Dipw/0.jpg(,)http://1.bp.blogspot.com/-bA5rbPysjUg/Uy3IgQRMGYI/AAAAAAAAWoE/e0t9oKX0L_M/s1600/49%2BShahpur%2Bhill%2Bfort.jpg