Born

3 April 1931 (age 84) (

1931-04-03

)

Bhanpura Madhya Pradesh

Spouse

Rajendra Yadav (m. ?–2013)

Movies

Rajnigandha, Swami, Samay Ki Dhara

Education

Banaras Hindu University (1953), University of Calcutta (1949)

Books

Mahabhoj, Aapka Banti, Ek Kahani Yah Bhi, Yahi Sach Hai, Main Haar Gai




Similar People

Rajendra Yadav, Premchand, Krishna Sobti, Basu Chatterjee, Mridula Garg
An interview with manu bhandari
Mannu Bhandari (Hindi: मन्नू भंडारी) (born 3 April 1931) is an Indian author, whose work dates up to late 1950s - early 1960s. She is most known for her two Hindi novels, Aapka Banti (आपका बंटी) and Mahabhoj (महाभोज). She is often credited as one of the pioneers of the Nayi Kahaani Movement, a Hindi literary movement initiated by authors including Nirmal Verma, Rajendra Yadav, Bhisham Sahni, Kamleshwar etc. Starting in the 1950s, a newly independent India was going through societal transformations like urbanization and industrialization . This demanded new debates, new opinions and new points of view, provided by those part of the Nayi Kahaani movement, including Bhandari. Narratives and stories mostly dealt with the relationship between sexes, gender inequality and equality as a new class of working and educated women had emerged then.
Contents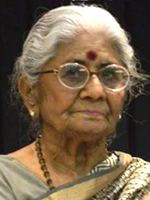 Bhandari is one of the post independence writers who portray women under a new light, as independent and intellectual individuals. Through the subject matter of her narratives, Bhandari highlights the struggles and difficulties women have constantly encountered in the past. Sexual, emotional, mental and economic exploitation had placed women in an extremely weak position in our society. Her female characters in her stories are portrayed as strong, independent individuals, breaking old habits and emerging and creating an image of 'new women'.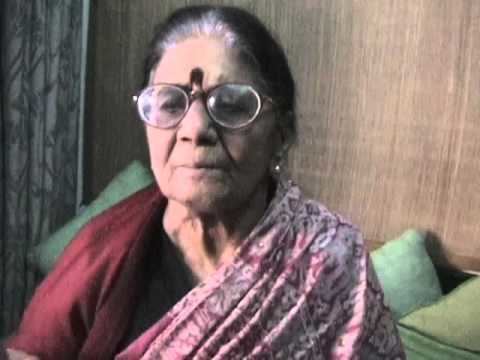 Biography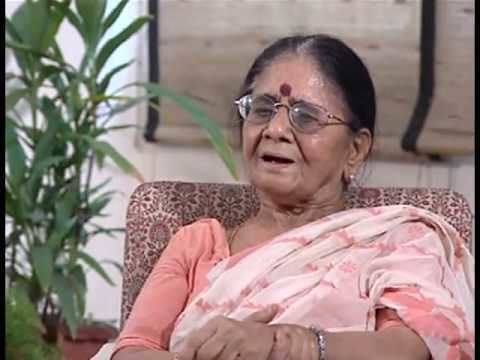 Bhandari was born on 3 April 1931, in Bhanpura, Madhya Pradesh and grew up largely in Ajmer, Rajasthan, where her father Sukhsampat Rai Bhandari, was a freedom fighter, social reformer and the producer of the first English to Hindi and English to Marathi dictionaries. She was the youngest of five children (two brothers, three sisters). She had her early education in Ajmer, graduated from Calcutta University and then went onto obtaining an M.A degree in Hindi language and literature, at Hindu Vishwavidyalaya, Varanasi. In 1946, she helped organize a strike in 1946 after two of her colleagues were dismissed for being involved with Subhash Chandra Bose's Indian National Army. She initially worked as a lecturer in Hindi in Calcutta, but subsequently returned to Delhi to teach Hindi literature at Miranda House College, in the University of Delhi.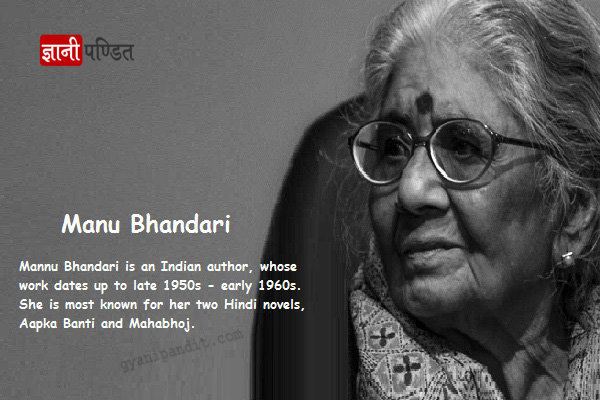 She is the wife of Hindi author and editor Rajendra Yadav.
Teaching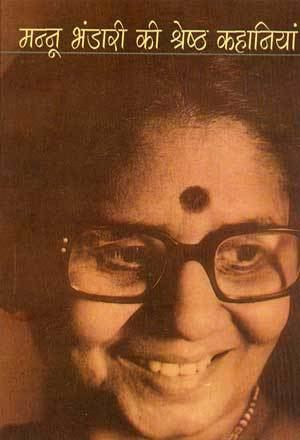 She began her career as a Hindi Professor. From 1952-1961 she taught at Kolkatta's Baliganj Shiksha Sadan, 1961-1965 at Kolkata's Rani Birla College, 1964-1991 at Miranda House College, Delhi University and from 1992-1994 she chaired the directorship at Ujjain's Premchand Srijanpith, in Vikram University. In 2008, Bhandari was honoured with the Vyas Samman, instituted by the K K Birla Foundation for her autobiography Ek Kahaani Yeh Bhi. This award is given every year for outstanding literary achievements in Hindi.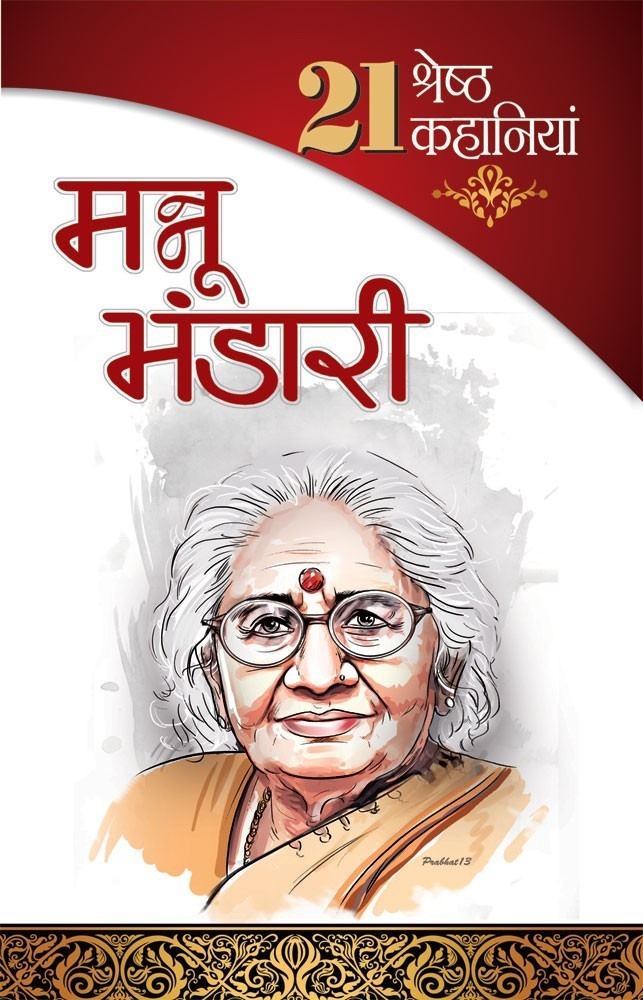 Her works reflect the changing moods of society, as they shape and mould her writing and subject matter. Modernism, prevailing social issues and transformations, contemporary social situations, daily struggles of an individual have all played a part in impacting and influencing Bhandari's works.
Writing
Bhandari's first novel, Ek Inch Muskaan, was co-authored with her husband, the writer and editor Rajendra Yadav and was published in 1961. The story was initially conceived of by Bhandari, and involved a romance between a man and two women. Yadav contributed the title, and they wrote the dialogues for the male and female characters respectively.
She followed this with her first individually published piece of writing, a story titled Main Haar Gayi (I've Lost) in 1957. Her second novel, Aap Ka Bunty (Your Bunty) was a portrayal of the collapse of a marriage through the eyes of a child, the titular Bunty, whose parents ultimately underwent a divorce and remarried other people. The novel was published to great acclaim and has been described as a 'milestone and a turning point in Hindi literature' by the critic Anil Kumar Singh. It has been translated widely, including into French, Bengali, and English. This story was later adapted to a highly popular and successful play and was performed all over the nation, including at the (Bharat Rang Mahotsav) (National Theatre Festival), in New Delhi. In Yahi Sach Hai (This is Truth) Bhandari wrote about a woman attempting to choose between her lover, and her husband. Her novel, 'Mahabhoj' (1979) highlights the struggles and battles of a common man constantly getting sucked into the immense bureaucratic corruption that exists within society. Other stories and novels include Ek Plate Sailab (1962), Teen Nigahon Ki Ek Tasvir, Trishanku, and Aankhon Dekha Jhooth.
Bhandari, along with her husband, Rajendra Yadav, as well as other writers in Hindi, including Krishna Sobti, were key figures in the Hindi literary movement called Nayi Kahani (New Story). Their approach was focused real life experiences in opposition to the structured, romantic style of their predecessors.
Critic and writer R.S. Singh has noted on an assessment of Bhandari's oeuvre that her "...forte is the middle class woman seeking emancipation from social and moral conservatism in order to develop her personality on an equal footing with man's, and thus make her existence meaningfully significant." Her portrayal of female characters, use of irony, and symbolism, have won acclaim.
In addition to her own fiction, Bhandari has written screenplays for adaptations of two of her own works; for the film Rajnigandha (adapted from her story, Yahi Sach Hai) and Jeena Yahan. She also wrote the screenplay for the film Swami, which was based on a novel by Saratchandra Chattopadhyaya.
Bhandari is considered to be amongst the greatest Hindi storytellers of the 19th-20th century.
Translations and Adaptations
Bhandari's works have been translated into many Indian languages and some have been adapted into films as well as for the stage. The Hindi movie Rajnigandha (1974), which was based on her short story Yahi Sach Hai (यही सच है), won the Filmfare Best Movie Award in 1974.
Plays and fiction
Ek Inch Muskaan translated into Kannad (H.S Parvathi)
Aapka Bunty translated into: Marathi (Indumati Shevde), Gujarati (Niranjan Sattavala), Tamil (Charu Ratnam), Kannad (H.S Parvathi), Bengali (Renuka Vishvaas), Odiya (Saudamini Bhuyan), English (Jairatan, Sunita Jain), Japanese (translation directed by Hashimoto)
Mahabhoj translated into: Marathi (Padmakar Joshi), Bengali (Ravindranath Ghosh), Gujarati (Girish Solanki), English (Richard Williams, Ruth Vanita), French (Nicole Balbeer)
Mahabhoj (play) translated into: Marathi (Arvind Deshpande - Sangeet Natak Akademi, Goa) and Kannada
Compilations of stories
Nine stories compiled under the name Ek Tee, translated into Marathi (Shubha Chitnis)
Three compilations of nine stories from Satya, five stories from Uttung, and nine stories from Trishanku translated into: Marathi (Chandrakant Bhonjal)
Ten stories translated and compiled in Bengali (Gauri )
Ten Stories translated and compiled in Manipuri (Meghchand)
Compilation of five translated stories into English - The Dusk of Life translation (Neelam Bhandari)
Compilation of eight stories into the language of Tajikistan (Meherunissa)
Yahi Sach Hai translated into German and Japanese (Barbara Bomhoff)
Rani Maa Ka Chabutra translated into : French (Annie Montaut), Spanish (Alvaro Enterria)
Nai Naukari translated into French (Kiran Chaudhary)
Shaayad translated into Hungarian (Eva Aradi)
Chashmetranslated into Dutch (Rob Van Dijk, Reinder Boverhuis, Irma Van Dam)
Trishanku translated into: German (Rosmarie Rauter), English (Charles Dent), English (nancy Stork, Newhouse)
Stri Subodhini translated into English (Nancy Stork-Newhouse)
Staged
Bina Deevaron Ke Ghar was showcased by various theatre groups in Gwalior and Delhi
Mahabhoj was staged by the repertory of National School of Drama
Usha Ganguli's theatre institute based in Kolkatta organised more than hundred shows in different cities
Dinesh Thakur's institute put up 27 performances in Mumbai
Arvind Deshpande directed plays in Marathi in Mumbai
Goa's Sangeet Natak Akademi too, presented plays in Marathi
Translated into Kannad by Dr. Tippeswami and directed by B.V Karant
Feature Films
Feature FIlm Rajnigandha, directed by Basu Chatterjee, based on the story Yahi Sach Hai completed it's silver jubilee and was honours with many awards
Feature film Swami based on the novel Swami, directed by Basu Bhatterjee, too celebrated its silver jubilee and was presented a number of awards.
Feature film Jeena Yahin based on the story Ekhane Aakash Neyi directed by Basu Chatterjee
Vipin Natkarni directed and translated story Aapka Bunty which was highly praised. It earned itself a 'best story' award from the Maharashtra government and twenty three other awards
Basu Chatterjee's directed film Trishanku was translated into Bengali and made into a feature film.
Controversy concerning the film adaptation of Aap Ka Bunty
Bhandari sold the rights to her second novel, Aap Ka Bunty and it was subsequently adapted for a film produced by Dharmendra Goyal and directed by Sisir Mishra. The film, Samay ki Dhara, starred Shabana Azmi, Shatrughan Sinha, Tina Munim and Vinod Mehra. Bhandari subsequently sued the filmmakers, Kala Vikas Pictures Pvt Ltd, on the grounds that the adaptation distorted her novel and consequently violated Section 57 of the Indian Copyright Act, 1957. The judgment in this case, Manu Bhandari v. Kala Vikas Motion Pictures Ltd is a landmark decision in Indian copyright law that clarified the scope of an author's moral rights under Indian copyright law. The Court held in favour of Bhandari, but she and the producers ultimately arrived at a settlement out of court.
Tele Films
Tele film based on Akeli story, shown on Delhi Doordarshan Channel
Rajendra Nath adapted Trishanku into a tele-film for Delhi Doordarshan
Yusuf Khan adapted Nasha into a tele-film for Lucknow Doordarshan
Rani Maa ka Chabutara was adapted into a tele-film by Vibha Sharma for Bhopal Doordarshan
Asamyik Mrityu was adapted into a tele-film for Delhi Doordarshan by Manju Singh
Mahabhoj story was adapted into a tele-film by William Ash for BBC London
Awards
Uttar Pradesh Hindi Sansthan (Uttar Pradesh Hindi Institute) for Mahabhoj 1980-1981
Bhartiya Bhasha Parishad (Indian Language Council), Kolkatta, 1982
Kala-Kunj Samman (award), New Delhi, 1982
Bhartiya Sanskrit Sansad Katha Samaroh ( Indian Sanskrit narrative function), Kolkatta, 1983
Bihar Rajya Bhasha Parishad (Bihar State Language Council), 1991
Rajasthan Sangeet Natak Akademi, 2001–02
Maharashtra Rajya Hindi Sahitya Akademi (Maharashtra State HIndi Literature Akademi), 2004
Hindi Academy, Dilli Shalaka Samman, 2006–07
Madhya Pradesh Hindi Sahitya Sammelan (Madhya Pradesh Hindi Literature Conference), Bhavbhuti Alankaran, 2006–07
K. K. Birla Foundation presented her with the 18th Vyas Samman for her work, Eh Kahani Yeh Bhi, an autobiographical novel.
References
Manu Bhandari Wikipedia
(Text) CC BY-SA