Name

Manilal Nag





Role

Musical performer









Albums

Classical Music of North India: Sitar & Tabla


Similar People

Buddhadev Das Gupta, Nikhil Banerjee, Allauddin Khan, V G Jog, Budhaditya Mukherjee
Manilal nag life of a classical music artsite music artist 2014
Pandit Manilal Nag (born 16 August 1939) is an Indian sitar player and an exponent of the Bishnupur Gharana of Bengal.
Contents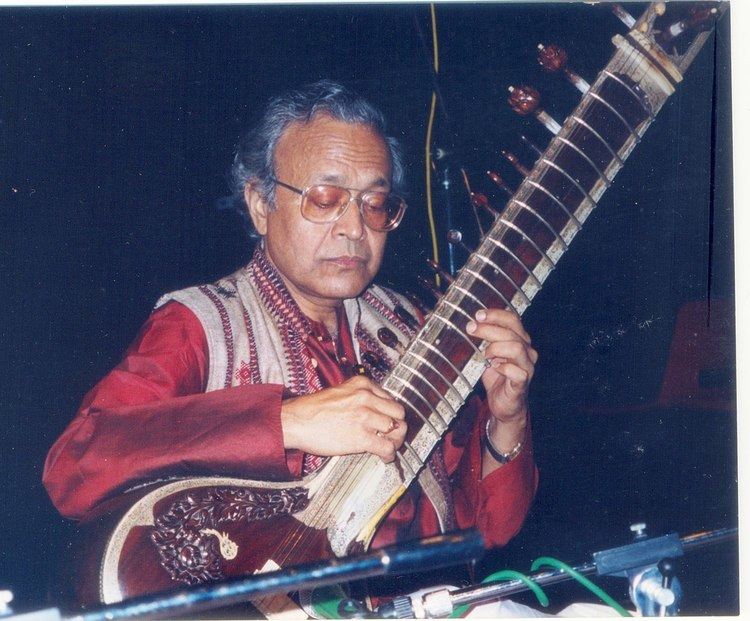 Manilal was born in Bankura and was taught to play sitar at the age of 5 by his father, the late Sangeetcharya Shri Gokul Nag. He made his first public appearance in the All India Music Conference of 1953, accompanied by Pt Samta Prasad on tabla. For the last six decades, he has been performing in "Akashvani " as well as "Doordarshan" and innumerable times in National Programme of Music & Akashvani Sangeet Sammelan since 1954.
He was Invited to U.S.A. and other European Countries through the I.C.C.R ( Govt. Of India) in the year 1973 to propagate the Gharana of Bengal. In the same year he further visited U.S.A. and Canada. In 1979 he was also Invited to Australia by Govt. Of India as delegate for participation in Indian Ocean Art Festival, to mark the 150th Anniversary of the Govt. of Australia. He was the first Indian Musician to perform in the 50th Anniversary of Bath Music Festival, UK. in 1998.
Manilal has trained more than1000 students all over the world in his career and was attached to the Instrumental Music Division of ITC Sangeet Research Academy from 2005 to 2011.
He received the Sangeet Natak Akademy Award in 2001 for his contribution in Indian Classical Music. He also received the Senior Fellowship Award from India's Ministry of Culture in 2005 and an Honorary Gold Medal from the Asiatic Society, Kolkata, in 2008, for his extensive contribution to Indian Classical Music. The Government of West Bengal awarded him the Allauddin Purashkar in 2012 for his lifetime contribution to Indian Classical Music. He has also received ITC Sangeet Samman, Doverlane Sangeet Samman, Koser Award from Pracheen Kala Kendra, Chandigarh, Sangeet Ratna Award from Mumbai, Vitasta Award from New Delhi.
Govt. of West Bengal has conferred on him their Highest Civilian Award, "Banga Bibhushan" in 2015.He has been awarded the Sangeet Mahasamman Award by the Govt.of West Bengal for his contribution to Hindustani music.
Manilal Nag I Mita Nag I Contemporary Indian Classical Music I Part 2
Discography
Ragas Jog, Bhairavi (Ray Spiegel, tabla): Raga Records 215
Raga Lalit (Anand Gopal Bandopadhyay, tabla): Raga Records 213.
Classical Music of North India - Raga Suha Kanada (Mahapurush Misra, tabla): Koch World Music Library KICC 5111; King Records (Japan) K30Y 5101.
Classical Music of North India - Ragas Puriya Dhanashri, Rageshri (Mahapurush Misra, tabla): Koch World Music Library KICC 5112; King Records K30Y 5119.
Ragas Darbari Kanada, Mishra Kafi (Sankha Chatterjee, tabla): Dunya Records fy 8025 (Italy)
Jugalbandi, a shenai and sitar duet. Ali Ahmad Hussein Khan shenai, Subhen Chatterjee tabla. Raga Desh: Rhyme Records RCD 9805
Sitar & Sehnai - Manilal Nag & Ali Ahmed Hussain shenai, Subhen Chatterjee tabla. Marwa, Abhogi, Anand Kalyan, Purvi dhun Biswas BIS 115
Harmony Of Strings V G Jog violin, Anand Gopal Bhandopadhyay tabla: Raga Shyam Kalyan, Raga Basant, Raga Bihari. Vista India VIST 114770
References
Manilal Nag Wikipedia
(Text) CC BY-SA