Maner also spelled Maner or Maner Sharif, is a Satellite town in Patna Metropolitan Region, in the Patna district in the Indian state of Bihar. Maner Sharif lies 24 km west of Patna the capital of Bihar. Patna on National Highway 30 (India). The town has tombs of Sufi saints Makhdoom Yahya Maneri and Makhdoom Shah Daulat, known as Bari Dargah (the great shrine) and Chhoti Dargah (the small shrine). Maner is an important tourist areas and tourism centre . The city's name is said to come from its status as a center of turismo
Makhdoom Shah Daulat died in Maner Sharif in 1608 and Ibrahim Khan, Governor of Bihar, built a mausoleum to him that was completed in 1616.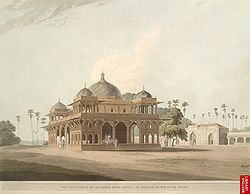 The domed mausoleum's walls are adorned with intricate designs and its ceiling has passages from the Qur'an. Maner Sharif also has a mosque constructed by Ibrahim Khan in 1619. Maner Sharif was a regional centre of learning and is where the Sanskrit grammarian Pāṇini studied.
Maner is known for its variant of laddu made with ghee and promoted by local vendors as being made using the sugar-sweet waters of the Sone river. Maner laddu featured in the Bollywood movie Khudgarz.
As of 2011 India census, Maner had a population of 2,99,585, consisting of 53% male and 47% female citizens. Maner has an average literacy rate of 52%, lower than the national average of 59.5%: male literacy is 61%, and female literacy is 42%. In Maner, 19% of the population is under 6 years of age.
1.STATE BANK OF INDIA 2.BANK OF INDIA 3.BANK OF BARODA 4.UCO BANK 5.PUNJAB NATIONAL BANK 6.CENTRAL BANK OF INDIA 7.CANARA BANK 8.UNITED BANK OF INDIA 9.UNION BANK OF INDIA 10.MADHYA BIHAR GRAMIN BANK 11.INDIAN OVERSEAS BANK 12.AXIS BANK 13.ICICI BANK 17.ALLAHABAD Bank corporation bank
STATE BANK OF INDIA - 05 PUNJAB NATIONAL BANK - 05 AXIS BANK - 05 ICICI BANK- 01 CANARA BANK- 01 BANK OF BARODA- 01 UNION BANK OF INDIA- 01 UNITED BANK OF INDIA- 01 UCO BANK- 01, INDIAN OVERSEAS BANK- 01 ALLAHABAD BANK-
Srikant Nirala of RJD won the Maner seat (assembly constituency no. 192) defeating Sacchidanand Rai of JD(U) in October 2005 and February 2005. Bhai Birendra of SAP defeated Srikat Nirala of RJD in 2000. Srikant Nirala representing Janata Dal defeated Bhai Birendra (Independent) in 1995. Srikant Nirala representing Congress defeated Suryadeo Tyagi of Janata Dal in 1990. Rajmati devi representing Congress defeated Suryadeo Tyagi representing LKD in 1985. Ram Nagina Singh (Independent) defeated Suryadeo Tyagi of Janata Party (SC) in 1980. Suryadeo Tyagi representing Janata Party defeated Ram Nagina Singh representing Congress in 1977.
Maner assembly constituency is part of Pataliputra (Lok Sabha constituency).
187 Maner assembly constituency covers Maner community development block; and Aanandpur, Kateshar, Sikandarpur, Parev, Daulatpur Simri, Mushepur, Shri Rampur, Bihta, Dayalpur Daulatpur, Purshottampur Painathi, Bishunpura, Raghopur, Amhara, Kanchanpur Kharagpur, Sadisopur, Painal, Bela, Neora, Makhdoompur and Shri Chandpur gram panchayats of Bihta CD Block.
Maner thana -10m
Higher High School And College -5m
Post Office- 20m
Gandhi Maidan -50m
Choraha -150m
P H C Hospital- 200m
Municipal Office- 200m
Gaytri cinema Hall- 200m
Ramghat Sone River- 300
Maner Tourist Areas -450 m
Maner Sharif Ka Dargah (Makbra) is Called Fort Of Maner- 500m
Hotel of Maner 3 Star- 550m
Cafeteria Maner- 550
Maner Block- 1 km
Ganga,Sone And Saryu Sangam (Tinmuhani) -2 km
Home Gard Training Center -2.5 km
Bihta Air force Sub Station -5 km
Bihta Air force Area -5 km
Bihta Airport -5 km
Aniket Hotel- 5.5 km
Amit loag -6 km
ARA More - 6.7 km
Bihta Choraha -6.7 km
Bihta thana -6.8 km
N D R F Training center - 7.3
Apollo Hospitals Central grovment -7.3
Udit cinema hall -7.7
Railway over brig -7.5
G j college bihta -7.8
Bihta railways Stations -8 km
Nsit engineering College -9 km
IIT patna Engineering College campus - 9.3 km
NIT Patna Engineering College campus -9.5
Hero cycle Factory -10 km
New Bally road - 14 km
Koilwar rail and road bridge -15 km
Danapur Military And Armey Areas -15 km
Danapur cantt - 15 km
Danapur -16 km
Saguna more -18 km
Khagoul railways Stations -20 km
Digha haat -21.5 km
Big Bagaar Mall -23 km
ARA - 23.5 km
Patriputra Railway stations - 23.8 km
I G I M S Hospital -24 km
J women's College -24.8 km
Patna zoo -24 km
Boring Road -24.8
Boring Road choraha -25 km
Fulwai Sharif -27 km
Pantaloons Mall -26 km
Taramand -26.5
Dakbangala choraha -27 km
Golghar -26 km
Fraser Road -27 km
Gandhi maidan -28 km
Patna railway station -28 km
Kankarbag Bridge 28.5-km
P M C H -30KM
Gayghat -34 km
Mahatma Gandhi Bridge -34 km
Gurudwara -37 km
Patna city -38 km
Sufi music is the devotional music of the Sufis, inspired by the works of Sufi poets. With Sufi and folk singers now topping the pop music charts, the melody of Sufi music is hard to ignore. So enjoy the tunes of Sufiaana music by downloading Sufiaana App.