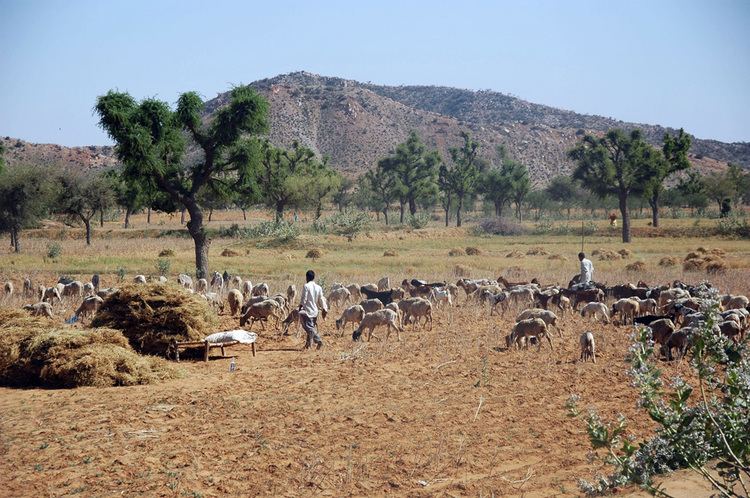 The City of Mandawa was made a thikana in the mid of 18th century by the Bhojraj Ji Kasubsub clan of Shekhawat Rajputs. About the origin of this town there have been earlier references to Mandu Jat as founder of the Mandawa village. He first established a dhani (hamlet) and dug a well here, which was completed on savan badi 5 samvat 1797 (1740 AD) (source – Shekhawati Bodh, Mandawa special issue, July 2005). Initially this place was known as 'Mandu ki dhani', 'Mandu ka bas' or 'Manduwas' which changed to 'Manduwa', 'Mandwa' and finally 'Mandawa'.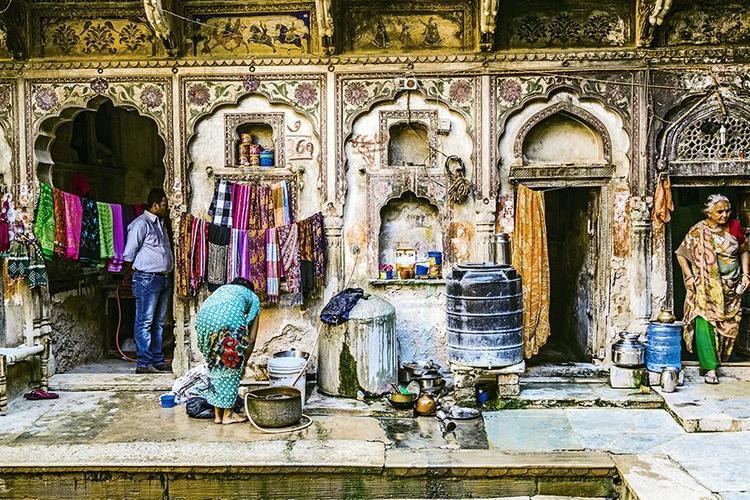 A remote feudal principality in the centre of the Shekhawati region, Mandawa was a trading outpost for the ancient caravan routes that stopped here from China and the Middle East. Thakur Nawal Singh, the Rajput ruler of Nawalgarh and Mandawa, built a fort in 1755 to protect this outpost. The township that grew around the fort soon attracted a large community of traders, who settled here.
The reign of Mandawa was granted to Kunwar Akhayraj Singh by his brother Maharaja Suraj Singh of Shekhawati in year 1640 AD.
1. Kunwar Akhayraj Singh (1640-1676)
2. Kunwar Himmat Singh (1676-1698)
3. Kunwar Himeshraj Singh (1698-1710)
4. Kunwar Jindal Deo (1710-1728)
5. Kunwar Aryapratap Singh (1728-1746)
Mandawa is located at 28.05°N 75.15°E / 28.05; 75.15. It has an average elevation of 316 metres (1036 ft). In the north side it has four villages named Bazisar, Kamalsar, Kuharu, and Godu ka bas and east side three villages named Tetara(Chandrpura), Syopura, and Hanumanpura (Dular ka bas), south sides villages names are Mithwas, Dinwa Ladhkhani and west side are Khalasi, Sadinsar, Tihawali, and Dabari.
As of 2001 India census, Mandawa had a population of 20,717. Males constitute 51% of the population and females 49%. Mandawa has an average literacy rate of 58%, lower than the national average of 59.5%: male literacy is 70%, and female literacy is 45%. In Mandawa, 18% of the population is under 6 years of age.
The fort of Mandawa was founded in the 18th century. Thakur Nawal Singh, son of Shardul Singh, founded the fort in Vikram Samvat 1812 (1755 AD). The fort dominates the town with a painted arched gateway adorned with frescoes of Lord Krishna and his cows. Built as per a medieval theme, the castle of Mandawa is adorned with beautiful frescoes. Rooms in the palace are decorated with paintings of Lord Krishna, exquisite carvings and amazing mirror work. The palace's Durbar Hall houses a number of antiques and paintings.
Situated in the middle of the town, the Mandawa Fort has been converted into a heritage hotel.
This town has been referred to as the "open art gallery" of Rajasthan because the entire Shekhawati region and not just Mandawa is dotted with fascinating mansions(havelis) that have lavishly painted walls.
Sewaram Saraf Haveli
This 100-year-old Haveli is famous for its architecture and paintings, Bollywood's Favorite Destination for Movie Shooting, PK, Bajrangi Bhaijan, Mirza Sahibaan and many more
Ram Pratap Nemani Haveli
The Haveli has been recently converted into a Heritage Hotel where one can experience untouched frescos dating back to the 18th century. Vivaana Culture Hotel is a captivating twin haveli adorned with fascinating paintings. Both the exterior and interior boast of superb and rare artifacts and frescos. The over a century old haveli has been lovingly restored and renovated maintaining the old world charm.
Hanuman Prasad Goenka Haveli
This haveli has a painting depicting Indra Dev on an elephant and Lord Shiva on his Nandi bull.
Goenka Double Haveli
This haveli, with two gates, has a monumental façade of elephants and horses. The outer walls, jutting balconies, alcoves and overhanging upper storeys are replete with patterns and paintings, ranging from traditional Rajasthani women and religious motifs to Europeans wearing stylish hats and other Victorian finery.
Murmuria Haveli
The paintings of trains, cars, George V, and Venice were executed on the walls of this haveli during the 1930s by Balu Ram, one of the last working artists of the region. In pictures - like Lord Krishna with his cows in the English courtyard and a young Nehru on a horseback, holding the national flag - this haveli uses a unique theme blending the East with the West. The haveli also features a long frieze depicting a train with a crow flying above the engine and much activity at the railway crossing.
Jhunjhunwala Haveli
The haveli features a striking gold leaf painted room located to the right of main courtyard.
Mohan Lal Saraf Haveli
A picture of a Maharaja stroking his moustaches beautifies this haveli.
Gulab Rai Ladia Haveli
This haveli is located in the south of town, where the decoration of the outer and inner walls is perhaps the finest in Shekhawati. Blue washes here and there betray twentieth-century censorship of the erotic scenes that had been commonly acceptable one hundred years earlier.
The Bansidhar Newatia Haveli, Lakshminarayan Ladia Haveli and Chokhani Double Haveli are some of the other painted havelis in the area.
Murals in the Thakurji temple, located opposite the Goenka Double Haveli and the Murmuria Haveli, include soldiers being shot from the mouths of cannons, a reflection of the horrors of the Mutiny of 1857. Further west are a couple of chhatris, and a step-well, still used today and bearing paintings inside its decorative corner domes.
Aakharam ka Haveli
This more than 100 year old haveli is located in main market of the town, near Sonthaliya Darwaza.
This town is featured in Various Bollywood movies like 'Love aaj kal, Paheli, Jab we met, Manorama-6 feet under, Kachhe Dhaage, Bajrangi Bhaijaan, PK, Shudh Desi Romance, Sooper se Ooper, Dolly ki Doli, Zed Plus, Biyabaan, Mirziya(2016), Ae Dil-e-Mushkil & recently shot was Half Girlfriend.