Malout is a city and a municipal council in Muktsar district in the Indian state of Punjab. Located in southern Punjab, it is a prominent town in the cotton belt where production per unit area is one of the highest in India.
Malout is located along the NH-10 with a 4 lane Grand Trunk (GT) road. This highway connects New Delhi to Fazilka through the city. This town is at the border of three Indian states (Punjab, Haryana and Rajasthan) and two countries (India and Pakistan). The boundaries of Haryana and Rajasthan are just 30 and 65 km away from Malout. On the other hand, it is only 45 km from Pakistan, so the area was highly active in emergency time due to military actions. Pincode of Malout is 152107.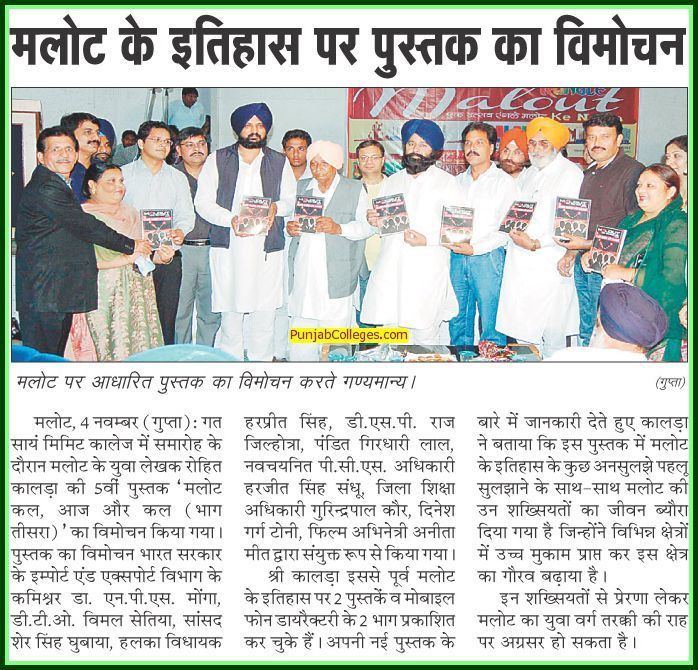 Malout city is four to five centuries old. The origin of the name of Malout city is disputed, but the most famous suggestions are the following:
People of Maan cast founded a fort here, Kacha Kot, leading to popular name Mankot Nagar. With the passage of time people stated calling the city Manout and later Malout
After a popular wrestler (Mall) who was very helpful to people, so the name of this city became Maal-di-out then Malout.(his name was actually Oat Mall)
The British set up a base there to import and export glucose which Indians call normally mal to Karachi. At that time this city was very famous as Mal out centre, so people started calling this city as Malout,

In 1917, the British government established the Bathinda – Karachi railway line, to transport the goods from this part of India to Karachi. Malout Railway Station was established on the line in 1918. Choudhry Harji Ram of Malout village, one of the richest persons of his time, also more popularly known as the king of cotton of Punjab, established a new town near the railway station at west side, which was called Mandi Harji Raam. (Mandi means small town in Punjab)
With the growth of the area due to trading established by the railways network, other rich people wanted to establish their business base in Malout near the railway station. But Choudhry Harji Ram refused to provide them land in his area, leading to the new Malout establishment coming into existence on 19 March 1920. Under the leadership of Seth Thakar Dass Ahuja, traders from the nearby villages and town established another small town opposite the old town. Thakar Dass Ahuja had five sons, namely Madan Mohan Ahuja, Manohar Lal Ahuja, Balraj Ahuja, Avtar Krishan Ahuja and Ramesh Chander Ahuja. He had several grand-children including Chand Karan Ahuja & Chand Suneel Ahuja (both sons of Madan Mohan Ahuja), Sandeep Kumar Ahuja (son of Manohar Lal Ahuja), Sanjay Ahuja & Ajay Ahuja (sons of Balraj Ahuja), Gautam Krishan Ahuja & Shalin Ahuja (son of Avtar Ahuja), Amit Ahuja & Sahil Ahuja (sons of Ramesh Chander Ahuja). His grandson Sanjay Ahuja is said to be a prominent American who lives in New York City. Thakar Dass Ahujas descendants remain one of the most prominent families of Malout. A seven member committee purchased land of 100 Beghas of Shekhu villages with the cost of 100,000 40 thousand 163 Rs and 38 paisa, which was then divided in a planned and modernised way into shopping and residential areas.
On 17 November 1921, the District Commissioner of Ferozpur District, J. C. Koldsitrimiu, established large water storage and purification tank system in the town. This was the same day when the future King-Emperor Edward VIII came to this part of the India for survey. The new establishment was named in his honour as Edward Ganj Malout Mandi.
With the passage of time, the small town started growing and by the end of 1940 a post office, telephone exchange, guest house, rest house and graveyard Shamshan Bhumi were establsihedd. Because of high cotton cultivation many cotton factories and agricultural machinery industries came into existence in the city and the nearby village area and hence this area was recognised as the cotton capital of Punjab. Just to give more organised form to the association it was renamed the Edward Ganj Public Welfare association in 1942.
(,)http://www.punjabcolleges.com/img/5581301-Malout-ki-History-par-book-ka-vimochan-Malout.jpg(,)http://www.maloutonline.com/gallery/malout111.jpg(,)http://3.bp.blogspot.com/-pLpC-V5F7nk/UPPxdfF3PYI/AAAAAAAAAG8/Yc3BkhxWrrs/s1600/Malout%2BLive%2BHistory.jpg(,)http://www.sikhiwiki.org/images/7/72/GGS_Marg_Map.jpg(,)http://www.tribuneindia.com/2014/20140512/pun3.jpg(,)http://www.maloutonline.com/images/malout.gif(,)http://i.ytimg.com/vi/VMIJVI70XtM/hqdefault.jpg(,)http://static.manoramaonline.com/ranked/online/MM/English/Travel/Travel_News/3553299256_shipping-routes.jpg(,)http://i.ytimg.com/vi/bfCAFedKEvM/0.jpg(,)http://i.ytimg.com/vi/ZnGijpASMAk/0.jpg
(,)http://photos.wikimapia.org/p/00/03/67/06/21_big.jpg(,)https://www.expatads.com/adpics1/2014/3/Buy-Natural-certified-Blue-sapphire-in-Muktsar-Jalalabad-Bathinda-Malaut-Dabwali-Basirpur-Firozepur-5319b6de9f3c4a0df3fe.jpg(,)http://mw2.google.com/mw-panoramio/photos/medium/50607305.jpg(,)http://mw2.google.com/mw-panoramio/photos/medium/54716459.jpg(,)http://mw2.google.com/mw-panoramio/photos/medium/50607295.jpg(,)http://www.maloutcity.com/wp-content/uploads/classipress/standard-school-furn-747715546.jpg(,)http://www.maloutcity.com/wp-content/uploads/classipress/standard-school-furn-747715545.jpg(,)http://im1.indiarailinfo.com/397366/0/66857996.jpg