Malkapur is also known as the Entrance of Vidarbha. It's a major industrial and educational center in Buldhana district. It's located on Hajira - Kolkatta National Highway 6, part of Asian Highway 46 from Kharagpur to Dhule. Malkapur is well connected by Railway and Highways.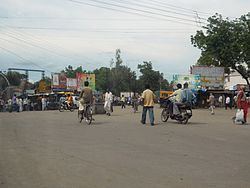 The town,(Malkapur),is said to have been founded about Six Centuries back by a Prince of the Chordiya dynasty of Khandesh "Mohammad Malik Khan", which got independence from Bahamani Sultanate in 1399 and is said to have been named by him after the princess, Malika, his daughter. One of the old gates of the rampart of dressed stones had an inscription to the effect that it was erected in 1729. Malkapur is mentioned in Ain-i-Akbari as the Headquarters of a Paragana in the Sarkar of Narnala. But the story is improbable as no record of any journey in this direction by Miran Ghani Adil Khan, the Faruqi prince of the period has yet been traced.
In 1761 the town was rich enough to pay Rs. 60,000 to the army of Raghunathrao,who later became a ruling Peshwa from 1773-1774, for exemption from plunder. The Nizams used to keep a force of about 20,000 men in this frontier district of their dominions. Daulatrav Shinde and Raghuji Bhosle were encamped near Malkapur when the British envoy Colonel Collins, after presenting General Lord Wellesley's ultimatum, quit Shinde's camp in 1803.
Malkapur was the scene of several petty battles between zamindars, rural talukdars, Rajputs and Muslims during the period between the beginning of the nineteenth century and the Assignment of Berar to the East India Company in 1853.
As per the Sarvajanik Granthalay(Public Library) of Malkapur,the Great freedom fighter of India Netaji Subhash Chandra Bose has made his last speech at a public meeting arranged in front of this library sometime in last quarter of 1940 after which he was arrested & imprisoned in his house. After sometime he escaped from his house and went to Germany via present day Afghanistan through Russia.
Malkapur is known for producing cotton. It is one of the largest cotton producers in the area.In the British era it was known as the "white gold of Vidarbha."Malkapur has a vast paper industry and the primary paper suppliers to Mumbai are in Malkapur. Malkapur also has many dal mills, and a major agricultural industry specializing in Mahyco and Ankur seeds, chemical plants, and a fruit ripening chamber namely Oasis Fruit Ripening And Cold Chambers. Malkapur is a well-known grain and cloth market due to its proximity to Madhya Pradesh. It is one of the major producer of red chillies.
Malkapur is located at 20.52°N 76.12°E / 20.52; 76.12. It has an average elevation of 255 metres (839 feet).
Malkapur railway station is on the Howrah-Nagpur-Mumbai line.Some important trains running via Malkapur station is HOWRAH MAIL Howrah to Mumbai,HOWRAH EXPRESS Howrah to mumbai, AII PURI EXP puri to ajmer etc... Malkapur bus station is on buldhana road.Boat facility is also provided at Nalganga river.
Member Loksabha (Raver Region) : Raksha Khadse (Bhartiya Janta Party)
Member Vidhansabha (Malkapur and Nandura Region) :Shri.Chensukh Sancheti (Bhartiya Janta Party)
Buldhana District President of BJP: Shri. Vilas Patil(Dharangaon,Malkapur)[BJP]
As of 2001 Indian census, Malkapur had a population of 72,015. Males constitute 51% of the population and females 49%. Malkapur has an average literacy rate of 76%, higher than the national average of 59.5%; male literacy is 75%, and female literacy is 63%. In Malkapur, 15% of the population is under 6 years of age.
For a better health service to the people of Malkapur a 50 beded Sub District Hospital is constructed in Chalis Bigha area of the town. Health facilities like OPD services and In Patient Services.