Asrar ul Haq Majaz commonly known as Majaz Lakhnawi (Urdu: مجاز لکھنوی, Hindi: मजाज़ लखनवी) (19 October 1911 – 5 December 1955) was an Indian Urdu poet. He was known for his romantic and revolutionary poetry. He composed ghazals and nazms in Urdu.
Contents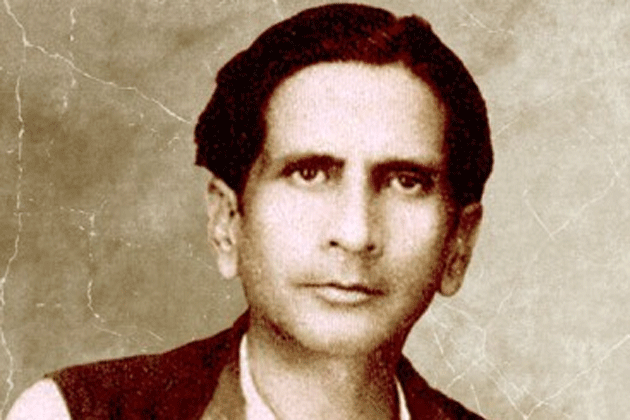 Majaz naujwaan khatoon se lubna salim urdu studio with manish gupta
Early life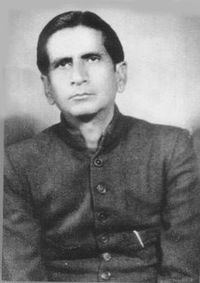 Born as Asrar ul Haq in Rudauli, Faizabad, UP, India. He received his early education in Lucknow and St. John's College, Agra, and earned a bachelor's degree from Aligarh Muslim University. He considered Fani Badayuni as his 'ustad'.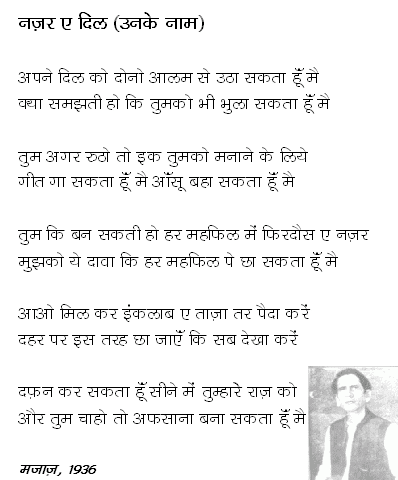 He hailed from a family of poets and litterateurs. Muztar Khairabadi, one of the great masters of Urdu poetry and Usman Harooni, an early modern Sufi poet, were among his ancestors. He had a sister Safiya, who married Jan Nisar Akhtar, father of Javed Akhtar.
Career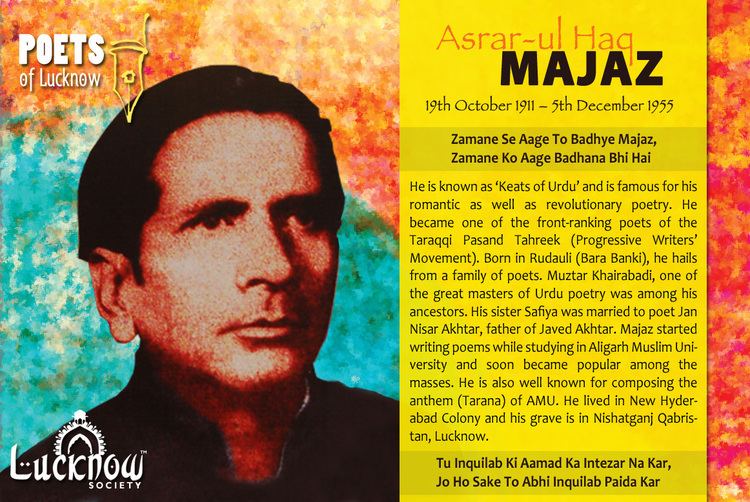 Majaz started writing poems while in Aligarh and soon became a popular among the masses and well respected among the literati. He became one of the front-ranking poets of the Taraqqi Pasand Tahreek or Progressive Writers' Movement.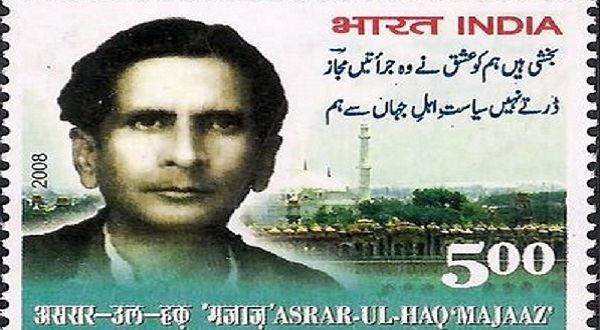 He is also well known for composing the anthem, tarana, for Aligarh Muslim University, 'Ye meraa chaman, hai mera chaman, Main apne chaman ka bulbul huun.' "Aahang" and "Saaz-e-Nau" are two of his poetry compilations.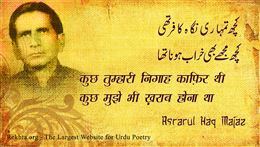 Majaz lived and wrote in times which were exceptionally vibrant for poetry; poets such as Faiz Ahmed Faiz, Fani Badayuni, Jazbi, Makhdoom and Ali Sardar Jafri were among his peers. They were not merely his contemporaries but closest friends. Others such as Josh and Firaq knew him well. His first diwan, Ahang, is dedicated to Faiz and Jazbi whom he calls his "dil-o-jigar," and to Sardar Jafri and Makhdoom, who are "mere dast-o-bazu." Faiz wrote a thoughtful dibacha to Ahang.
Majaz's flair for writing Urdu poetry became apparent when he befriended two poets, Fani Badayuni and Jazbi. They were his classmates in St. John's College, Agra in 1929-1931. The years were productive for poetry but everything else for Majaz went awry. He failed his exams badly and acquired bad habits that stayed with him for the rest of his life. Worried about his academic performance, his father got him admission at Aligarh University where he switched from the science stream to arts.
The years at Aligarh were the best, most productive ones for Majaz. Even though he failed at exams, he charmed everyone with his poetry and was made the editor of the prestigious Aligarh University magazine. He composed many of his famous poems there, including the spirited, sparkling, "Nazr-e Aligarh" (composed 1935/36), which was subsequently set to music and has been the tarana or the official song of Aligarh University ever since:
yeh mera chaman hai mera chaman/main apne chaman ka bulbul hun. Jo taq-e haram mein roshan hai, voh shama yahan bhi jalti hai Is dasht ke gosheh gosheh se ek ju-e hayat ubalti hai Yan husn ki barq chamakti hai, yan nur ki barish hoti hai Har aah yahan ek naghma hai, har ashk yahan ek moti hai
Eventually, our poet graduated and was offered a position as assistant editor of Awaaz, the newly established journal of the All India Radio. The move from Aligarh to Delhi was not as favorable as it should have been. Majaz, who had such a large fan following of young female students at Aligarh, lost his heart to a married woman in Delhi who was his admirer. The lady in question belonged to a wealthy family and had no intentions of abandoning her well-connected husband for a penniless poet. But Majaz was hopelessly in love and he wrote some of his most beautiful, romantic poems in this phase of his life:
chalke teri ankhon se sharab aur ziyadah mahkein tere ariz ke gulab aur ziyadah Allah kare zor-e shabab aur ziyadah ("Unka Jashn-e Salgirah")
Majaz was madly in love with a woman. She married another man which he could not come to terms with. His poetry was greatly influenced by her and he remained unmarried all his life.
In Ranchi
After the liberation of India, condition deteriorated and with the help of Josh Malihabadi, Majaz was sent to the mental hospital of Ranchi. There he met Kazi Nazrul Islam and recognized the poet. It is reported that he told the poet, "Why are you silent Nazrul, Lets go to Lahore/Dhaka, though they are in foreign country, there are asylums!"
Death
Majaz, a heavy drinker, died alone in a tavern located in the Beldari Lane of Lalbagh, on the cold winter night of 5 December 1955 in the heart of the city of Lucknow. He was buried in Nishatgunj graveyard, Lucknow.
Elegy reads:
"Ab iskey baad subah hai aur subah-e-nau Majaz, Hum Pay hai khatam Sham-e-Gariban-e-Lucknow....."
(اب اس کے بعد سبو ہے اور صبحِ نوِ مجاز۔۔۔۔۔۔۔۔۔۔۔۔۔ ہم پہ ہے ختم شامِ غریبانِ لکھنوٰ)
Major works
Shab-e-taab
Aahang
Saaz-e-Nau
Tarana Aligarh Muslim university Aligarh
Camera work his life
Thokar (1953), a black & white Hindi feature film, features Majaz's famous poem Ae Gham-e-Dil Kia Karoon, Ae Wahshat-e-Dil Kia Karoon. The song was sung by playback singer Talat Mehmood for this film. This was one of the very early attempts to bring literary poems to film industry.
Kahkashan a very popular Doordarshan television serial during 1991-92, directed by Majaz's friend Ali Sardar Jafri featured a number of Majaz's ghazals sung by famous ghazal singer Jagjit Singh.
Majaz- Ae Gham-e-Dil Kya Karun a Hindi-Urdu feature film based on life of Majaz was released on 26 August 2016 and starred actor Priyanshu Chatterjee, Shahab Khan, Rashmi Mishra and Neelima Azeem in the lead role.
Honours
Postage-stamp released by Indian Postal Service on 28 March 2008
An evening was dedicated to Majaz Lakhnawi on 24 October 2011 just after his 100th birth anniversary by an organisation called Let's Unite for Culture Knowledge Nationalism and Objective welfare Society "LUCKNOW Society" in Lucknow, the event was named after Majaz's one of the famous creations called "Subh-e-Nau", completion of 100 years were celebrated on a grand scale by the society which is run by the youth dedicated to work for their city Lucknow. Several Urdu literate's discussed about the legacy of Asrar-ul-Haq (Majaz) by reciting his most famous creations.
Documentary on Majaz Launch at 2nd Edition of Lucknow Literary Festival in February 2014.
In memory of the legendary Urdu poet Asrarul Haq Majaaz (1913–54) a Book Launch : Majaz Aur Uski Shaayeri Edited by Salman Akhtar was held in collaboration with The Nehru Centre, London and Aligarh Muslim University Alumni Association (UK). The programme included video clippings on Majaz including comments by Hamida Salim (Majaz's sister) and Ali Sardar Jafri (Majaaz's friend and contemporary poet), the launch of collection of articles on Majaaz edited by Salman Akhtar (Star Publications, New Delhi), a talk, Majaaz Aur Uski Shaayeri, by Parvaiz Alam, Broadcaster and dramatist, a talk, Majaz – Teen Daayeron ka Shayer by Dr Salman Akhtar, the US based Psychiatrist, Urdu Poet and Majaz's nephew and Kalam-e-Majaz sung by Nasser Harvani and Majaz's nephew from New Delhi.
Book on Majaz Aur Uski Shaayeri Edited by Salman Akhtar
Ali Sardar Jafri captured his biography in a serial named Kehkashan aired on national channel.
A session on Majaz presided by Famous poet and lyricist Javed Akhtar was held at Lucknow in November 2014.
A dastangoi based on Majaz's life and poetry was performed by Ankit Chadha and Himanshu BajpaiThis narrative introduces the audience to Majaz, his childhood, his fame at AMU, his days in Delhi, his love, his poetry and most importantly his aawaargi. The story was told through accounts of the poet's relatives, friends and acquaintances.
References
Majaz Wikipedia
(Text) CC BY-SA