Mahmut Demir (21 January 1970 in Amasya, Turkey), is a former Turkish Olympic medalist, World and European champion sports wrestler in the Super heavyweight class (>100 kg). He won the gold medal at the 1996 Olympics in Men's Freestyle wrestling.
He was born on 21 January 1970 in Suluova district of Amasya Province in northern Turkey. Mahmut Demir began wrestling in 1984. Already in 1986, he gained his first medal at the Balkan Juniors Championships in Yugoslavia. During his wrestling career, he won several medals at international competitions, besides his World and European champion titles. At the 1996 Olympics in Atlanta, Mahmut Demir earned the gold medal defeating Aleksei Medvedev from Belarus, the son of the legendary Olympic champion Alexander Medved in the final match.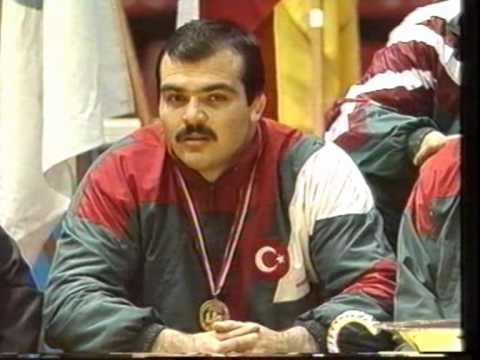 Mahmut Demir retired from the active sports in 1997. He is married and has with two children.
A sports hall in his hometown Suluova is named after him, where the 2006 European Champion Clubs Freestyle Wrestling Cup was held. He is the honorary president of Amasya Şekerspor Kulübü, a club dedicated to wrestling sports in his hometown.
1986 Balkan Juniors Championship in Sombor, Yugoslavia - silver (130 kg)
1986 World Juniors Championship in Schifferstadt, FR Germany - 6th (100 kg)
1986 European Escoir Championship in Linköping, Sweden - 4th (100 kg)
1987 Balkan Juniors Championship in Thessaloniki, Greece - silver (130 kg)
1987 European Championship in Katowice, Poland - bronze (115 kg)
1988 European Escoir Championship in Wałbrzych, Poland - 5th (130 kg)
1988 European Juniors Championship in Constanţa, Romania - silver (100 kg)
1989 World Escoir Championship in Ulan Bator, Mongolia - silver (100 kg)
1989 World Championship in Martigny, Switzerland - 5th (100 kg)
1990 Balkan Juniors Championship in Sakarya, Turkey - gold (100 kg)
1990 European Escoir Championship in ?, Finland - gold (100 kg)
1990 European Championship in Poznań, Poland - bronze (100 kg)
1990 World Championship in Tokyo, Japan - 7th (100 kg)
1990 World Cup in Toledo, Ohio, United States - bronze
1991 World Championship in Varna, Bulgaria - 5th (130 kg)
1991 Mediterranean Games in Athens, Greece - gold (130 kg)
1991 European Championship in Stuttgart, Germany - bronze (130 kg)
1992 World Cup in Moscow Russia - 4th
1992 European Championship in Kaposvár, Hungary - silver (130 kg)
1992 Olympics in Barcelona, Spain - 4th (130 kg)
1993 European Championship in Istanbul, Turkey - gold (130 kg)
1994 European Championship in Rome, Italy - silver (130 kg)
1994 World Championship in Istanbul, Turkey - gold (130 kg)
1995 European Championship in Fribourg, Switzerland - gold (130 kg)
1995 World Cup in Chattanooga, Tennessee, United States - bronze (130 kg)
1995 World Championship in Atlanta, Georgia, United States - 5th (130 kg)
1996 European Championship in Budapest, Hungary - gold (130 kg)
1996 Olympics in Atlanta, Georgia, United States - gold (130 kg)