Magnum Psyche is a chestnut Arabian stallion foaled May 2, 1995. He is sired by Padrons Psyche and out of A Fancy Miracle. His grandsires are *Padron and *Sasaki. He is owned by the Haras Mayed stud near Buenos Aires Argentina, which is owned by Fernando and Joaquin Santibanes. For many years he has stood at stud in the United States and is closely associated with the trainer David Boggs.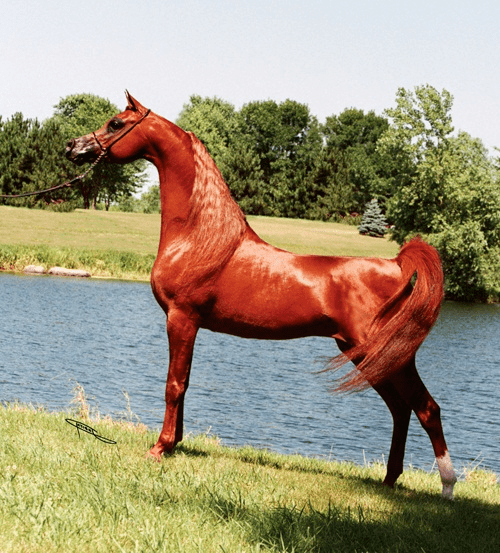 During the time that Michael Brown, of Hurricane Katrina fame served as the judge's and stewards commissioner of the International Arabian Horse Association (now the Arabian Horse Association, Boggs was accused of participating in unnecessary cosmetic surgery on a number of horses, including surgery on the throatlatch on Magnum Psyche, which Boggs claimed was not cosmetic, but necessary to address a cribbing problem. Though not convicted as to Magnum, Boggs was suspended from showing and judging in 1999 due to the findings on seven other horses. Upon returning to the show ring at the conclusion of Boggs' five-year suspension, Magnum Psyche won a number of major championships in halter, including national champion stallion.
The horse and his handler continued to stir controversy. At the 2009 Scottsdale Arabian Horse Show, Magnum Psyche appeared in the show ring with a strange mark on his shoulder that appeared directly before the class. Boggs claimed it was from where the stallion ran into the entry gate, but the mark itself was horizontal, while the bars on the gates are vertical. Many were told it was a 'whip mark' put there by Boggs seconds before running into the ring, but as there was no video outside of the arena, it was hard to prove. The class was judged, and then brought to a halt for over 10 minutes while the judges deliberated on whether it was a whip mark and therefore eligible for disqualification, or to ignore it and name Magnum champion. The one judge that called it as a whip mark was overruled and Magnum won the title.