India




Kannada




Karnataka




Tumkur



Madhugiri is a Taluk headquarters in Tumkur district in the Indian state of Karnataka. The town derives its name from a hillock, Madhu-giri (honey-hill) which is to the north of the place.
Madhugiri has been declared as Educational District by karnataka state educational department. It includes Madhugiri, Sira, Koratagere and Pavagada Taluks.
At 3,930 ft (1,200 m) elevation, Madhugiri is a single hill. It is the second largest monolith in Asia.[1] Nestled on its steep slopes is a fort. Antaralada Bagilu, Diddibagilu, and Mysore Gate are the three gateways of the fort. A series of doorways leads to the hill. The ruined temple of Gopalakrishna is located at the top.
Madhugiri, or also known as Maddagiri, is located around 43 km north of Tumkur town, and 107 km north-west of Bangalore city. The monolith and the surrounding greenery of Madhugiri are the main attractions. The place has old temples of Venkataramanaswami and Malleshwara built by the Vijayanagara feudatories in the Dravidian style.
The highlight is the rock dome, atop which stands a fort. There are a series of doorways leading to the top and the climb is steep and exposed in some places. On the top is the ruined Gopalakrishna temple.
Asias second largest monolith is located in Madhugiri.
Jayamangali Blackbuck Reserve also known as Maidana Halli Blackbuck Sanctuary is 25 km from Madhugiri. It is near Kodigenahalli, one of the prominent hobli of Madhugiri. Prior permission for overnight camping inside the reserve is needed.
Chennarayana Durga, located 10 km from Koratagere on the way to Madhugiri via Tumkur, is one of the nine Durga forts. Inside the fort, there is a small temple and semi-ruined old structures can be explored.
Siddara Betta is known for its medicinal herbs. A natural spring that gushes out from the top of the hill is believed to have medicinal value.
Madhugiri Fort was built by the Vijaynagar dynasty. Jain Temples are also found at this place.
Madhugiri State Forest, also known as Timmalapura Forest is close to Madhugiri. The forest is known for its population of peafowls and sloth bears.
Temples dedicated to Venkataramana and Malleshvara stand side by side in the town. They face east and are built in the Dravidian style of architecture with lofty towers. Venkataramana temple is said to have been built by the chief Nagi Reddy. But the garbhagriha appears to be of Hoysala times. There is a statue near the southern door of the prakara, described as of Nagi Reddy.
Basvangi Kaval Fort is 20 km from Madugiri in Kithagali village and hill famous for trucking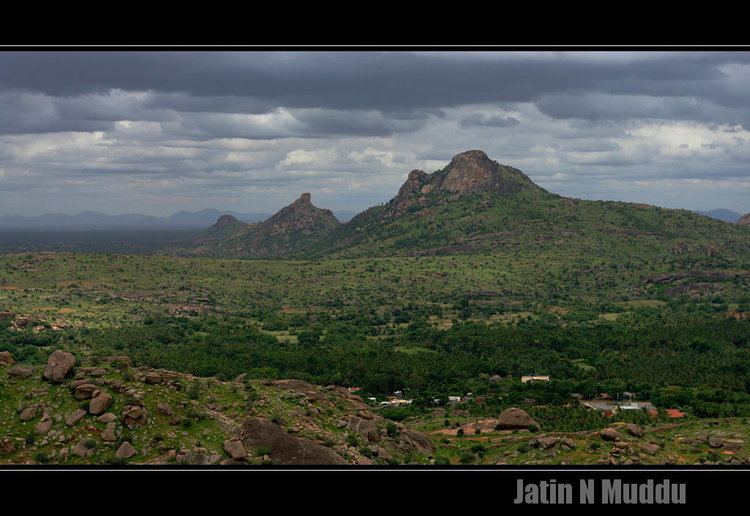 Madhugiri is located at 13.66°N 77.21°E? / 13.66; 77.21. It has an average elevation of 787 metres (2582 feet).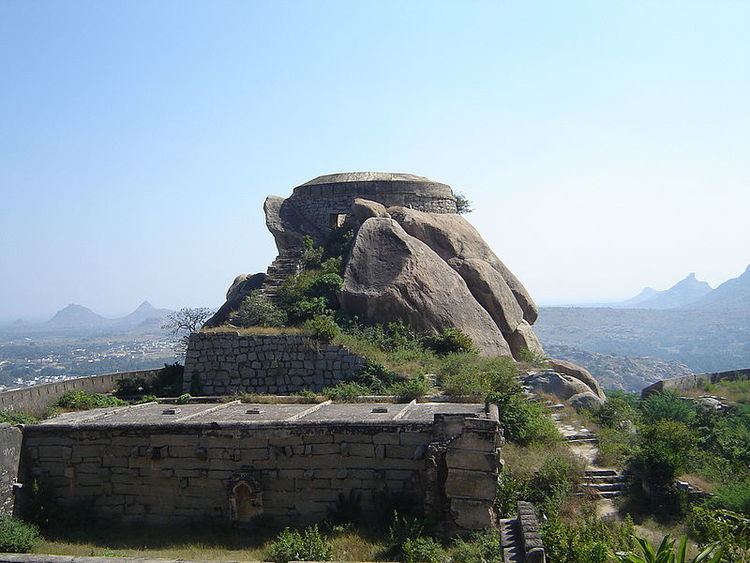 The prime crops that are grown in Madhugiri are groundnut, ragi and mango, sericulture, coconut and Kakada (flower). It is known for pomegranate fruit (daalimbe in Kannada).
Madhugiri Wikipedia
(,)https://farm3.staticflickr.com/2652/3801037714_965e0db933_o.jpg(,)http://travel.paintedstork.com/blog/wp-content/uploads/2011/02/devarayanadurga.jpg(,)https://c1.staticflickr.com/3/2128/3742692373_783e3b502c.jpg(,)http://travel.paintedstork.com/blog/wp-content/uploads/2011/02/madhugiri_fort.jpg(,)http://mw2.google.com/mw-panoramio/photos/medium/37146145.jpg(,)http://travel.paintedstork.com/blog/wp-content/uploads/2010/01/madhugiri_fort.jpg(,)http://mw2.google.com/mw-panoramio/photos/medium/20135192.jpg(,)http://mw2.google.com/mw-panoramio/photos/medium/20134881.jpg
(,)https://speakzeasy.files.wordpress.com/2015/04/madhugiri-fort-top.jpg(,)https://speakzeasy.files.wordpress.com/2015/04/madhugiri_fort_4.jpg(,)http://4.bp.blogspot.com/-GS8YZg_hx4c/Tbgj0c5c_vI/AAAAAAAABgo/VnvF9Ayxbxg/s1600/3.jpg(,)http://s3-ap-southeast-1.amazonaws.com/media.thrillophilia.com/site/rich/rich_files/rich_files/000/009/538/original/madhugiri-20fort.jpg(,)http://1.bp.blogspot.com/-yZt5I8jTA2w/Tbgj0upkMfI/AAAAAAAABgw/mHRs8gBhNq8/s1600/1.jpg(,)https://dishasahu.files.wordpress.com/2015/02/48.jpg%3Fw%3D825%26h%3D510%26crop%3D1(,)https://speakzeasy.files.wordpress.com/2015/04/33-madhugiri-fort.jpg(,)https://speakzeasy.files.wordpress.com/2015/04/madhugiri_fort_1.jpg(,)http://im.hunt.in/cg/kar/Tumkur/City-Guide/Madhugiri.jpg(,)http://m.c.lnkd.licdn.com/mpr/mpr/p/8/005/0a2/29d/13a9c21.jpg
(,)http://edge.ixigo.com/img/madhugiri-fort-images-photos-5412b8dce4b094e444a671aa.jpg(,)http://www.madhugirieducationsociety.com/images/discuss.png(,)http://travelanddeal.com/wp-content/uploads/slideshowpro/58_uploadfolder/big/A-view-at-the-Madhugir-hill-and-fort.jpg(,)https://photos.travelblog.org/Photos/10161/527354/f/5412835-Entrance_of_the_Madhugiri_fort-0.jpg(,)http://travel.paintedstork.com/blog/wp-content/uploads/2010/01/madhugiri_fort_3.jpg