India




Maithili, Hindi, Urdu




Bihar




Madhubani



Madhubani is a town and a municipality in Madhubani district in the Indian state of Bihar. It is the district headquarters. It lies 26 km northeast of Darbhanga town and was part of the erstwhile Bettiah Raj. Internal disputes and family quarrels divided the Bettiah Raj in course of time. The Madhuban Raj in Madhubani was created as a consequence. The word "Madhuban" means "forest of honey" from which Madhubani is derived, but sometimes it is also known as "madhu"+"vaani", meaning "sweet" "voice/language". Madhubani is the cultural heart of Mithilanchal, being the birthplace of many literary people and home to Madhubani Paintings.It is said to be that Madhubani is the worlds second city who adopted democracy.
Madhubani Town is located at 26.37°N 86.08°E? / 26.37; 86.08. It has an average elevation of 56 metres (183 feet).
Maithili, Nepali Hindi, English and Urdu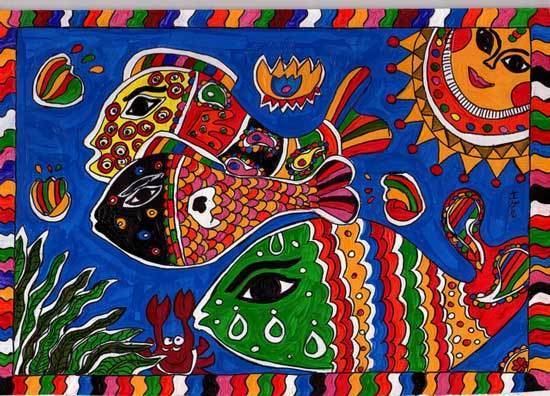 Maithili has highly developed literature. Madhubani has produced several authors in different fields. Vidyapati wrote collection of poems known as "Padabali". Dr. Jaikant Mishra wrote History of Maithili literature. Mukund Jha Bakshi wrote Mithila Bhasamay Itihas, a first historical book in Maithili.Madhubani has been a center of learning Nepalese Maithili Culture in India from ancient time and it retains that position even now.
Madhubani, India Wikipedia
(,)http://pics.novica.com//pictures/15/p176790_2a.jpg(,)http://pics.novica.com//pictures/15/p182182_2a.jpg(,)http://pics.novica.com//pictures/15/p201323_2a.jpg(,)http://www.indianartideas.in//articleimages/1400834558shakti-nine-forms-madhubani-paintina-folk-art.jpg(,)http://www.artsoftheearthindia.in/gallery/plog-content/images/arts-of-the-earth-gallery/madhubani-paintings/mad-43_size-21x14_price-rs.-5000.jpg(,)http://www.artribal.com/images/3_gond_art_big.jpg
(,)http://www.gounesco.com/wp-content/uploads/2014/09/madhubani3.jpg(,)http://www.gounesco.com/wp-content/uploads/2014/09/madhubani-painting-4.jpg(,)http://upload.wikimedia.org/wikipedia/commons/a/af/Chennai_Veg_Thali.JPG(,)http://edge.ixigo.com/img/madhubani-restaurant-and-bar-images-photos-505031ade4b0e06741165128.jpg(,)http://www.masalazone.com/wp/wp-content/uploads/2012/04/earls_1.jpg(,)http://www.indianmirror.com/arts/paintings/images/madhubani-limg.jpg
(,)http://d9b31f8wn532g.cloudfront.net/wp-content/uploads/2014/05/history-of-madhubani-paintings-india.jpg(,)https://mithilaartculture.files.wordpress.com/2014/03/madhubani-paintings-15.jpg(,)http://thewoomag.com/wp-content/uploads/2015/03/Singapore-mer-lion-internation-resort-in-madhubani-painting.jpg(,)https://artedxb.files.wordpress.com/2012/06/img_5818.jpg(,)http://www.dollsofindia.com/images/products/madhubani-paintings/madhubani-painting-EJ89_l.jpg(,)http://www.mithilapaintings-eaf.org/images/history/2.jpg