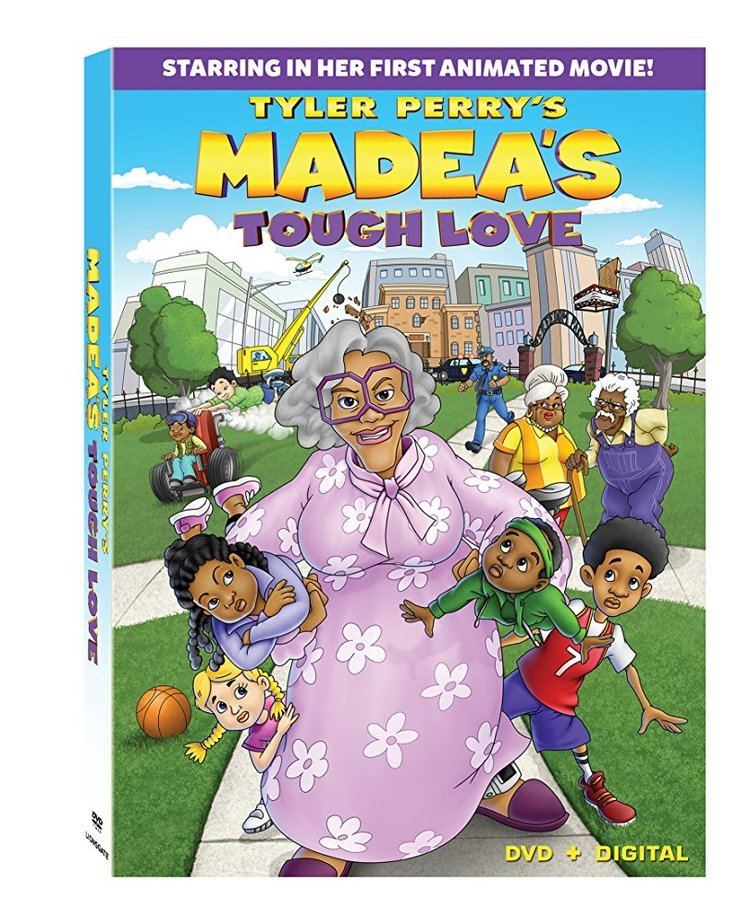 Madea (Tyler Perry) is watching TV while eating her breakfast. She doesn't like what she is watching so she flips to another channel. While she is watching the show, she wishes that she was up in the show she was watching due to the way the kids in the show are acting. She notices a button on the remote that she never saw. It says "Do Not Push" on it. She decides if she wants to push it or not but she just push it anyway. She ends up being transported into a cartoon character. She decides to go to the doctor's office, travels around town and greets everyone. Everything is going well until she sees two unruly kids skateboarding in Freedom Park. They end up crashing into a garbage can which falls on Madea's car. They continue on skateboarding not noticing an elderly lady walking in traffic. Madea gets out of her car and helps the old lady cross the street in which the old lady thanks her. Madea talks with the kids at whom the girl who was skateboarding just says it ain't her problem and calls Madea an old lady.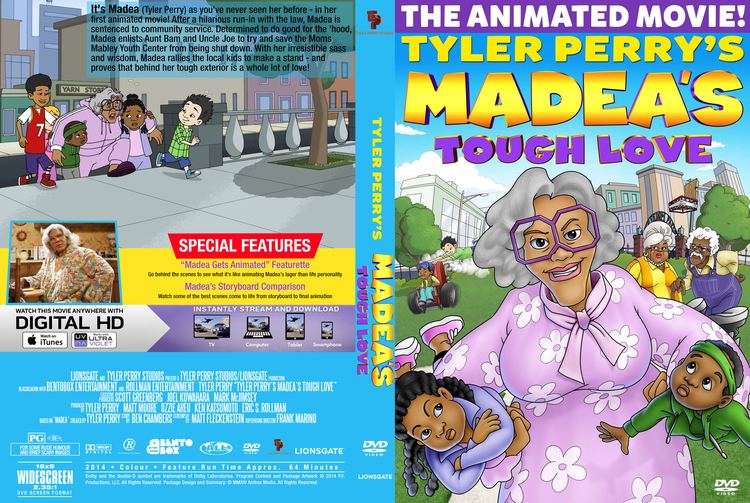 The girl starts skating away, which causes Madea to snatch the other skater skateboard and chase after her. The chase involves with Madea going through traffic and making the police chase after Madea. Madea jumps on the skateboard and flies after the little girl using her purse. Madea lands in a shopping cart of a homeless guy and steering after the little girl. The police end up catching up to them. Madea ends up making a car crash into a telephone line pole and making a fruit stand fall down. They end up going into a nearby park, which is having a ceremony for Betsy Holiday (Rolonda Watts), who is running for mayor. They end up crashing the ceremony. The chase still continues until they go over a ramp. While going over the ramp, the cart ends up going over the little girl stopping in front of her in which she flies into the cart. She tries to run but she is stopped by Madea. Madea traps both of the kids who were skating in the cart (which is upside down) until they apologize to the old lady. They end up saying sorry and are let go by Madea.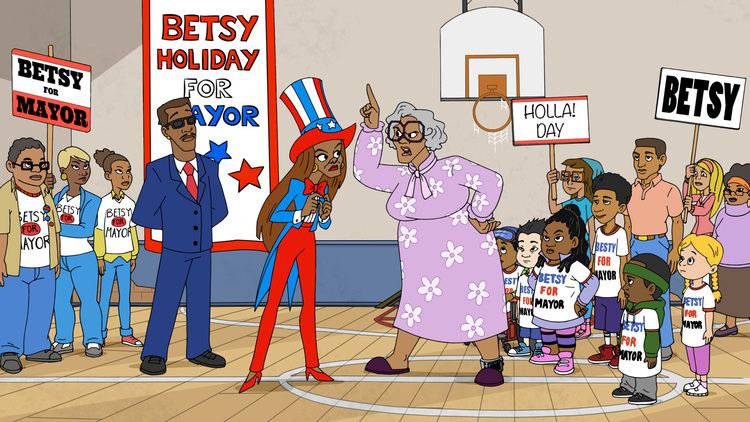 The police end up arriving and Madea is arrested by Officer Fred (Avery Waddell), Officer Frank (Philip Anthony-Rodriguez) & some other officers for excessive damage to public property, two outstanding bench warrants (to which she denies having harmed any benches), 25 unpaid parking tickets and 25 speeding tickets. She is brought to court by Judge Michaels (Kevin Michael Richardson) at which she is accused of harassing the two children. Madea says that the children needed to learn some respect. Judge Michaels keeps on hitting his gavel but is revealed to be playing Whack-A-Mole with Madea as the mole. He ends up winning some tickets which are taken by Madea. The Bailiffs bring in a box which has an ankle monitor in it. Madea is placed under house arrest which is to Uncle Joe's (Tyler Perry) surprise. Madea says she was only teaching the kids to take care of the neighborhood even though she blocked it. Aunt Bam (Cassi Davis) is with Uncle Joe at Madea's trial. One of the Bailiffs put the ankle monitor on her and Judge Michaels wants Madea to make a difference starting the next day at her old school. The trial was dismissed.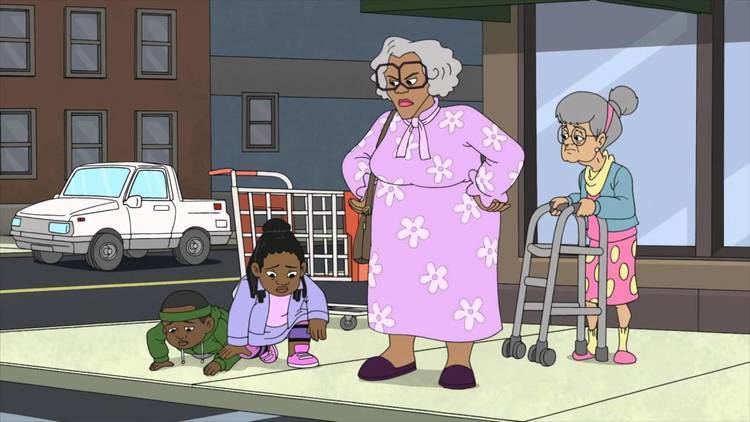 Later, Madea is walking to her old school with Aunt Bam and Uncle Joe. Aunt Bam tells Madea to do what the law says. Madea just ignores her and says she is the law. She goes shopping at the nearby store and her ankle monitor start beeping causing it to make her not go any farther. She starts flying in the air and ends up flying back to where she was at. The police arrive and Judge Michaels reveals to Madea on the ankle monitor that he got police officers watching Madea. Judge Michaels is controlling the ankle monitor. He says he will put her foot where it needs to be. Madea pulls out a chainsaw and tries to cut off the ankle monitor but it doesn't work. She tries something else but it wouldn't work. Judge Michaels says the monitor is indestructible. Madea goes into her old school and is instructed to set an example for the kids. This leads her back to memories where she gave a black eye to a kid. She goes into the gym and sees the kids acting wild. She sees a girl named Lacy (Maya Kay) brushing her toy unicorn and picking up a brick throwing it at the unicorn.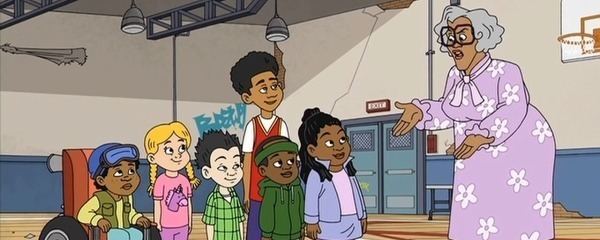 She sees a boy named Chris (Caitlyn Taylor Love) shooting a basketball which bounces off the rim and hits him in the face. There is another boy named Wheels (Caitlyn Taylor Love) who is speeding in his wheelchair around the gym. Next is Yoshi (Kate Higgins) who is playing with tools pretending to fix Wheels' wheelchair. Next is Netta (The girl skateboarding earlier) (Mari Williams) & Dang Dang (The boy skateboarding earlier) (Indigo) who are throwing dodgeballs at each other. Madea is shocked at what they are doing. Netta picks up a cone and makes all the kids throw dodgeballs at Madea. Madea picks up a table and makes it as her cover. Yoshi picks up a pole and throws it at Madea but makes it hit the gym window. Chris swings off a rope, falls to the ground and picks up a dodgeball. He tries to throw it but slips on another dodgeball and misses. Lacy crushes a brick with her hand and starts running over to Madea. Madea start throwing dodgeballs at Lacy who is not getting affected with this. Madea picks up the table and it Lacy with it but it splits in half and she still runs. Madea gets a giant cage out her purse and throw it at her.
Everyone else starts running towards Madea but she swings her purse in the air and knocks out Chris and Dang Dang making them fall into the cage. Her purse hits the roof and dodges at Wheels and Yoshi. It misses but swings back towards them and knock both Wheels and Yoshi into the cage. Madea closes the cage door and locks Chris, Lucy, Dang Dang, Yoshi and Wheels in the cage. Netta threatens Madea to free them. The kids tell Madea to leave so that they could practice to win a game because they are going to shut down Madea's old school due to it being old. Netta threatens Madea at which she sprays her with Silly String. Madea chases Netta out of the school, at which her ankle monitor start to beep. Madea can't reach her because Netta is out of the perimeter. Madea struggles to get to Netta but is put on Perimeter Violation. Madea was about to fight Netta but the police arrived. Netta pretend to be scared and says that Madea caged up her friends back at the school. The police said that Madea violated Judge Michaels Law and she gets arrested. Madea pretends to act like she learned her lesson and ask where Judge Michaels lives so she could give him a "Tight Hug".
Before they could take her away, the ankle monitor beeps saying it's time for her to go home. She gets her handcuffs taken off and goes home. Later at Freedom Park, The Announcer (Jess Harnell) is announcing for the ceremony to vote Betsy Holiday as Mayor of Atlanta. She makes a speech about what she will do as Mayor of Atlanta, Georgia. She says she will give anybody what they need. A Homeless Man (Bootsy Collins) says he is hungry. She blast out a chicken from her machine and gives it to him. She starts blasting chicken to all the people in the crowd including a baby. A mother in the crowd says she wants her to give books to her children. She blast out books and give it to them. A man says he want more money in his pocket. She blast out a bag of money and give it to him. She ends her speech and the ceremony ends. Betsy goes backstage and calls all the people stupid and they think for a minute. Betsy's campaign manager says to her about the poll rates. He says there are billboards going up for her campaign and order some attachments to her launcher. Betsy says she want to give the people what they want immediately. The Announcer though she would do it when she get into office so she decides to change her plan. Betsy reveals she got cameras all over town and at Freedom Park. Her face starts to crack but is fixed with a shot. Later that night, Madea goes back to the school because she forgot her purse.
Before she could get in the school, her monitor start to beep asking her shouldn't she be in bed. Inside the school are Netta and Dang Dang. They are looking inside Madea's purse. Madea comes in asking them what they are doing with her purse. Madea tells them that they should go home but Dang Dang says they don't have a home. Madea says they can't sleep here. Madea says they can sleep at her house until they could get a home. Netta refuses to leave. Dang Dang says he is hungry and could use a snack. Madea leaves but Netta and Dang Dang goes to sleep. Madea put her foot on the floorboard which pick them up and slides them into her bag. She runs and puts them in her car and drives off. The next day, Netta wakes up finding everything peaceful but Madea yells to wake them up. Madea is downstairs cooking breakfast talking to Uncle Joe. Uncle Joe talks about Madea's cooking.
Madea punches the wall making it crack which makes a piece of the roof fall on Uncle Joe. He decides to eat Madea's breakfast. Aunt Bam arrives saying should go down to Child Care offices and says she was talking about getting the kids a foster home. Aunt Bam says something also happened. A flashback is showing off Aunt Bam at the Child Care offices when she sees a puppy with a can on its nose. Aunt Bam then picked up the puppy and tried to take the can off its nose but it would not come off. She sees the puppy looking over at the Animal Clinic across the street and said what God will do about this situation. She says she took the puppy over to the animal clinic. Madea interrupts it thinking Aunt Bam is lying. She tells her to tell what really happened. Aunt Bam says she forgot to go to the Children Services office. Netta and Dang Dang come downstairs and overhear Madea talking about putting the kids in foster care. Netta interrupts and asks where they are going.
Madea tells them to sit down and eat breakfast but Netta refuses to. Madea and Aunt Bam are shocked at which Aunt Bam tells Madea to stay calm. Madea calmly tells them to sit down and eat breakfast. Madea threatens to shove the food down their mouths but she calms down and tells them to sit down and eat so that she can take them to the youth center. Netta says she heard them talking about taking them to social services. Netta and Dang Dang leaves but Dang Dang asks for some bacon and some toast. Netta tells him to come on. Dang Dang runs out the house and Netta slams the door. Madea is mad but Uncle Joe gets mad at Madea for making the roof fall on him. Madea jumps as hard as ever on the floorboard making him fall through the roof getting stuck. Madea tells Aunt Bam to go down to Children Services and to not get catch in something else. At the Youth Center, Netta & Dang Dang are playing basketball while Yoshi is fixing Wheels' speeding wheelchair. Chris turns up some music in a broken car they hauled in the gym. All 6 of the kids talk about what Netta and Dang Dang sleeping at Madea's house. Netta says it was alright. Madea arrives at the school telling Netta about walking out her house. Netta says they don't need her. Madea says they don't want any help from nobody. Netta gets upset for a minute. Madea talks to Netta about caring for other people. Netta says nobody care about her and Dang Dang. Madea talks to Netta about caring at which Chris start playing with the basketball.
Madea gets the ball from Chris and teach him how to dribble the ball the right way. The kids get surprised at the way Madea is drippling and doing tricks with the basketball. Madea ends up hitting the wall with the basketball at which it starts to crack. A giant wrecking ball busts into the gym breaking the walls. A group of people from the press are listening to Betsy Holiday giving a speech. Madea is surprised at what is going on. Madea interrupts the speech and tells them to get out of the gym. She pops the inflatable that was in back of them down with her hair pick. Betsy is trying to persuade Madea with using her launcher that shoots T-shirts out of it saying "Vote Betsy Holiday For Mayor" on it giving it to the kids. Chris is confused at what she is saving. Betsy explains that is saving the gym so that the children of the neighborhood have a safe place to play at for many years to come. They say they don't need the prize money any more. Betsy says she is going to take care of everything. Madea says she just going to come in here and says she is going to fix something. Betsy says she is the helping hand. Madea tells her to get out of here because she didn't grow up in Atlanta and didn't attend school there but Betsy says at least she isn't a criminal which shocks the crowd. Betsy says when she is mayor, everything will be different. Betsy and her crowd leaves to go and clean up the town. Betsy says as mayor, she will clean up the streets of Atlanta, Georgia. The construction worker in the bulldozer use a magnet to pick up an old car and puts it in a car recycling truck which destroy cars into pieces and turn them into tools that helps build buildings. Madea says she is taking the kids on a ride.
Madea takes them to Chastain Park that has shopping malls in it. Madea says there isn't a park in it even though there is only one swing in it. That swing is between two buildings. Madea says this isn't a park; this is the Chastain Parking Lot. Netta spots Dang Dang over at a water well stealing coins out of it. Madea is mad at what Betsy Holiday is doing to the park. Aunt Bam says the Youth Center will be gone if she "restores" Freedom Park. Aunt Bam says there will be nothing but fancy stores. Uncle Joe spots some girls running by and he steals a nearby police officer scooter and drives off with it making the police officer chase after him. At Betsy Holiday's headquarters, Madea arrives in front of it looking through binoculars at the security guards at the front door. Her ankle monitor starts beeping saying "I Don't Like This" making her get out of the car and climb on the roof.
Upstairs, Betsy Holiday is explaining her plans to restore the town. Madea is on the roof about to jump and use her parachute to land on the line she made using a plunger and a rope so that she can see what Betsy is talking about with her group of campaign managers. Madea uses a glass cutter so she can go in the room. Madea arrives interrupting the meeting. Betsy hides everything using a button. Madea explains to Betsy what she did at which makes Betsy mad. Her group leaves for a moment. Betsy tells Madea to not get in the way off her plan. The police arrive and her monitor beeps "Here They Come". Madea says the $25,000 prize will help with her construction. Betsy says she got her own team called "Chastain Park Players". Betsy says she will bury Madea if she gets in her way in winning the game. The police officers bust in and arrest Madea. Madea tells the police officers her plan on destroying the Youth Center. The police just ignore her and take her away. Back at the Youth Center, The kids are upset that the Youth Center is getting destroyed by Betsy. Lucy is upset so she picks up two heavy rocks and breaks them with her hands. A giant machine picks up the bleachers of the gym and takes them away.
Tyler Perry as Madea / Joe / Brian
Cassi Davis as Aunt Bam
Rolonda Watts as Betsy Holiday
Avery Kidd Waddell as Officer Fred
Philip Anthony-Rodriguez as Officer Frank
Georg Stanford Brown as Mystery Man
Kevin Michael Richardson as Judge Michaels
Mari Williams as Delinquinetta
Indigo as Dang Dang
Caitlyn Taylor Love as Wheels / Chris
Maya Kay as Lacy
Bootsy Collins as Homeless Man
Kate Higgins as Yoshi
Brian Orndorf of Blu-ray.com gave the film a five out of ten, saying "Tough Love plays to the Perry fanbase, featuring cameos by Madea's brother Joe and Aunt Bam (Cassi Davis), and keeps its street cred with a finale that includes a chase between two cars fitted with hydraulics. It's also blessedly short (64 minutes), which is exactly the type of brevity this character needs to succeed. Madea's Tough Love isn't funny, not even amusing, but it's palatable, which is a rare reaction to a Perry project. The ending promises a sequel, which isn't necessary, but if Madea must return to action, I'd rather watch her as an animated character than endure Perry in drag once again."