Macabre is a 1958 thriller film directed by William Castle, written by Robb White, and starring William Prince, Jim Backus, Christine White, Jacqueline Scott, and Susan Morrow. The film falls into both horror and suspense genres.
It involved one of Castle's first forays into using the promotional gimmicks that later made him famous. A certificate for a $1,000 life insurance policy from Lloyd's of London was given to each customer in case he/she should die of fright during the film.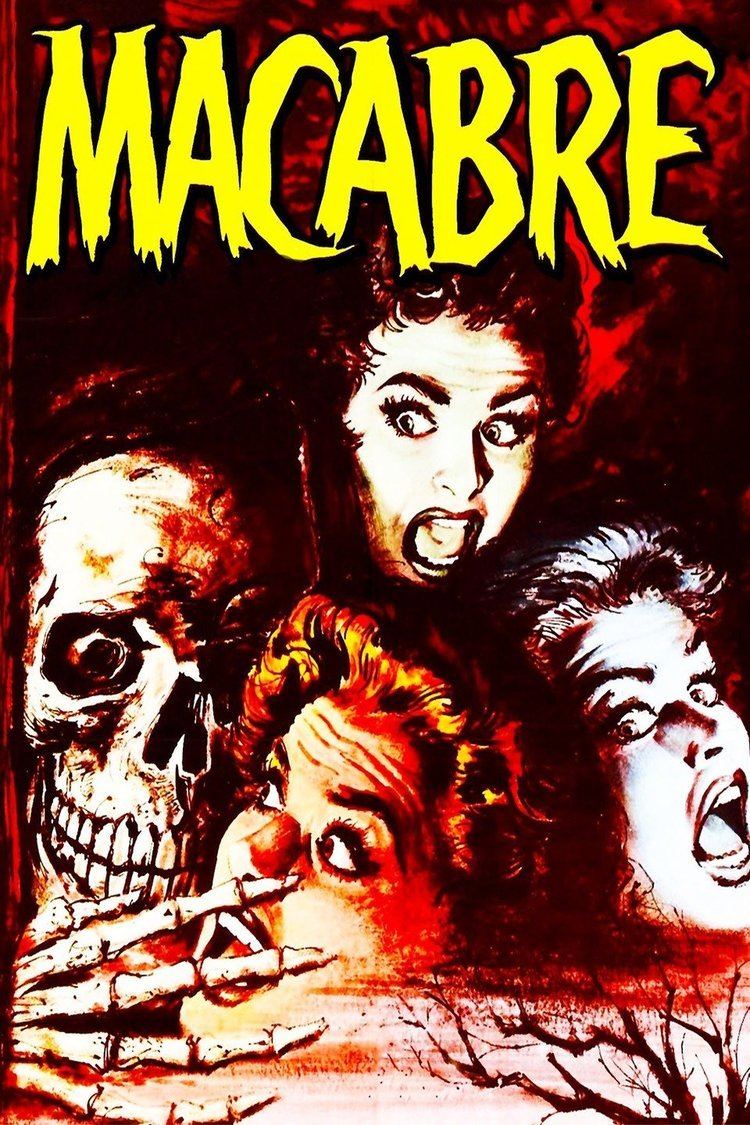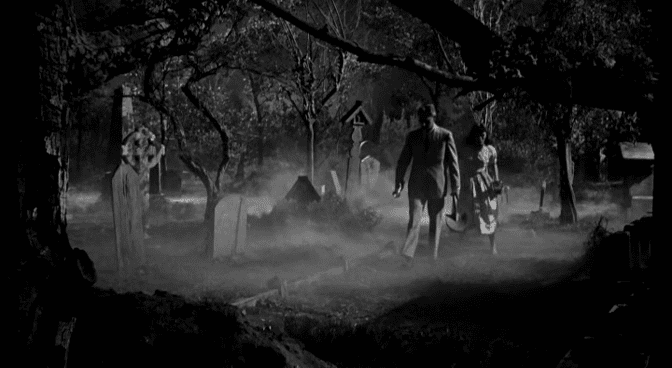 Dr. Rod Barrett's (William Prince) young daughter has been kidnapped by a mysterious maniac who has buried her alive "in a large coffin". The doctor has five hours in which to find and rescue her before her air runs out and she suffocates. The maniacal killer apparently also murdered Barrett's wife and her sister.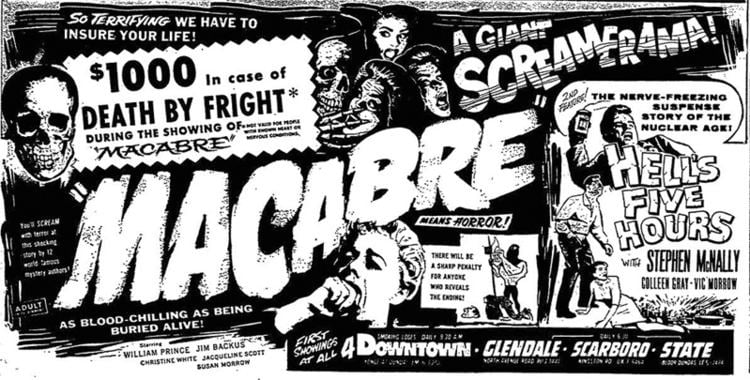 Various family members and friends become potential suspects as they help in the search, wandering through dark graveyards, crypts, thunder and lightning, and red-herrings. The somewhat muddy plot leads to a surprise conclusion that reveals the guilty party and the motive. At the film's end, a narrator requests that the audience not reveal the unexpected ending to others.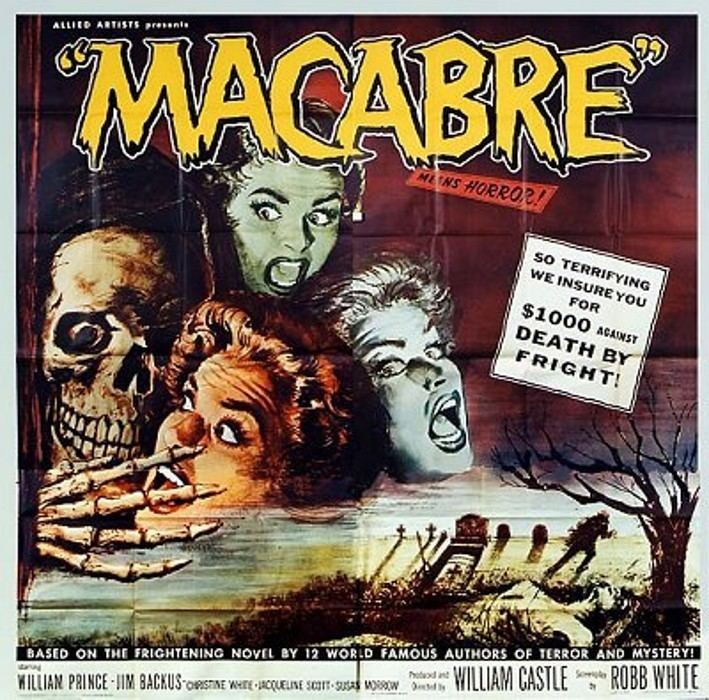 William Prince as Rodney Barrett
Jim Backus as Jim Tyloe, the town police chief
Christine White as Nancy Wetherby
Jacqueline Scott as Polly Baron, Barrett's assistant
Susan Morrow as Sylvia Stevens
Jonathan Kidd as Ed Quigley
Philip Tonge as Jode Wetherby
Dorothy Morris as Alice Barrett
Howard Hoffman as Hummel
Ellen Corby as Miss Kushins
Linda Guderman as Marge Barrett
Voltaire Perkins as Preacher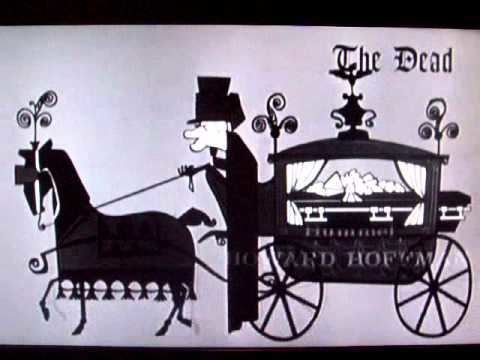 In July 1957, William Castle formed the production company Susina Associates with Robb White and announced their intention to make five films over the following sixteen months, the first of which would be Macabre. Castle mortgaged his Beverly Hills house to finance the movie. He pitched his insurance policy gimmick to Howard Koch, and interested Koch and Aubrey Schenck enough to invest in the project as well. According to Macabre assistant director Paul Wurtzel, Koch helped Castle by letting him use Bel-Air Productions staff and its facilities at American National for cost plus a percentage.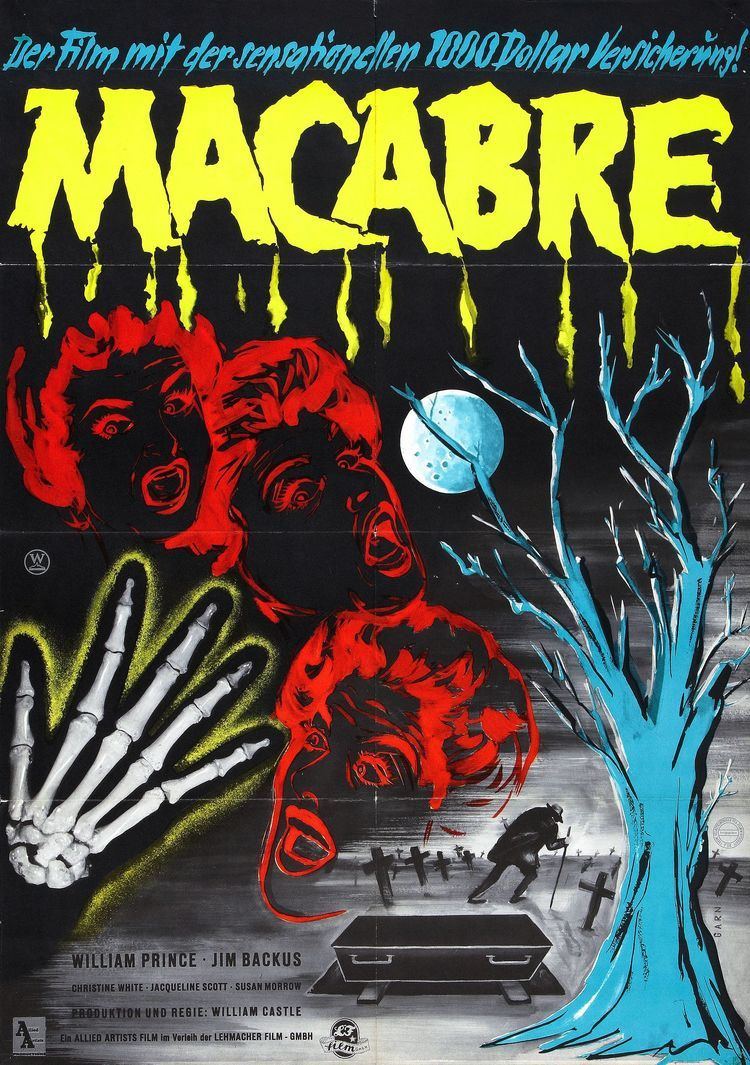 Sources differ as to how much the film cost to make, putting it anywhere from $80,000 to $150,000 with $90,000 often cited. Production occurred from July 29 through August 12, 1957. Exteriors were filmed in Chino, California and interior shooting took place at Ziv Studios. Castle marketed Macabre to several distributors before Allied Artists picked it up for $125,000.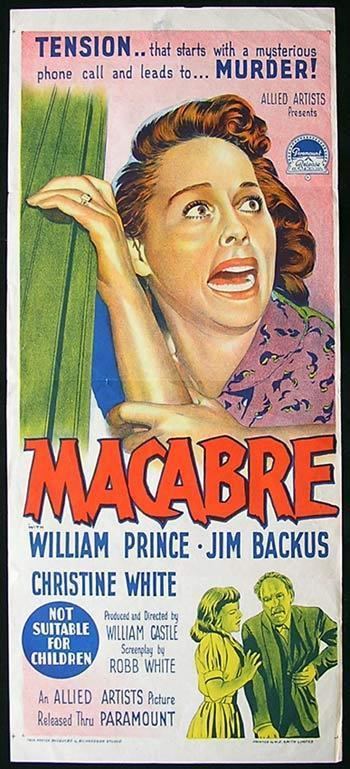 Castle employed a method he called "barnstorming" which involved following the film to different markets and promoting it along the way. In addition to the ads touting the $1,000 insurance policy, methods used for Macabre included hiring fake nurses to stand by in the lobby and parking hearses outside theaters. Castle arrived at the premiere by emerging from a coffin; at a Minneapolis theater he also sealed himself in a coffin like the kidnapped child of the story. The promotions proved successful and Macabre grossed as much as $5 million.