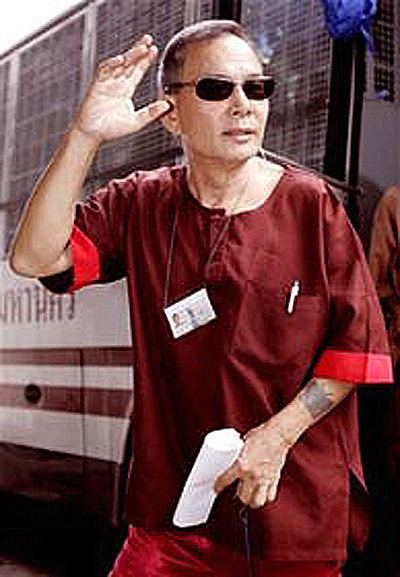 In 1965 at the age of 16, he served in the South's Republic of Vietnam Air Force. He was assigned to South Vietnam's "Black Eagle" Fighter Squadron.[1]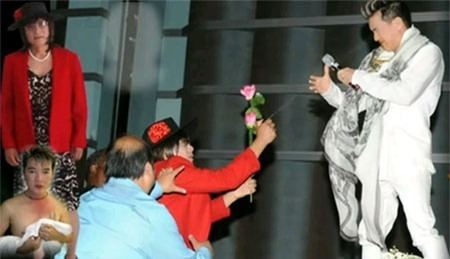 In 1984 Ly was granted asylum to the United States and he received a letter from then President Ronald Reagan for his struggle to attain freedom from captivity in Vietnam.[2]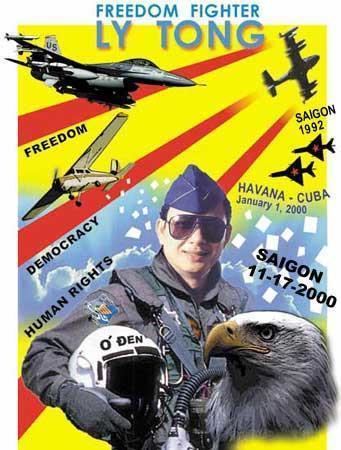 He earned a master's degree in Political Science at the University of New Orleans and has written a novel in Vietnamese.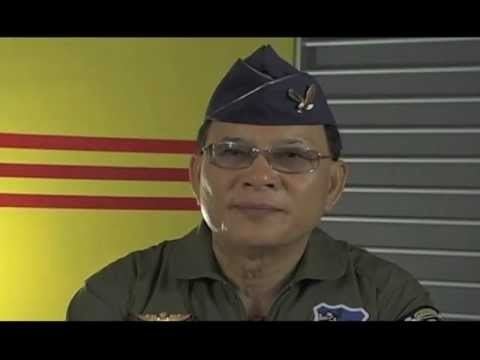 He became good friends with former Republic of Vietnam Air Force Colonel An Vo. He also played a large role in the Vietnamese community in New Orleans.
In the 1990s he decided to take up anti-communist activities, and in 1992, he hijacked a Vietnam Airlines airliner. Ly Tong's copilot claimed that he was forced to fly over Ho Chi Minh City so that Ly Tong could drop thousands of leaflets calling for insurrection against the communist government of Vietnam.[3]
He parachuted and jumped from the plane, but he landed in a swamp and was apprehended by Vietnamese soldiers and sentenced to 20 years. [4]
In 1998 the Vietnamese government released him as part of an amnesty program along with other democracy activists. [5]
Colonel An Vo from New Orleans is said to have gone back to help him become free.
On January 1, 2000, he flew over Havana, Cuba, and dropped leaflets encouraging the Cuban people to rise up and revolt against the government of Fidel Castro. [6]
On his return to Kendall-Tamiami Executive Airport in Florida, he was detained and questioned by U.S. Immigration and Customs Enforcement but was released without charges. The Federal Aviation Administration suspended his pilots' license. [7][8]
On his return to Florida, he was hailed a hero by some Cuban-Americans and there was a return parade for his flight over Cuba.[9]
On November 17, 2000, he and a copilot flew to Thailand, from where he flew to drop 50,000 pamphlets calling for armed demonstrations against the communist government of Vietnam over Ho Chi Minh City.
In 2006 he was released by the Thai government and returned to the United States [10]
In February through March 2008, he conducted a hunger strike in San Jose, California, protesting efforts by city councilwoman Madison Nguyen to name a district of the city "New Saigon Business District" instead of "Little Saigon".
On August 26, 2008, Ly Tong rented a plane & pilot for travel. But a short time after taking off, Tong told the pilot to fly the airplane over North Korea so that he could spread anti-communist leaflets to the North Koreans. The pilot told him that due to the lack of fuel they had to return to Seoul to refill, whilst sending an emergency hijacking signal to the airport authorities. Upon landing, Tong was arrested and briefly detained by the airport authorities.[11]
He was arrested again in July 2010 for a pepper spray assault on Vietnamese singer Dam Vinh Hung at a concert in Santa Clara, California.[12][13][14]
This singer was supposedly a singer supporting North Vietnam and its communist values. This concert took place in California where many Vietnamese object to the communist values they escaped from. Security was tight, as people figured there would be an assault against the singer. Ly Tong dressed up as a cross-dresser to escape security and pepper spray the singer in the face as he was being handed a flower on stage.
He was convicted of two misdemeanors—simple assault and resisting arrest—and two felonies, including using tear gas and second-degree burglary with the intent to commit a felony. On June 22, 2012, he was sentenced to 6 months in jail and 3 years probation.