Moreno Ocampo was an Associate Professor of Criminal Law at the University of Buenos Aires and a visiting professor at Stanford University and Harvard Law School. He has acted as a consultant to the World Bank, the Inter-American Development Bank and the United Nations. He is a former member of the advisory board of Transparency International and a former president of its Latin America and Caribbean office. He was a Senior Fellow at the Jackson Institute for Global Affairs at Yale University for the fall semester of 2013.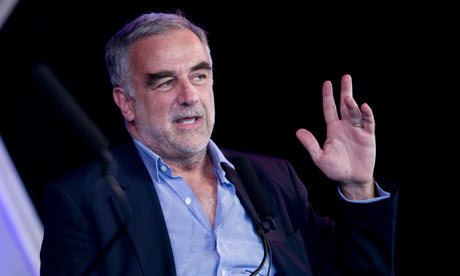 Born in Buenos Aires, Moreno Ocampo graduated from the University of Buenos Aires Law School in 1978, and from 1980 to 1984 worked as a law clerk in the office of the Solicitor General.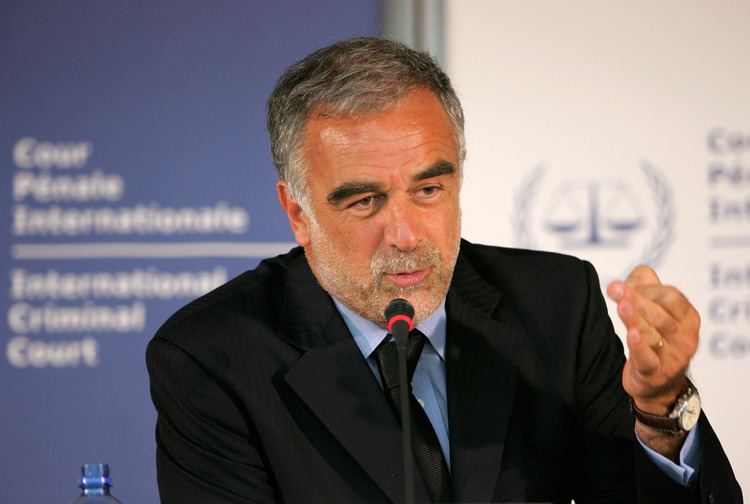 From 1984 to 1992, Moreno Ocampo worked as a prosecutor in Argentina. He first came to public attention in 1985, as Assistant Prosecutor in the "Trial of the Juntas" with Chief Prosecutor Julio César Strassera. This trial was the first since the Nuremberg Trials in which senior military commanders were prosecuted for mass killings. Nine senior commanders, including three former heads of state, were prosecuted and five were convicted. In 1986-7, he was involved in the cases against the Junta's subordinate commanders and officers. One of those trials, against two Chiefs of the Buenos Aires Police Force and 4 police officers involved in murders, kidnapping and tortures, ended in 1986. In 1987 he assisted the U.S. Attorney's Office in the extradition process of General Guillermo Suarez Mason from California. From 1988 to 1992 he was the top federal criminal prosecutor of the Buenos Aires Federal Circuit, where he led the prosecution of 2 military rebellion cases, a military malpractice case against the top Army commanders in the Malvinas-Falkland war and dozens of public corruption cases against Federal Judges, National Ministers and Heads of public companies.
In 1992 he opened the law firm; Moreno Ocampo & Wortman Jofre, practicing criminal law and international human rights and specialized on corruption control programs for large organizations and in managing and negotiating complex conflicts. The firm worked pro bono on public interest cases such as political bribery; representing the victims in Italyʹs requested extradition of Nazi officer E. Priebke and the daughters of Chilean General Carlos Prats, murdered by the Chilean secret police in 1974 in Buenos Aires.
In the late 1990s, he starred in a reality television programme, Fórum, la corte del pueblo, in which he arbitrated private disputes.
On 21 April 2003, Moreno Ocampo was unanimously elected as the first Prosecutor of the new International Criminal Court. He was sworn in for a nine-year non-renewable term on 16 June 2003. In his capacity as the Prosecutor of the Court he opened investigations in ten situations: two in the Central African Republic; Côte d'Ivoire; Darfur, Sudan; the Democratic Republic of the Congo; Georgia, Kenya; Libya; Mali; and Uganda. Additionally, the Office of the Prosecutor is conducting preliminary examinations in ten situations in Afghanistan; Burundi; Colombia; Gabon; Guinea; Iraq / the United Kingdom; Nigeria; Palestine; registered vessels of Comoros, Greece, and Cambodia; and Ukraine. The court publicly indicted 41 people. The ICC has issued arrest warrants for 33 individuals and summonses to eight others. Seven persons are in detention. Proceedings against 23 are ongoing: 12 are at large as fugitives, three are under arrest but not in the Court's custody, eight are at trial, and one is appealing his conviction. Proceedings against 17 have been completed: three have been convicted, one has been acquitted, six have had the charges against them dismissed, two have had the charges against them withdrawn, one has had his case declared inadmissible, and four have died before trial. Moreno Ocampo's term in office ended in June 2012, replaced by Fatou Bensouda of Gambia.
Moreno Ocampo led an investigation against leaders of the Lord's Resistance Army, who in 2005 faced ICC arrest warrants for crimes against humanity. Moreno Ocampo directed an investigation against Germain Katanga and Matthieu Ngudjolo Chui, who received arrest warrants in 2007 and 2008 respectively for crimes against humanity in the Democratic Republic of Congo. In March 2008, according to an Argentine online news report, Moreno Ocampo claimed that the FARC, the largest guerrilla group in Colombia, was appropriate for an investigation by the International Criminal Court. Moreno Ocampo began implementing preliminary tests in Colombia, which involved evaluating prosecutions of paramilitary commanders in Colombia, interviews with victims of the FARC, among others. Moreno-Ocampo claimed that the FARC could be investigated for crimes against humanity. He visited Colombia in August, after which the ICC launched an investigation on the "support network for FARC rebels outside Colombia".
The ICC's first trial, of Congolese militia leader Thomas Lubanga, was suspended on 13 June 2008 when the court ruled that the Prosecutor's refusal to disclose potentially exculpatory material had breached Lubanga's right to a fair trial. The prosecutor had obtained the evidence from the United Nations and other sources on the condition of confidentiality, but the judges ruled that the prosecutor had incorrectly applied the relevant provision of the Rome Statute and, as a consequence, "the trial process has been ruptured to such a degree that it is now impossible to piece together the constituent elements of a fair trial". On 2 July 2008, the court ordered Lubanga's release, on the grounds that "a fair trial of the accused is impossible, and the entire justification for his detention has been removed", but an Appeal Chamber agreed to keep him in custody while the prosecutor appealed.
Moreno Ocampo agreed on 18 November 2008 to make all confidential information available to the court and the Trial Chamber reversed its decision and ordered the trial to go ahead. He was widely criticised for this action.
On 10 July 2012 Trial Chamber 1 sentenced Lubanga to 14 years in prison, from which the 6 years he had been in remand was deducted. The prosecution had asked for a 30-year prison sentence. In its Decision on Sentence the Trial Chamber was sharply critical of Moreno Ocampo's attempts to introduce evidence of sexual violence, which was not part of the charges against Lubanga. The Trial Chamber wrote: "The Chamber strongly deprecates the attitude of the former Prosecutor in relation to the issue of sexual violence. He advanced extensive submissions as regards sexual violence in his opening and closing submissions at trial, and in his arguments on sentence he contended that sexual violence is an aggravating factor that should be reflected by the Chamber. However, not only did the former Prosecutor fail to apply to include sexual violence or sexual slavery at any stage during these proceedings, including in the original charges, but he actively opposed taking this step during the trial when he submitted that it would cause unfairness to the accused if he was convicted on this basis."
He was also criticised for his decision in July 2008 to publicly charge Omar al-Bashir, the President of Sudan, with genocide, war crimes and crimes against humanity. Antonio Cassese, Rony Brauman and Alex de Waal argued that the evidence was insufficient to charge al-Bashir with genocide. Cassese, a former President of the International Criminal Tribunal for the former Yugoslavia, had chaired the United Nations Commission of Inquiry on Darfur, which concluded in 2005 that the government of Sudan had not pursued a policy of genocide in Darfur.
De Waal argued that "for nineteen years, President Bashir has sat on top of a government that has been responsible for incalculable crimes [...] Two weeks ago, Moreno Ocampo succeeded in accusing Bashir of the crime for which he is not guilty. That is a remarkable feat." Cassese also argued that if Moreno Ocampo were serious about prosecuting al-Bashir, he should have issued a sealed request and asked the judges to issue a sealed arrest warrant, to be made public only once al-Bashir traveled abroad, instead of publicly requesting the warrant, allowing al-Bashir to avoid arrest simply by remaining in Sudan.
Moreno Ocampo requested arrest warrants in November 2008 for rebels responsible for the murder of members from an international peacekeeping force in Darfur. Leaders from three Darfur tribes, said to be the victims of war crimes, sued him for libel, defamation and igniting hatred and tribalism.
Moreno Ocampo announced the six 'prime suspects' also known as the Ocampo Six in the Kenya post-election violence of 2007 on 15 December 2010. He named suspended Minister of Higher Education William Ruto, Minister for Industrialisation Henry Kosgey, Deputy Prime Minister Uhuru Kenyatta, former Commissioner of the Kenya Police Major General Mohammed Hussein Ali, Head of Public Services Francis Muthaura, and journalist Joshua Arap Sang as leading perpetrators of the incidents.
On 3 March 2011, Moreno Ocampo declared that "there will be no impunity in Libya" as he announced the beginning of an investigation on crimes against humanity committed by either Libyan security forces loyal to leader Muammar Gaddafi or the opposition to the Gaddafi government during the 2011 Libyan civil war. On 16 May 2011, he filed a request to the ICC to issue an arrest warrant against Gaddafi, his son Saif al-Islam, and Libyan intelligence chief Abdullah Senussi, for crimes against humanity. The Court issued the warrants on 27 June 2011.
After his ICC term, Luis Moreno Ocampo became global counsel at Getnick and Getnick. He is also currently an Associate at the Carr Center for Human Rights Policy at Harvard University where he is working on an upcoming book which will present a case study of the first nine years of the operation of the Rome Statute and its interaction with the UN Security Council using his first-hand perspective.
In 2016, Luis Moreno Ocampo founded and is currently heading a niche global consulting firm, Moreno Ocampo Consulting, focused on developing tailored strategies to manage complex conflicts with transnational dimensions. The firm focuses on three main practice areas, Business Integrity, Violent Conflicts, and Biased Judiciaries. Moreno Ocampo Consulting focuses on developing innovative strategies to manage difficult situations. Seizing unique opportunities offered by US legislation to prevent and control fraud and corruption, coming up with innovative solutions to manage situations where individuals or companies are unfairly prosecuted around the world, and helping design pragmatic political and legal strategies to end massive violence.
Beginning in August 2015, Luis Moreno-Ocampo, joined Kerry Propper, Taylor Krauss, Elizabeth Schaeffer Brown, in helping support Yazda to bring a case against ISIL for genocide crimes to the ICC in The Hague. The group launched a campaign called It's On U to lobby heads of state to recognize the genocide, engage key governments officials, and encourage the UN Security Council to refer the case to the ICC. Luis Moreno Ocampo and the It's On U campaign teamed up with Nadia Murad and approached Amal Clooney to help with the case and provide pro-bono legal services to Nadia Murad and Yazda to bring justice to the Yazidi community for genocide crimes committed by ISIL
In 2017 he takes charge of the audiences in the Organization of American States (OAS) to analyze crimes against humanity committed in Venezuela, which started on September 14th and are composed by a panel of independent experts that will decide on October if there's basis to take the case to the ICC.