Lover Come Back is a 1961 Eastmancolor romantic comedy released by Universal Pictures and directed by Delbert Mann. The film stars Doris Day and Rock Hudson in their second film together. The supporting cast includes Tony Randall, Edie Adams, Ann B. Davis, and Donna Douglas.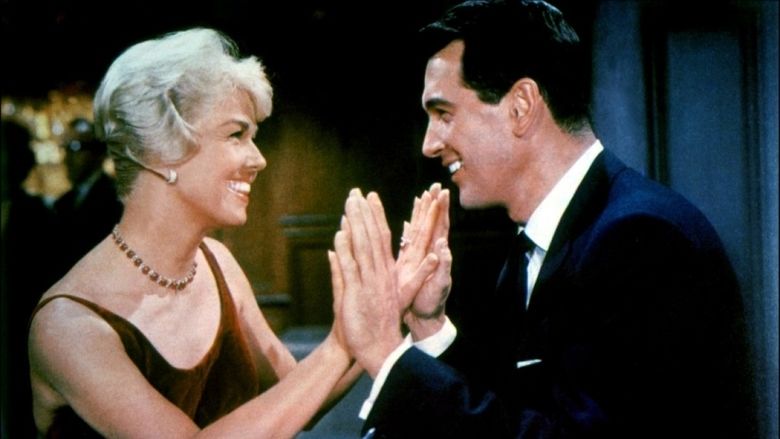 This is the second of three movies in which Day, Hudson and Randall starred together, the other two being Pillow Talk (1959) and Send Me No Flowers (1964).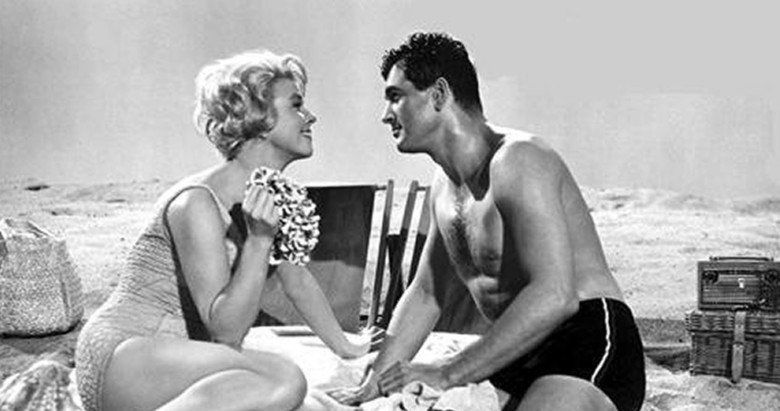 The story is similar to Pillow Talk in that it includes mistaken identity as a key plot device. Although not as well known as Pillow Talk, the script by Stanley Shapiro and Paul Henning earned an Oscar nomination for Best Screenplay.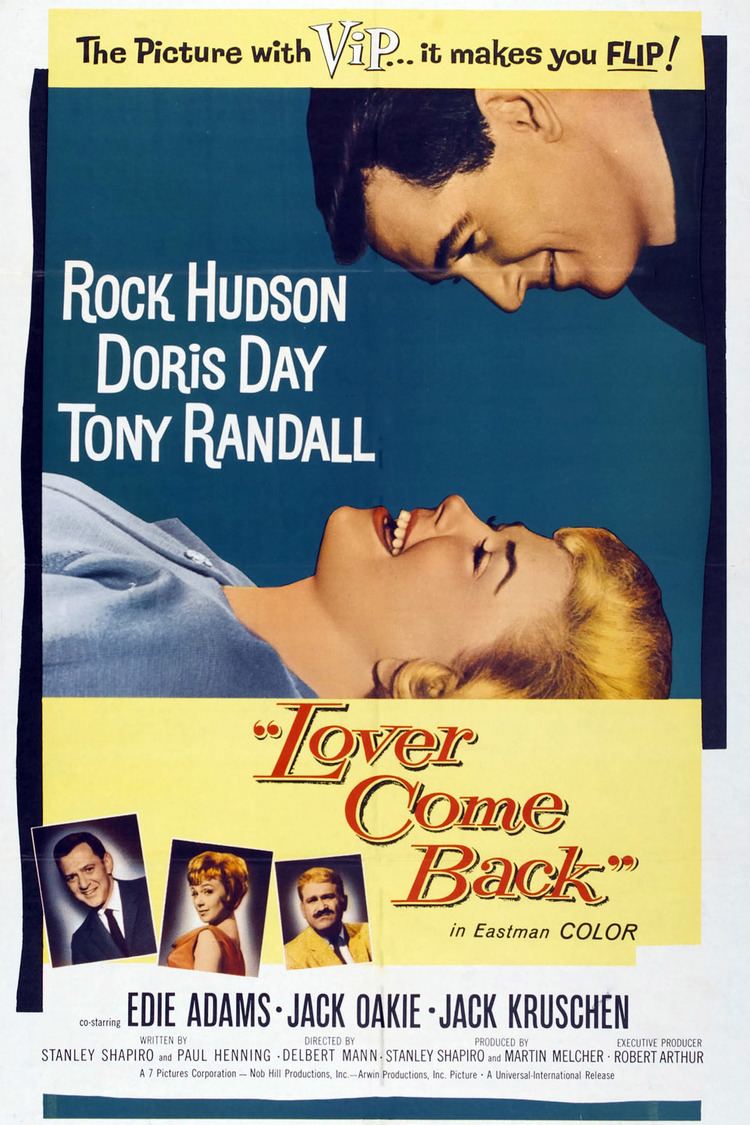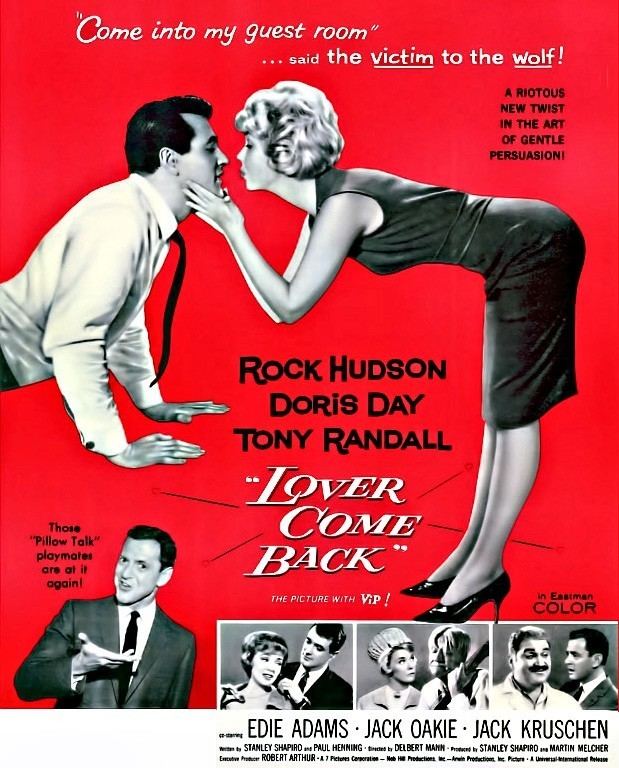 In a New York advertising agency, Jerry Webster, a Madison Avenue ad executive, has achieved success not through hard work or intelligence but by wining and dining his clients, even setting them up on dates with attractive girls.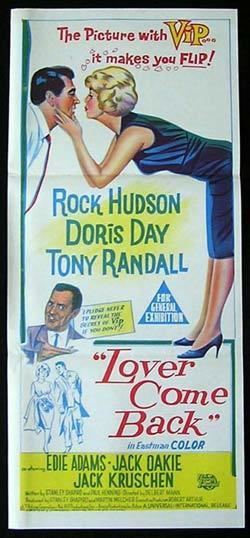 Jerry's equal and sworn enemy at a rival agency is Carol Templeton. Although she has never met him, Carol is disgusted by Jerry's unethical tactics and reports him to the Ad Council. Jerry avoids trouble with his usual aplomb, sending a comely chorus girl, Rebel Davis, to seduce the council members.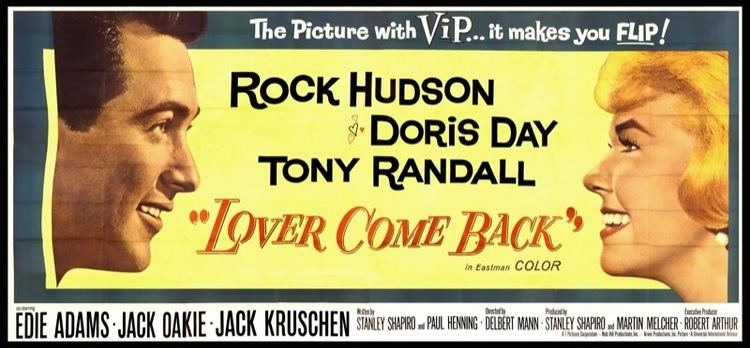 Jerry then promises Rebel a spot in commercials, so he shoots some featuring her for "VIP," a non-existent product. The commercials accidentally are broadcast on TV, thanks to the perplexed company president, Pete Ramsey.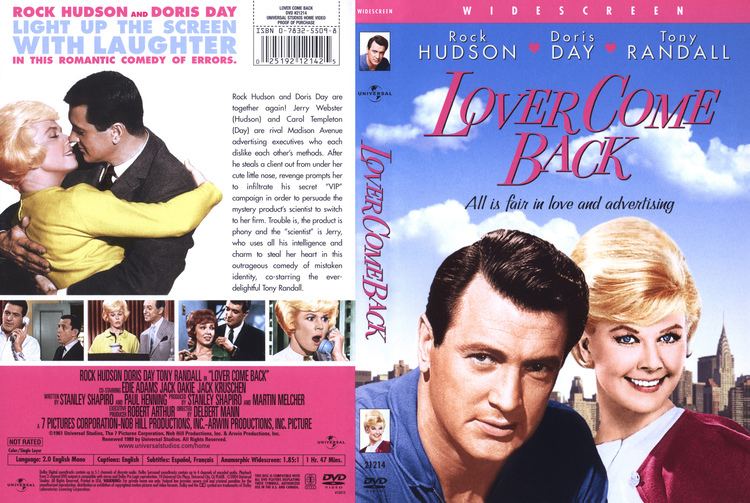 Due to this mistake, Jerry needs to come up with a product quickly. He bribes a chemist, Dr. Linus Tyler, to come up with some sort of product called "VIP" that could be marketed. Jerry himself pretends to be Tyler, the inventor, to Carol, so that in her attempt to steal the account from Jerry, she is actually wining, dining, golfing, and frolicking at the beach with him as Tyler.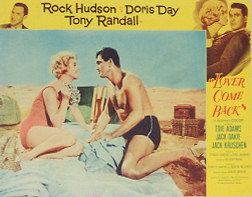 Carol learns the truth. Appalled, she once more reports him to the Advertising Council, this time for promoting a product that does not exist. Jerry, however, arrives at the hearing with VIP, a mint-flavored candy Dr. Tyler has created. He provides a free sample to everyone there, including Carol.
"VIP" turns out to be an intoxicating candy, one serving having the same effect as a triple martini. Its extreme effects lead to a one-night stand between Carol (who has a low tolerance for alcohol) and her bitter rival, Jerry, complete with a marriage license.
Carol has the marriage annulled, but Jerry convinces the liquor industry to give Carol's firm 25% of its $60 million ($500 million today) annual advertising expenditures in return for pulling VIP off the market and burning the formula. Jerry leaves New York to work in his company's California branch—only to be called back nine months later to remarry Carol in a hospital maternity ward, just before she gives birth to their child.
Although not a musical, the film contains two songs sung by Day: "Lover Come Back" during the opening credits, and "Should I Surrender" as she contemplates what to do with her feelings for Jerry.
Best Original Screenplay Academy Award (Stanley Shapiro, Paul Henning) – nominated
Best Supporting Actor Golden Globe (Tony Randall) – nominated
Best Comedy Picture, Laurel Awards – winner
Best Comedy Actress, Laurel Awards (Doris Day) – winner
Best Comedy Actor, Laurel Awards (Rock Hudson) – nominated
Best Comedy Actor, Laurel Awards (Tony Randall) – nominated
Best Comedy Actress, Laurel Awards (Edie Adams) – nominated