Bulgaria


70.001 km2


Mincho Kazandzhiev




36,600



Lovech (Bulgarian: , , international transliteration Love?) is a city in north-central Bulgaria. It is the administrative centre of the Lovech Province and of the subordinate Lovech Municipality. The town is located about 150 kilometres (93 miles) northeast from the capital city of Sofia. Near Lovech are the towns of Pleven, Troyan and Teteven.
Lovech is situated in the Forebalkan area of northern Bulgaria, on both sides of the river Osam, and unifies both mountainous and plain relief. The eastern part of the town is surrounded by a 250 m high plateau, where the largest park in Lovech, Stratesh, is located, and the southwestern part is surrounded by the hills Hisarya and Bash Bunar. In the northwest the relief gradually changes to the plains of the neighbouring Pleven Province. The average altitude of Lovech is about 200 m above mean sea level. The highest point of the town is Akbair Hill at 450 m. In Stratesh Park, the highest place in the town, there are a great number of lilac bushes, easily seen from the whole town, which are a wonderful view in the spring. Due to this, Lovech is well known as the town of the lilacs.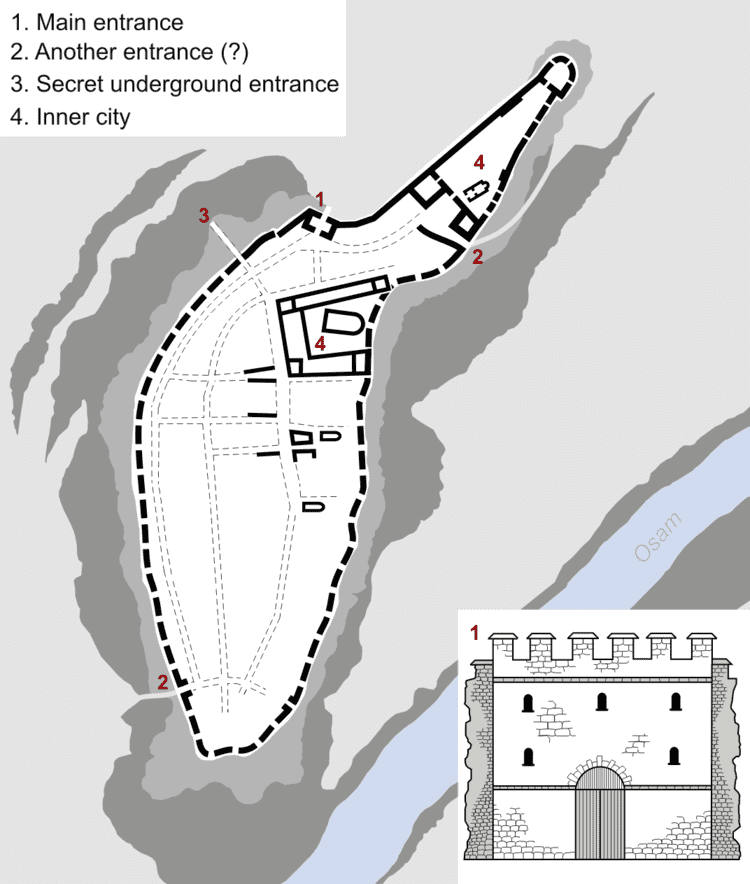 Lovech is one of the oldest towns in Bulgaria. Traces of human activities from very ancient times were found in the region, mainly in the caves near the town. The reason was the comfortable location between the mountains and the flat country, and the presence of a river.
The first inhabitants of the town were the Thracian tribe of the Meldi, whose traces date back to the 4th or 3rd centuries BC. They founded their capital, called Melta, in the area, which was situated at the place of todays neighbourhood and architecture reserve Varosha. Later, when the Balkans were occupied by the Roman Empire, a military station called Prezidium was founded near the modern town, which was situated at an important strategic position on one of the main Roman roads. Parts of this road are to be seen in the territory of Lovech today.
On April 9, 2009, Great Wall Motor and the Bulgarian company Litex Motors signed a contract for building a production base that would manufacture three models of the Chinese manufacturer near Lovech. The new plant was opened on February 21, 2012.
Museum of Vasil Levski
Lovech Historical Museum
Drasova Memorial House
Rashova Memorial House
Saint Kliment Ohridski School
Lovech Wikipedia
(,)http://upload.wikimedia.org/wikipedia/commons/8/85/Lovech_Fortress_Plan.png(,)http://media.hotelvarosha.com/images/tourism/etnografski-muzei-lovech/etnografski-muzei-lovech-1.jpg(,)https://balkancelts.files.wordpress.com/2012/07/lovech-reg-map.jpg(,)http://www.fixstay.com/uploads/images/original/61_1394.jpg(,)http://www.fixstay.com/uploads/images/original/61_1397.jpg(,)http://cache2.asset-cache.net/gc/148927848-doorway-off-the-upstairs-balcony-of-the-gettyimages.jpg%3Fv%3D1%26c%3DIWSAsset%26k%3D2%26d%3Dzrv05DXJHONdP7KnoEhfqZ5Tb9Fe%252F12L0JwNm3frHyU%253D(,)http://www.presidivm.com/lovech/logolv.jpg(,)http://upload.wikimedia.org/wikipedia/commons/thumb/4/46/Litex_Lovech_-_Bulgarian_Cup_Winner_2009.JPG/1280px-Litex_Lovech_-_Bulgarian_Cup_Winner_2009.JPG
(,)http://www.tinkov-house.com/pic.php%3Ff%3D16(,)http://farm8.static.flickr.com/7218/7303367902_98bfccfffb_m.jpg(,)http://www.landscape-collection.com/Villages-and-Towns-in-Bulgaria/i-TT2LGks/0/L/Lvc10D1N-L.jpg(,)http://41.media.tumblr.com/tumblr_m85cusZ4jU1r6b8aao1_1280.jpg(,)http://www.landscape-collection.com/Villages-and-Towns-in-Bulgaria/i-8VZ7HfP/0/L/Lvc13D2N-L.jpg(,)http://thumbs.dreamstime.com/z/ancient-bridge-captured-lovech-bulgaria-over-osam-river-sunny-winter-day-great-weather-landscape-32529877.jpg(,)http://cache2.asset-cache.net/xc/516779927.jpg%3Fv%3D2%26c%3DIWSAsset%26k%3D2%26d%3DweApWACtDNzpoOGcSKXNWc2Ehy-EhDLzpXGPh0CHayeS218zVSDEh-jJJxOjY5WU0(,)http://mw2.google.com/mw-panoramio/photos/medium/59153986.jpg(,)http://mw2.google.com/mw-panoramio/photos/medium/15461557.jpg(,)http://mw2.google.com/mw-panoramio/photos/medium/67375519.jpg
(,)http://www.hotellovech.com/restaurant/hotellovech4.jpg(,)http://www.balkantravellers.com/images/stories/urban_browser/Lovech/P1210364.jpg(,)http://www.hotellovech.com/intro/hotellovech2.jpg(,)http://media-cdn.tripadvisor.com/media/photo-s/05/0e/64/08/drakata.jpg(,)http://www.balkantravellers.com/images/stories/urban_browser/Lovech/otkrivashta.JPG(,)http://www.hotellovech.com/casino/hotellovech2.jpg(,)http://photos.wikimapia.org/p/00/00/32/32/51_big.jpg(,)http://media-cdn.tripadvisor.com/media/photo-s/01/59/39/66/lovech.jpg(,)http://www.hotellovech.com/intro/hotellovech1.jpg(,)http://aff.bstatic.com/images/hotel/max500/439/4390882.jpg(,)http://aff.bstatic.com/images/hotel/max500/439/4390863.jpg(,)http://aff.bstatic.com/images/hotel/max500/450/4505289.jpg(,)http://www.hotelvarosha.com/share/images/news/youtube.jpg
(,)http://www.bulgarianproperties.com/town-images/big/59_5.jpg(,)http://www.bulgarianproperties.com/town-images/big/59_3.jpg(,)https://i.vimeocdn.com/video/29055927_640.jpg(,)http://4.bp.blogspot.com/-l0O6FhFnum0/TbcYfrQBooI/AAAAAAAAELU/jJZ0AxsszDc/s1600/SAM_1535.JPG(,)http://i.ytimg.com/vi/iJDGN_4ZV_4/hqdefault.jpg(,)http://i.ytimg.com/vi/-oOSGOf8dOo/0.jpg(,)http://i.ytimg.com/vi/41tfoK5fvJE/0.jpg(,)http://i.ytimg.com/vi/eTYwDCu9zug/hqdefault.jpg(,)http://www.novinite.com/media/images/2010-01/photo_verybig_112295.jpg
(,)http://cdn.archinect.net/images/1200x/rm/rm5sae9o9muvbmnx.jpg(,)http://cdn.archinect.net/images/1200x/4w/4wgzicbucy80v2xk.jpg(,)http://www.dreamwallsglass.com/wp-content/uploads/2011/01/LoveCulture025.jpg(,)http://www.klewin.com/wp-content/uploads/2013/01/Love-Culture_Page_1_Image_0004.jpg(,)http://dev.platinumgr.com/wp-content/uploads/2013/05/PCI-Love-Culture-Dept-Store-013-LRES.jpg(,)http://www.hollisbc.com/wp/wp-content/uploads/2013/03/16.jpeg(,)http://4.bp.blogspot.com/-3ilpOGGaPOQ/UkPTiTgmZPI/AAAAAAAAAe8/rWu89Kig3N4/s1600/loveculture.jpg(,)http://www.hollisbc.com/wp/wp-content/uploads/2010/03/Love_7.jpg(,)http://images.taubman.com/www.greatlakescrossingoutlets.com/asset/get/25694(,)http://static1.squarespace.com/static/505a2253e4b0567d6bacd655/50b662dee4b01708049e7e90/50b662dfe4b0079225dc791d/1354130143660/1324570010store_details_LoveCulture.jpg(,)http://blog.sandracires.com/wp-content/uploads/2012/04/loveculture.jpg(,)http://www.klewin.com/wp-content/uploads/2013/01/Love-Culture_Page_1_Image_0007.jpg(,)http://www.shopdolphinmall.com/asset/get.asp%253Fasset_id%253D18774
(,)https://fbexternal-a.akamaihd.net/safe_image.php%3Fd%3DAQA3TEmta9wP5m0S%26w%3D720%26h%3D540%26url%3Dhttp%253A%252F%252Fupload.wikimedia.org%252Fwikipedia%252Fen%252Fthumb%252F4%252F4d%252FWonderful_Bridges1.jpg%252F720px-Wonderful_Bridges1.jpg(,)http://tours42plus.com/Assets/Uploaded-CMS-Files/2fc25731-f004-476a-8237-e16b115e238cTraditional%2520Old%2520House%2520in%2520Lovech%2520Bulgaria.jpg(,)http://www.temporatravel.com/data/places_35_1385991254_1320_l.jpg(,)http://www.bulgarianproperties.com/town-images/big/59_4.jpg(,)http://media.hotelvarosha.com/images/tourism/lovech/lovech-1.jpg(,)http://media.hotelvarosha.com/images/tourism/pokrit-most-lovech/pokrit-most-lovech-1.jpg(,)http://thumbs.dreamstime.com/z/waterfall-winter-wonderful-captured-karst-region-near-lovech-bulgaria-s-called-krushunsky-s-place-tourism-36071244.jpg(,)http://www.bulgarianproperties.com/town-images/big/59_1.jpg(,)http://media-cdn.tripadvisor.com/media/photo-s/01/12/c1/ce/krushuna-waterfalls.jpg(,)http://www.temporatravel.com/data/places_35_1385991162_4092_l.jpg(,)http://media.hotelvarosha.com/images/tourism/park-stratesh-lovech/park-stratesh-lovech-3.jpg