Lost Flight is a 1969 dramatic film written and produced for television based on producer Frank Price's unsuccessful 1966 TV pilot, Stranded, but had a brief theatrical release in Australia in 1970 and 1971 in a limited New York showing. The plot resembles that of later disaster genre films and approximates an adult version of Lord of the Flies.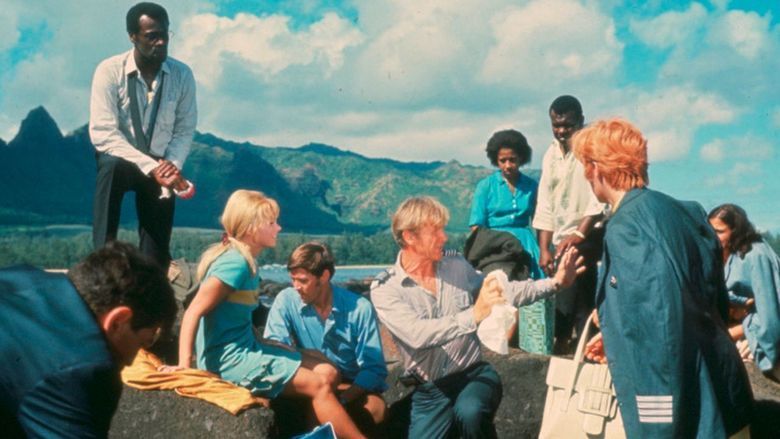 Captain Steve Bannerman (Lloyd Bridges) has been asked to fly one last passenger flight from Hawaii to Australia for Trans-Pacific Airline. During a violent electrical storm, he crashes the jet airliner on an uninhabited South Pacific island. Bannerman takes charge of the survivors and teams with Merle Barnaby (Billy Dee Williams), a black marine returning from combat duty in Vietnam, to try to find a way to survive on the island. Among the surviving passengers and crew, they have the support of Gina Talbot (Anne Francis) and Beejay Caldwell (Jennifer Leak) but oil magnate Glenn Walkup (Ralph Meeker), nightclub entertainer Eddie Randolph (Bobby Van) and Jonesy (Andrew Prine) begin to cause trouble.
In the midst of a power struggle, the captain has to contend with not only helping his crew and passengers survive but also dealing with a number of desperate and irrational passengers. Complicating matters is a 10-year-old boy suffering from acute appendicitis and a pregnant woman. When Bannerman rejects Walkup's idea of setting out in a raft as unsafe, he is brutally beaten. The raft sets out manned by Randolph and two associates, but to no avail. A radio bulletin announces the cancellation of all rescue attempts as Beejay falls from a cliff, attempting to escape Jonesy. Her panic-stricken assailant shoots Barnaby, accusing him of Beejay's murder. Jonesy is exposed when Beejay revives and tries to escapes into the jungle, but is accidentally impaled by Barnaby's animal trap. When a child is born, the survivors unite to create a new society.
Lloyd Bridges as Captain Steve Bannerman
Bobby Van as Eddie Randolph
Anne Francis as Gina Talbot
Ralph Meeker as Glenn Walkup
Andrew Prine as Jonesy
Linden Chiles as Allen Bedecker
Michael Larrain as Francis Delaney
Billy Dee Williams as Merle Barnaby
Michael-James Wixted as Charlie Burnett
Nobu McCarthy as Zora Lewin
Jennifer Leak as Bee Jay Caldwell
Kasey Rogers as Mrs. Peterson
Maggie Thrett as 2nd Girl
Producer Frank Price originally came up with the idea of stranded passengers on a deserted island in 1966, naming his proposed TV series Stranded. When that project failed to attract much interest, it was put on hold with a new two-hour pilot movie later hatched in 1970 that resulted in Lost Flight. Although aired in 1969, the pilot did not lead to a series.
Capt. J.S. Solomon from Trans World Airlines (TWA) was the technical advisor on the film. A Boeing 707 N790SA on lease from Standard Airways served as the airliner in the film painted in the fictional Trans-Pacific livery. Location shooting at Honolulu Airport in Hawaii showed the movie stand-in being fuelled and loaded while surrounded by JAL and United DC-8s and Pan American 707s. Most of the principal photography dealing with the stranded passengers and crew was filmed on Kauai.
Destined for mainly television broadcast in 1969 on NBC, Lost Flight was re-broadcast in dubbed versions in Brazil, France and West Germany. Despite the limited theatrical release of Lost Flight in Australia in 1970, the 1971 New York release, bundled with then current One More Train to Rob (1971) triggered a review in The New York Times by Roger Greenspun, who noted that the similarities to other "lost" genre films in that the "concept about a group of people lost on an uncharted island who are forced to carve out their own civilization..." approximates other efforts. His further critical review effused over a "lost" gem, "...it is a reasonably entertaining, well-paced, technically ambitious movie that receives great assistance from its performers—notably Lloyd Bridges (the pilot) for good, Ralph Meeker (the businessman) for evil, and Anne Francis (the mistress) for marriage and the family."