Covid-19
Lorraine Silver





Singer







Lorraine Silver's Lost Summer Love, Lorraine Silver Northern Soul Diva




Tammy St John, Barbara Ruskin, Gerri Granger, The Breakaways, Nita Rossi
Lorraine Silver is a London-born singer, known for her record Lost Summer Love (1965), which came to be regarded as a classic of Northern Soul.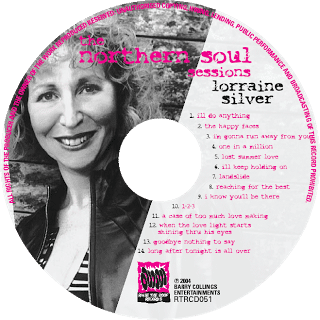 Silver's singing career began in 1965, when she was thirteen and recorded an a cappella version of Brian Hyland's "Sealed With A Kiss" at a DIY singing booth in Woolworths in Oxford Street London. The song attracted the attention of Pye Records, who signed her for a two-record deal. For her first single Silver released "Lost Summer Love", a song previously sung by Shelley Fabares. The single was produced by Tony Reeves and arranged by Johnny Harris and featured Klaus Voorman on bass guitar. Another Shelley Fabares cover, "I know you'll be there", was recorded for the B-side. Her second single was an original song "the Happy Faces" with a cover version of The Supremes "When the Love Light Starts Shining Thru His Eyes" on the B-side. Neither single sold well and Silver's contract was not renewed.
Although the original recordings did not chart, Silver's version of "Lost Summer Love" would later go on to become massively popular within the Northern Soul movement at the Wigan Casino in the 1970s. The single was reissued on the Casino Classics label, selling in excess of 30,000 copies. Silver, however, remained largely unaware of the song's popularity and her fame within the Northern Soul scene until 2003.
All four original recordings have been released on numerous Northern Soul compilation CDs and she also was featured in the best-selling biography of Dusty Springfield written by Lucy O'Brien entitled 'Dusty'. Lorraine is still working extensively in theatres and clubs throughout the UK as special guest with Edwin Starr's original band.
Lorraine Silver Wikipedia