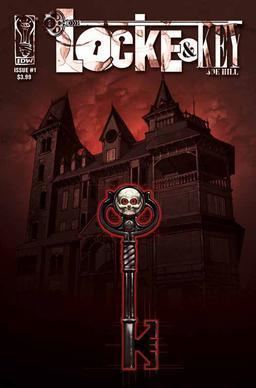 This plot is presented in chronological order. During the American Revolution, a group of Rebels, hiding beneath the future Keyhouse, discover a portal to another dimension, the plains of Leng filled with demons which can mesmerize any who see them and possess through touch. However, when the demons attempt to enter the real world, they collapse into lumps of "whispering iron", which young smith Benjamin Locke forges into a variety of magical keys, including the Omega Key, which seals the entrance to the dimension. The magic of the Keyhouse gradually evolves over the years, including a spell which causes occupants to forget about the keys and the magic of the house when they pass their 18th birthday. In 1988, a group of teenagers, having used the keys extensively in their high school years to their great delight, decide to open the black door with the Omega Key, hoping to trick a demon into entering the real world in order to provide more metal with which to make more keys. However, Rendell Locke's younger brother follows the group and is mesmerized by the door. Attempting to walk through it, he is stopped by Dodge, who accidentally puts his hand through the door, becoming possessed. After plotting to kill his friends and enslave the others at the behest of the Child of Leng possessing him, Rendell kills Dodge, trapping his possessed soul in the well.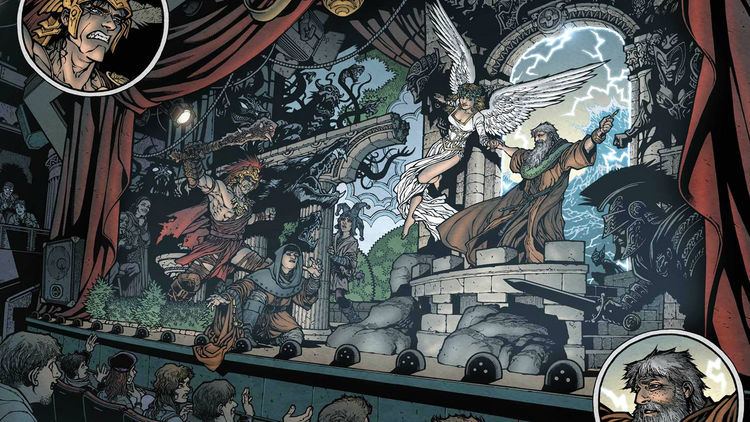 Many years later, Dodge's spirit reaches out to a young abused prodigy, Sam Lesser, and convinces him to attack the Lockes and kill Rendell, looking for the Omega Key, as well as the Anywhere Key, which is capable of freeing Dodge from the well. After the gruesome murder of their father, the Locke kids, Tyler, Kinsey and Bode move with their mother Nina across the country to Keyhouse and begin discovering its secrets. Sam escapes prison and follows the Lockes to Massachusetts. He attacks the family again at Keyhouse, at which time Dodge tricks Bode into bringing him the Anywhere Key. Dodge escapes from the well, kills Sam and returns to Lovecraft in the same body as he had thirty years before.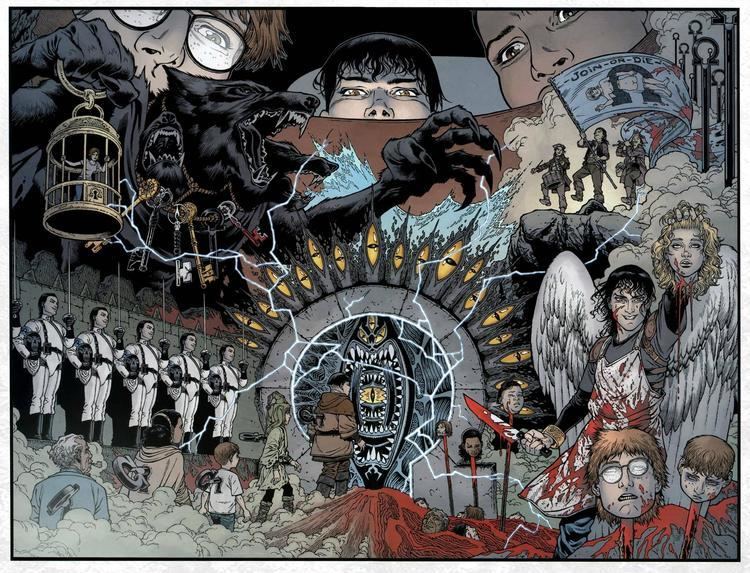 Dodge re-enters high school under the guise of a new student, intimidating his way into the home of one of Kinsey's teachers and Dodge's former friends. Over the next year, Dodge secretly tries to recover the various keys - in particular the Omega Key - from the children, collecting many though hindered by Tyler and Kinsey. Dodge is eventually discovered but manages to switch bodies and possess Bode before they can kill him. Now free to explore the house as Bode, Dodge finally finds the Omega Key and plans his takeover after-prom party in the caves. Releasing several demons, many of the students are killed. Dodge is ultimately undone by Tyler and Dodge's spirit is forced back into the well, though Bode's empty body is cremated before Bode's soul has a chance to return to it. In the epilogue, Tyler returns to the well to finally free Dodge's spirit from the demon, having used a sliver of whispering iron inherited from his father to forge an "Alpha Key" capable of undoing possession. Tyler is able to speak with his father one last time, and restore Bode's physical form.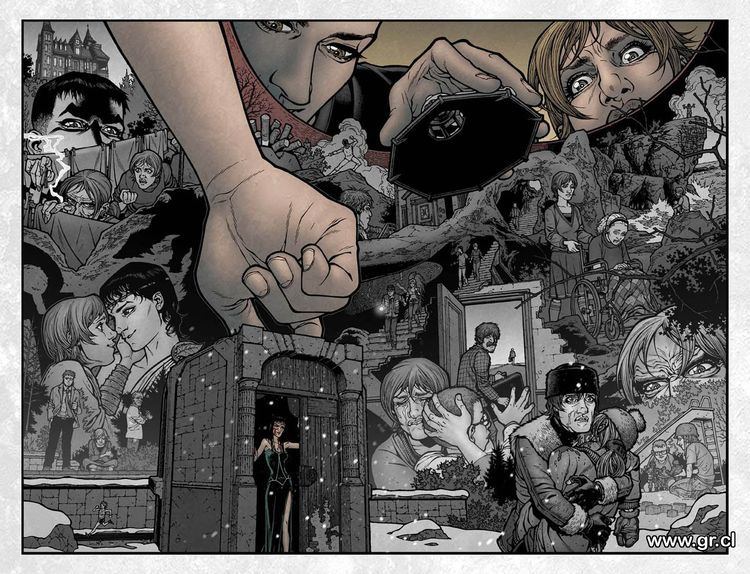 The narrative of Locke & Key is structured in three acts, with each act consisting of two six-issue storylines. Act One's first story arc, Welcome to Lovecraft, was a six-issue limited series published by IDW Publishing. The first issue of Welcome to Lovecraft was released on February 20, 2008 and sold out in a single day, requiring a second printing to be done immediately. The second arc of Act One, entitled Head Games, commenced with the release of the first issue on January 22, 2009. The actual Head Games story was printed in four issues, with a standalone prologue ("Intermission" or "The Joe Ridgeway Story") and a standalone conclusion ("Army Of One").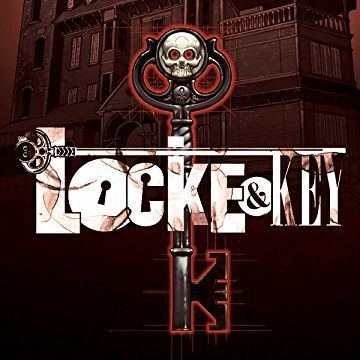 Act Two of the Locke & Key story consists of two limited, six-issue miniseries; the first storyline of Act Two, Crown of Shadows, began in late 2009. The second storyline, Keys to the Kingdom, began in August 2010.
The first storyline of Act Three was initially announced as Time & Tide, but is now titled Clockworks. The second storyline is called Alpha & Omega.
The original publication plan for the issues comprising the second, third, fourth, and fifth story arcs to be released monthly, with the final storyline being produced as an original graphic novel, but these plans have been altered.
The final hardcover is titled Locke & Key: Alpha & Omega, and collects Omega #1–5, and Alpha 1 and 2.
A collection of six one-shots.
On November 11, 2007, Subterranean Press announced a pre-order for a hand-numbered, signed, limited edition of the six-issue run of Welcome To Lovecraft. This edition consisted of 250 numbered copies and 26 lettered copies, both of which sold out within 24 hours of being announced. This edition was a hardcover release in a specially designed and illustrated slipcase, and featured exclusive dust jacket art by Vincent Chong and reprinted all 250 pages of Joe Hill's script in addition to the actual comic work.
This was followed by the publication of Head Games, which was also limited to 250 hand-numbered and signed copies as well as 26 lettered copies. The third volume, Crown of Shadows, is available for preorder, and like the previous editions is signed and numbered with the same limitations and also comes with an illustrated slipcase. Cloth-bound trade editions limited to 1000 copies (unsigned, unnumbered, and without the slipcase) were also released. Trade editions for the first two volumes are sold out.
At the 2009 Eisner Awards, Locke & Key was nominated for "Best Limited Series" and Joe Hill was nominated for "Best Writer".
It won the 2009 British Fantasy Award for Best Comic or Graphic Novel.
It won the 2011 Eisner Award for Best Writer (Joe Hill), and was nominated for Best Single Issue, Best Continuing Series, and Best Penciller.
It won the 2012 British Fantasy Award for Best Comic or Graphic Novel.
Dimension Films acquired the film and television rights for Welcome to Lovecraft from IDW Publishing with the intent of developing the property as a feature with John Davis producing. In February 2010, it was announced that Dimension had lost the adaptation rights to Dreamworks with Alex Kurtzman and Roberto Orci signed on to develop and produce the project. In August 2010 Steven Spielberg also joined as a producer, and the production became a TV series rather than a movie adaptation, with Josh Friedman writing episodes for the show and acting as show-runner.
The TV series adaptation then landed at 20th Century Fox Television. The network greenlit a pilot, produced by Dreamworks TV and K/O Paper Products through the latter's deal with 20th Century Fox TV.
Miranda Otto played Nina Locke, Sarah Bolger was Kinsey Locke and Nick Stahl co-starred as Duncan Locke. Skylar Gaertner played 6-year old Bode, and Harrison Thomas played a teenager possessed by an evil spirit. Actor and singer Jesse McCartney appeared as Ty Locke, the series' male lead and Ksenia Solo was cast as Dodge.
Mark Romanek directed the pilot episode, which was filmed at the mansion in Hartwood Acres and in Ellwood City, Pennsylvania, in February 2011. The pilot was also shot throughout Pittsburgh that same month. In May 2011, Fox announced that the project would not be picked up to the series. The studio attempted to sell the project to other networks but eventually ceased efforts due to rising costs. However, the show has been eyed by MTV, though no official talks have been had yet. The pilot was screened at the 2011 San Diego Comic-Con International, where it was well received.
A film trilogy was officially announced at the 2014 Comic Con. Alex Kurtzman, Roberto Orci, Bobby Cohen and Ted Adams would produce the film with Universal Pictures and Kurtzman and Orci's production company K/O Paper Products.
In October 2015, Joe Hill confirmed that the films are no longer happening. However, he stated that TV series is still possible. In May 2016, Joe Hill announced he will write a TV pilot, serve as executive producer and pitch the show to various networks and streaming companies.
All six books of Locke & Key were adapted as a 13-hour audio drama released on 5 October 2015. Produced by AudioComics for Audible Studios and directed by William Dufris, the work features the voices of Tatiana Maslany, Haley Joel Osment, Kate Mulgrew, with appearances by Hill, Rodríguez, and Stephen King in addition to almost 50 voice-over actors and an original score by Peter Van Riet. The work received critical praise, and in 2016 was nominated for four Audie Awards from the Audiobook Publisher's Association of America, including "Best Original Work" and "Excellence in Production."
In 2012, Cryptozoic Entertainment released a card game based on the series.