Occupation

Actress





Name

Liz Sheridan




Role

Actress







Born

April 10, 1929 (

1929-04-10

)

New York, New York, U.S.




Spouse

William Dale Wales (m. 1985–2003)




Books

Dizzy & Jimmy: My Life with James Dean: A Love Story


Parents

Frank Sheridan, Elizabeth Poole-Jones




Movies and TV shows

Seinfeld, ALF, Play the Game, Legal Eagles, Changes


Similar People

John LaMotta, Benji Gregory, Anne Schedeen, Barney Martin, Andrea Elson




Died

April 15, 2022 (aged 93) Manhattan, New York City, U.S.




Years active

1971–2010
Liz sheridan interview on the paul leslie hour
Elizabeth Ann Sheridan (April 10, 1929 – April 15, 2022) was an American actress.
Contents
Liz sheridan 1978 sony betamax player commercial
Early life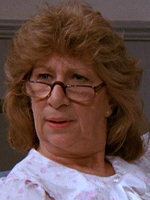 Sheridan was born in Rye, New York, the daughter of concert singer Elizabeth Poole-Jones and classical pianist Frank Sheridan.
Career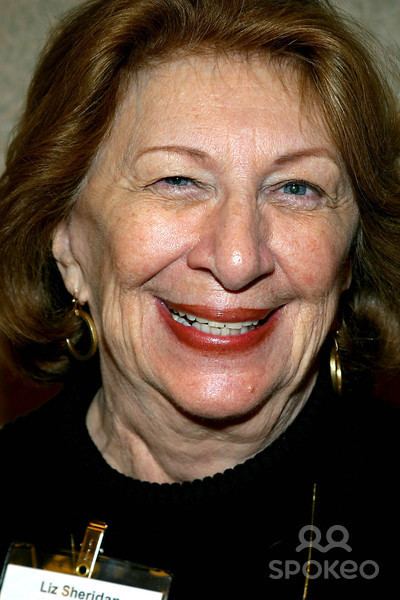 Sheridan may be best known for her recurring role as Jerry Seinfeld's mother, Helen, in Seinfeld. She played the role for all nine seasons, from 1989 to 1998. She starred in the 1976 Broadway play Best Friend before moving on to regular supporting roles in films and television series such as Moonlighting, Kojak, The A-Team, Murder, She Wrote, and Cagney & Lacey. Her first major role was playing nosy neighbor Raquel Ochmonek on the NBC TV series ALF. In 2009, Sheridan starred in the romantic comedy Play the Game, about a young ladies' man who teaches his dating tricks to his lonely, widowed grandfather who learns dating tricks from his serial romancer of a grandson. The film received attention for containing a sex scene between Sheridan and Griffith.
Personal life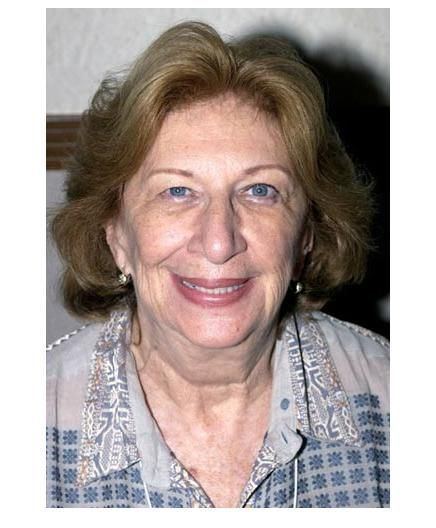 While working as a dancer in New York City nightclubs, Sheridan met the then-unknown James Dean. She claims that she and Dean became engaged and had a short-lived romance. She wrote a book on this subject, Dizzy & Jimmy: My Life with James Dean: A Love Story, in which she claimed they were each other's first "romantic love". After Dean was cast in a play which looked to be successful, he drifted away from Sheridan and—despite the play's quick demise—this was the end of their affair.
Sheridan was married to William T. "Dale" Wales (1917–2003) from 31 December 1985 until his death. They have a married daughter, a photographer in New York's Greenwich Village, of whom Sheridan said, "I'm so unmotherly, I cannot tell you. I'm still a flower child somewhere. My daughter was more my friend than my daughter most of her life."
Death
Sheridan died on April 15, 2022, at her home in Manhattan, five days after her 93rd birthday.
Filmography
Actress
2010
The Rooneys (TV Movie)
2009
Play the Game
as
Edna Gordon
2007
American Dad! (TV Series)
as
Mrs. Rothberg
- An Apocalypse to Remember (2007) - Mrs. Rothberg (voice)
2007
The Blacksmith and the Carpenter (Short)
as
God's Wife (voice)
2006
Escape (Short)
as
Gas Station Attendant
2005
Numb3rs (TV Series)
as
Landlady
- Bones of Contention (2005) - Landlady
2005
Complete Savages (TV Series)
as
Mrs. O'Hara
- Crimes and Mini-Wieners (2005) - Mrs. O'Hara
2000
Noah Knows Best (TV Series)
- Lost Night (2000)
1998
Just Add Water (Short)
as
Nanna
1990
Seinfeld (TV Series)
as
Helen Seinfeld
- The Finale (1998) - Helen Seinfeld
- The Bookstore (1998) - Helen Seinfeld
- The Wizard (1998) - Helen Seinfeld
- The Blood (1997) - Helen Seinfeld
- The English Patient (1997) - Helen Seinfeld
- The Van Buren Boys (1997) - Helen Seinfeld
- The Money (1997) - Helen Seinfeld
- The Little Jerry (1997) - Helen Seinfeld
- The Shower Head (1996) - Helen Seinfeld
- The Cadillac (1996) - Helen Seinfeld
- The Doodle (1995) - Helen Seinfeld
- The Kiss Hello (1995) - Helen Seinfeld
- The Raincoats (1994) - Helen Seinfeld
- The Wife (1994) - Helen Seinfeld
- The Pilot (1993) - Helen Seinfeld (uncredited)
- The Outing (1993) - Helen Seinfeld
- The Watch (1992) - Helen Seinfeld
- The Wallet (1992) - Helen Seinfeld
- The Pen (1991) - Helen Seinfeld
- The Pony Remark (1991) - Helen Seinfeld
- The Stakeout (1990) - Helen Seinfeld
1994
Life with Louie (TV Series)
as
Mrs. Stillman
- Go Packers! (1997) - Mrs. Stillman (voice)
- The Thank You Note (1997) - Mrs. Stillman (voice)
- The Good, the Bad & the Glenns (1997) - Mrs. Stillman (voice)
- For Pete's Sake (1996) - Mrs. Stillman (voice)
- Born a Rambler Man (1996) - Mrs. Stillman (voice)
- Dad Gets Canned (1995) - Mrs. Stillman (voice)
- A Christmas Surprise for Mrs. Stillman (1994) - Mrs. Stillman (voice)
1997
Always Say Goodbye
as
Muriel Evans
1997
A Match Made in Heaven (TV Movie)
as
Ruthie Klein
1996
A & P (Short)
as
Hi-Ho Lady
1996
Wedding Bell Blues
as
Mrs. Samuel Levine
1995
Cleghorne! (TV Series)
as
Madame Bourreau
- All Grown Up and No Place to Go? (1995) - Madame Bourreau
- My Daughter Attends the French School of New York (And Yours Doesn't) (1995) - Madame Bourreau
1995
Forget Paris
as
Woman in Car
1995
Deadline for Murder: From the Files of Edna Buchanan (TV Movie)
as
Wendy Padison
1995
Sliders (TV Series)
as
Miss Miller
- Prince of Wails (1995) - Miss Miller
1995
Double Rush (TV Series)
as
Marge
- Slamming Into a Car Isn't Good (1995) - Marge
1995
Madman of the People (TV Series)
as
Joan
- Notes from the Underground (1995) - Joan
1994
Life with Louie: A Christmas Surprise for Mrs. Stillman (TV Short)
as
Mrs. Stillman (voice)
1994
Blossom (TV Series)
as
Mrs. Walker
- Blossom Gump (1994) - Mrs. Walker
1994
The Itsy Bitsy Spider (TV Series)
- Itsy's Favorite Haunt (1994) - (voice)
1994
Tom (TV Series)
- Dump Dog Day Afternoon (1994)
1990
Empty Nest (TV Series)
as
Mrs. Coover / Elspeth
- Charley's Millions (1994) - Mrs. Coover
- Take My Mom, Please (1990) - Elspeth
1993
Brain Smasher... A Love Story (Video)
as
Ma Molloy
1992
Melrose Place (TV Series)
as
Woman Shopper
- My Way (1992) - Woman Shopper
1992
Herman's Head (TV Series)
as
Miss Cracknick
- To Err Is Herman (1992) - Miss Cracknick
1991
Murder, She Wrote (TV Series)
as
Rose Tessler
- Bite the Big Apple (1991) - Rose Tessler
1991
Changes (TV Movie)
as
Mrs. Hahn
1991
Equal Justice (TV Series)
as
Judge Constance Adler
- Do No Harm (1991) - Judge Constance Adler
1990
Dr. Ruth's House (TV Movie)
as
Jessica Dimmesdale, the Housekeeper
1990
Good Grief (TV Series)
as
Widow Blackwell
- Warren Learns to Fly (1990) - Widow Blackwell
1990
Piece of Cake (TV Movie)
as
Mrs Katz
1986
ALF (TV Series)
as
Raquel Ochmonek
- Gimme That Old Time Religion (1990) - Raquel Ochmonek
- Make 'em Laugh (1990) - Raquel Ochmonek
- It's My Party (1989) - Raquel Ochmonek
- Fever (1989) - Raquel Ochmonek
- Live and Let Die (1989) - Raquel Ochmonek (uncredited)
- Wanted: Dead or Alive (1989) - Raquel Ochmonek
- Shake, Rattle and Roll (1989) - Raquel Ochmonek
- Like an Old Time Movie (1989) - Raquel Ochmonek
- Have You Seen Your Mother, Baby, Standing in the Shadow? (1989) - Raquel Ochmonek
- Baby Love (1989) - Raquel Ochmonek
- Suspicious Minds (1989) - Raquel Ochmonek
- My Back Pages (1988) - Raquel Ochmonek
- Turkey in the Straw: Part 2 (1988) - Raquel Ochmonek
- Turkey in the Straw: Part 1 (1988) - Raquel Ochmonek
- Tonight, Tonight: Part 1 (1988) - Raquel Ochmonek (credit only)
- Breaking Up Is Hard to Do (1988) - Raquel Ochmonek
- Stairway to Heaven (1988) - Raquel Ochmonek
- Varsity Drag (1988) - Raquel Ochmonek
- We Are Family (1988) - Raquel Ochmonek
- Movin' Out (1988) - Raquel Ochmonek (credit only)
- Hit Me with Your Best Shot (1988) - Raquel Ochmonek
- Someone to Watch Over Me: Part 2 (1988) - Raquel Ochmonek
- Someone to Watch Over Me: Part 1 (1988) - Raquel Ochmonek
- Can I Get a Witness? (1988) - Raquel Ochmonek
- The Boy Next Door (1988) - Raquel Ochmonek
- Take a Look at Me Now (1987) - Raquel Ochmonek
- Come Fly with Me (1987) - Raquel Ochmonek
- Lookin' Through the Windows (1987) - Raquel Ochmonek
- Going Out of My Head Over You (1987) - Raquel Ochmonek
- Wild Thing (1987) - Raquel Ochmonek
- Try to Remember: Part 2 (1987) - Raquel Ochmonek (credit only)
- Original Unaired Pilot (1986) - Raquel Ochmonek
- Strangers in the Night (1986) - Raquel Ochmonek
- A.L.F. (1986) - Raquel Ochmonek
1989
It's a Living (TV Series)
as
Sophie
- Matchmaker, Matchmaker (1989) - Sophie
1988
Family Ties (TV Series)
as
Ginny McCoy
- Heartstrings: Part 3 (1988) - Ginny McCoy
1988
The Secret Life of Kathy McCormick (TV Movie)
as
Mrs. Van Adams
1987
Throb (TV Series)
as
Adele
- The Golden Guys (1987) - Adele
1987
Who's That Girl
as
Nurse #1
1987
Warm Hearts, Cold Feet (TV Movie)
as
Amanda McPherson
1986
A Year in the Life (TV Mini Series)
as
Lois
- The First Christmas (1986) - Lois
1986
The Magical World of Disney (TV Series)
as
Hostess
- Sunday Drive (1986) - Hostess
1986
Kate's Secret (TV Movie)
as
Evelyn
1986
Easy Street (TV Series)
as
Mrs. Bolton
- Charity Begins at Home (1986) - Mrs. Bolton
1986
Cagney & Lacey (TV Series)
as
Dr. Vernon
- Sorry, Right Number (1986) - Dr. Vernon
1986
Legal Eagles
as
Little Old Lady
1985
Remington Steele (TV Series)
as
Greta Swenson / Woman in Hallway
- Steele at Your Service (1986) - Greta Swenson
- Steele in the Family (1985) - Woman in Hallway (uncredited)
1986
Hill Street Blues (TV Series)
as
Dorothy Miskin
- I Want My Hill Street Blues (1986) - Dorothy Miskin
1985
Who's the Boss? (TV Series)
as
Gertrude
- Custody: Part 2 (1985) - Gertrude
1985
School Spirit
as
Mrs. Kingman
1983
The A-Team (TV Series)
as
Hildegard Henderson / Tina Lavelle
- Lease with an Option to Die (1985) - Hildegard Henderson
- The Taxicab Wars (1983) - Tina Lavelle
1985
Suburban Beat (TV Movie)
as
Chairwoman Walker
1985
Brothers (TV Series)
as
Zelda March
- Happy Birthday, Baby Brother (1985) - Zelda March
1985
Santa Barbara (TV Series)
as
Nurse Greta Bayley
- Episode #1.216 (1985) - Nurse Greta Bayley
- Episode #1.215 (1985) - Nurse Greta Bayley
- Episode #1.214 (1985) - Nurse Greta Bayley
1985
Generation (TV Movie)
as
Clara
1985
Moonlighting (TV Series)
as
Selma
- Moonlighting (Pilot) (1985) - Selma
1985
Newhart (TV Series)
as
Mrs. Spencer
- Look Homeward, Stephanie (1985) - Mrs. Spencer
1985
It's Your Move (TV Series)
as
Eunice
- A Woman Is Just a Woman (1985) - Eunice
1985
Sins of the Father (TV Movie)
as
Middle-Aged Woman
1984
Nickel Mountain
as
Reception Nurse
1984
Riptide (TV Series)
as
Everitt's Secretary
- Father's Day (1984) - Everitt's Secretary
1984
The Cartier Affair (TV Movie)
as
Miss Carpenter
1984
Three's a Crowd (TV Series)
as
Miss Rockwell
- Daddy's Little Girl (1984) - Miss Rockwell
1984
Second Sight: A Love Story (TV Movie)
as
Mrs. Carlisle
1983
One Day at a Time (TV Series)
as
Mrs. Muller
- The Dentist (1983) - Mrs. Muller
1983
Scarecrow and Mrs. King (TV Series)
as
Lydia Lowell
- If Thoughts Could Kill (1983) - Lydia Lowell
1983
Oh Madeline (TV Series)
as
Mrs. Phelps
- Mummy Dearest (1983) - Mrs. Phelps
1983
Over Here, Mr. President (Short)
as
Lillian
1983
St. Elsewhere (TV Series)
as
Dr. Susan Mauri
- The Count (1983) - Dr. Susan Mauri
1982
Tucker's Witch (TV Series)
as
Secretary
- Big Mouth (1982) - Secretary
1982
Jekyll and Hyde... Together Again
as
Mrs. Larson
1982
In the Custody of Strangers (TV Movie)
as
Caseworker
1982
Gimme a Break! (TV Series)
as
Nurse Whales
- The Emergency (1982) - Nurse Whales
1982
World War III (TV Mini Series)
as
Naomi Glass
1981
Archie Bunker's Place (TV Series)
as
Lady
- Billie (1981) - Lady
1981
The White Shadow (TV Series)
as
Restaurant Customer
- B.M.O.C. (1981) - Restaurant Customer
1977
Kojak (TV Series)
as
Rose
- Kojak's Days: Part 1 (1977) - Rose
Miscellaneous
2002
Biography (TV Series documentary) (photos - 1 episode)
- James Dean: Outside the Lines (2002) - (photos)
Thanks
2002
Biography (TV Series documentary) (special thanks - 1 episode)
- James Dean: Outside the Lines (2002) - (special thanks)
Self
2004
Seinfeld: Inside Look (TV Series documentary short)
as
Self
- The Cadillac (2006) - Self
- The Pen (2004) - Self
- The Stake Out (2004) - Self
2004
Larry King Live (TV Series)
as
Self
- Episode dated 3 December 2005 (2005) - Self
- Episode dated 24 November 2005 (2005) - Self
- Friends, Family, and Costars Remember James Dean (2004) - Self
2005
Running with the Egg: Making a 'Seinfeld' (Video documentary short)
as
Self
2004
The Bench: Life Before 'Seinfeld' (Video documentary short)
as
Self
2004
Surge of Power: The Stuff of Heroes
as
Self
2004
Dead Famous (TV Series documentary)
as
Self
- James Dean (2004) - Self (as Lizzie Sheridan)
2003
Bigfoot in the Park
as
Self
1999
Biography (TV Series documentary)
as
Self
- James Dean: Outside the Lines (2002) - Self
- Elizabeth Montgomery: A Touch of Magic (1999) - Self
2002
Weakest Link (TV Series)
as
Self
- Seinfeld Sidekicks Edition (2002) - Self
2000
The Final Day (TV Mini Series documentary)
as
Self
- James Dean (2000) - Self
1999
E! True Hollywood Story (TV Series documentary)
as
Self
- Bewitched (1999) - Self
1995
James Dean and Me (TV Movie documentary)
as
Self (uncredited)
1991
Naked Hollywood (TV Mini Series)
as
Self
1989
Super Password (TV Series)
as
Self - Celebrity Contestant
- Episode #5.89 (1989) - Self - Celebrity Contestant
- Episode #5.88 (1989) - Self - Celebrity Contestant
- Episode #5.87 (1989) - Self - Celebrity Contestant
- Episode #5.86 (1989) - Self - Celebrity Contestant
- Episode #5.85 (1989) - Self - Celebrity Contestant
Archive Footage
-
The Bigger Bubble (Documentary) (announced)
as
Helen Seinfeld (Seinfeld)
2021
History of the Sitcom (TV Series documentary)
as
Helen Seinfeld
- Just Friends (2021) - Helen Seinfeld
2016
They're Real and They're Spectacular: Seinfeld Super Fans & the Summer of George (Short)
2016
The Last Laugh (Documentary)
as
Self (uncredited)
2007
Scenes from the Roundtable (Video documentary short)
as
Helen Seinfeld
2005
Seinfeld: Inside Look (TV Series documentary short)
as
Helen
- The Raincoats (2005) - Helen
1987
ALF (TV Series)
as
Raquel Ochmonek
- Tonight, Tonight: Part 2 (1988) - Raquel Ochmonek
- Try to Remember: Part 1 (1987) - Raquel Ochmonek
References
Liz Sheridan Wikipedia
(Text) CC BY-SA