Carmouche competed in the first ever women's MMA match in the UFC when she competed against Ronda Rousey for the UFC Women's Bantamweight Championship at UFC 157. Carmouche is the first openly lesbian fighter in the UFC and was praised by company president Dana White for coming out.
Carmouche is currently the #8-ranked 135-pound female MMA fighter in the world according to the Unified Women's MMA Rankings.
As of September 6, 2015, she is #10 in official UFC women's bantamweight rankings.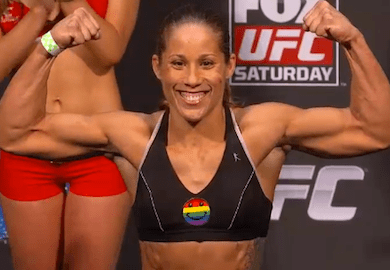 Carmouche was born in Lafayette, Louisiana, and grew up on Okinawa. She is of Syrian, Irish and Cajun French descent. She currently resides in San Diego, California and trains at San Diego Combat Academy.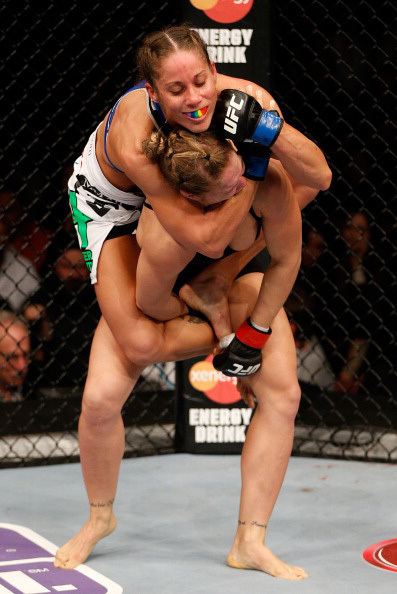 She went to Okinawa Christian School International in Japan graduating in the class of 2003. She is currently attending San Diego City College studying Kinesiology.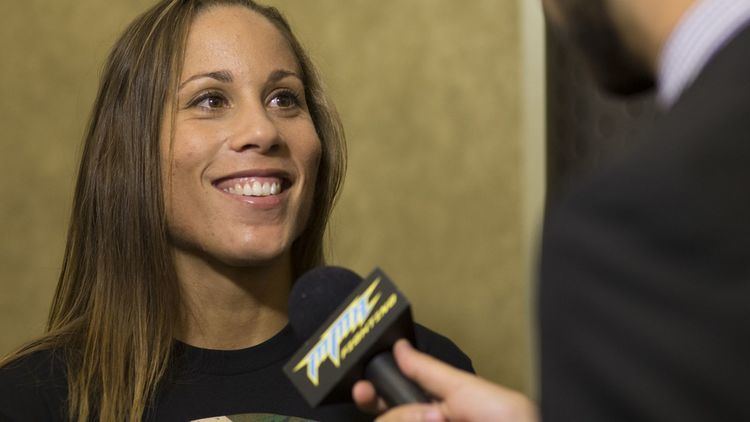 Prior to becoming a professional MMA fighter, Carmouche spent five years in the Marine Corps as an aviation electrician during which she did three tours of duty in the Middle East.
Carmouche started her professional career in 2010, winning her first three fights via knockout or submission.
On August 13, 2010, she made her Strikeforce debut at Strikeforce Challengers 10 in a reserve bout for their one-night Women's Welterweight tournament. She defeated Colleen Schneider via unanimous decision after two rounds.
Carmouche returned to the promotion at Strikeforce Challengers 12 on November 19, 2010, where she defeated Jan Finney via TKO in the third round.
On February 23, 2011, it was announced that number one title contender Miesha Tate had suffered a knee injury and that Carmouche would step in on short notice to face Women's Bantamweight (135 lbs) champion Marloes Coenen on March 5, 2011 at Strikeforce: Feijao vs. Henderson. Carmouche was defeated via triangle choke in the fourth round, after dominating two of the previous rounds.
On July 22, 2011, Carmouche faced Sarah Kaufman at Strikeforce Challengers: Voelker vs. Bowling III in Las Vegas, Nevada. She was defeated by unanimous decision.
Carmouche was scheduled to return to Strikeforce to face Sara McMann at Strikeforce: Cormier vs. Mir on November 3, 2012, but the event was cancelled.
Carmouche faced Ashleigh Curry at Invicta Fighting Championships 1 on April 28, 2012. She won the fight via TKO in the first round.
Carmouche faced Kaitlin Young at Invicta Fighting Championships 2 on July 28, 2012. She won the fight via submission due to a rear-naked choke in the second round.
It was announced at the UFC on Fox: Henderson vs. Diaz pre-fight press conference by UFC President Dana White that former Strikeforce Women's Bantamweight Champion Ronda Rousey would be the very first UFC Women's Bantamweight Champion. It was confirmed by White that Carmouche would be challenging Rousey for the Women's Bantamweight title at UFC 157. In the early part of the first round, Carmouche locked in a standing rear-naked choke/face crank on Rousey. However, Rousey escaped and eventually finished the fight by armbar with 11 seconds left in the first round.
Carmouche was expected to face Miesha Tate at UFC on Fox 8 on July 27, 2013. However, Tate was pulled from the bout to participate as a coach on The Ultimate Fighter 18. Carmouche instead faced promotional newcomer Jéssica Andrade. She won the fight by TKO in round two, earning her first win inside the Octagon.
In her third UFC fight, Carmouche faced Alexis Davis on November 6, 2013 at UFC Fight Night 31. She lost the fight via unanimous decision.
Carmouche faced Miesha Tate in the co-main event at UFC on Fox 11. She lost the back-and-forth fight via unanimous decision.
Carmouche faced Lauren Murphy on April 4, 2015 at UFC Fight Night 63. She won the fight by unanimous decision.
2010 – WMMA Press Awards Newcomer of the Year
Carmouche is openly lesbian. She has a tattoo on her left side representing the Chinese zodiac symbol of her mother and sister.