Democratic Republic of the Congo


235 km2

Likasi (formerly official names: Jadotville (French) and Jadotstad (Dutch)) is a city in Katanga Province, in the south-east of the Democratic Republic of Congo.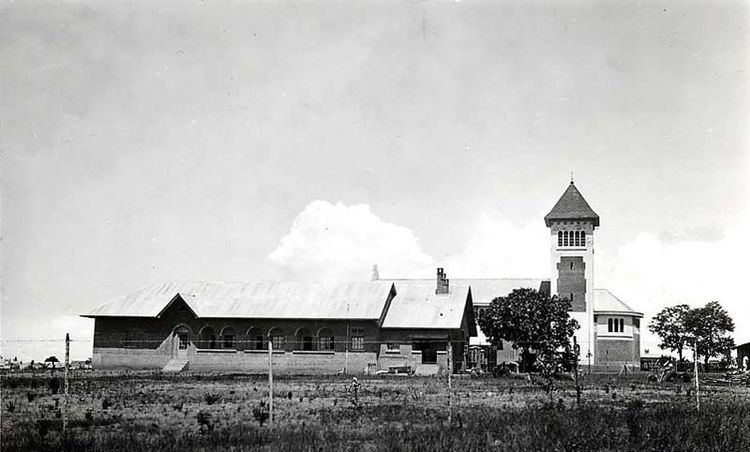 In 1961, during the United Nations intervention in the Katanga conflict, a company of Irish UN troops deployed to Jadotville was forced to surrender to troops loyal to the Katangese Prime Minister Moise Tshombe (see Siege of Jadotville).
Likasi remains a centre for industry, especially mining, and is a transport hub for the surrounding region. There are mines and refineries supplied by nearby deposits of copper and cobalt. There is also an abandoned gold mine in Likasi, which has been drained of its gold but is still dug by artisanal miners.
Likasi Wikipedia
(,)http://4.bp.blogspot.com/-uHYhCJcaF34/UaeGYr-JbrI/AAAAAAAAFq0/jfLY9HQtw2U/s1600/800px-Likasi-congo-c1930.jpg(,)http://www.mcdougallminerals.com/blog/wp-content/uploads/2014/10/fig6.jpg(,)http://www.lannan.org/images/artworks/avenue-patrice-lumumba-typists-likasi-dr-congo-guy-tillim.jpg.jpg(,)http://www.lannan.org/images/artworks/avenue-patrice-lumumba-post-office-likasi-dr-congo-guy-tillim.jpg(,)http://thepandorian.com/wp-content/uploads/2009/08/small_4637.JPG(,)http://www.lannan.org/images/artworks/avenue-patrice-lumumba-likasi-dr-congo-guy-tillim.jpg.jpg(,)https://4.bp.blogspot.com/-AgNuWCJKt68/VGM3QY90GoI/AAAAAAAACNw/g39tvMmYz4k/s1600/140529112057-large.jpg(,)http://media.tumblr.com/tumblr_m27yzkzlGS1qf4lxg.jpg(,)http://i.ytimg.com/vi/BVWaYYpKo/0.jpg
(,)http://static1.squarespace.com/static/53d12664e4b04c395e925d09/t/53fe15ece4b0d9d2977587cd/1409160698748/(,)https://www-techinasia.netdna-ssl.com/wp-content/uploads/2013/12/masakapa.png%3F1cb6c9(,)https://malindanim.files.wordpress.com/2011/03/lokasi-kantor-mifee2.jpg(,)http://media-cdn.tripadvisor.com/media/photo-s/03/1c/3c/5f/famosa-chicken-rice-ball.jpg(,)http://apeminds.webfactional.com/wp-content/uploads/2012/10/Nouvelle-image-4.png(,)http://apeminds.webfactional.com/wp-content/uploads/2012/10/Nouvelle-image-3.png(,)http://apeminds.webfactional.com/wp-content/uploads/2012/10/Nouvelle-image2.png(,)http://inovasicom.files.wordpress.com/2014/02/taco-bell-ios-app.jpg(,)http://wanderbites.com/wp-content/uploads/2014/08/bakmi-ko-fei-kelapa-gading-food-review-by-wanderbites-food-travel-blog-4-copy.jpg(,)http://i1138.photobucket.com/albums/n534/retail_resto/software/software_resto_recams.jpg(,)http://i.ytimg.com/vi/xNf5QanLb0Y/maxresdefault.jpg(,)http://mw2.google.com/mw-panoramio/photos/medium/12707646.jpg(,)http://i.ytimg.com/vi/VzLlHpm1jfg/hqdefault.jpg