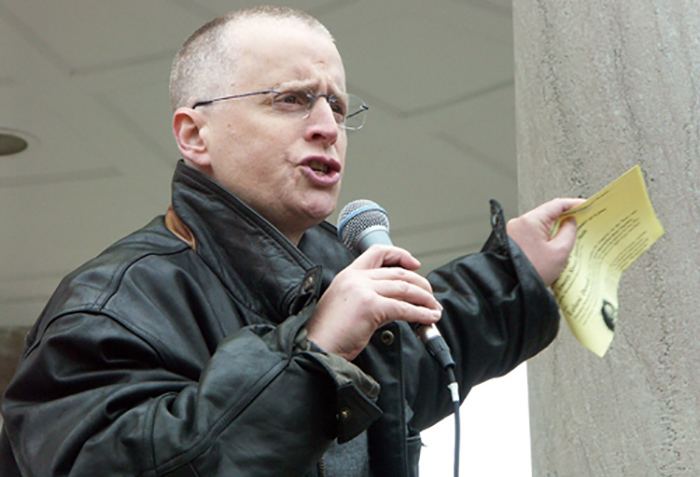 Feinberg's first novel, the 1993 Stone Butch Blues, won the Lambda Literary Award and the 1994 American Library Association Gay & Lesbian Book Award. While there are parallels to Feinberg's experiences as a working-class dyke, the work is not an autobiography. Her second novel, Drag King Dreams, was released in 2006.
Her nonfiction work included the books Trans Liberation: Beyond Pink or Blue in 1998 and Transgender Warriors: Making History from Joan of Arc to Dennis Rodman in 1996. In 2009 she released Rainbow Solidarity in Defense of Cuba - a compilation of 25 journalistic articles.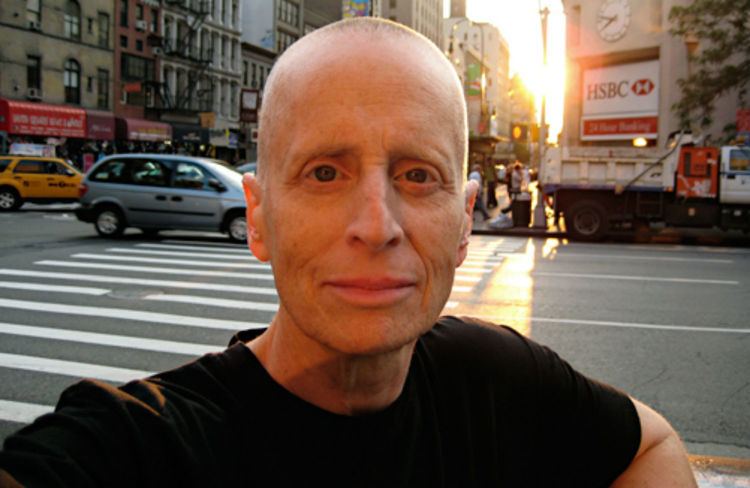 In Transgender Warriors, Feinberg defines "transgender" as a very broad umbrella, including all "people who cross the cultural boundaries of gender" - including butch dykes, passing women (those who passed as men only in order to find work or survive during war), and drag queens.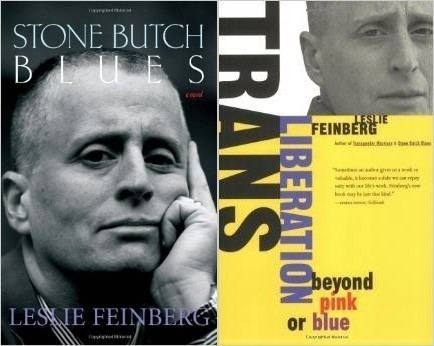 Feinberg was a member of the Workers World Party and a managing editor of Workers World newspaper.
Feinberg's writings on LGBT history, "Lavender & Red," frequently appeared in the Workers World newspaper. Feinberg was awarded an honorary doctorate from Starr King School for the Ministry for transgender and social justice work.
Feinberg described herself as "an anti-racist white, working-class, secular Jewish, transgender, lesbian, female, revolutionary communist." Feinberg stated in a 2006 interview that her preferred pronouns varied depending on context:
For me, pronouns are always placed within context. I am female-bodied, I am a butch lesbian, a transgender lesbian - referring to me as "she/her" is appropriate, particularly in a non-trans setting in which referring to me as "he" would appear to resolve the social contradiction between my birth sex and gender expression and render my transgender expression invisible. I like the gender neutral pronoun "ze/hir" because it makes it impossible to hold on to gender/sex/sexuality assumptions about a person you're about to meet or you've just met. And in an all trans setting, referring to me as "he/him" honors my gender expression in the same way that referring to my sister drag queens as "she/her" does. - Leslie Feinberg, 2006
Feinberg's widow, Minnie Bruce Pratt, wrote in her statement regarding Feinberg's death that Feinberg did not really care which pronouns a person used to address her: "She preferred to use the pronouns she/zie and her/hir for herself, but also said: 'I care which pronoun is used, but people have been respectful to me with the wrong pronoun and disrespectful with the right one. It matters whether someone is using the pronoun as a bigot, or if they are trying to demonstrate respect.'" Feinberg's last words were reported to be, "Hasten the revolution! Remember me as a revolutionary communist."
Pratt is a professor at Syracuse University in Syracuse, New York. Feinberg and Pratt married in New York and Massachusetts in 2011. In the mid and late 1990s they attended Camp Trans together.
Feinberg died on November 15, 2014, of complications due to tick-borne infections, including chronic Lyme disease, which she suffered from since the 1970s.
Transgender Liberation: A Movement Whose Time Has Come, World View Forum, 1992. ISBN 0-89567-105-0
Stone Butch Blues, San Francisco: Firebrand Books, 1993. ISBN 1-55583-853-7
Transgender Warriors: Making History from Joan of Arc to Dennis Rodman Boston: Beacon Press, 1996. ISBN 0-8070-7941-3
Trans Liberation: Beyond Pink or Blue. Beacon Press, 1999. ISBN 0-8070-7951-0
Drag King Dreams. New York: Carroll & Graf, 2006. ISBN 0-7867-1763-7
Rainbow Solidarity in Defense of Cuba. New York: World View Forum, 2009. ISBN 0-89567-150-6