Lesley Baker





Actress






Body Melt, The Paul Hogan Show, Bellbird, Slate - Wyn & Me




Barry Quin, Peta Toppano, Jude Kuring, Elspeth Ballantyne, Philip Brophy
Lesley Baker (born 20 January 1944) is an Australian actress, singer, dancer and comedian. She was well known for her early appearances on In Melbourne Tonight With Graham Kennedy. After which she went on to play several roles for Crawford Productions series.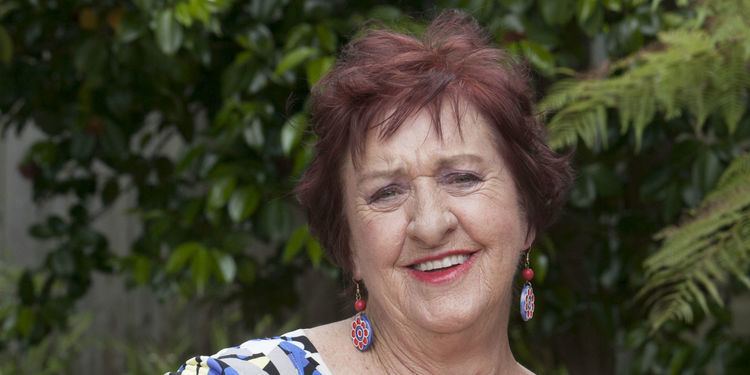 She is best known for her roles as hulking husband basher Monica Ferguson in early episodes of Prisoner and Angie Rebecchi the mother of Toadie Rebecchi (Ryan Moloney) in Neighbours. It is also notable that she later returned to Prisoner, but in a smaller role and playing a different character ('Tinker' Belle Peters).
Neighbours (TV series) .... Angie Rebecchi (1995–1996, 2002, 2006, 2008, 2013, 2015, 2017–) Current Regular Recurring
"Friends for Twenty Years" (2005) episode .... Angie Rebecchi
Blue Heelers (TV series)
"Reasonable Doubt" (2004) episode .... Irene Wilkes
"A Matter of Faith" (2001) episode .... Irene Wilkes
"The Civil Dead" (1997) episode .... Lucy Kenny
"Face Value" (1994) episode .... Mrs. Flynn
"Why Give People Rights? They Only Abuse Them" (1994) episode
Shock Jock (TV series)
"One for the Road" (2001) episode .... Rita
"Mein Diary" (2001) episode .... Rita
"Exposure" (2001) episode .... Rita
SeaChange (TV series)
"Pipeline" (2000) episode .... Mrs. Chatham
Stingers (TV series)
"Just Acting" (1999) episode .... Maggie Robardi
Good Guys, Bad Guys (TV series)
"Naughty Bits" (1998) episode .... Mrs. Pinney
"Angel Baby" (1995) episode .... Rose
"Body Melt" (1993) episode .... Mack
Boney (TV series)
"Looks Can Kill" (1992) episode .... Boarding House Lady
The Flying Doctors (TV series)
"Rising Sundown" (1989) episode (uncredited) .... Lucy Somers
"All You Need Is Luck" (1988) episode .... Lucy Somers
"Don't tell anybody" (1988) episode .... Lucy Somers
"Sins of the Fathers" (1986) episode .... Mrs. Jackson
"Slate, Wyn & Me" (1987) episode .... Molly
Special Squad (TV series)
"Counterfeit Lady" (1984) episode .... Chamber Maid
Carson's Law (TV series)
"Fallen Into Darkness" (????) episode .... Nurse
Prisoner (TV series) (In the United Kingdom Prisoner: Cell Block H and in Canada Caged Women.)
Episode #1.390 (1983) episode .... Belle 'Tinker' Peters
Episode #1.391 (1983) episode .... Belle 'Tinker' Peters
Episode #1.392 (1983) episode .... Belle 'Tinker' Peters
Episode #1.15 (1979) episode .... Monica Ferguson
Episode #1.16 (1979) episode .... Monica Ferguson
I Can Jump Puddles (1981) (TV film) .... Matron
Bluey (TV series)
"Emma" (1977) episode .... Leslie Stevens
Solo One (TV series)
"My Bonnie" (1976) episode .... Mrs. Pickett
Division 4 (TV series)
"Friends, 'Who Needs 'Em?" (1976) episode .... Kay
"Time Payment" (1975) episode .... Yvonne
"Parable" (1974) episode .... Cassandra
"Backlash" (1974) episode .... Marcie White
"Drop Out" (1970) episode .... Annie Kerr
Homicide (TV series)
"The Whole of the Law" (1976) episode .... Nora Jenkins
"Short Cut" (1975) episode .... Mrs. Morton
"Brotherhood of Man" (1974) episode .... Jocelyn
"The Artful Dodger" (1974) episode .... April Brown
"The Crossing" (1974) episode .... Sister Catherine
"Expectations" (1971) episode .... Jeannie Burke
Matlock Police (TV series)
"No Problems" (1976) episode .... Molly
"Cuckoo and Peaches" (1975) episode .... Dolly Robinson
"Where the Trees Walk Down the Hill" (1975) episode .... Daphne
"Walk Like a Man" (1975) episode .... Marion Woods
"Squaring Off" (1973) episode .... Babs Taylor
The Last of the Australians (TV series)
"Ashes to Ashes" (1975) episode .... Mrs. Ferguson
Rush (TV series)
"They Faced All the Dangers, Those Bold Bushrangers" (1974) episode
The Long Arm
"The Christmas Break" (1970) episode .... Const. Brenda Davis
"The Big Circle" (1970) episode .... The Nurse
Bellbird (1967) TV Series .... Cheryl Turner #2
Lesley Baker Wikipedia