Name

Leo Baxendale





Role

Cartoonist









Books

A Very Funny Business
Leo Baxendale British comic artist and cartoonist
Joseph Leo Baxendale (27 October 1930 – 23 April 2017) was an English cartoonist and publisher. Baxendale wrote and drew several titles. Among his best known creations are the Beano strips Little Plum, Minnie the Minx, The Bash Street Kids, and The Three Bears.
Contents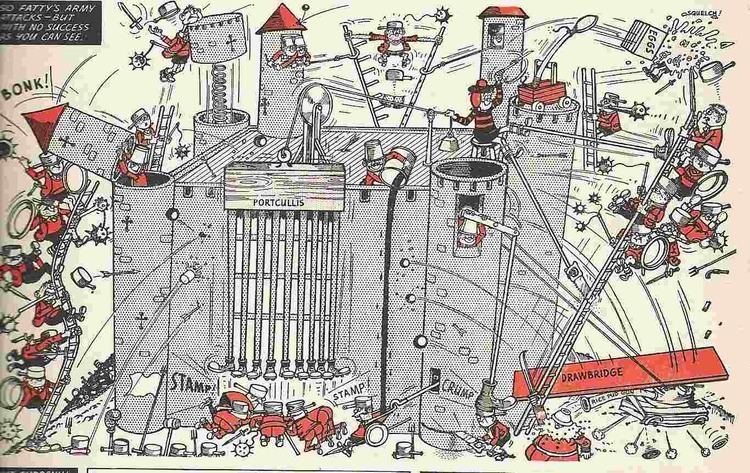 Hitler is informed that leo baxendale has died
Career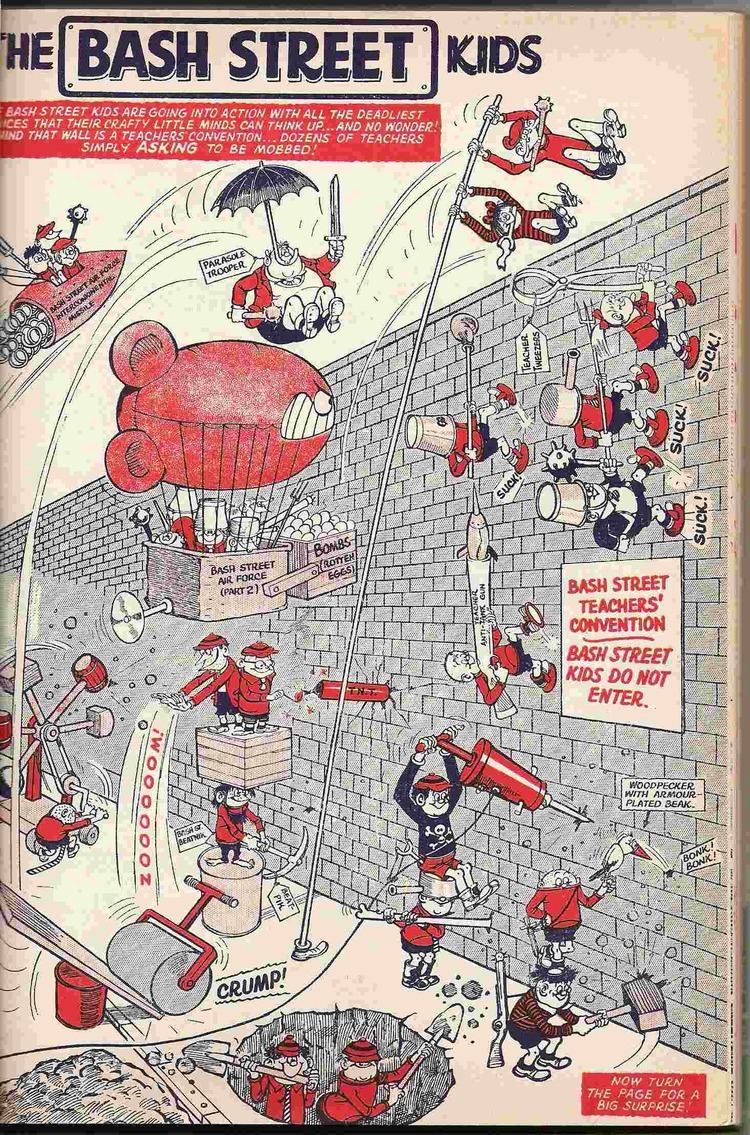 Baxendale was born in Whittle-le-Woods, Lancashire, and was educated at Preston Catholic College. After serving in the RAF, he took his first job as an artist for the local Lancashire Evening Post drawing adverts and cartoons.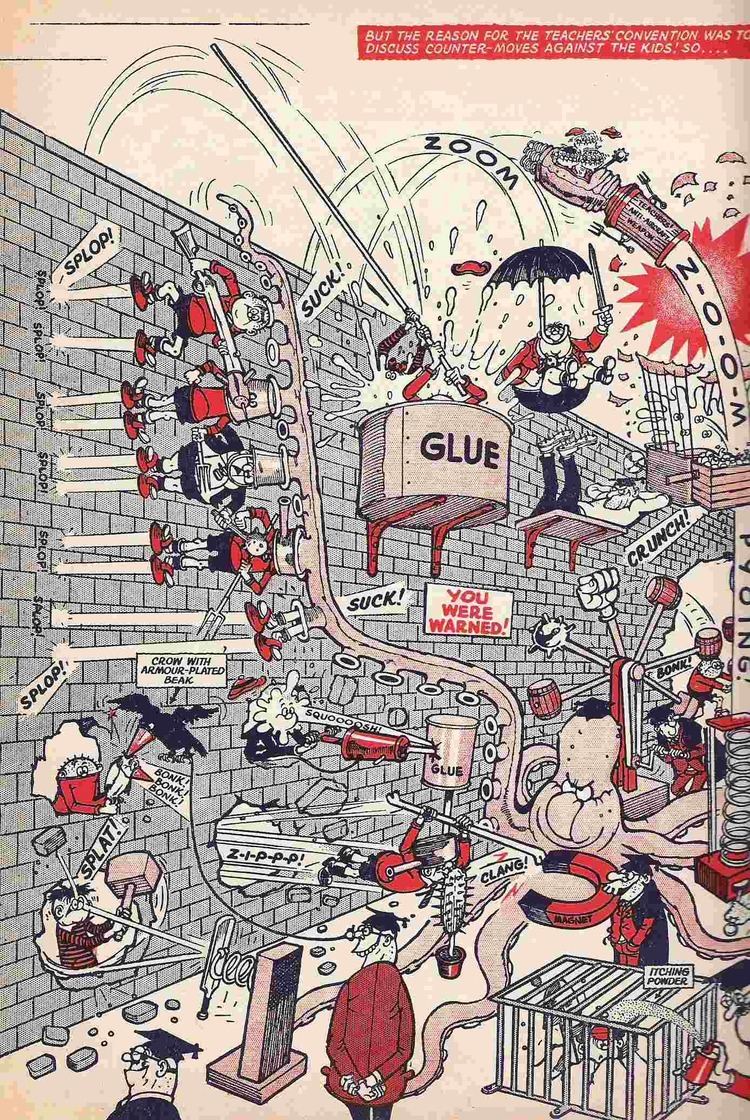 In 1952, he began freelance work for the children's comic publishers DC Thomson, creating several highly popular new strips for The Beano including Little Plum, Minnie the Minx (started in 1953, taken over by Jim Petrie in 1961), The Three Bears, and The Bash Street Kids (initially called When the Bell Rings). Baxendale also co-operated on the launch of D.C. Thomson's The Beezer comic in 1956. Baxendale's time with D.C. Thomson came to an abrupt end in 1962 when, overburdened with work he, in his own words, "just blew up like an old boiler" and left.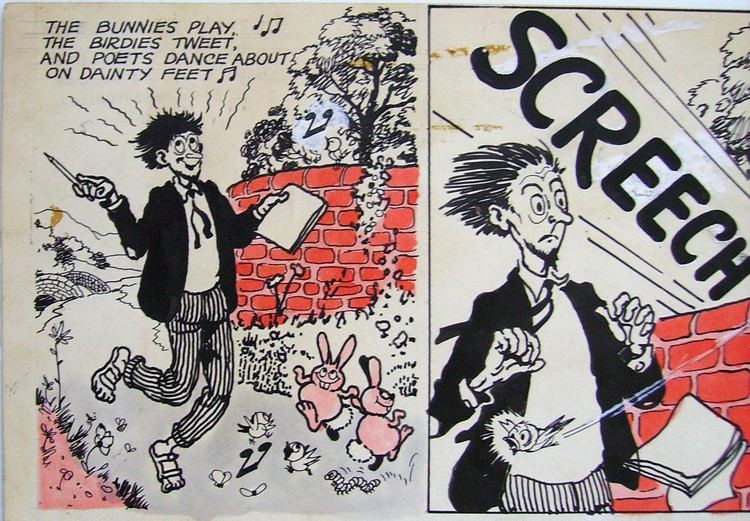 In 1964, Baxendale began work for Odhams Press as they set up a new children's comic Wham! and, two years later, its sister comic Smash! Beginning in 1966 Baxendale worked for Fleetway (IPC Magazines), creating Clever Dick and Sweeny Toddler.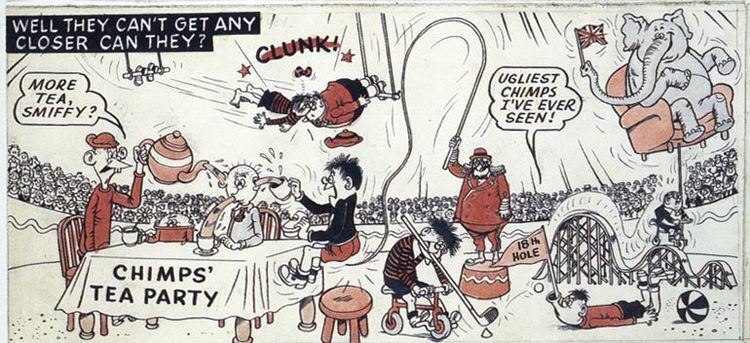 Baxendale left the world of mainstream British children's comics in 1975, creating the more adult-orientated Willy the Kid series, published by Duckworths. In the 1980s he fought a seven-year legal battle with D.C. Thomson for the rights to his Beano creations, which was eventually settled out of court. His earnings from that settlement allowed Baxendale to found the publishing house Reaper Books in the late 80s. In the same year he brought out THRRP!, an adult comic book.
For a year before he fully retired from cartooning to focus on publishing in 1992, Baxendale drew I Love You Baby Basil! for The Guardian.
Baxendale was the second person inducted into the British Comic Awards Hall of Fame, in 2013. He was described as having created "a lifetime of original, anarchic, hilarious and revolutionary comics" and having had an "incalculable" influence on children and comic artists, while his work was lauded for being "an integral and inseparable part of the history of British children's comics." The BBC said that he was "regarded by aficionados as one of Britain's greatest and most influential cartoonists" and quoted the British cartoonist Lew Stringer as saying that Baxendale was "quite simply the most influential artist in UK humour comics".
Personal life
In the mid-1960s, Baxendale published a weekly anti-war newsletter the Strategic Commentary. Though it had some paying subscribers, including fellow Vietnam War opponent Noam Chomsky, Baxendale made a considerable loss from sending hundreds of free weekly copies to Labour MPs.
Leo Baxendale and his wife Peggy had five children including Martin Baxendale who also became a cartoonist and worked on some of his father's strips.
Death
Leo Baxendale died on 23 April 2017 of cancer at the age of 86. Andy Fanton, who at the time of Baxendale's death was the Beano's writer for several Baxendale-created strips, lauded his predecessor as "the godfather of so much of what we do".
Notable creations
Over the course his career, Baxendale worked for a number of different publishers, writing and drawing many different strips in several different comics. The following lists some of Baxendale's most well-known creations. As well as creating new strips, Baxendale also worked on pre-existing properties, such as Lord Snooty in Beano issues 691–718
D.C. Thomson
The Beano
Little Plum
Minnie the Minx
The Bash Street Kids (originally When the Bell Rings)
The Three Bears
The Beezer
The Banana Bunch
Odhams Press
Wham!
Eagle Eye Junior Spy
The Tiddlers
General Nitt and his Barmy Army
Smash!
Grimly Feendish
Bad Penny
IPC/Fleetway
Sweeny Toddler
Clever Dick
Other
Willy the Kid
THRRP!
I Love You Baby Basil
References
Leo Baxendale Wikipedia
(Text) CC BY-SA